A new Martin Scorsese movie starring Leonardo DiCaprio and Robert De Niro had a busy summer filming in Oklahoma.  
Our own Meteorologist Drew Anderson got to be a cowboy in the movie, and he shares his observations and experiences from the set:
When I first got into Oklahoma, part of downtown Pawhuska was getting a 1920s makeover.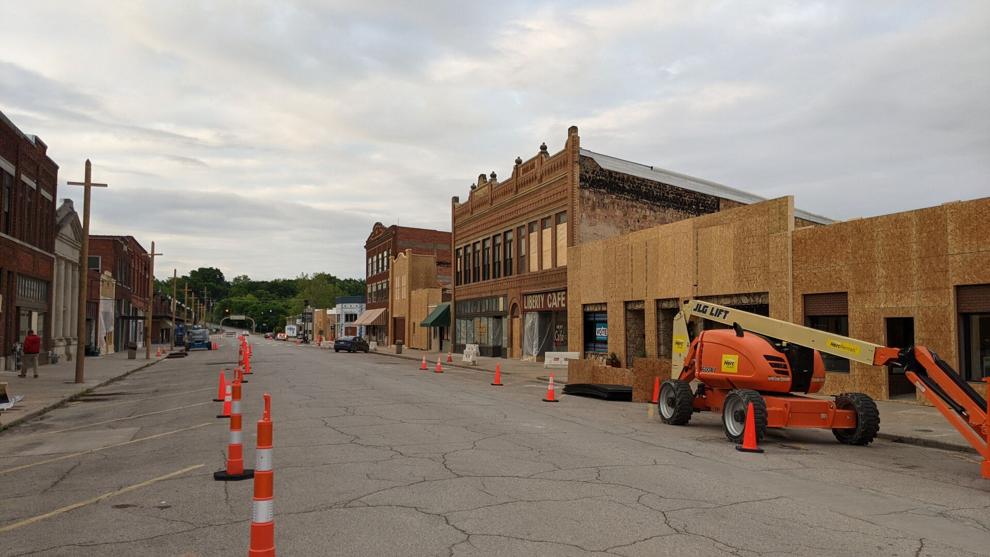 Pawhuska is about an hour north of Tulsa, and it's one of a few towns in that region where the movie was filming.  Pawhuska is also home to Food Network's Pioneer Woman.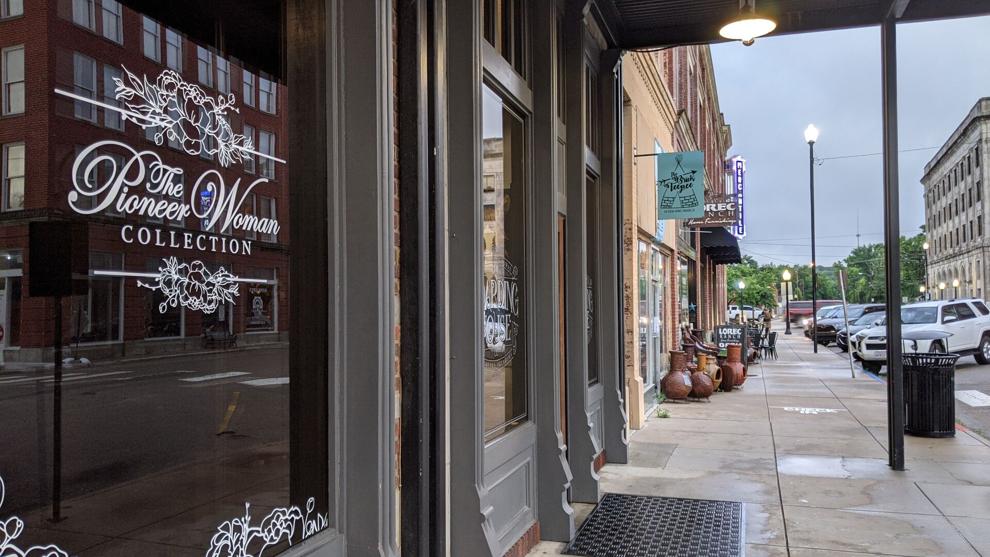 While Pawhuska got redesigned into the town of Fairfax for the movie, here's what Pawhuska normally looks like:
The movie company had a section of the town blocked off, and I hear they paid for the shop owners there to close to for a few months.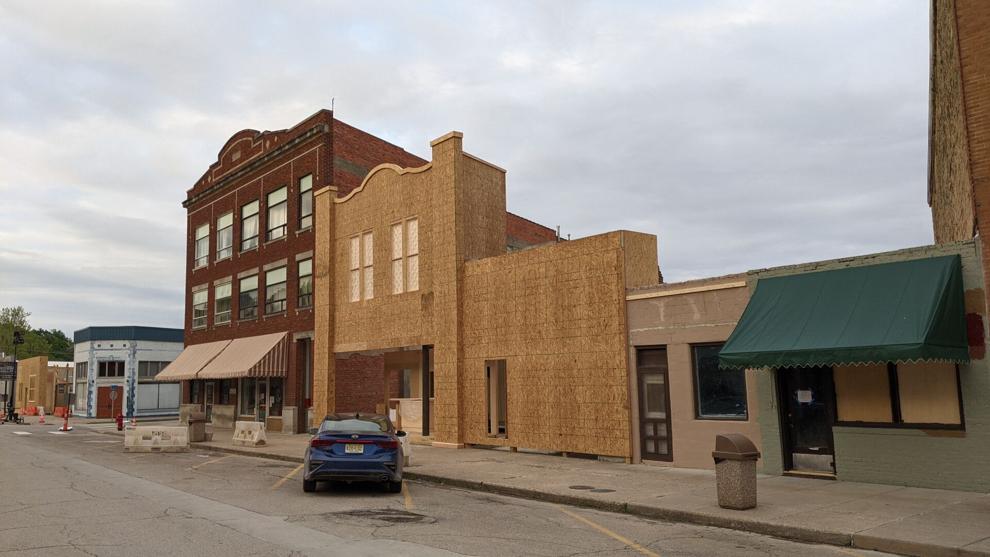 I heard the 2008 FOX movie Marley and Me did the same thing with storeowners in downtown West Chester, Chester County.
As for the Oklahoma town, buildings were constructed to fill in any gaps.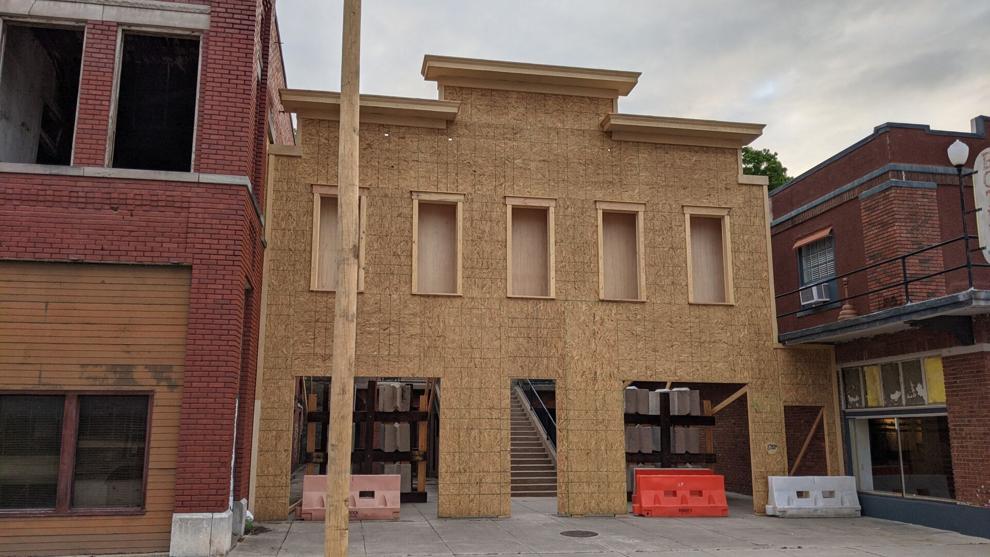 Other buildings got a makeover.  Here's a look at the construction.
Two or 3 weeks later, Pawhuska was transformed into the 1920s!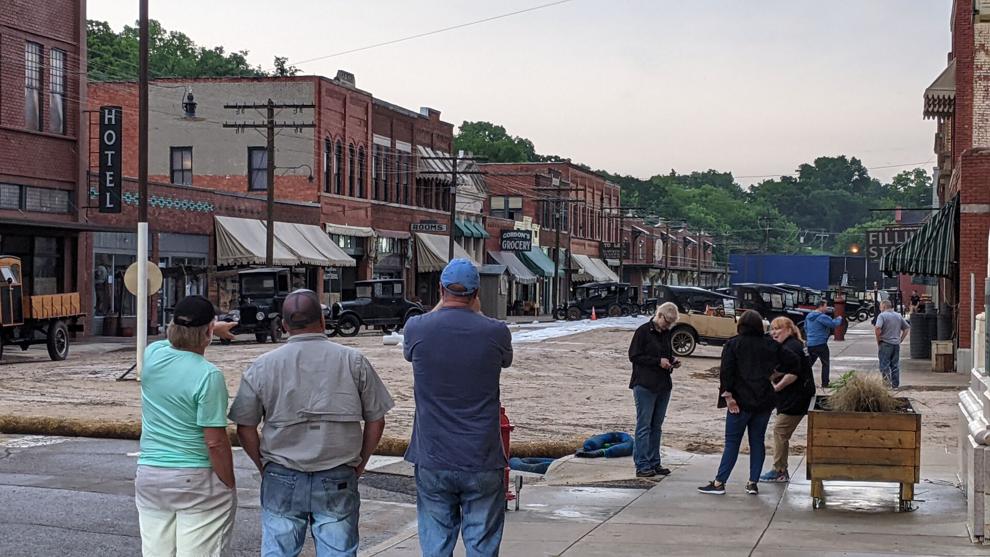 That also came complete with dirt roads.  Sand and mud was put onto of the current pavement so roads looked like the 1920s.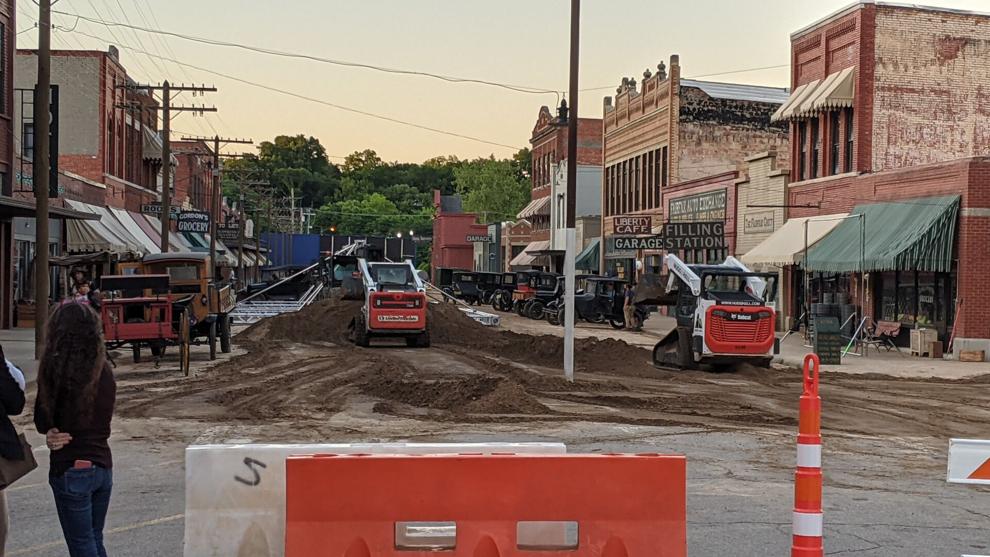 I walked back in time as a cowboy for the movie.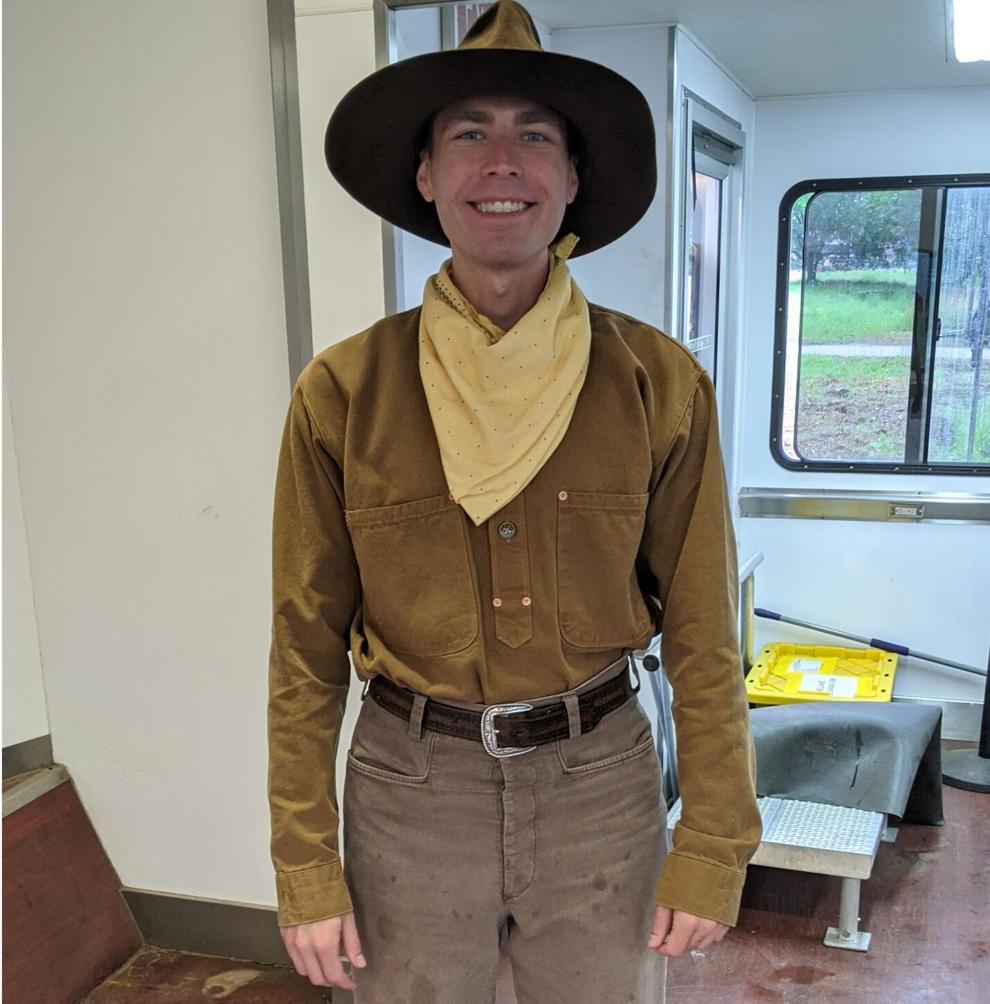 My days on set were long. Some days were 8 hours, others were 15 hours.  On those 15 hours days, we were filming for most of that time.
Here's what a typical day was like for me: You'd get a rapid COVID-19 test around 5 a.m.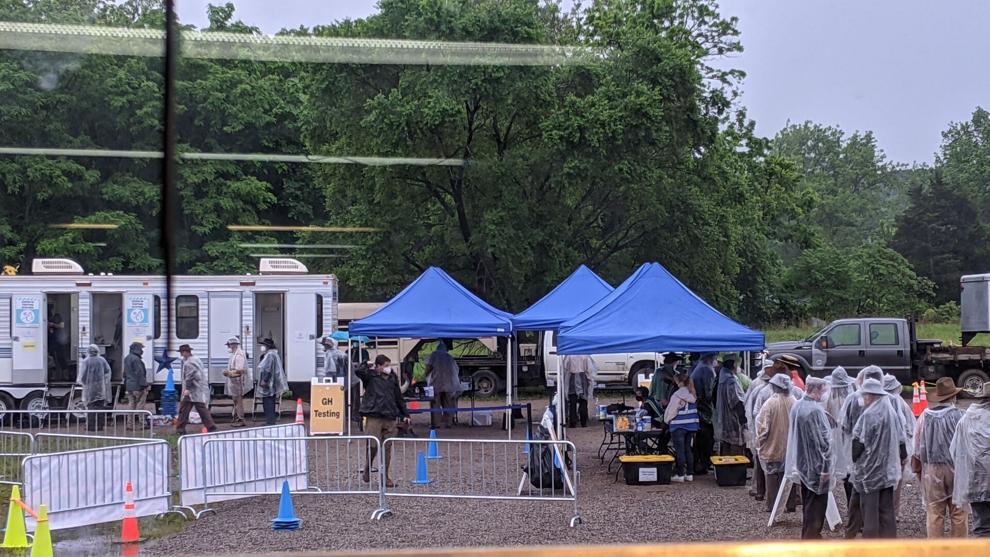 After waiting an hour for the results, you'd drive to the set and check in. 
Next, you'd switch into your costume, get your hair styled, and get makeup.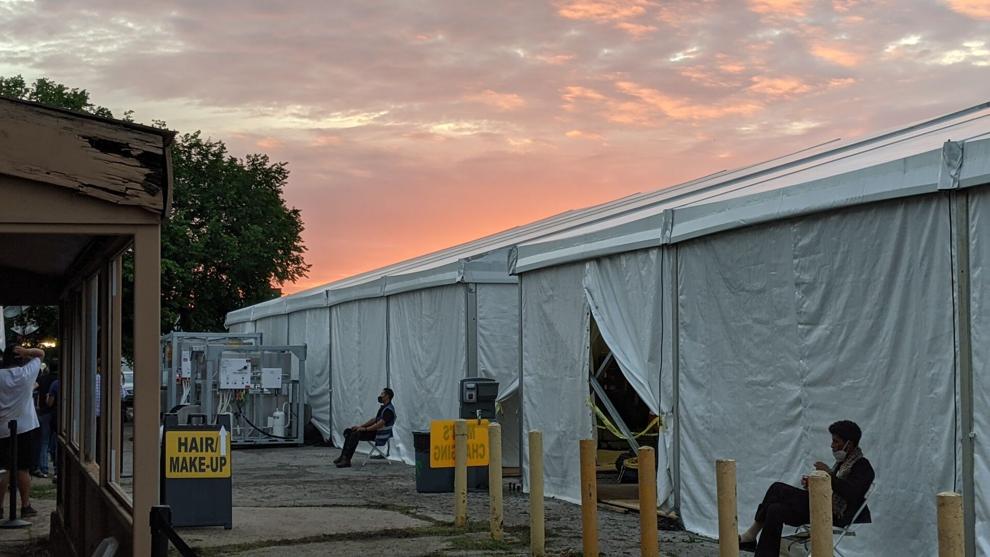 Afterward, you could get made-to-order food.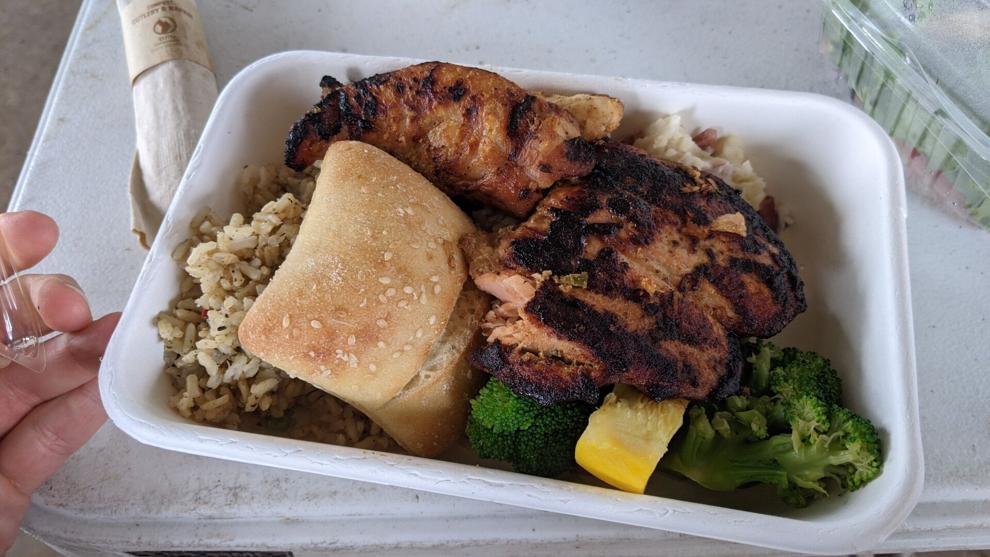 Then, you waited, often in a trailer, until you were called to the set.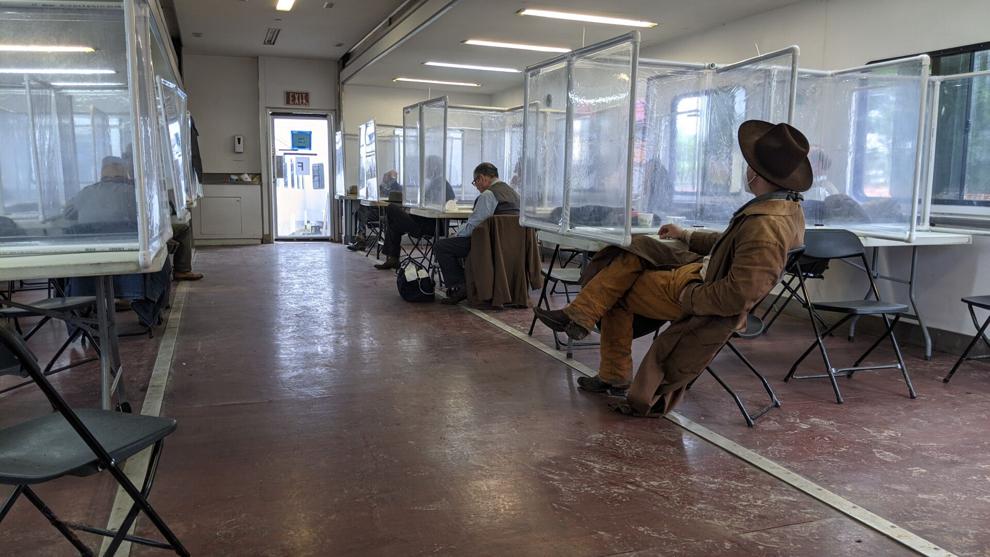 My first day was train-focused. We spent the morning filming a street scene by the train. I was tasked with walking across the street.
In the afternoon, we rode the train and then walked off into the town of "Fairfax."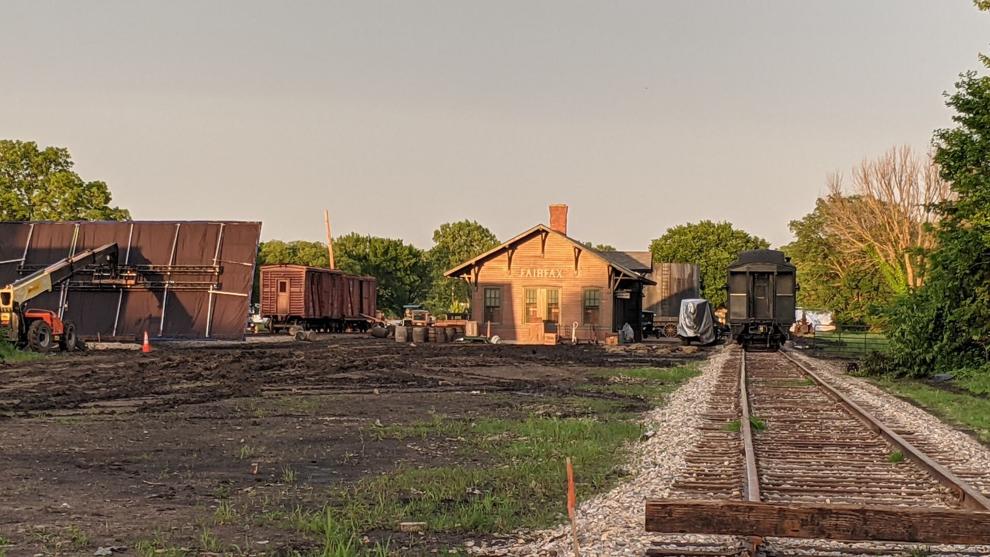 I heard they had to construct the tracks for the train in Pawhuska. 
According to a local, there used to be train tracks there at one time. The movie company did build what looked like a water tower next to the train station.
I saw the 1920s-style train on top of a giant oversized truck when I first got into town. I hear the train came from Nevada. On board the train, some of the cars had historic pictures from the capital of Nevada.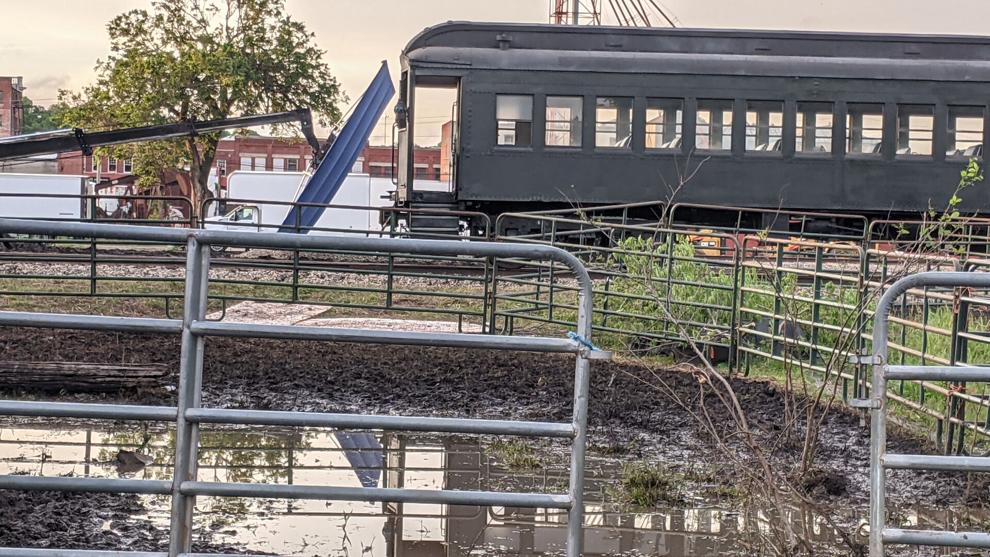 At the edge of the train station were these mobile blue screens. I imagine they work like a green screen at a TV station, like when meteorologists do weather.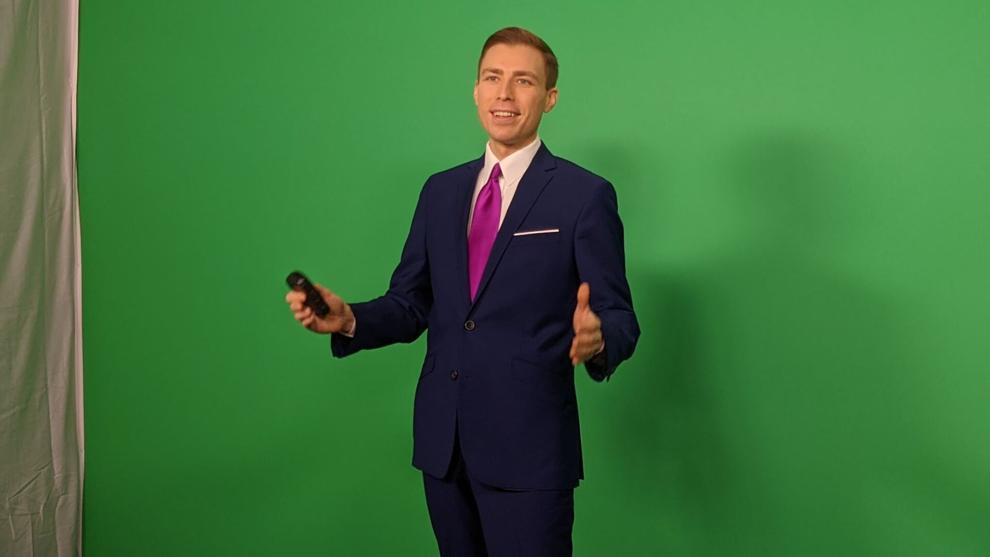 Computers digitally insert weather maps anywhere the green is visible on camera. In the movie, you'd think they'd insert landscape backgrounds because the blue screens were often at the edge of the created town.
Here's a look at the blue screen from inside the train.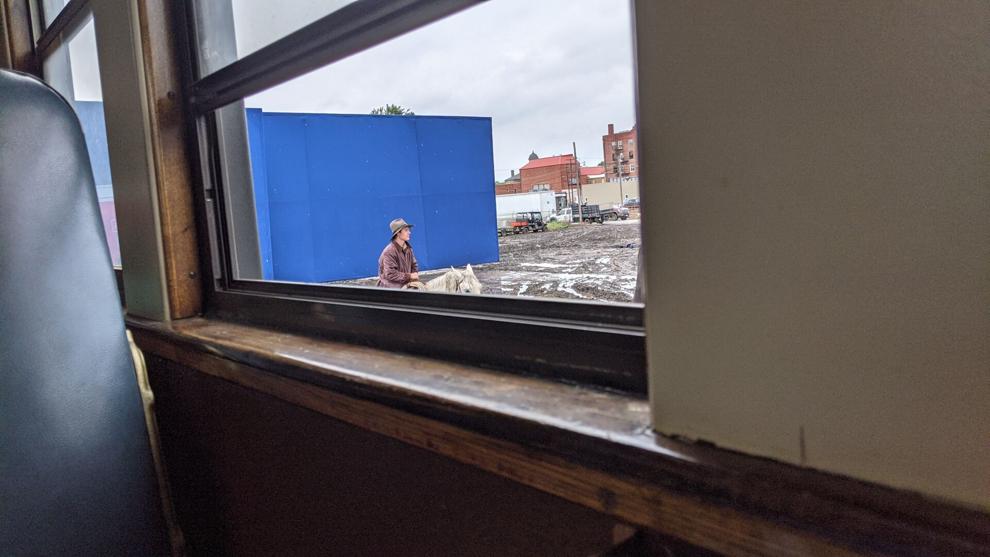 After multiple takes and camera angles, including a drone shot, I believe, the day ended around 8 p.m. as the sun set.
Later in the week, we spent two days in the part of the town that got transformed into the 1920s.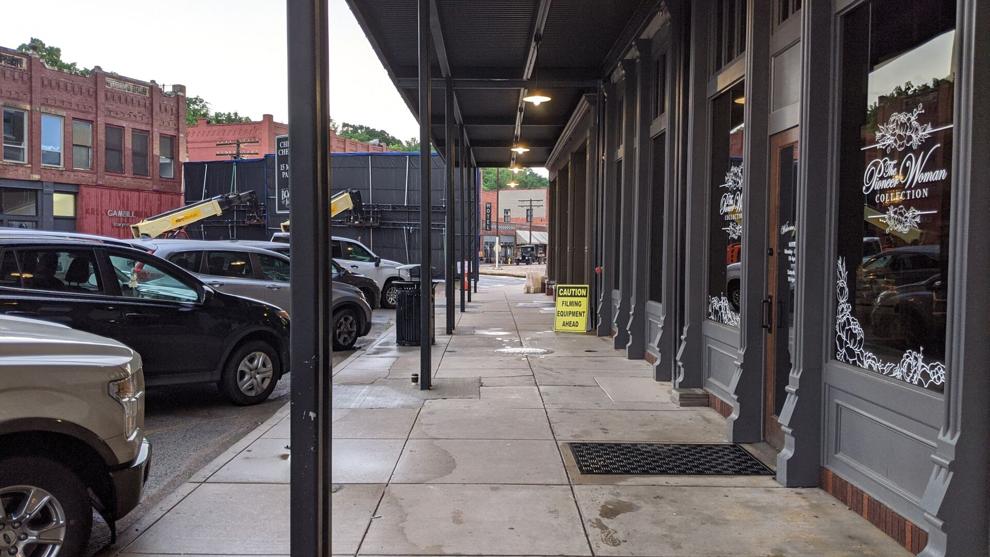 Over the course of two days, the same part of the movie filmed dozen of times. There were multiple angles of the same scene. We'd also redo the scene for each camera angle a few times, say about 5 times.
My favorite camera angle that day was the aerial shot. It captured the whole town, including hundreds of extras acting as townspeople and cars racing through the roads.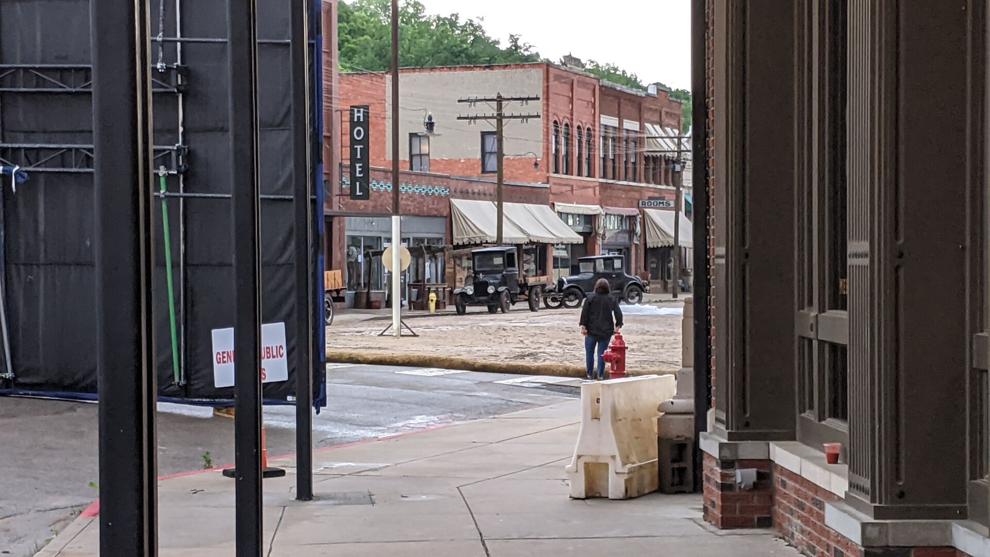 Between shots, the roar of the historic cars made it hard to hear directions, and I'd imagine it made it hard for the actors to hear other actors in a scene.
DiCaprio wore what looked like an earpiece, and I suspect it was so he could hear the movie's audio so that he could hear the other actors over the cars.
We wear earpieces on the news so we can get time cues, but they also give us the live news audio.
DiCaprio's earpiece looked way more stealth. At first, I just thought he had a white discoloration on the back of his ear. Then, I realized it was a nearly invisible earpiece.
I wonder if he got any direction cues in his ear?
It was fun spending half a day next to DiCaprio and watching him work.
At times, a local southern dialect coach would come up and give him a tip on how to say a word with an authentic southern drawl.
Other times, I'd watch DiCaprio joke with other actors and collaborate on how to tweak something in a scene. For example, he and another actor were discussing how to alter the timing of a line they had to make the scene flow better.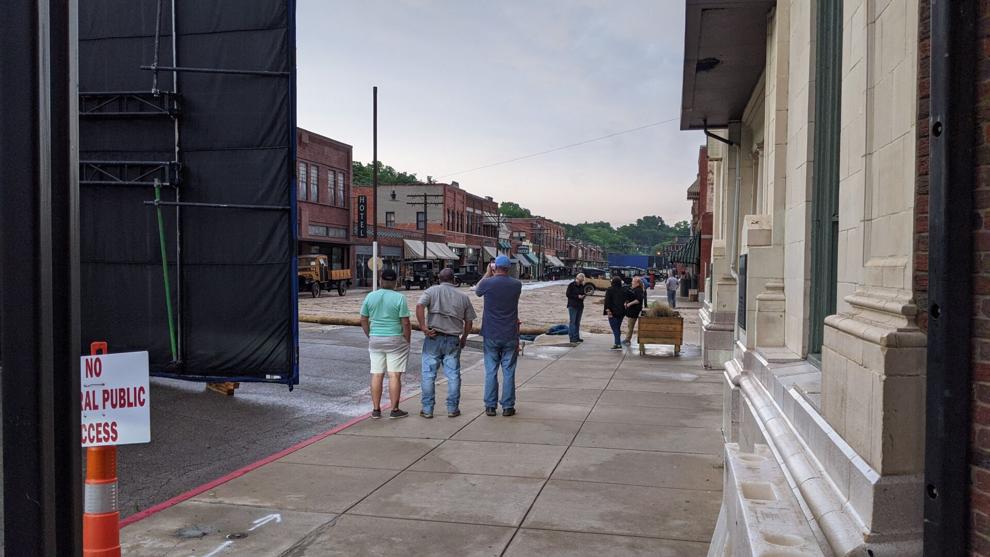 DiCaprio was very approachable and genuine.
Martin Scorsese made brief appearances on the active set.
On one of the days, Scorsese wore an artist glove. It's a glove that looks like this and only two fingers are covered by the glove. The glove is designed to prevent smudging on a computer tablet.
Tablets are hard enough to see outside, and smudges make it even harder to see, so you can imagine why Scorsese wants his smudge-free.
You knew when Scorsese was coming to the set because the assistant directors got everyone quiet.
It's hard to hear with hundreds of extras talking and 1920s cars roaring, so everything got quiet right before Scorsese's team meeting with the actors and other directors.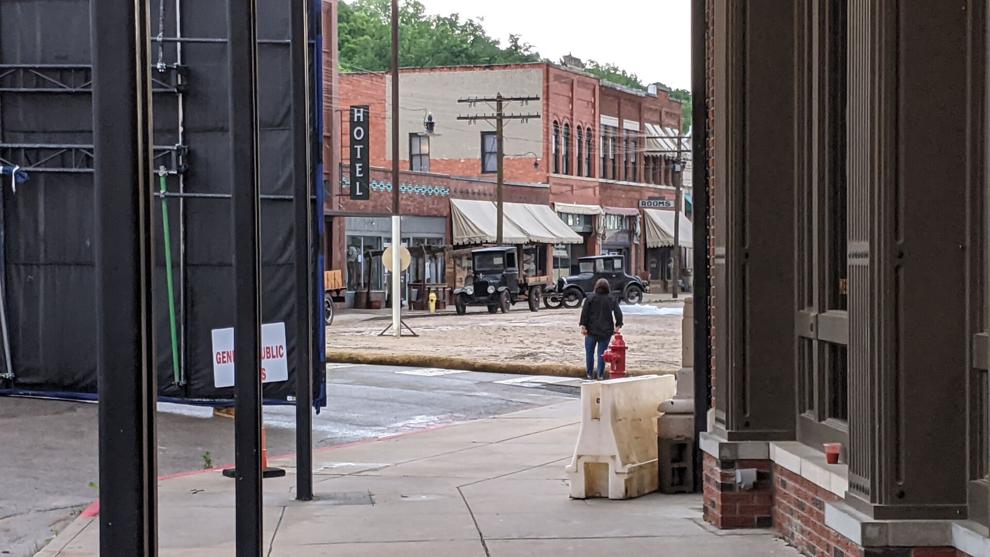 When he was not visible, I believe I saw Scorsese, from what I could tell, watching scenes play out on monitors, often in a tent.
Scorsese was not actively directing all the scene actions the days I was there. Instead, it was assistant director Adam Somner. 
What a professional. He treated every person -- the main stars, background actors like me, and the crew -- with equal respect, and he was just as nice to me as he was to someone like DiCaprio.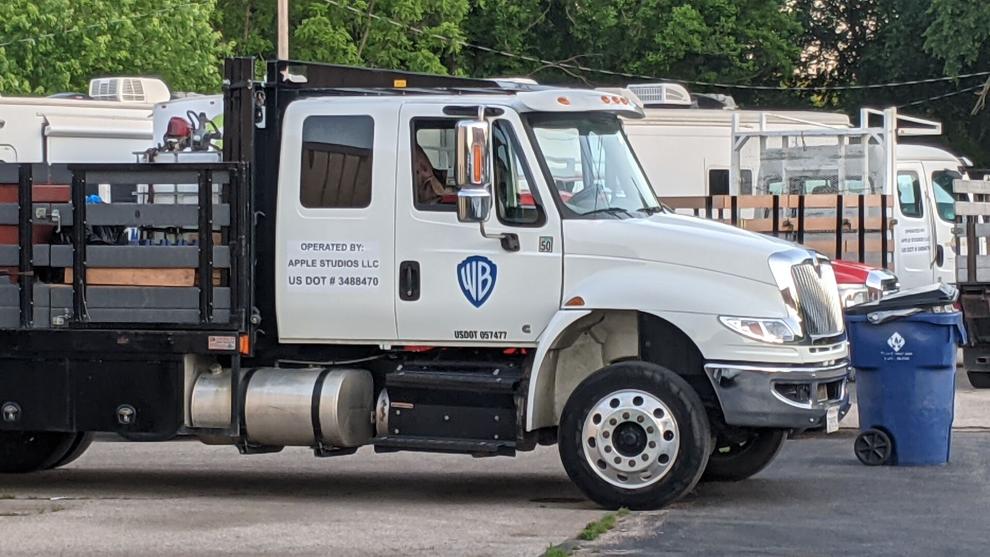 I thought it was so cool how the guy directing DiCaprio would direct me in the scene. He would tell me how to walk across the street, what timing to have, and share some tips.
The scenes were complex with hundreds of extras filling the streets.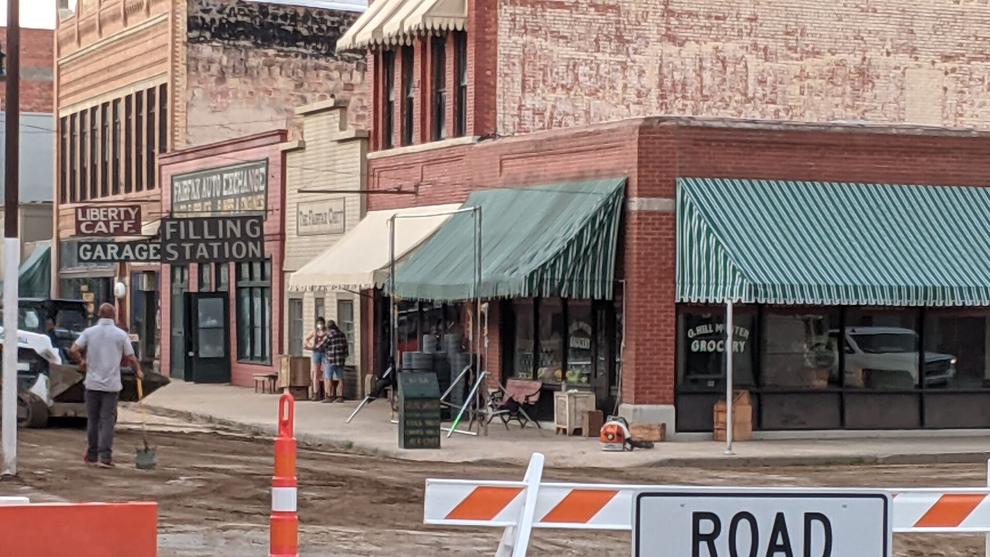 In one scene, I was on camera twice.
For the second part, I had to run on camera and chase some cars. Despite all the things he had to cue, Somner had time to worry about me and some other runners. As he'd watch all the elements in the scene play out, he'd also have his arm out to physically hold me back or to physically push me into the scene as my cue to start running.
The week I was there, there was no weekend filming. I heard from crew that was common.
According to the casting company, background extra "pay is a guarantee $100/day for up to 10 hours per day. Anything over 10 hours incurs additional pay at $10/hour. Any hours worked over 40 hours in a week is paid at the rate of $15/hour."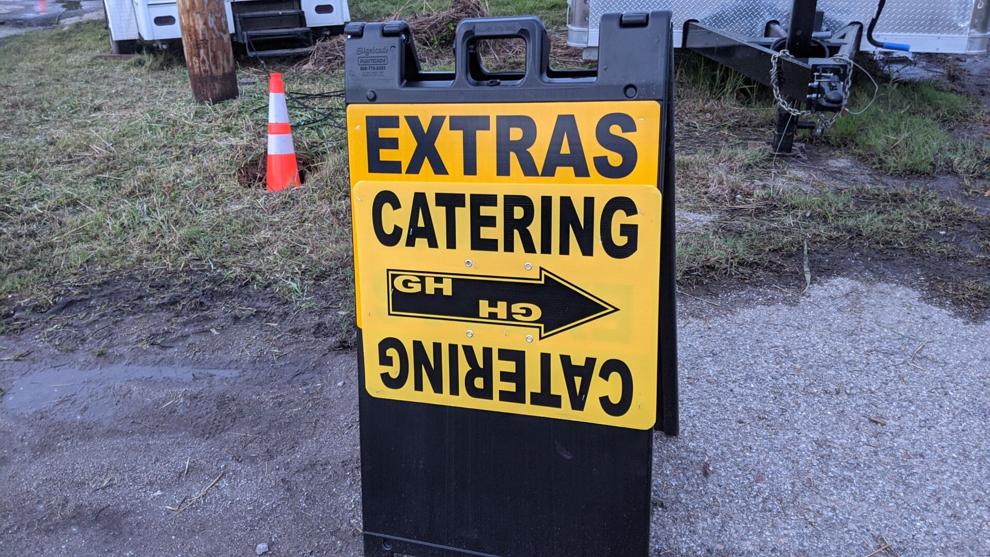 If you're wondering, they took COVID precautions very seriously.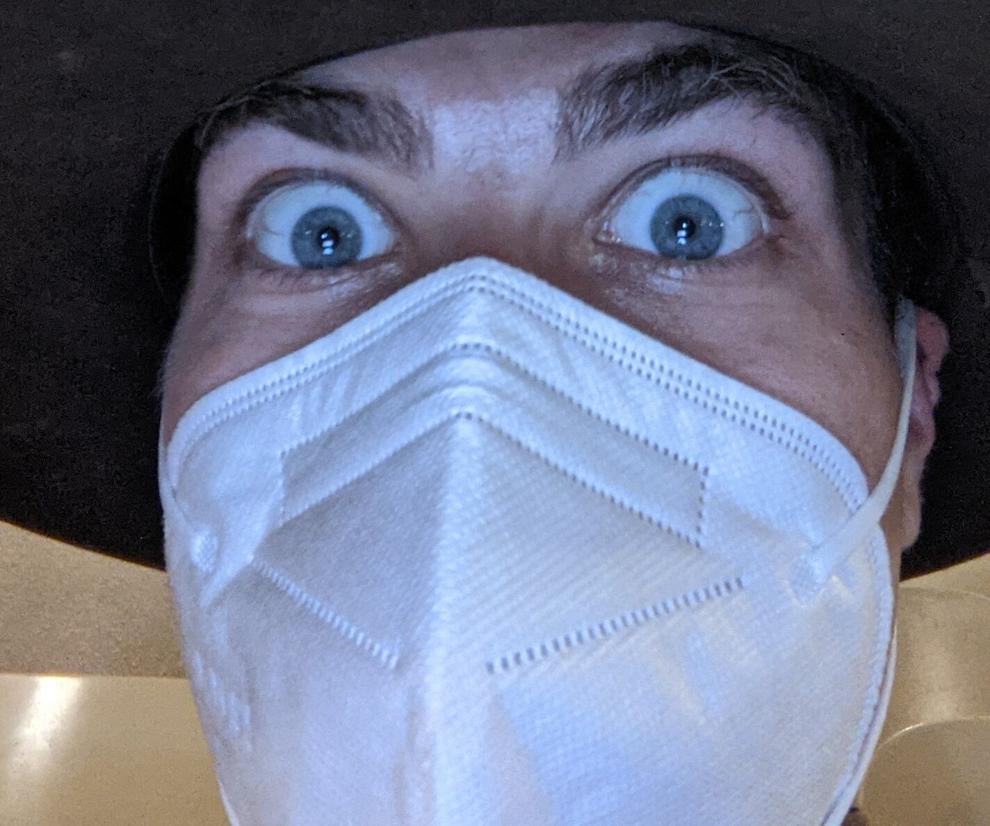 Everyone was given a N95 Respirator to wear at all times. You were allowed to take it off only when a scene was shooting.
By the way, they still shoot movies. They actually use film. I watched them switch out a can of film from the movie's main camera.
When the camera was ready, you'd hear "masks off," which was a cue the camera was ready to record.  As soon as cut was yelled to end the scene, you'd hear "masks on."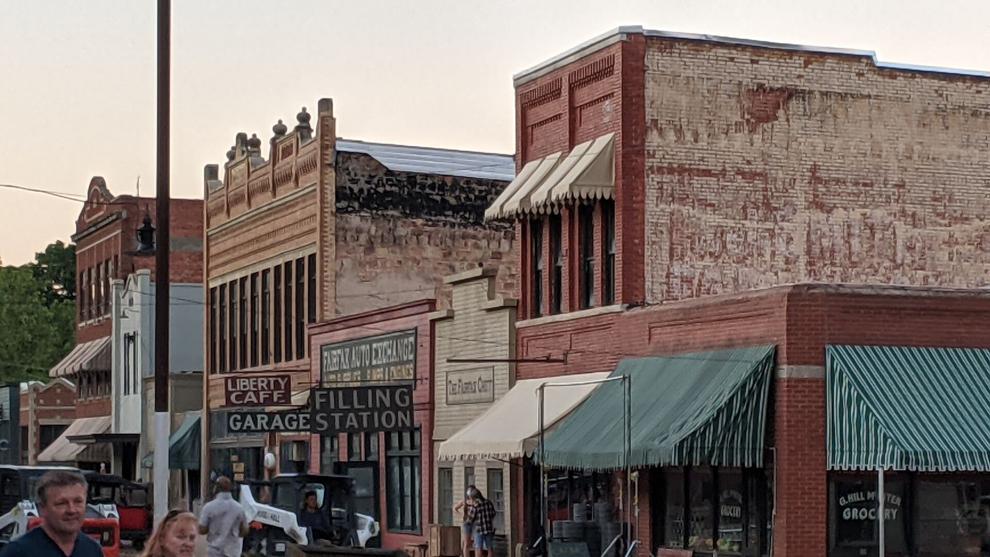 Hearing "masks on" and "masks off" was just as common on set as hearing "rolling" (meaning they're filming) and "action" (the signal to start the movement in a scene).
I hear the movie is based on the David Grann book, "Killers of the Flower Moon."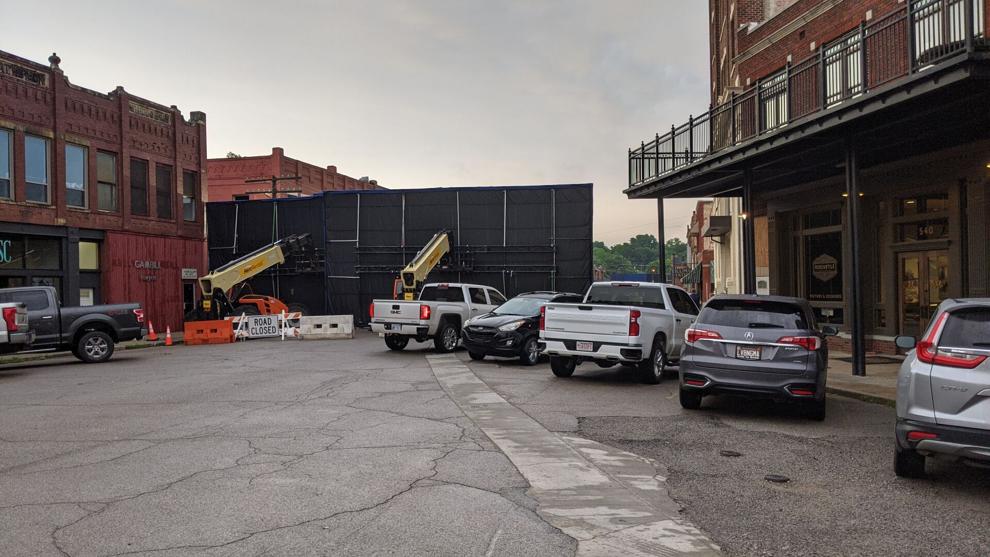 And those are my analyses and inferences of what I saw on the movie set in Oklahoma.