For what seemed like a long time, the Georgian Revival style home at 1717 Hamilton Street in Allentown had sat empty. Set back from the street, its porch of towering Roman Corinthian columns, more ornate than the Greek order of the same name, spoke of an elegant past, music echoing from large, first floor rooms onto the porch through big, open doors on warm summer nights, while chauffer driven Packards and Pierce-Arrows waited nearby for their wealthy owners.
But all that was in the distant past. A question that a casual passer-by on Hamilton Street might have had was, what would be its eventual fate? Would it join the procession of its sisters who have vanished? Or would it be like several others who now play a different role while retaining their appearance?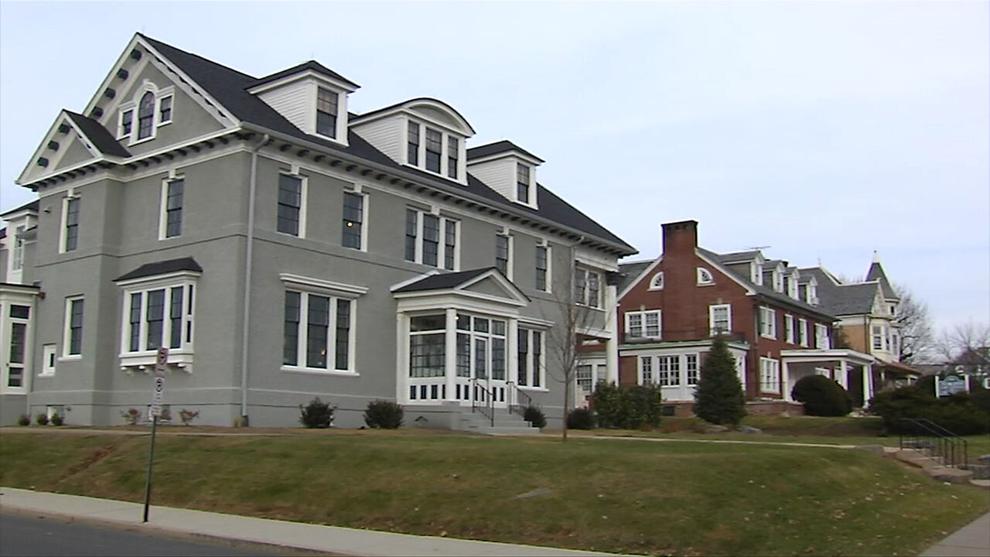 That question has apparently been answered by its new owner, St. Luke's Health Network. Recently crews of painters and other workers have begun the task of transforming the aging dowager for doctor offices or other medical related purposes. Several years ago, the hospital was taken to task by local preservationists for clearing away an old home up the block for parking space. It has gratefully decided in this case to preserve and re-purpose this part of Allentown's past.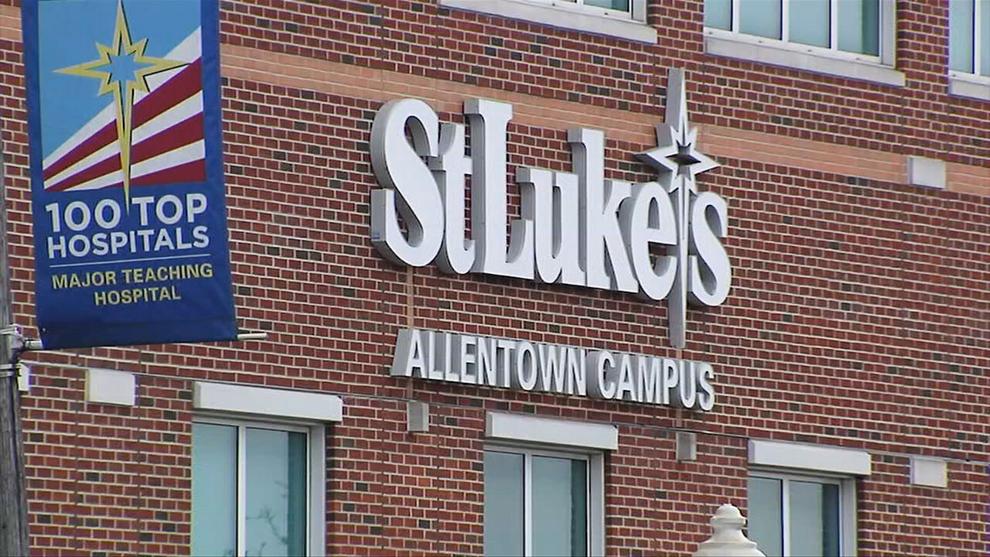 Some in Allentown identify the mansion at 1717 as the Flach (pronounced Flack) home after its owners for many years, Walter and Florence Yeager Flach. In fact, it was built in 1911 for William D. Schantz and his wife Helen. An Allentown native, Schantz was born in 1879. He apparently began his career working for Gottlieb Buehler (1857-1932). Buehler and his brother Joseph were immigrants from Germany who arrived in America in the 1880s. He learned furniture making in Allentown and by the 1890s they were among the leading furniture makers in the Lehigh Valley. Wise business decisions by Buehler's sons helped the company survive the Great Depression, which was to lead to failure for many local furniture makers.
Schantz was the bookkeeper for the company and in 1898 he was admitted to the firm as a partner. By 1911 he had created his own furniture company, William D. Schantz Co. His brother, H. L. Schantz, was vice president and another brother, Robert K. Schantz, was secretary treasurer. Advertisements in trade journals of the period show they were well regarded by the industry.
It was in 1911 that Schantz decided to build his home at 1717 Hamilton Street. Known as Millionaire's Row in the late 19th and early 20th century, it was the location favored by the wealthy of the city. Who exactly designed and built the Georgian Revival dwelling is not easily discovered, but it may have been the firm of Ruhe and Lange, the Allentown architects who built many large homes in that period. Their most prominent building in 1911 was the neo-classical Lehigh Valley Trust Company, recently re-purposed by the Jaindl family as a wedding venue. Firm member Wallace K. Ruhe had studied at the University of Pennsylvania as well as touring Italy and France for inspiration.
The Schantz family- William, his wife, Helen Laury; and son, David- called it home from 1911 until 1926. Why they decided to sell is unknown. Probably the offer on it was right. The buyers were Walter and Florence Flach.
Florence had been born Florence Yeager and was the daughter of William R. Yeager who was one of the major furniture makers of Allentown. Born in Allentown he received his education at public schools, Muhlenberg College and Allentown Business College. Yeager began his business life as a bookkeeper and in 1885 began a partnership with a John Kluenter under the name of Kluenter & Yeager that began with the manufacturer of adjustable window screens. It was gradually extended into the manufacture of frames for parlor, library and dining room furniture and fancy chairs. Yeager became known for the ornate designs on its furniture. The business grew to a larger facility on Lehigh Street.
By 1895 Yeager was able to take over the partnership and created the Yeager Furniture Company of which he was secretary and treasurer. As one of the founders of the Penn-Allen Cement Company he was also very active in the cement industry. In addition, Yeager was one of the founders of Merchants Bank. The bank was created by rising local entrepreneurs in response to the overly conservative lending policies of the city's other banks.
Yeager was a supporter of the YMCA whose building at Center Square he helped organize and fund. St. Paul's Lutheran was his church, and he was very active in it, donating in 1905 the furniture for St Paul's when the current building was built. It is now Life Church.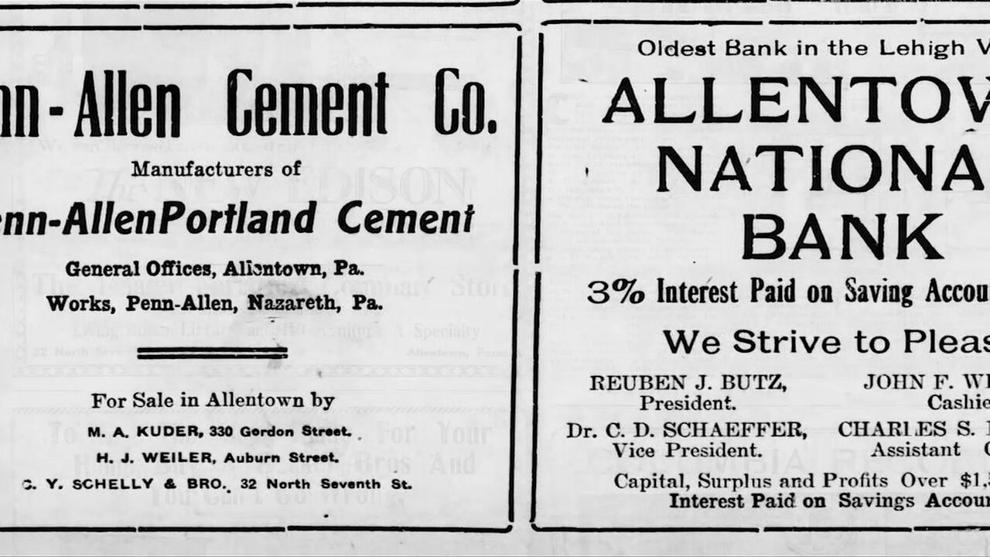 In 1885 Yeager had married H. Ella Dutt. They had one child, a daughter named Florence Yeager. Early on Florence showed an interest in music. She was a graduate of the Allentown College for Women, the predecessor of Cedar Crest College. According to a brief biography included with her father's in 1914 in the Anniversary History of Lehigh County, she also attended music courses at The Castle at Tarrytown, New York. The Castle, once the home of a wealthy military family and now a luxury hotel, makes no mention on its website of a school being located there.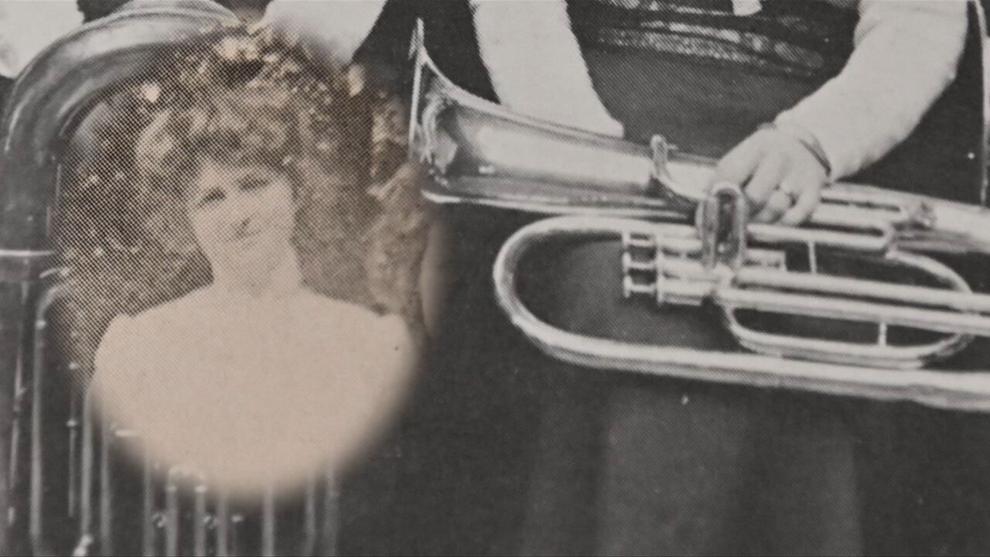 It was in the winter of 1917 when tragedy struck for the Yeager family. On a February afternoon, fifty-five-year-old William Yeager came home from a meeting of the YMCA's Ladies Aid Society nursing a cold. It was a bitter day with the streets deep in snow drifts. Yeager went rapidly to bed and by the next day was having trouble breathing. The cold developed into pneumonia and coupled with the fact that Yeager was a diabetic it turned fatal. "His end came without a tremor," noted the Morning Call. The next day's paper eulogized him as "a man with highest ideals for his church and for the community at large." Fortunately for his family Yeager had always been careful in his business affairs and he left a flourishing legacy that included 40 rental properties around the city.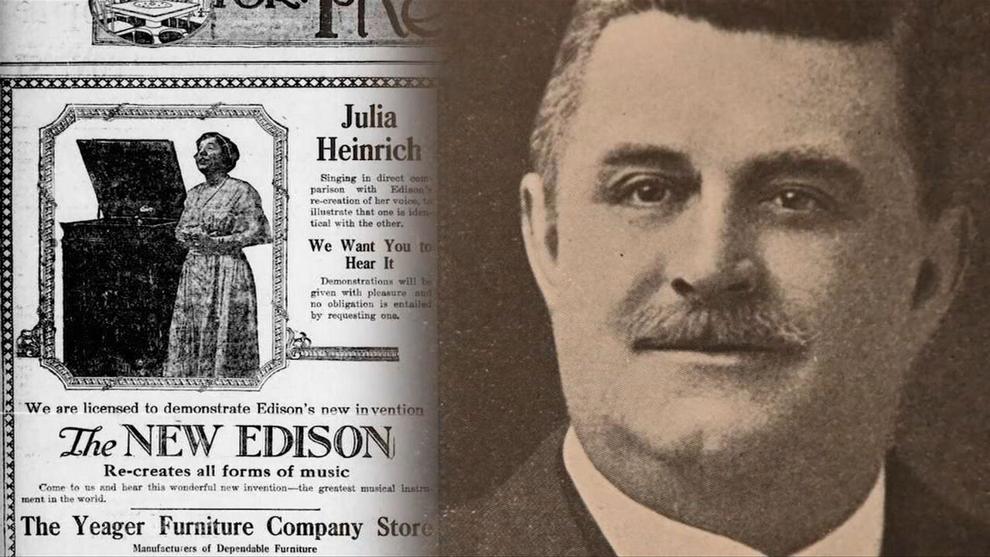 Sometime in 1918 Florence met Walter Flach, an independently wealthy man from Cincinnati, Ohio. How exactly they met is not easily discovered but they were married in 1919 and had an elaborate reception at the Hotel Traylor. Shortly thereafter Walter Flach applied for membership in the Allentown Kiwanis Club. There was some dispute about his employment category as he had no profession. It was decided to list him as "yeoman," often used in city directories at the time for a man who lived off investment income.
The Flachs, who had no children, were not 1920s Great Gatsby types known for lavish parties. Music events dominated their concerns. As one friend told reporter Dick Cowen after her death, Florence Flach was quite an excellent musician in her own right, "though not on a professional level." Throughout her life Flach encouraged young people interested in music. One young pianist impressed her so much that Florence purchased a Steinway for her to practice on. At the same time, they were active in community related philanthropy, particularly with St. Paul's Lutheran.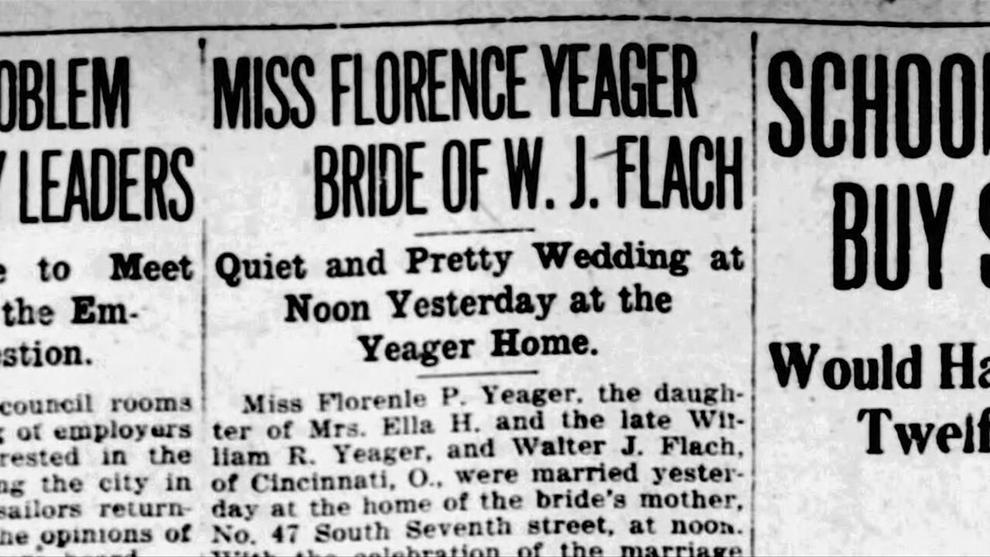 The arrival of the Great Depression may have hurt the Flachs in some way, but how much is unknown. By the 1920s Yeager Furniture Company was riding high, making a specialty out of a popular type of Oriental style of furniture known as "japanned."
Among the artists that Yeager hired specially for this purpose was William "Bud" Tamblyn, later a Morning Call-Evening Chronicle photographer and cartoonist. By his own testimony he thought he had it made, making $30 a week. But with the stock market crash of 1929 many found it a luxury they could no longer afford. "The salesman came back from New York and told us the bottom has dropped out of the japanned furniture market," recalled Tamblyn many years later, "and that was that." Shortly thereafter he was among many who lost their job. The Yeager Furniture Company eventually closed, never to return.
But thanks to other investments, the lights may have dimmed but never entirely went off at 1717 Hamilton Street. The Flachs went on being quietly rich. Walter Flach died in 1972, Florence in 1985. It would be 1991 before the bequests of Florence Flach's will were made public. Her total gift to charities of one sort or another amounted to a million dollars. Of that money the income from a share of it was "for the purpose of stimulating a better understanding, appreciation, cultivation, advancement and enjoyment of the art of music."