Fifty-eight years is long in the life of a comic book. Many is the aging boomer who weeps to discover that the box of old comics he had safely stored in a parent's attic on the off-chance they might be worth a small fortune someday had been thrown out as junk by a well-meaning, house-cleaning mother. "You didn't really want them, did you? They were just collecting dust," can be the cruelest words. But In truth, most comic books don't get into auction catalogs.
The Bethlehem Area Public Library is not in the habit of collecting comic books. But there is one in their collection that has particularly historical and cultural links to the Christmas City. It has been in their possession since 2001. The other day, the library was kind enough to share their copy with 69 News. It has been bound but other than a little fade in terms of color it is in good shape. It brought back memories of what sometimes seems like long ago and yet at moments only yesterday.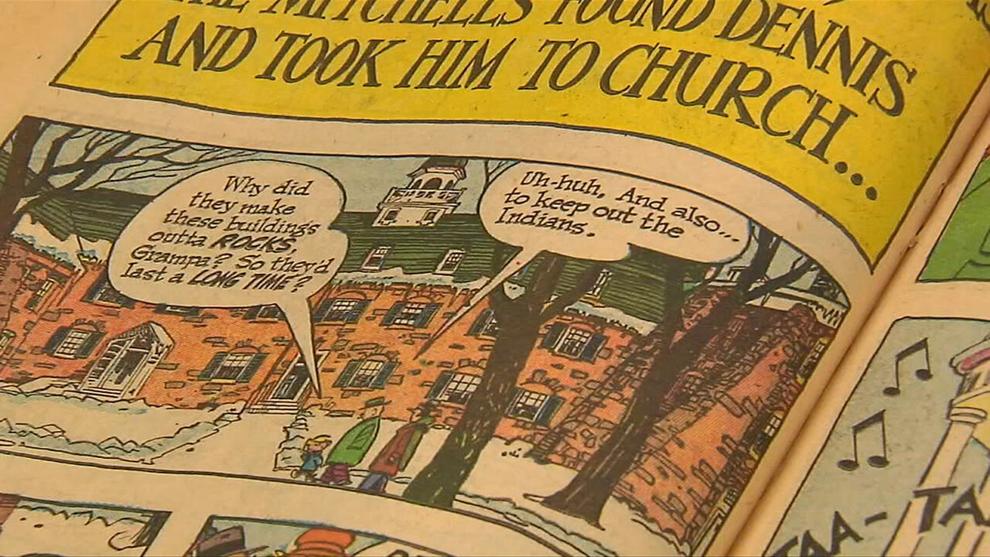 The comic was a special issue from Christmas 1963 that had Dennis the Menace, the mid-20th century creation of cartoonist Hank Ketcham (1920-2001) paying a visit to relatives in Bethlehem. They take Dennis and his family on a tour of Moravian Bethlehem during the holiday season. The family takes part in the love feast at the Central Moravian Church. Dennis is fascinated by the trombone players and walks up to the choir loft to see the young soloist who sings the hymn Morning Star. In general, it is a loving look at Christmas and its Moravian traditions.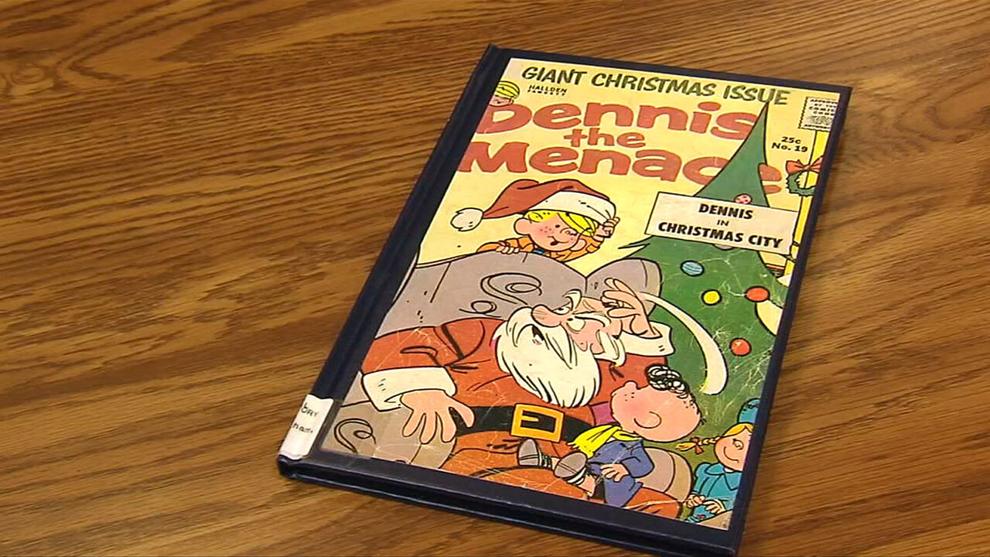 The idea to put his creation in Bethlehem at Christmas was not one that Ketcham would have come to on his own. Starting in 1955 he had artists that created several special issues that put Dennis and his family in places like Yellowstone National Park and Washington, D.C. But the inspiration for the Bethlehem issue came from Frederick Toole, one of the humor writers for the series that was illustrated by Ketcham. Toole was a native of the Christmas City, as was his wife, Mary "Mollie" Groman.
By the time Toole met Ketcham in the 1950s, the cartoonist was already well-known. He had worked for Walter Lentz, creator of Woody the Woodpecker, and eventually for Walt Disney, working on Pinocchio, Fantasia, Bambi and several Donald Duck cartoons. After serving in the Navy Reserve in World War II, Ketcham moved to California full-time where he became a freelance cartoonist.
Ketcham started Dennis the Menace in 1951. It was based on the antics of his then four-year-old son of that name. One day his wife came home to find out that the boy had created a mess in his room when he was supposed to be sleeping. "Your son is a menace," she told him. Ketcham created the character and within five months 16 newspapers were carrying the strip. By 1953 that had increased to 193, giving the lovable little lad 30 million readers.
In 1959, with the separation from and death of his first wife, Ketcham remarried and moved to Geneva, Switzerland where he lived until 1977. His son returned to America. After having served in Vietnam, he suffered from post-traumatic stress disorder and became estranged from his father for a time.
A Dennis the Menace television series ran from 1959 to 1963, starring a young actor named Jay North.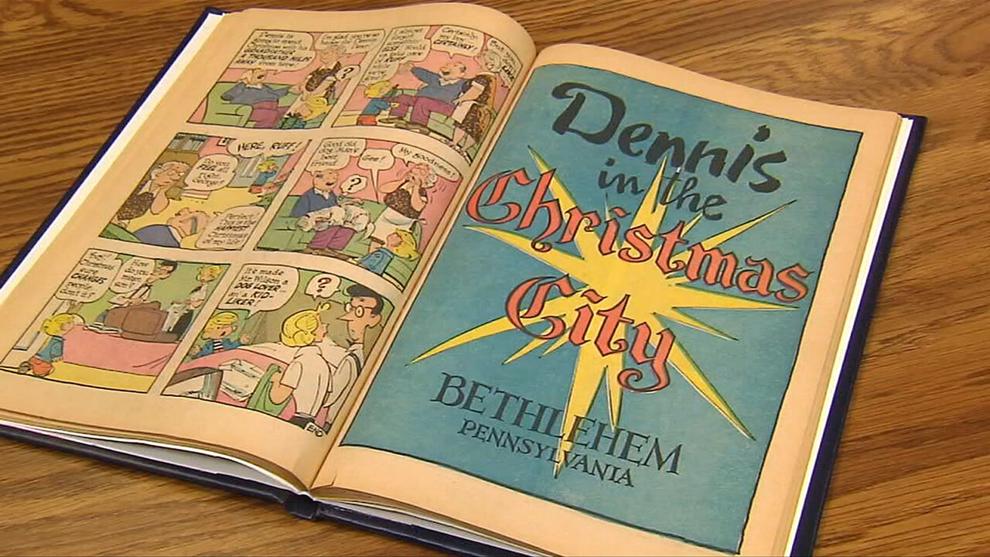 Toole's major task for Ketcham, with fellow artist Al Wiseman, was to produce the Sunday comic strips and Dennis the Menace comic books that were published. With this kind of leeway, it was probably why Toole was allowed to encourage and create the Bethlehem comic book. Although Toole and his wife lived in California, they had close contacts with their Bethlehem relations. Their family's history with the city went back to Gottfried Schultz, who was among the early Moravian settlers, arriving before 1750.
It was in the early 1990s that attention was drawn to the Bethlehem comic book purely by chance. Photographer Tim Gilman went to a yard sale being held by the American Association of University Women when he purchased a copy of the comic book.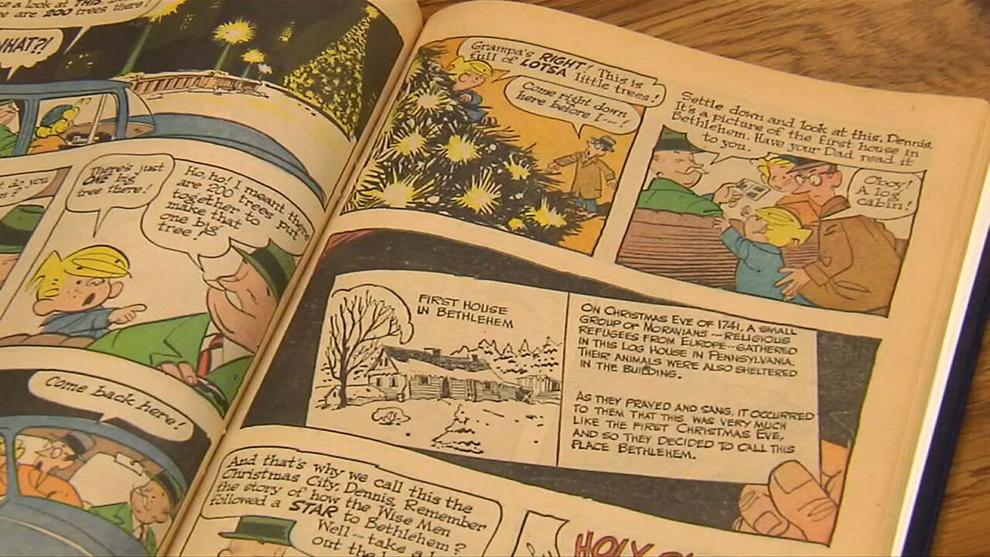 "I am not a comic book collector," he told the Morning Call in 2001. "But the link with the community was what interested me." It was a few years after he purchased the book that he happened to go to the home of Sandra Gebhart, who he knew slightly from Central Moravian Church. Gebhart filled Gilman in on some of the characters in the book. For example, Henry Mitchell, the name given to Dennis's father in the comic strip, probably came from Gebhart's cousin with the same name who grew up in the Bell House on Church Street. Gebhart grew up nearby at the Heckewelder House where the Bach Choir is housed. "I saw Henry Mitchell nearly every day when I was growing up. My relatives all lived nearby," she said. Later Gebhart gave her two copies of the comic book to the Central Moravian Church. Gilman gave his to the Bethlehem Area Public Library.
Fred Toole died in 1993, his wife shortly thereafter. In his later years he had devoted his time into creating religious comic books for children known as Dennis and the Bible Kids. According to Gebhart, there were different versions for Protestant and Catholic children and they sold for 49 cents. "He was a very religious man," Gebhart says.
When he returned to America, Ketcham settled with his third wife in Monterrey, California. Here he wrote a memoir titled "The Merchant of Dennis the Menace." In 1994 Ketcham retired from drawing the daily Dennis the Menace, turning it over to his assistants, Marcus Hamilton and Ron Ferdinand. Ketcham spent his last years in Carmel, California, painting in oil and watercolors. He later donated many of them to a nearby hospital. In 2005 an attempt was made to create a complete collection of Dennis the Menace cartoons. But it was stopped in 2009 with the 1961-1962 volume.
How much a Dennis the Menace comic book might be worth in the old comic book market is the subject of dispute. Perhaps it is just what any childhood memory might be worth, as the commercial says: priceless.