It might have been in the late 80s or early 90s. I was in a car driven by Kurt Zwikl, who wanted to show me one historical artifact or another. We were heading down North Fourth Street in Allentown and were passing some apparently long-empty, red brick factory buildings.
"You see that building over there?" he said, gesturing slightly. "That was where my grandfather worked for over 30 years." Kurt said no more about it. I saw no reason at any time to bring it up.
The Kurt Zwikl I had come to know was the former legislator whose interest dove deep into everything historical on the local, state and national levels. He had also served his hometown of Allentown in many ways in its various economic development projects. But looking back on it, having recently attended his memorial service and been impressed by what I heard said by both family and friends, I felt there was something in his roots that led him to make a commitment to excel in life. It was also in part, I think, gratitude for those people that made him the person he was.
The Zwikl family came to America with his grandfather Joseph. According to information provided by the Allentown Public Library, he was born in 1877 in Austria. This was not the small nation we know today but the Austro-Hungarian empire, the multi-national dual monarchy that dominated the Balkans under the rule of its aging ruler Franz Joseph. Everyone was wondering in the 19th century age of nationalism how long it could hold together. Others would laugh and say, comparing it to the newly founded German empire to the north, "In Berlin the situation is always serious but never hopeless," they said. "In Vienna the situation is always hopeless but never serious." After 1914, it would get real serious real fast for everybody in Europe.
Joseph Zwikl was in his early 20s in this land of Hapsburgs and Strauss waltzes. But like many in the Austro-Hungarian empire in the first decade of the 20th century he longed for America as perhaps a better place for his wife Julia and the children they would have. They came to America in 1903 and settled in the primarily German ethnic neighborhood in the 900 block of North Fifth Street and later in the 700 block of North Fourth Street and were members of Sacred Heart Roman Catholic Church. The 1920 city directory lists Joseph's occupation as a toymaker. Kurt's grandfather's 1965 obituary has him working as a brass polisher for the Dent Hardware Company until his retirement circa 1946. Perhaps this was the building Kurt was mentioning when we drove past that day.
The Joseph Zwikl family was to have four children, Kurt's father, Bill, being the last born on Nov. 23, 1916. Tragedy struck the family with Julia's death in 1921. It fell to sister Hilda to raise young Bill until their father remarried. It is clear from the way Kurt talked about him that Kurt, an only child, adored his father. Growing up in Allentown when he did and having a father who since 1953 had become a photographer who worked for Max Hess's fabulous department store at the height of its glory as Hollywood on Hamilton Street, was something that he clearly was taken with. Kurt later told me he practically grew up at the store.
A story that Kurt told me about his own close relationship with Hess's came early, in the mid-1950s. It was the height of the Walt Disney-Fess Parker-Davy Crockett craze, and like almost every American boy of the era, he had and wore his coonskin hat with the tail. One day, he was playing near his home when a big car pulled up next to him and a man rolled down the window.
"Young man," the driver said, "I see you are wearing a coonskin hat. Could you tell me where you got it?" Kurt quickly replied, "My father got it for me at Hess's."
"Good lad," the man said, and drove off.
His mother, who could see the exchange from the window, asked him what the man wanted. Kurt told her he had asked where he got his coonskin hat. When he told her he had told the man he got it at Hess's, she replied with a sigh of relief: "Good, because that was Mr. Hess."
His mother, who had worked at Hess's as a clerk before her marriage, apparently understood the repercussions if a different reply, for instance like Leh's, had been given.
Unlike those who spoke at the memorial service, I had no early knowledge of Kurt Zwikl the high school football player, his time in the state legislature, his love for his family or his passion for the Philadelphia Eagles. It was the late Lance Metz, historian at the Hugh Moore Park and Canal Museum, who said I would have to meet him. Over my time with the newspaper, I did get to know Kurt through articles on his occasional projects and books. In particular, his book, "Taking Pictures," the book that profiled his father's work, and also his own work on presidential history.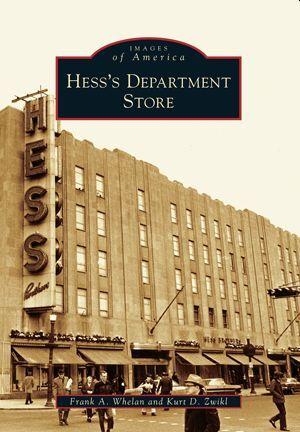 But it was Kurt's suggestion in 2008 that we work on an Arcadia book on Hess's using many of the pictures taken by his dad that I got to know him better. He quickly got the pictures together and gave me the necessary information I would need to write the captions for them. Most important were our interviews with retired Hess's employees who offered insights into Hess, the larger-than-life figure in Allentown and the Lehigh Valley. One of the most significant things to us as the work came out was the reaction of the community and the impact it seemed to us to have on Arcadia. The first book signing we held was in downtown Allentown. I cannot remember the number of books we had on hand, but it was certainly large. But whatever it was, it was not large enough. In the space of half an hour, it had sold out. One man brought 17 copies, announcing he had relatives as far away as Hawaii he wanted to send them to.
With that, we sent word to Arcadia that we were going to need a lot more books. Their response was that they had done a number of department store books and they usually sold a certain number and that there was no reason to print more than that. Kurt and I tried to tell them yes, but you don't understand, this was not just any department store in this community.
The next signing was set in a local restaurant shortly before Christmas. Then, the inevitable happened: we sold out, and people were pounding on the door after we had run out. One lady wanted to know where we were hiding them. It was quite a night.
After that, Kurt and I, for the next several years, were in demand to talk about Hess's and the book. Those were great times and very gratifying to both of us. About a year or so ago, a man contacted us, asking if Kurt and I wanted to do another book. We both decided that we were proud of what we had done, but that was enough. After that, I had not heard from Kurt for a while when suddenly came the news that he had died from ALS.
I was shocked and saddened, as many were at the time, and will never forget Kurt.