It is early on the morning of October 18, 1960, and Lyndon Baines Johnson is probably looking for a cough drop. Awake in his room at the Howard Johnson Motor Lodge near Allentown, the candidate for vice president of the United States on the Democratic ticket with John F. Kennedy had made numerous speeches to not always friendly crowds in the largely rural Republican northern regions of Pennsylvania, that, as he later told a reporter, had has made him hoarse. But tonight, Johnson has only one more speech to make, this time in Allentown at a big band mecca called the Frolics Ballroom at 1411 Union Blvd. He is hoping for a more receptive audience. The election that will change his life and that of the country in ways he could not comprehend that morning is only days away.
When he was looking for a title for the third volume of his multi-volume biography of President Lyndon Johnson, Robert Caro (now 80, with many frustrated readers wondering if he will ever finish his opus) chose one that fit well: "Master of the Senate." In the late 1950s the tall Texan was the Majority Leader of the Senate and had the Democratic-controlled legislative body in his hands.
There is a famous set of photos of Johnson giving the full "treatment" to a reluctant member of his own party, with Johnson leaning over the legislator, who is bending over backwards under the towering form of LBJ. But Johnson was in a different position than he had ever been before. Now he had to campaign for a ticket that was not totally his own. Deep in rural Pennsylvania, called by the New York Times reporter covering the campaign a "citadel of Republicanism and Protestantism," he was running with Kennedy, a New Englander and a Catholic.
Two individuals could not have been more unlike. Where Johnson was a red-hot Southern politician of the old school "from the banks of the Pedernales" Texas river, Kennedy was as cool as a fall morning walk in the Harvard Yard, with a touch of Boston Irish toughness and wit. Asked how he became a war hero with the P.T. 109, he replied "Simple, they sank my boat." A genuine war hero and something of a playboy, the senator from Massachusetts was all glamour. Youth, vigor (pronounced "vigah") and touch football were his campaign's mantra. After 8 years of "Papa" Ike and his Homburg hat wearing cabinet of "six old millionaires and a plumber," it was "time to get this country moving again." Nixon and his famous television debate, featuring his five o' clock shadow beard stubble, was simply another shade of Republican gray.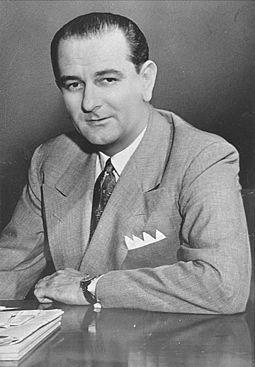 It would be many years later after his death at the hand of an assassin that the country learned of the many illnesses to which Kennedy was prone and the drugs he was said to be getting from a so-called "Dr. Feelgood " to keep him looking young. One pundit of the day noted the picture magazine Look had run so many photo spreads on the photogenic candidate, his elegant wife and adorable child that ought to be renamed Kennedy and be done with it. Norman Mailer saw him as the perfect candidate for the new suburban America, summing Kennedy up as "Superman in the Supermarket." "Grace under pressure," the political pundits called Kennedy's style in their columns, a concept derived from Ernest Hemingway's definition of courage to writer Dorothy Parker.
Yet Johnson was giving it his all from small town to medium size cities. As his motorcade drove through what the Times reporter Wendall Philipps called "the hillsides ablaze with autumn foliage," he defended Kennedy as forcefully as he could. But in truth Lyndon Johnson thought he should be at the top of the ticket.
His antagonism with the Kennedys began, according to Caro, with JFK's younger brother, Robert. Desperate to get the respect of his father, Joseph P. Kennedy, who "neglected" him over his two older sons, Joe and Jack, Bobby Kennedy looked on Johnson as a protégé of FDR, who had fired Joe Kennedy as ambassador to Britain for being an isolationist. Therefore, Johnson was his family's enemy. Johnson was in the room when Roosevelt took the phone call that led to the firing of Joe Kennedy. And he made no secret of his delight in it, often imitating FDR's calling Joe Kennedy "that sonofabitch." This got around to Robert Kennedy who in 1953 came to work on the congressional staff of Republican Sen. Joseph McCarthy. In those days, according to a recent biography of JFK, the notorious Red-baiting senator from Wisconsin was a regular guest at the Kennedy compound at Hyannis Port. Johnson was aware of Bobby Kennedy's animus and tried to smooth it over, making it a point of always shaking RFK's hand whenever they met, which only infuriated him further.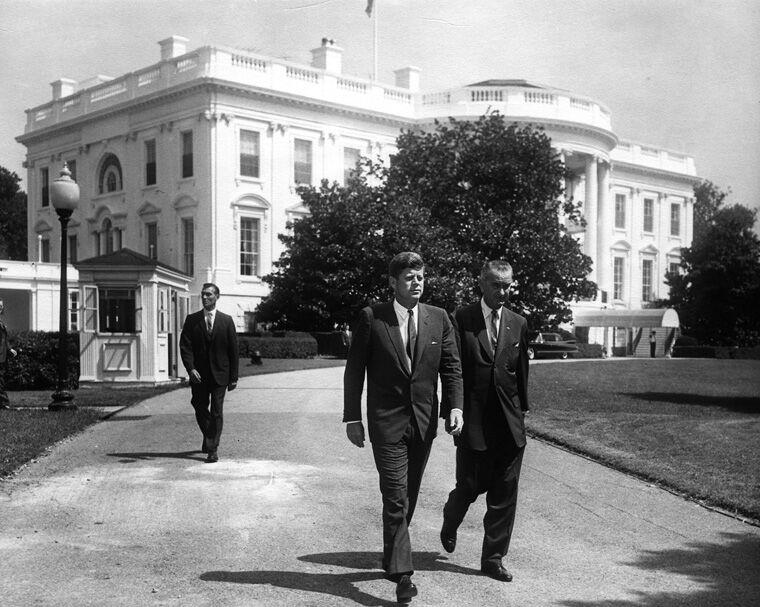 But by the summer of 1960 things had changed. Johnson's attempt to get the Democratic party's nomination for president had failed and Kennedy had won a string of primaries. His wealthy father's contributions to the West Virginia primary campaign became a target for his rivals. Kennedy took it lightly. "I got a telegram from my father the other day," he quipped, "telling me he didn't mind buying some votes, but he'd be dammed if he was going to pay for a land slide!" As former President Harry Truman quipped, "it's not the power of the Pope but the power of the Pop that worries me."
But if not quite the Solid South of yore, no Democrat from New England could hope to win the White House without it. And Johnson had the pull Kennedy needed. Civil rights movements headed by Dr. Martin Luther King were challenging the Jim Crow system of segregation like it had never been challenged before and its law enforcement arm responded viciously with fire hoses and biting dogs. The Ku Klux Klan was in the background as well. A candidate from Massachusetts, it was felt, was just a little too liberal for many southerners to swallow.
At first Johnson's aides and associates could not believe that he would give up all the power he had in the Senate to take an office that would reduce him to a nonentity politically. And the northern liberals tried at the convention with a floor fight to persuade Kennedy to drop Johnson. Bobby Kennedy's role in all of this remains murky. But candidate Kennedy made it clear Johnson was his choice. And so, Johnson it was.
Johnson's primary role was to keep the south for the Democrats. After he and Lady Bird had a meeting with the Kennedy people at Hyannis Port they headed south. Johnson gave the southern politicians who would not back the ticket a tirade that when Kennedy won, they would get absolutely nothing out of his administration. Perhaps most dramatically, Johnson created the LBJ Special, a train that traveled all over the South. Eastern reporters, on whom Johnson's southern style grated, behind his back called him Russ Cornpone and called the train the Cornpone Special.
But some recognized what Johnson was doing. Along with the bands playing "The Yellow Rose of Texas" and greeting his crowds by throwing his ten-gallon Stetson in the air was an old-fashioned Southern stump speech and they loved it. Caro points out that at every stop an aide was on the edge of the crowd to retrieve the hat. Stetsons, after all, were expensive.
By October of 1960 Johnson had done his best for the campaign and now was in Pennsylvania as the front man for Kennedy's speech in Allentown set for October 28th. On the evening of the 18th an enthusiastic crowd of local Democrats, estimated at 4,500, had gathered. At the height of its fame, Frolics had been a gathering place in the 30s, 40s and 50s to play big band dance music by the dance-crazy jitterbug crowd. In Pennsylvania Johnson took on the theme that had been the background noise and sometimes upfront issue: Kennedy's Catholicism. In the rural areas of Pennsylvania that he had been through the issue was a hot topic. When Kennedy came into the Lehigh Valley on the 28th he was greeted at Bethlehem by anonymously circulated anti-Catholic hate literature. According to one source Kennedy staffers complained to Hotel Bethlehem's management where JFK was staying that bacon had been included on his breakfast tray even though it was Friday and as a Catholic Kennedy could not eat meat on that day.
Many felt that a Catholic would put his first allegiance to the Pope in Rome rather than the United States. People who knew Kennedy understood he was not that kind of Catholic. Historian Arthur Schlesinger, Jr. noted, "Kennedy was a Catholic the way FDR was an Episcopalian, because he was born into his faith." But ingrained beliefs died hard. As he had across the state, Johnson noted to the crowd that war hero Jack Kennedy and his brother, Joe, who had been killed in an airplane accident following the war, had volunteered to fight for their country. "Nobody asked them when they signed up what church they belonged to." Johnson said. "They died for you. They died for America." Nixon aides noted that Johnson's tactic worked. "Kennedy can't talk it. But Johnson can and he is working it and it is working," one of them told the Republican candidate.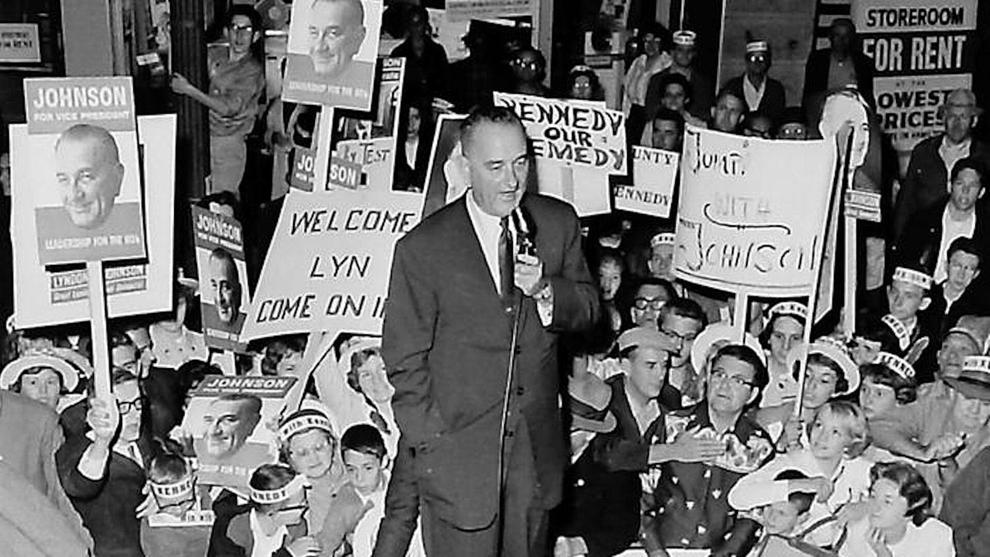 The next morning Johnson gave a brief interview in his pajamas at the Howard Johnson Motor Lodge near ABE Airport to the Evening Chronicle's Ralph Rosenberger. Among other things he noted that since his heart attack five years before he watched his diet. Johnson also noted he had Pennsylvania roots; his ancestors in the colonial era had settled for a time in Lancaster County. He shared that he had learned about campaigning by watching his father run for the Texas State legislature in 1917. "It really has not changed that much," he said.
Election night was a nailbiter for Kennedy. Apparently, there were a great many Americans who liked Nixon's Republican vison for America. But Johnson had held Texas and several other southern states for the campaign, and they were instrumental in getting Kennedy elected. Apparently, Texas Catholic Latino voters helped with that. Pundits who were not pro-Kennedy candidly admitted that JFK could not have gotten elected without Johnson.
On October 16, 1966, almost six years to the day of his campaign swing in Allentown in 1960, then President Lyndon Johnson returned to Pennsylvania to dedicate with his wife Lady Bird the Roman Catholic shrine of Our Lady of Czestochowa near Doylestown. The newspaper headlines that day were about the Vietnam war. And anti-war protesters would soon be marching in front of the White House chanting, "HEY! HEY! LBJ HOW MANY KIDS DID YOU KILL TODAY?