READING, Pa. - Inside the Berks County Services Center in downtown Reading, you can take the elevator up to the third floor. Just down the hall from the tax assessment office is the recorder of deeds.
"The recorder of deeds takes care of and preserves all the land records of the county," explained Fred Sheeler, the man who's held that role since 2008. "Deeds and mortgages and rights of way, easements over property, and we have to maintain them forever, so our records go back to the year 1752."
While Sheeler has been the recorder of deeds for 12 years, he's been chief Christmas operator for six. They go all out for the holidays here.
Six years ago, a few employees put an elf on a chair in the hallway.
"I brought the leg lamp out," Sheeler recalled. "Then, I brought an old radio out, and then we started to play Christmas music through that, and then that year, I said, 'I'm going to come up with something better.'"
That's how the whole 'A Christmas Story' living room got here.
"Often when people come by here, I just catch them sitting here, and they just say, 'This just feels like grandma's house,' so it's just kind of a feeling that the movie kind of brings back to you," Sheeler said.
Families stop by to take pictures, once right after an adoption and a wedding.
"When I first heard about it my first year coming here, I like ran up the steps," county employee Michele Rivera recalled. "Like, I couldn't wait to come up and take a picture."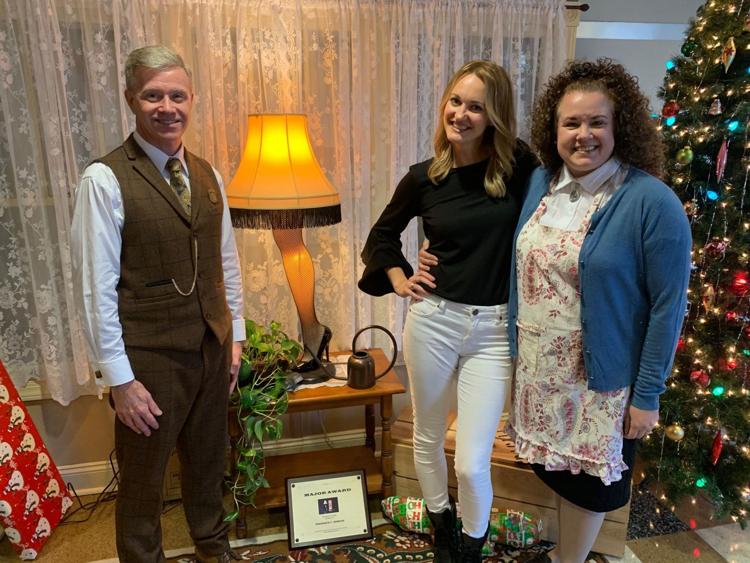 This year, Rivera dressed up like Ralphie's mom, Mrs. Parker.
"We love it," she said. "I have a small version of this lamp in my house, in my living room. I do."
Pick up the telephone and you'll hear a scene.
So many iconic lines, so many scenes to replicate. Sheeler's favorite is at the end.
This time of year, some offices get into the holiday spirit by putting up a few decorations, and there's an office in Berks County that takes …
"I think it's probably the very end of the movie, where the mom and dad are just sitting there and the snow is coming down outside," he said. "It's after the presents are over and it's just, you know, the wrapping paper is thrown around and it's just getting all quiet. You know? That's my favorite."
This part of Sheeler's real life story has a bittersweet ending. It's the last year for "A Christmas Story" in this hallway after Sheeler lost his bid for reelection in November.
"You know, that's how things go," he said. "I'm hoping I'm going on to something bigger and better. I don't think I can take this with me, but it was fun while it lasted, and a lot of people got a lot of joy out of stopping by and seeing it."
Catch it while you can.