MALVERN, Pa. - It was September of 1777, two years into the Revolutionary War.
"Right now, you're on the site of the ninth bloodiest battle of the American Revolutionary War," said Jim Christ, the president of the Paoli Battlefield Preservation Fund. "We're at the Paoli Battlefield, but we're not in Paoli. We're actually in Malvern, Pennsylvania."
The Battle of Paoli got its name from the Paoli Inn, which used to be about a mile away. Remarkably, not much at the site has changed in nearly 250 years.
Back then, American troops, led by Gen. Anthony Wayne, were camped in the farmland and woods, with orders to get behind the British and, if possible, cut off their supplies as they crossed the Schuylkill River. So, sure of his safety, Wayne sent word to Gen. George Washington that he was in good position to attack, but the attack would come from the other side. British troops were led by Gen. Charles Gray, who knew Wayne's men were coming. Loyalist spies spread the word.
"That opening in the woods there, that's where the British come streaming in," Christ explained.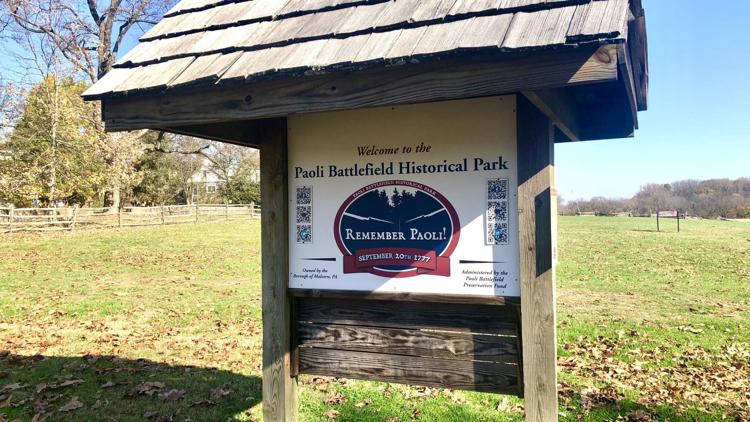 The attack was in the middle of the night on September 20. Wayne's men were outnumbered seven to one. They might have been able to get away, but they got stuck when a cannon lost its wheel, blocking the path to what's now Sugartown Road. A replica cannon represents the one they wouldn't leave behind. The British attacked with a vengeance, murdering soldiers who surrendered, burning them alive.
Medical records show a solider who survived the battle had been stabbed 48 times with a bayonet. Troops who would fight on were known to yell out "Remember Paoli," the first battle cry in American history.
"It's a peaceful place now. I can only imagine what it would have been that night, but I'm awfully thankful of the sacrifice of these men lying in the grave behind you," Christ said. "They are always forgotten."
Yet, this place remembers.
Fifty-three men sacrificed their lives. All but one are buried at the site. A monument, the second oldest Revolutionary War monument in the U.S. and the oldest in Pennsylvania, marks the burial mound.
The 53rd man was buried in the nearby woods, which you can now walk through and explore, following a trail.
242 years later, we're here in a place that helped shaped the United States.