HARRISBURG, Pa. - The Pennsylvania Farm Show is a little different in 2021. It's also a little quieter, and a lot less crowded.
"We're proud of having 500,000 people attend the farm show every year, but what about the other 12-1/2 million? And this platform, this virtual show allows us to go to them in their home, 24/7 and still keep that critical connection between farms and consumers," said Russell Redding, Pennsylvania's agriculture secretary.
No longer bound by its Harrisburg location, the show is virtual this year. Now, anyone, anywhere in the world can see what it's all about.
"We wanted to make sure that no matter where you lived and how you sort of navigate on the electronic platforms, that you have access to this virtual farm show," Redding added.
On the farm show's website, you'll see a lot of options. Under a tab titled "participate virtually," there are two live cameras you can check out. One is a beehive cam; the other is a duckling cam.
On the bee cam, there's no audio, but you'll swear you hear the buzz as you watch them work. We spent some time looking for the queen. She has a bright yellow dot on her back. Beekeepers sometimes use bright paint to mark the queen so she can be easily spotted.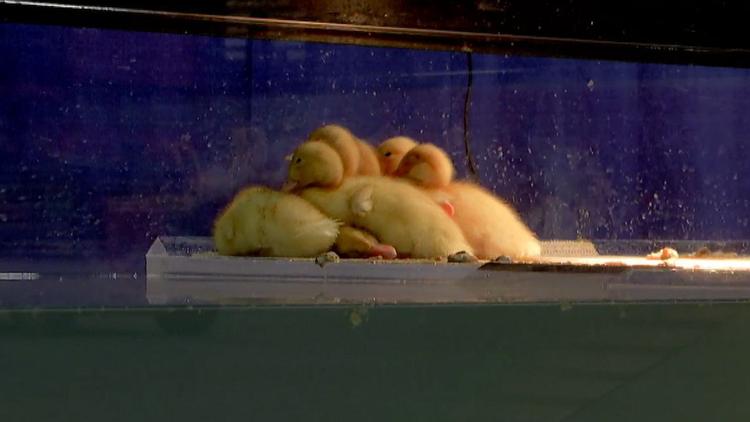 On the duckling cam, there are lots of sleeping and swimming, depending on the time of day. It's a live feed from the Jurgielewicz duck farm in Tilden Township, near Hamburg. It's a fourth-generation family-run business that's been raising ducks for 36 years.
The daily cams are on from 8 a.m. until 6 p.m.
There are more than 200 virtual exhibits. Under the "farm to table" tab, you'll find exhibitors you would usually see as vendors set up in the hall.
Many of them have videos you can watch. One from Dewey Meadows Maple in Bradford County shows how to tap a maple tree.
You can even watch a calf being born under The Calving Corner - Pennsylvania's Dairy Cow Birthing Center.
And if you're missing the farm show food, head to the tab titled Farm Show Trail. It takes you to an interactive map, where you can zero in on businesses that are nearby and may be selling what you're missing.