READING, Pa. - There was a time when growing the biggest potato or the longest ear of corn would have won you a shiny silver cup. There's no cup up for grabs in 2020, but the spirit of competition and the desire to be helpful remains.
"We're really just trying to grow a movement, I think, at this point," said Alexis Campbell, the associate director of the Berks History Center in Reading. "We really want to encourage people to be gardening at home."
Gardening has been linked to times of crisis since World War I. The Berks History Center started Berks History for Victory online this week.
"It's really a call to action, where we are really encouraging people to garden at home because there are concerns about food security now in this time of crisis," Campbell said. "With the pandemic, it's concerning, so you know, we really thought what have people done in the past."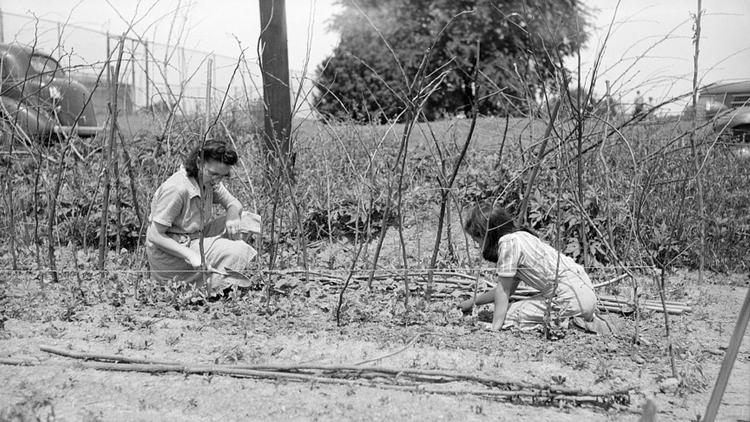 In 1917, a year before we entered the war, Americans were encouraged to begin farming at home. They were asked to plant victory gardens anywhere they could in backyards, city parks, playgrounds.
"There was also a lot of rationing going on, so then at that point, we were really in need of growing crops to sustain our lifestyles," added Amber Vroman, the center's curator.
Posters and ads encouraged Berks County residents to do their part. A Reading Times ad from 1918 shows onion sets for sale. You could buy gardening tools and clothes at Dives, Pomeroy and Stewart.
Producing food at home was an act of national solidarity, collectively taking the strain off the American food system during the great world wars.
"We often hear all the time that we are in an invisible war with this virus," Vroman said, "and so I think that by being able to do something similar and really just be self-sufficient in our homes, you can really sort of stay safe and also allow food for those people who can't garden or choose not to."
It's a way to fight back. Perhaps seeing something thrive will give us hope.
You can follow along on the Berks History Center's website, Twitter, and Facebook. Use the hashtag #berkshistoryforvictory.
Join the movement and do your part! Plant a Victory Garden and help to build food security in Berks County. Join the #BerksHistoryforVictory community online:https://t.co/bwwfOAqFnv

— Berks History Center (@berkshistory) April 14, 2020