Touchstone Theatre's 10-day Festival UnBound, a community convergence featuring more than 20 free and ticketed events, opens Friday. The community-wide event uses art to spark conversation about how Bethlehem has changed in the 20 years since the closing of Bethlehem Steel and to imagine the future now that we are "unbound" from the Steel.
"Prometheus/Redux," on stage October 4-6 at Lehigh Valley Charter High School for the Arts, is the opening work of Festival UnBound, which features two dozen free and ticketed events, including nine original theater pieces.
"Prometheus/Redux" is written by Gerald Stropnicky and follows Prometheus, a former steelworker played by Touchstone co-founder Bill George, 20 years after Bethlehem Steel closed, and who is now in a hospital. Actors who trained with people from the Moravian College nursing program, play doctors, nurses and other health care professionals.
While scenes in the hospital are realistic, there also are abstract sequences in which Prometheus is having medically-induced hallucinations and recalling "fractured memories."
There are video montages of images and footage from members of community and the steelworkers' archives that may include the implosion of Martin Tower in May.
Sometimes, the players will directly address the audience as they share their thoughts about the community.
The 20-person cast includes former steelworkers, a county judge and people who have had a long history with Touchstone. Ashley Tait Weller plays Prometheus' doctor. She is also choreographer for scenes that incorporate music and movement.
The music is by Harry Mann, a musician and veteran of the New York theater scene. There will be live sound on stage as well as recorded music.
There will be a panel discussion after the 2 p.m. October 5 performance, facilitated by Bethlehem City Councilman Willie Reynolds. The discussion will explore the changing landscape of the post-steel community, including topics of health and housing.
The October 6 performance will feature open captioning for patrons who are deaf or hard of hearing and audio descriptions for patrons who are blind or visually impaired.
Performances are 8 pm. October 4; 2 and 8 p.m. October 5 and 7 p.m. October 7 at Lehigh Valley Charter High School for the Arts, 321 East Third Street, Bethlehem.
Tickets are $25 for adults and $15 for students, senior and steelworkers. There are a limited amount of pay-what-you-will tickets by calling 610-867-1689.
For information go to festivalunbound.com.
Bach Choir joins Touchstone for 'A Joyful Noise'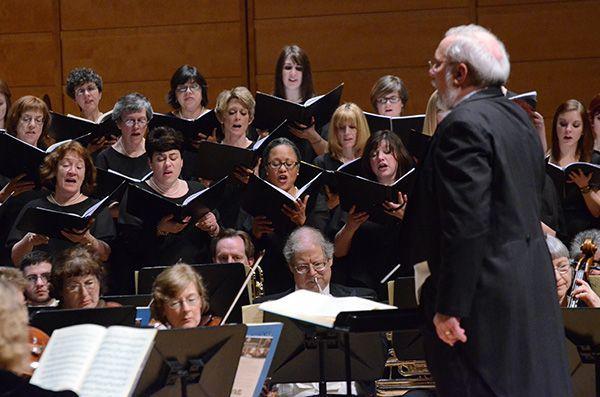 For the exuberant "A Joyful Noise," The Bach Choir of Bethlehem and Touchstone Theatre have partnered for a concert at 4 p.m. October 6 in Zoellner Arts Center. It is a joyous celebration of all kinds of music as part of Touchstone's "Festival Unbound!"
The Bach Choir, conducted by Greg Funfgeld, joins with six community groups and numerous soloists on a program that explores how the collective act of music-making can bring people together and make the world a smaller place.
Joining Bach Choir are Bel Canto Youth Chorus, Greater Shiloh Church Choir, Nazareth High School Cantus, the touring choir of Lehigh Valley Charter High School for the Arts, Big Easy Brass and Jakopa's Punch. Soloists include Sherezade Panthaki, soprano; Dashon Burton, baritone; Susan Charlton, flute; Nobuo Kitagawa, oboe; Loretta O'Sullivan, cello; Thomas Goeman, piano; Christopher Hanning, percussion; Camille Armstrong, body percussion and Ysaye Barnwell formerly of Sweet Honey in the Rock
Each group has partnered with a cross-genre artists and will perform selections of their choosing for he concert. Everyone will join on stage for the finale -- a massed choir conducted by Funfgeld to perform Paul Halley's "Freedom Trilogy" and "The Rain is Over and Gone," based on text from "Song of Solomon," and featuring Burton as soloist.
In between performances, JP Jordan, Funfgeld, Burton, and Panthaki will provide spoken word and quotes on the community and songs that organizers says will tie all the music together.
Tickets are $15 for adults and $10 for children. There will be a limited number of pay-what-you-will tickets available.
'The Secret' explores poet Hilda Doolittle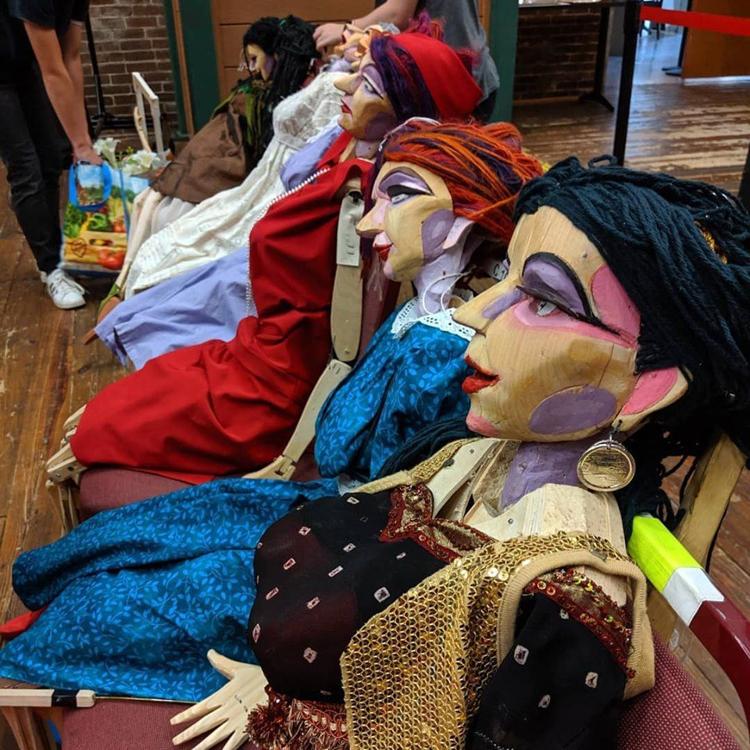 Mock Turtle Marionette Theatre presents "The Secret," an exploration of the Lehigh Valley's celebrated feminist writer and LGBTQ icon Hilda Doolittle October 5-8 at Touchstone Theatre in Bethlehem. Using narrative, song, and puppetry, "The Secret" journeys back into Bethlehem's past. It is directed by Jennie Gilrain and features puppets by Doug Roysdon.
Doolittle was born in the Bethlehem's Moravian community and was deeply influenced by her childhood in her writing. "The Secret" begins in 1894 Bethlehem, with the young Doolittle walking down Church Street with her brother and parents on a snowy winter evening, when she confronts the memory of how her grandfather silenced Doolittle's mother. This silencing of women becomes a central theme of the play and of Doolittle's life and work as she rejects traditional feminine roles and seeks her own voice.
"The Secret" is also part of "Finding H.D., A Community Exploration of the Life and Work of Hilda Doolittle," a year-long series of events organized by the Lehigh University English Department, Bethlehem Area Public Library, the Bradbury-Sullivan LGBT Community Center in Allentown and Mock Turtle.
There will be a panel discussion -- "Who Will Follow The Music? Women in Leadership: Inspirations and Obstacles" -- following the October 6 performance and a talk-back following the October 5 performance.
Performances are 5 p.m. October 5; 1 p.m. October 6 and 7:30 p.m. October 7-8.
Tickets are $25 for adults and $15 for students and seniors. There are a limited amount of pay-what-you-will tickets by calling 610-867-1689.
Agile Rascal touring bicycle theater company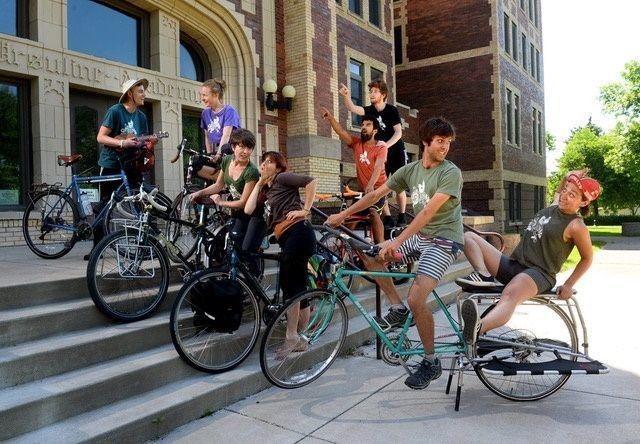 Actors on decorated bicycles lead a procession of audience members, also on bicycles, through historic Bethlehem as they present an original theatrical work exploring the "utopia" that could be found.
Agile Rascal, a California-based bicycling touring theater, will present "To Hunt a Wild Utopia," a 2.5-mile theatrical ride, beginning and ending at the Charles A. Brown Ice House in Bethlehem October 9-12.
Agile Rascal is known for creating original plays and touring them on bicycles to engage creative thinking about our collective future and promote green transport.
There will be stops during the ride where participants will meet new characters. The production includes original music played by some of the actors, as well as pre-recorded music.
The route is mostly flat and very accessible. Each ride will feature six actors, and up to 20 people will be able to participate. Pre-registration is required and bicycle are being provided by Bike Bethlehem, a bike share program, and CAT, the Coalition for Alternative Transportation.
Performances are 10 a.m., 1 and 5 p.m. October 9; 3:30 p.m. October 10-11; 10 a.m., 1 and 4 p.m. October 12.; Tickets are $15 for adults and $10 for students and seniors. There are a limited amount of pay-what-you-will tickets by calling 610-867-1689.
'The Hidden Seed' at Single Sisters House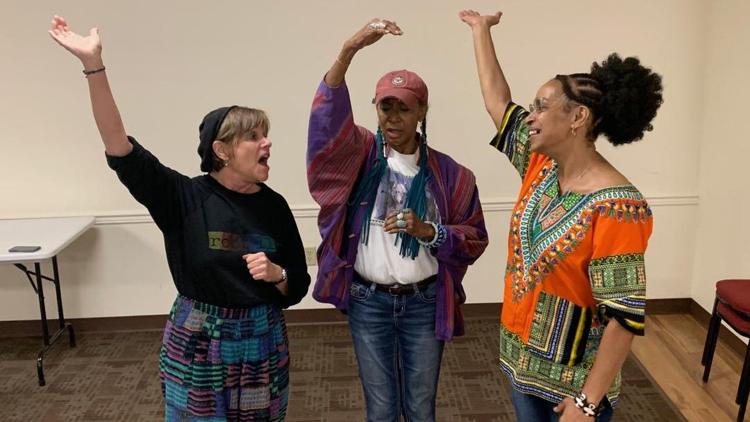 "The Hidden Seed: Bethlehem's Forgotten Utopia," an original production written by Touchstone Theatre's founder Bill George and Lehigh University professor Seth Moglen, explores the hidden history of Bethlehem's birth and the dream of a Moravian utopia October 5-10 and will be held in the historic Single Sisters House.
In the play, the ghosts of three women return three centuries later with a message for the present.
The women are an enslaved West African woman; a Lenape girl whose parents died of smallpox and who was adopted by the Moravians; and a woman who came to America from Germany with her family. The characters are all based on historical figures and in the play they are talking honestly about their relationships with one another for the first time.
The women are played by Candece Tarpley, Dierdre Van Walters and Laurie McCants. A fourth person on stage is Michael Duck, who plays music during the performance.
Duck is the composer for the show and has written music inspired by the Moravian musical traditions of the 18th century, with contemporary touches. The play also is directed by McCants.
Most of the performances take place in the restored Single Sister's House in historic downtown Bethlehem. Built in 1744, the house became the home of the Single Sister's Choir in 1748. Audiences are invited by Historic Bethlehem to arrive a few minutes early to explore the Single Sisters House before the performance.
The play's final performance 8 p.m. October 10 will be recorded and presented at PBS39, SteelStacks, 839 Sesame Street, Bethlehem. There will be a panel discussion following the performance.
Performances are 6:30 p.m. October 5; 2 p.m. October 6 and 7 p.m. October 7-9 at the Single Sisters House, 50 West Church Street, Bethlehem.
Tickets are $20, and a limited amount of pay-what-you-will tickets are available by calling 610-867-1689.
Veterans speak at 'Forward March'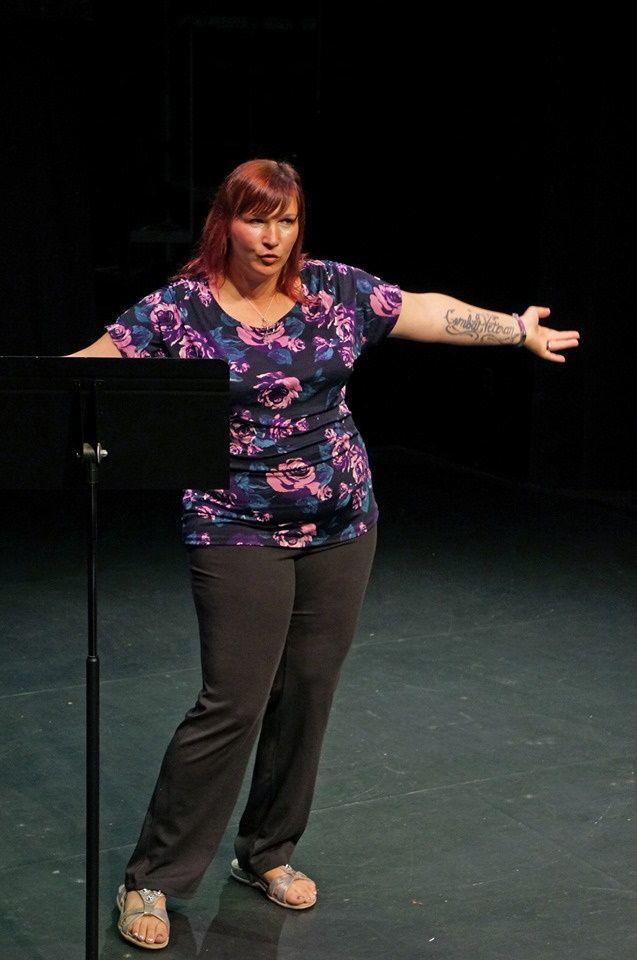 "Forward March: The Future of our Warriors," is an evening of storytelling by 10 veterans, October 9-10, designed to provide an understanding of the veteran experience, from boot camp to deployment to homecoming to reintegration. The production was created specifically for Festival UnBound by Jenny Pacanowski of Bethlehem, a veteran of the U.S. Army. In 2016 she started the Women Veterans Empowered Group to focus on supporting women. The group has given a number of performances in the Lehigh Valley.
"Forward March" features veterans telling their own stories, informed by Pacanowski's workshops, which include training in performance.
The program emphasizes reintegration and the transition home from military service.
There will be an opportunity for audience members to offer their own reflections and ask questions. For those who prefer to have their conversations in private, the show will be followed by an "ask the vet" reception, where resource materials will be available.
"This space is provided to have the difficult conversations about what is the cost of military service to family and community; in addition to celebrate connect the civilian and military cultures," Pacanowski said.
Performances are 7 p.m. October 9 and 8 p.m. October 10, at Touchstone Theatre, 321 East Fourth Street, Bethlehem. Admission is pay-what-you-will, with suggested donations of $15, $10, students, seniors and veterans.
'Edwin Drood' at Steel River Playhouse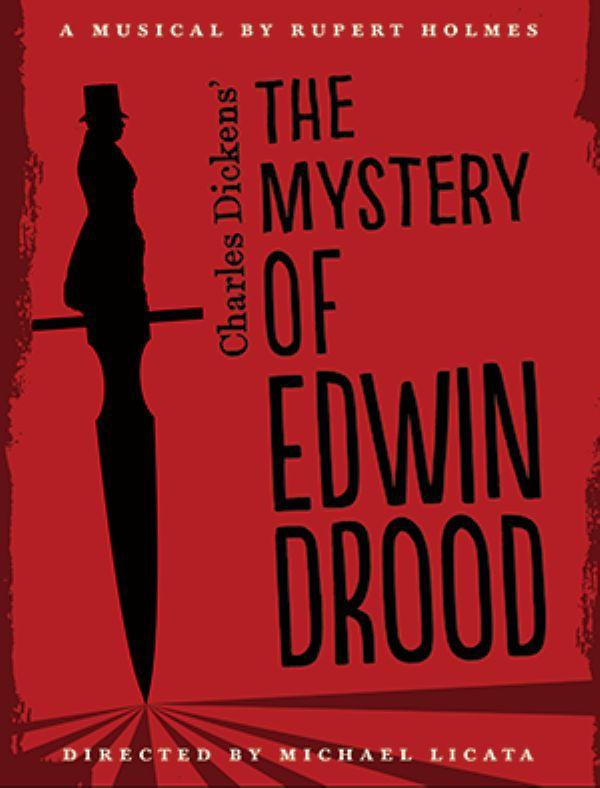 Musical murder mystery meets its match when the audience chooses the ending at "The Mystery of Edwin Drood" October 4 through 20 at Steel River Playhouse in Pottstown.
The winner of five Tony Awards, including best musical, "The Mystery of Edwin Drood" is set on London's rustic, yet regal, stage of "The Music Hall Royale."
"The Mystery of Edwin Drood" was the final novel by Charles Dickens. When Dickens died in 1870, the novel was left unfinished, and it is up to the audience to vote on the ending in this theatrical adaptation by Rupert Holmes.
Drood's uncle, John Jasper (Gregory Kasander), a choirmaster, is in love with his pupil, Rosa Bud (Madison Devlin), who is Edwin Drood's fiancée. She has also caught the eye of the high-spirited and hot-tempered Neville Landless (Tyler Macready). After Landless and Edwin Drood take an instant dislike to one another, Drood (Meg Falasco) disappears under mysterious circumstances.
The production is directed by Michael Licata.
Performances are 8 p.m. October 4-5, 11 and 18, 2 p.m. October 6, 13 and 20 and 2 and 8 p.m. October 12 and 19.
Tickets are $29 for adults, $24 for seniors and $17 for students.
For information, call 610-970-1199 or go to steelriver-playhouse.org.
Unleashing your inner opera fan
Does your inner opera fan long for a fun way to learn more? In partnership with Fox Theatres, Berks Opera Company offers unique soirées in some of Berks County's most elegant homes.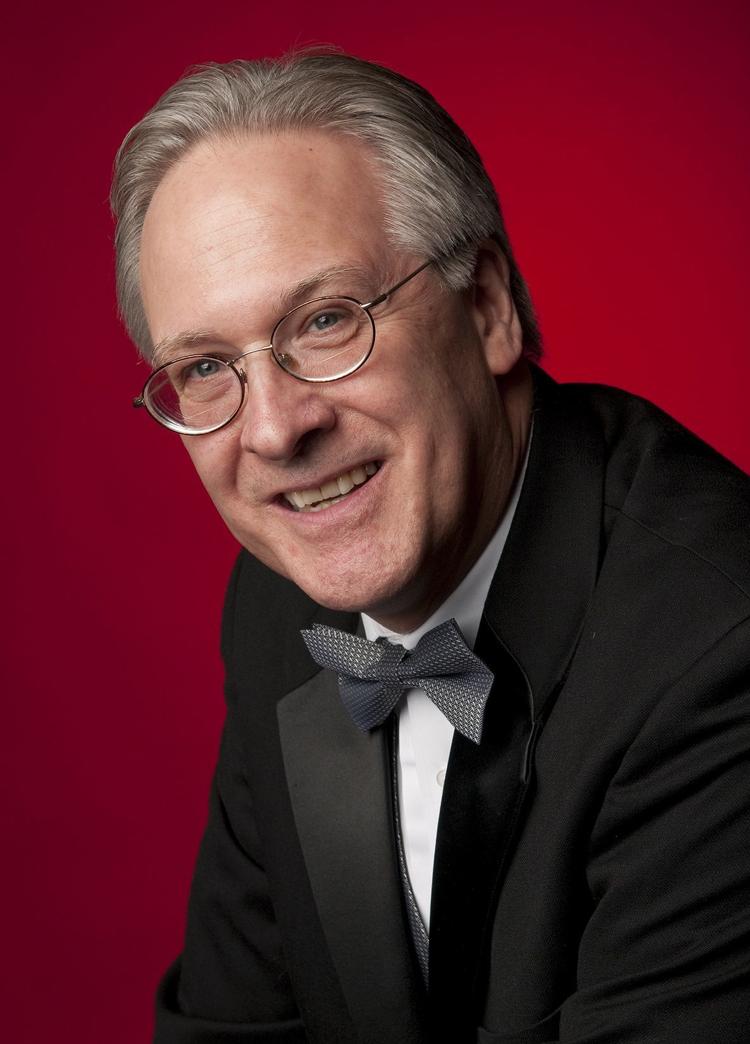 The group introduces the Metropolitan Opera Live in HD broadcasts with entertaining and informative multimedia presentations by David Richie, with coffee, wine/champagne and dessert. You'll hear live Berks Opera Company artists, meet the Diva du Jour and learn the secrets of great singing.
The next soirée is at 7 p.m. October 4 at Wyomissing Public Library, 9 Reading Boulevard, Wyomissing.
The featured opera is Puccini's "Turandot" and the presentation will be "Off with Their Heads" or "Riddle Me That, Mr. Prince Smarty-pants."
Featured artists from Berks Opera Company are David O'Donnell, tenor and Caleb Flick, piano.
Admission is $20 for adults and $15 for under 30. Tickets will be available at the door.
For information go to berksopera.org/unleashing.html.
Sondheim and Lloyd Webber pops concert
The Allentown Symphony Pops Orchestra, conducted by Ronald Demkee, presents "The Best of Broadway: A Tribute to Sondheim & Lloyd Webber" at 7:30 p.m. at Miller Symphony Hall in Allentown.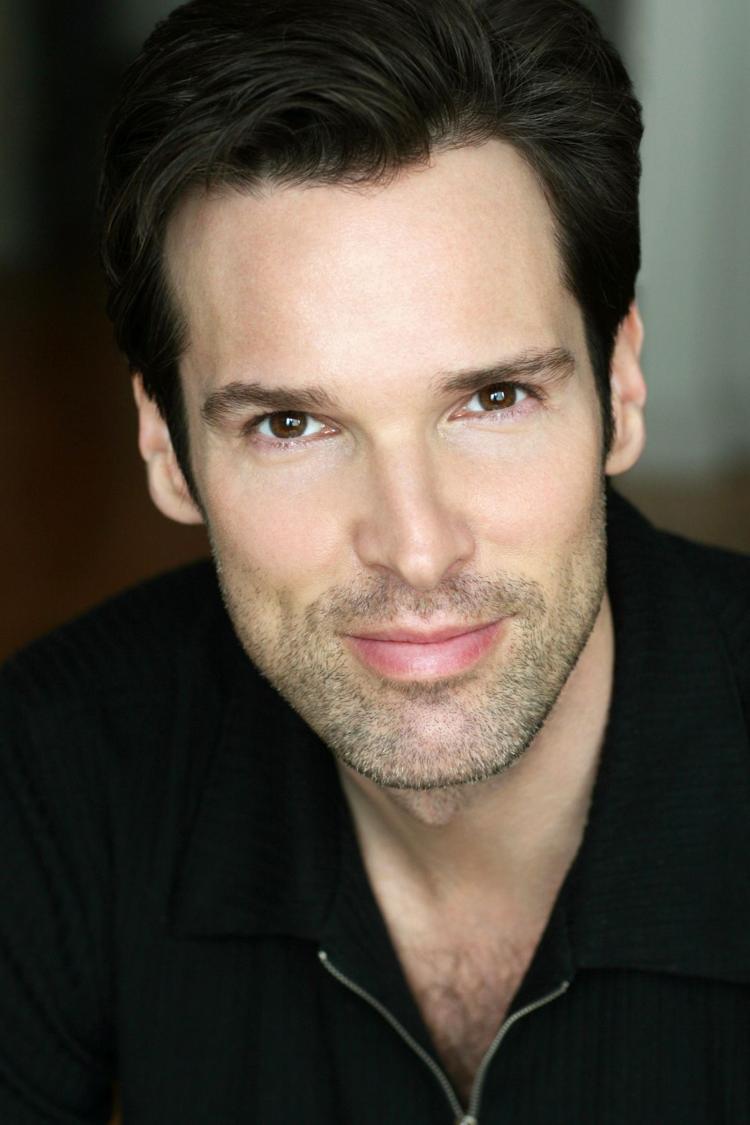 Join Tony Award-winner Debbie Gravitte, former Phantom Hugh Panaro and, Scarlett Strallen, who is currently on Broadway, for a evening of music from Broadway legends Stephen Sondheim and Andrew Lloyd Webber.
The first half of the show will focus on Sondheim with musicals like "Sweeney Todd," "Company," "Gypsy," "West Side Story" and "Into the Woods."
The second act is all Lloyd Webber music from his hit shows like "Phantom of the Opera," "Cats," "Evita" and "Jesus Christ Superstar."
Songs will include "Don't Cry for me Argentina" from "Evita,:" "Memory" from "Cats" and several numbers from "Phantom of the Opera" highlighting Panaro, who portrayed the Phantom of the Opera more than 2,000 times.
Panaro is best known for having played the role of the Phantom in Broadway's "The Phantom of the Opera," including the 25th anniversary production, and is one of the few actors to have portrayed both Raoul and the Phantom.
Gravitte won the Tony for best featured actress in a musical for her performance in Jerome Robbins' "Broadway" in 1989.
Strallen has starred in productions on Broadway, London's West End, and is a frequent soloist on the concert stage. She is currently starring on Broadway as Gwendolyn in "Travesties."
Tickets are $25 to $72. Students are free by calling 610-432-6715. For information, go to millersymphonyhall.org.