Halloween may just be over, but it's not too early to start thinking about Christmas.
Theater-goers can get a jump on their holiday spirit with festive and colorful Christmas shows in Berks and Lehigh counties.
The Pines Dinner Theatre in Allentown will be presenting a "Pines Country Christmas," opening Nov. 8 and running through Dec. 29.
Pines celebrates its favorite time of year, with singing, dancing, live music, the Nativity, and even Santa Claus.
"Pines Country Christmas" features a score packed with many familiar Christmas favorites, as well as original tunes, including "Country Christmas Feeling," "Country Kind of Christmas," "Who is this Child?" as well as the title tune, "Pines Country Christmas," which are sure to become new Christmas favorites.
The show is written by Pines director Oliver Blatt, with original music and orchestrations by Stacy Bechtel, Gene Culkin, and Blatt.
The cast features Stacey B. Yoder, Nina Celedonio, Shakil Azizi, Jarrett Bloom, and Don Hart, who will sing and dance their way through the holiday season. The show has beautiful harmonies, amazing dancing, fantastic musicians and plenty of Christmas cheer.
Performances are 6:30 p.m. dinner, 8 p.m. show on Fridays and Saturdays; and 12:30 p.m. dinner, 2 p.m. show on Wednesdays, Thursdays, and Sundays, as well as matinees Fridays and Saturdays in December, Nov. 8 to Dec. 29.
Tickets are $50 for adults, $35 for students (10-16) and $20 for children ages 2-9. Ticket prices include dinner, show, ticket fees and tax. Show-only tickets are also available at $30 for adults and $20 for children.
The Pines Dinner Theatre is located at 448 North 17th Street, Allentown. For information, call 610-433-2333 or go to pinesdinnertheatre.com.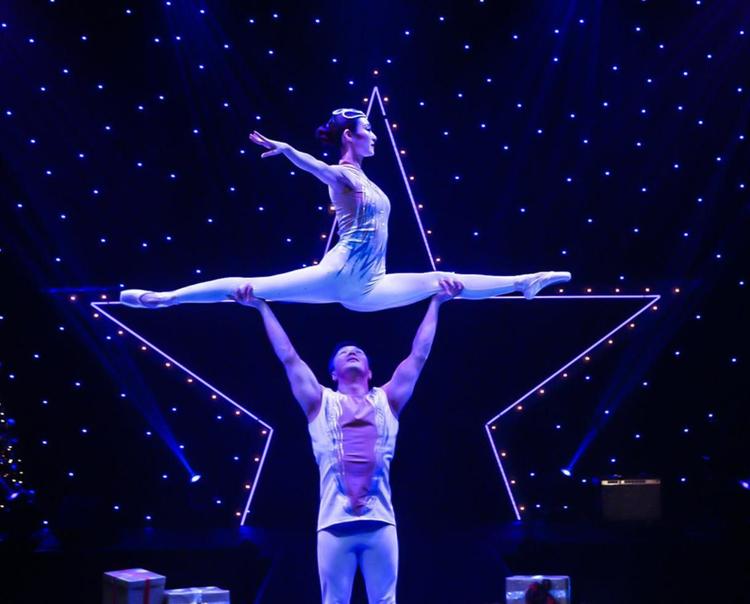 The producers of Broadway hit "The Illusionists" have brought together the world's greatest entertainers for a spell-binding new holiday production, "A Magical Cirque Christmas," coming to Santander Performing Arts Center in Reading on Nov. 13.
Experience the magic of Christmas with dazzling performers and breathtaking cirque artists from all corners of the world, accompanied by favorite holiday music performed live. Get into the spirit of the season with this family show, featuring vocalist Therese Curatolo, who has sung alongside soul legends Stevie Wonder and Martha Reeves. Curatolo's versatile vocal power has taken her from the Metropolitan Opera to the big screen. She opened 2019 with a performance at Los Angeles' "Troubadour" and made her debut with Scott Bradlee's "PostModern Jukebox."
She will be joined on stage by Ukrainian balancing artist Alex Mruz on rola bola; X Lines duo on aerial straps and adagio and Anastasiia on hand balancing along with magicians, speed juggler, acrobats, and more.
The performance is 7:30 p.m. Nov. 13 at Santander Performing Arts Center, 136 North Sixth Street, Reading. Tickets are $34.50 to $64.50.
For information call 610-898-7469 or go to www.ticketmaster.com.
Celebrate 'Sesame Street' composer at cabaret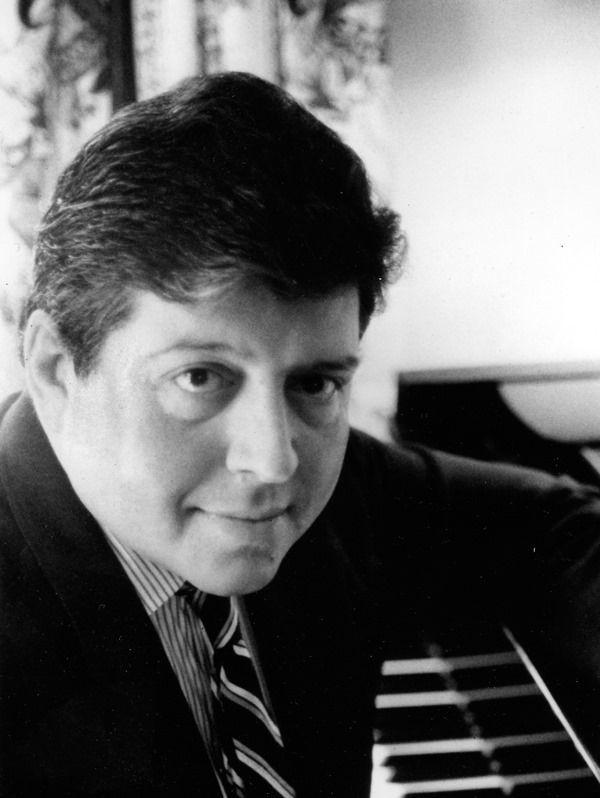 "Let's Make a Dream, Raposo," a cabaret by Dark Horse Theatre Co. and featuring classic tunes from "Sesame Street" composer and co-creator Joseph Raposo, will raise funds for Ben's Lighthouse 4 p.m. Nov. 9 at Macungie Institute Performing Arts and Conference Center.
Robert Callan Adams and Lori Sivick founded Dark Horse Theatre Company in 1995 to combine their passions for theater and teaching. Through the theater, the pair have staged and performed in more than 20 children's shows, including "The Jungle Book," "The Gingerbread Boy," "Winnie the Pooh" and "Charlotte's Web."
Raposo helped create "Sesame Street," which is celebrating its 50th anniversary, in 1969 with Jim Henson and Jon Stone, and became the show's longtime musical director. For many years, most of the music used on "Sesame Street" was written and often sung by Raposo. In addition to penning the show's iconic theme song, Raposo also wrote classic "Sesame Street" songs, such as "Bein' Green," "C Is For Cookie," ''Sing,'' ''You Will Be My Music,'' ''There Used to Be a Ball Park,'' ''Winners'' and ''Somebody Come and Play.'' Raposo, who won five Grammy Awards for his work, tragically died in 1989 at 51.
Adams had long wanted to do a concert of Raposo's music as a fundraiser, and decided "it would be the perfect thing to do as a fundraiser" for Ben's Lighthouse, a charity founded by Francine Lobis-Wheeler, in memory of her 6-year-old son, Benjamin Wheeler, who was killed in the shooting at Sandy Hook Elementary School.
Adams said he and Lobis-Wheeler were at DeSales University together and performed in several productions there.
Ben's Lighthouse provides programs and opportunities that help kids and teens develop empathy, self-awareness and social connections.
Adams said Raposo's son, Nicolas Raposo of Cambridge, also was supportive of the project and helped him find lost songs and provided lead sheets.
The cabaret will feature more than 20 songs composed by Raposo and performed by Adams, Sivick, John Gackenbach, Nichole Smith, Lisa Suppan and Rhys Williams.
Tickets are $10 for adults and $5 for children and will be available at the door.
Macungie Institute Performing Arts and Conference Center is at 510 East Main Street, Macungie, Lehigh County. For information, call 610-966-7830 or go to macungieinstitute.com.
KUNÉ global orchestra at Kutztown U.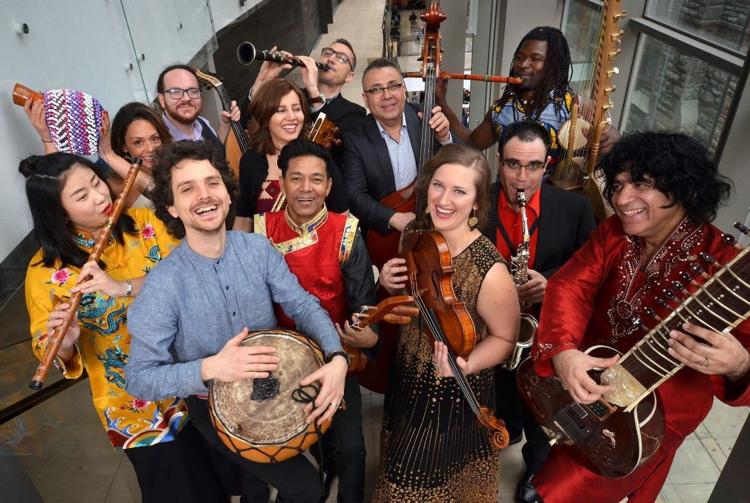 A global orchestra developed by The Royal Conservatory of Music in Toronto brings a program of truly world music to Kutztown University at 7:30 p.m. Nov. 12.
The 13 virtuoso musicians of KUNE hail from around the globe and play instruments as diverse as they are, from the tar of Iran to the bouzouki of Greece to the sitar of Pakistan. KUNÉ, which means "together" in Esperanto, shares each musician's cultural and musical traditions to create a band that looks and sounds like the Canada of today. The members of KUNÉ have formed a sound that is at once global and uniquely local.
Join the musicians for a multicultural dinner at 5:30 p.m. Nov. 11 in McFarland Student Union room 218. Food stations representing the cultures of the KUNE musicians will surround the room.
Foods include hummus, tzatziki, Greek salad, spanakopita, beef kofta with curry sauce, chicken Biryani, Brazilian cheese bread bites, steamed pork dumplings with ginger soy sauce,
Dulce de Leche brownies, Persian pistachio nougat, mojito punch, green tea, coffee and tea. The dinner costs $30.
Tickets for the concert are $36 for adults and $32 for seniors and students.
For information call 610-683-4000 or go to www.kutztown.edu/about-ku/administrative-offices/ku-presents.html.
November Bach at Noon in Bethlehem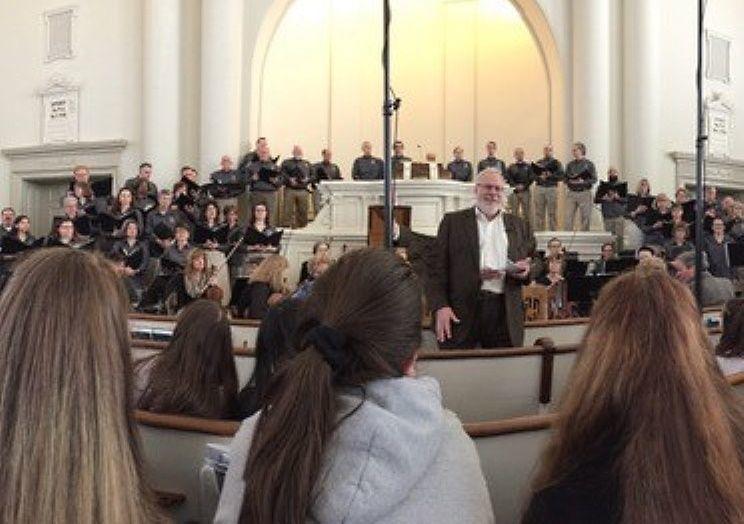 Get a free concert of music by The Bach Choir and Bach Festival Orchestra when they present the final Bach at Noon for 2019 on Nov. 12 at Central Moravian Church in Bethlehem.
Doors open at 11:30 a.m. and the concert begins at noon. The performance features soloists, along with members of The Bach Choir and Bach Festival Orchestra, with an informative introduction to each piece from conductor and artistic director, Greg Funfgeld. There is a good will offering.
November's program includes Georg Philipp Telemann's "Sonatas for Violin, Viola da Gamba, and Harpsichord," featuring Elizabeth Field on violin and Mollie Glazer on viola da gamba and Johann Sebastian Bach's "Cantata 137 – Lobe den Herren, den mächtigen König der Ehren (Praise the Lord, the mighty King of honor)," featuring soprano Julie Bosworth, tenor Stephen Ng and baritone Christopher Edwards.
The Bach at Noon program is presented on the second Tuesday of the month in Bethlehem in September, October, November, January, February, March and April. There is no Bach at Noon in December.
Bach's compositions have been called music that "transcends time, place, and creed to express the inexpressible." The Bach at Noon concerts offer a "gift of spiritual and musical nourishment" to the community, always free and open to all.
Central Moravian Church is at 73 West Church Street, Bethlehem. For information call 610-866-5661 or go to Bach.org.
National Theatre Live's 'All About Eve' in Easton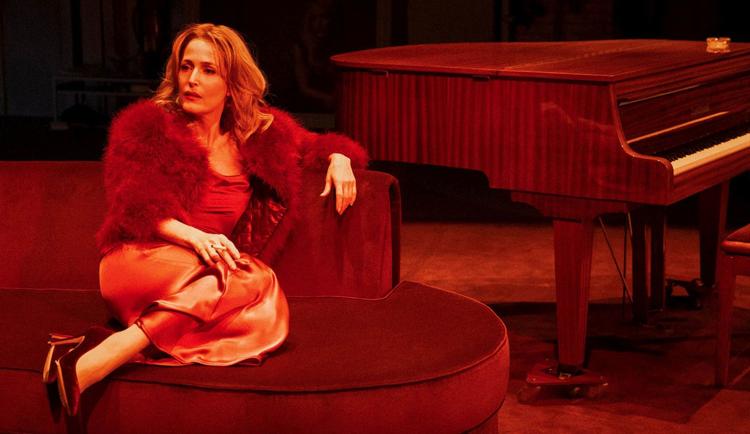 See "X-Files" star Gillian Anderson in Ivo van Hove's stage adaptation of the Joseph L. Mankiewicz film "All About Eve," which comes to the National Theatre Live Downtown at 7 p.m. Nov. 10 at Landis Cinema in Buck Hall at Lafayette College in Easton.
Now in its third year, National Theatre Live Downtown is presented in Landis Cinema at Buck Hall, located at North Third and Snyder streets, on the downtown arts campus of Lafayette College.
The season's third performance lifts the curtain on a world of jealousy and ambition as the classic story follows the furtive ingénue Eve in her ascent to stardom.
This production from one of the world's most innovative theater directors asks why our obsessions with celebrity, youth, and identity never seem to vanish. Based on the 1950 Twentieth Century Fox film by Joseph L. Mankiewicz and the play "The Wisdom of Eve" by Mary Orr, this new stage version stars BAFTA nominee Anderson and Lily James (Mamma Mia! Here We Go Again, Downton Abbey).
From London's West End to cinemas around the world, National Theatre Live broadcasts outstanding stage productions from the United Kingdom's most celebrated theaters. Captured live in performance, the plays are then transmitted via satellite and screened in high-definition cinemas.
Tickets are $15 for adults and $6 for students. For information call 610-330-5009, or go to williamscenter.lafayette.edu.
'Moving Stories' dance concert showcases student choreographers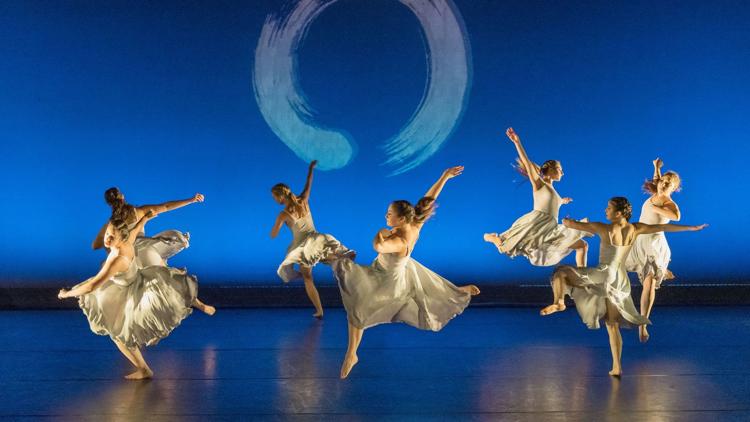 Muhlenberg Theatre & Dance Department presents "Moving Stories," a showcase by more than 60 dancers in pieces created by 12 young choreographers Nov. 7-9 in the college's Baker Theatre.
Artistic Director Megan Flynn said the program features original dances as diverse as the choreographers' points of view and approaches to dancemaking – from narration in physical form to the poetic abstraction of a single idea.
The 12 original dances feature styles inspired by modern, jazz, tap, hip-hop, partnering work, and Gaga, a movement language developed by Batsheva Dance Company.
Heather Downey was influenced by her appreciation of modern and tap dance. The piece includes both modern dancers and tap dancers, and the tap dancers provide the sound for the work.
Maura O'Reilly created a piece inspired by the grief, despair, and hopelessness she sometimes felt as an adolescent in the face of ecological crisis. The piece derives choreographic patterns from storytelling moments, which O'Reilly hopes will help audiences understand the despair adolescents often feel in this age of climate uncertainty.
Karlie Lynn Zabin explores an '80s sci-fi inspired theme, sparked by the television show "Stranger Things."
Other featured choreographers include Heather Dutton, Greyson Gerdts, Lilianne Gering, Emi Giuseffi, Alex Goshert, Abigail Linnemeyer, Morgan Litzenberger, Hailey McMichael, and Ashley Veglia. Fangfei Miao serves as associate artistic director. Paul E. Theisen Jr. designs lights, and Lex Gurst designs costumes.
Performances are at 8 p.m. Nov. 7-8 and 2 and 8 p.m. Nov. 9 at Baker Theatre, Trexler Pavilion for Theatre & Dance, Muhlenberg College, 2400 Chew Street, Allentown.
Tickets are $15 for adults and $8 for students. For information call 484-664-3333 or go to muhlenberg.edu/dance.
'Unleashing Your Inner Opera Fan' in Berks
Berks Opera Company looks at Puccini's "Madama Butterfly" with its program "Culture Clash" or "The Ugly American" at 7 p.m. Friday.
The Unleashing Your Inner Opera Fan series consists of presentations highlighting an upcoming Met in HD Opera with a multimedia presentation, featured guest artist, followed by dessert, coffee and wine.
The guest artist is soprano Maria Damore. As a counterpoint to "Madama Butterfly," Maria will be singing selections from "Miss Saigon," the Broadway musical, inspired by the opera, which takes place at the Vietnam War.
The presentation is 60-80 minutes long and will take place at Wyomissing Public Library, 9 Reading Boulevard, Wyomissing. Tickets are $20 for adults and $15 for those under age 30.
In conjunction with the event, Fox Theatres in Wyomissing will present the Metropolitan Opera Live in HD broadcast of "Madama Butterfly" at 12:55 p.m. Nov. 9.
Anthony Minghella's vividly cinematic staging returns to cinemas, featuring soprano Hui He in the devastating title role. Pier Giorgio Morandi conducts one of opera's most beautiful and heartbreaking scores, with a cast that also includes Andrea Carè as Pinkerton, Paulo Szot as Sharpless, and mezzo-soprano Elizabeth DeShong as Suzuki.
Cinema tickets are $27 for adults, $25 for seniors and $20 for children. To reserve tickets go to foxshowtimes.com.
For information, go to berksopera.org or call 484-752-2462.
Buck County Playhouse premieres 'Once'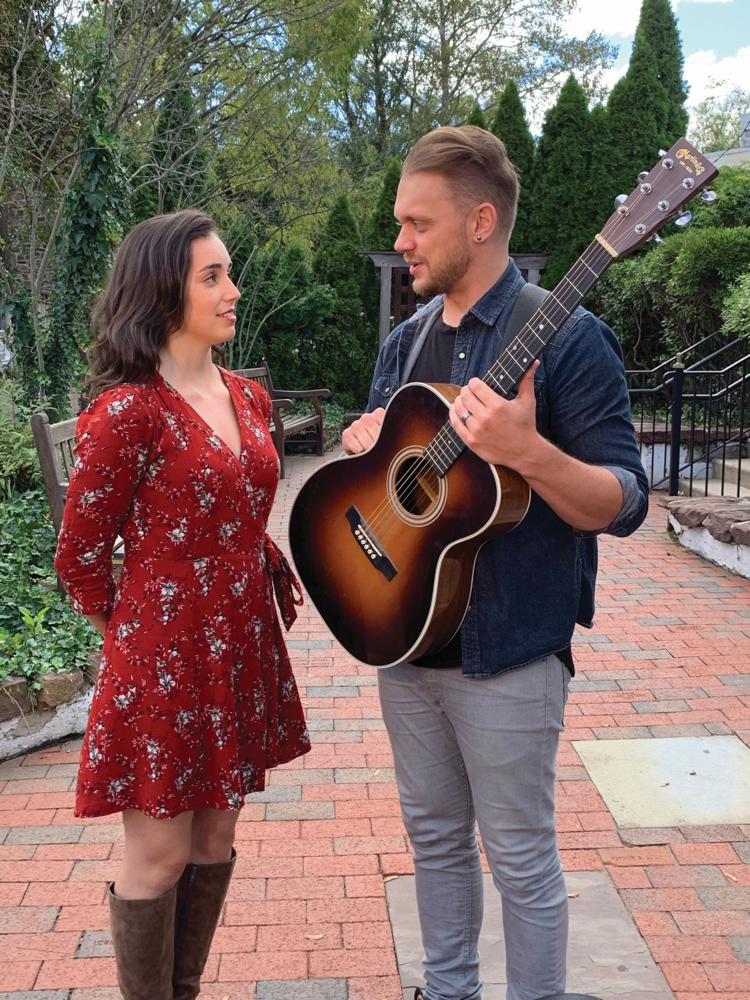 Bucks County Playhouse will conclude its 80th anniversary season with the Bucks County premiere of "Once," the multi-award-winning romantic Broadway musical, Nov. 8 to Nov. 30 at the playhouse at 70 South Main Street, New Hope, Bucks County.
Featuring an ensemble of 12 actor/musicians who play instruments ranging from piano to guitar to mandolin to accordion, "Once" transports audiences to the streets of Dublin, where Guy, a struggling singer and songwriter, is on the verge of giving up on his music. When a Czech immigrant, Girl, hears him play, however, she refuses to let him abandon his guitar. Over the course of one fateful week, an unexpected friendship and collaboration quickly evolve into a powerful but complicated love story.
With a book by Enda Walsh, music and lyrics by Glen Hansard and Markéta Irglová, "Once" is based on the motion picture written and directed by John Carney. Winner of eight Tony Awards, including best musical, "Once" features a score that has been honored with Grammy, Tony and Academy awards. The score most famously includes the Academy Award-winning song "Falling Slowly."
The playhouse production features a homecoming for Travis Greisler, a Bucks County native, who will direct at the theater where he first stepped foot on stage as an 8-year-old actor.
"Once" stars Matt DeAngelis ("Once" first national tour) as Guy and Mackenzie Lesser-Roy ("Once" second national tour) as Girl. The cast is also packed with other "Once" alumni, including Ryan Halsaver as Eamon, Jacob Brandt as Andrej; Lauren Wright as Reza; Tina Stafford as Baruska; Seth Eliser as Svec; Jenn Chandler as Bank Manager; and Brandon Ellis as Billy. They are joined on stage by Andy Paterson as Da, Elizabeth Flanagan as ex-girlfriend and Joseph Valle-Hoag as emcee.
Performances are 7:30 p.m. Tuesdays, 2 p.m. Wednesdays and Sundays, 2 and 7:30 p.m. Thursdays, 8 p.m. Fridays, 2 and 8 p.m. Saturdays. There are added performances at 7:30 p.m. Nov. 27 and 2 p.m. Nov. 29. There is no show Thanksgiving Day. Opening night is 7:30 p.m. Nov. 9.
Tickets start at $65. For information, call 215-862-2121 or go to buckscountyplayhouse.org.