There are plenty of performances - from spectacles to heartwarming family musicals - to entertain this holiday weekend, as everyone is relaxing after their celebration. And, with 2020 just around the corner, there are lots of activities in the region next week for people to ring out the old year and ring in the new.
Cirque holiday show in Reading
"Cirque Dreams Holidaze" lights up the holiday season with its popular and electrifying stage spectacular at 8 p.m. on Dec. 26 in Reading.
Renowned Broadway director Neil Goldberg has assembled a unique cast of cirque artists from around the world and joined them with Broadway performers and a spectacular holiday set to create "Cirque Dreams Holidaze" at the Santander Arena.
Part-Broadway musical and part-modern circus, "Cirque Dreams Holidaze" features 20 amazing cirque acts and more than 300 colorful costumes, as performers juggle unexpected items, display incredible acrobatic skills and fly over head.
Set in a multi-million-dollar wonderland of elaborate scenes and dozens of original holiday production numbers, Broadway singers will perform original music along with new twists on seasonal favorites, such as "Deck The Halls," "Winter Wonderland," and "Jingle Bell Rock."
Astonishing feats are performed by toy soldiers, snowmen, penguins, candles, reindeer, gingerbread, carolers, Santa and colossal ornaments, flying, balancing and stretching imaginations in this two-hour stage spectacular celebrating the holidays, including Thanksgiving, Hanukkah, Christmas, and New Year's Day.
Since 1993, Goldberg's "Cirque Dreams" franchise hat has produced shows for Broadway, theaters, casinos, theme parks, resorts, governments, cruise lines and venues worldwide. More than 50 million people have seen one of the "Cirque Dreams" shows, which have been critically acclaimed by USA Today, The Associated Press, the New York Times, CNN, Today Show and Fox & Friends.
Santander Arena is at 700 Penn Street, Reading. Tickets are $39.50 to $103. For tickets, call 610-898-7469 or go to santander-arena.com.
'A Child's Christmas in Wales' in Bethlehem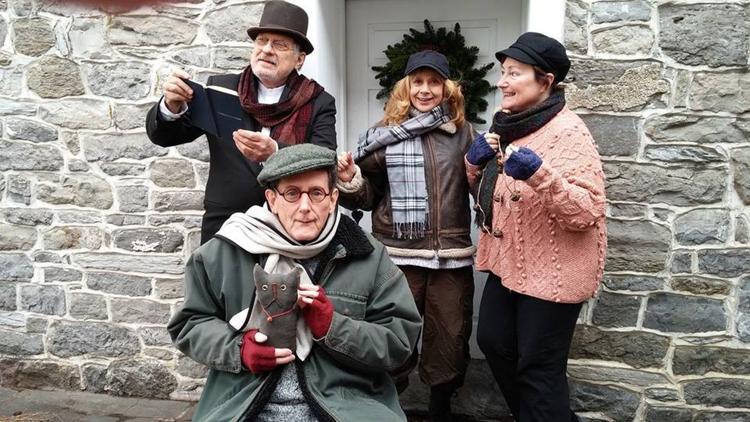 Selkie Theatre returns with a concert reading of Dylan Thomas's magical holiday tale, "A Child's Christmas in Wales" at 2 p.m. on Dec. 28 in the Cohen Room of the Bethlehem Public Library, 11 West Church Street, Bethlehem.
The performance, directed by George B. Miller, follows one of poet Dylan Thomas's best-known works, recorded almost by chance.
"A Child's Christmas in Wales" has become a beloved holiday classic. Set in the wintry Welsh countryside of the poet's youth, it vividly evokes the sights, smells, and sounds of a long-ago Christmas.
Miller is joined onstage by actors Pat Kelly, Kate Scuffle, and Marcy Hake Repp. Musicians Rick Weaver and Fred Gilmartin, of the band Piper's Request, add to the magic with their beautiful takes on classic carols and Celtic tunes.
After the reading, join the artists around the Christmas tree for carols and a festive wassail and dessert reception. Seating is limited. Tickets are $15 and reservations, by emailing blueselkies@aol.com or calling 484-241-9591, are required.
Holiday performance by 'Stars on Ice' in Reading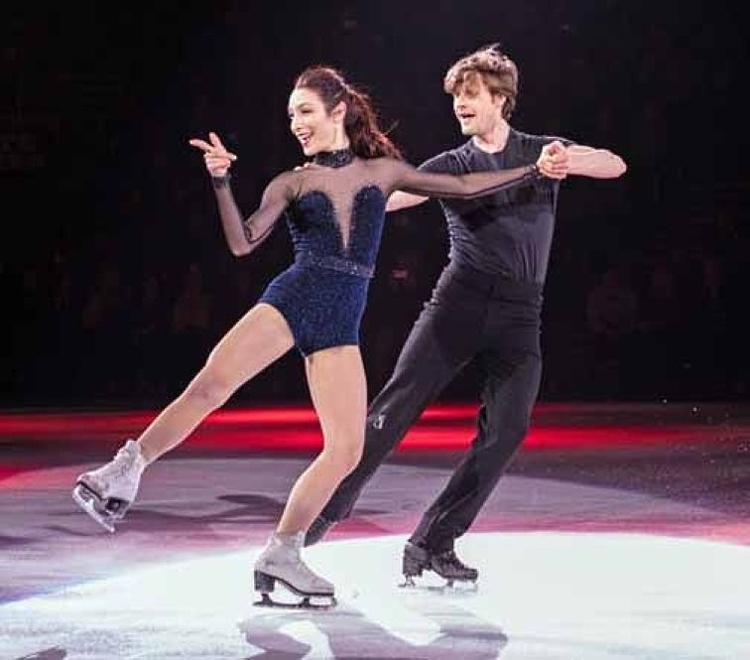 Celebrate the season with a special holiday performance by "Stars on Ice" at the Santander Arena at 8 p.m. on Dec. 28.
The holiday show features the world's best skaters, including Olympic gold, silver and bronze medalists, two-time world champions and six-time national champions Meryl Davis and Charlie White; four-time Canadian champion, four-time world champion, and skating icon Kurt Browning; U.S. Olympic team bronze medalists and national champions Mirai Nagasu, Bradie Tennell and Jeremy Abbott; U.S. champion Ryan Bradley; Canadian champion Nam Nguyen; U.S. dance medalists Kaitlin Hawayek and Jean-Luc Baker; and Canadian dance medalists Piper Gilles and Paul Poirier.
Santander Arena is at 700 Penn Street in downtown Reading. Tickets are $11 to $125. For tickets, call 610-898-7469 or go to santander-arena.com.
'Annie' at Mauch Chunk Opera House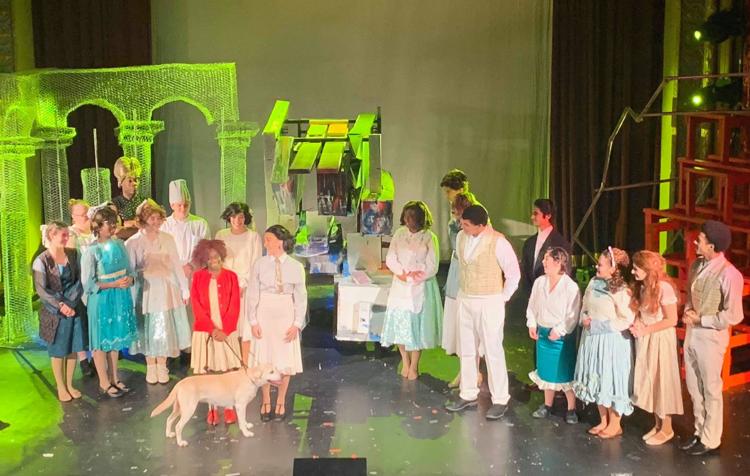 Under special arrangement with Sony Pictures Entertainment, Sing for America, made up of five siblings from Palmer Township, Northampton County, will present an adaptation of the the 1982 Sony Pictures film version of "Annie" through Jan. 5 at the Mauch Chunk Opera House in Jim Thorpe, Carbon County.
The group is staging the well-known story of the spunky orphan growing up in New York during the great depression from the script of the ionic film that starred Aileen Quinn as Annie, Albert Finney as Daddy Warbucks and Carol Burnett as the evil Miss Hannigan.
Based on the popular comic strip by Harold Gray, the Broadway musical was the winner of seven Tony Awards, including best musical, and features some of the most popular musical theater songs ever written.
The film version has all the hit songs, including "Tomorrow," "It's a Hard Knock Life," "Maybe," "You're Never Fully Dressed Without a Smile," "Easy Street," and "I Don't Need Anything But You."
Annie, who is living in an orphanage with other young girls, is determined to find the parents who abandoned her years ago on the doorstep of the orphanage that is run by the cruel, embittered Miss Hannigan. Annie is selected to live in the mansion of billionaire Oliver Warbucks and, along the way, finds the a lovable mutt named Sandy. She befriends President Franklin Delano Roosevelt and, with the help of the other girls in the orphanage, foils Miss Hannigan's evil machinations.
The role of Annie will be shared by Sing for America veteran Shya Koehler and energetic newcomer Ivannah Butete-Mapuranga.
The Gilbert family's dog, Celia, will play Annie's dog, Sandy, on stage.
The Gilbert family includes brothers and sisters Taryn, Tasia, Teara, Jewel and Jorne, who produce shows to raise funds for Blue Star Mothers of Lehigh Valley's emergency fund, which helps local military families with bills, travel expenses and other needs. They have raised more than $50,000 for the Blue Star Mothers to date.
Performances are 7:30 p.m. on Dec. 26 and Jan. 3; 1 and 7:30 p.m. Dec. 27-28; 2 p.m. Dec. 29, Jan. 1; 5, 11 a.m. and 7:30 p.m. Jan. 2; and 2 and 7:30 p.m. Jan. 4.
Mauch Chunk Opera House is at 14 West Broadway, Jim Thorpe.
Tickets are $18 adults, $15 students and seniors, and $12 children under 6. For information go to theartsarecolorblind.com.
Fireworks in Allentown, Bethlehem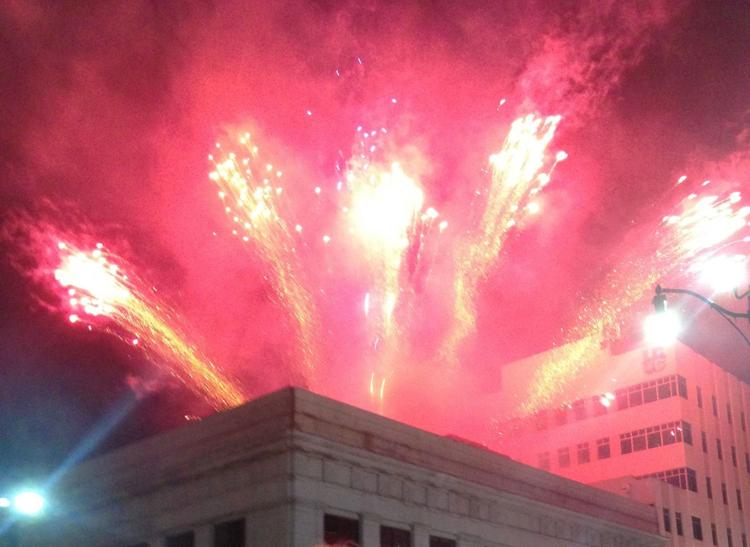 Two free community events that feature spectacular fireworks displays will be held in Allentown and Bethlehem on New Year's Eve.
Downtown Allentown Business Alliance presents "A Downtown Allentown New Year's Eve Celebration." The event will begin at 10 p.m. on Dec. 31 at the southeast corner of Seventh and Hamilton streets in front of the Lehigh County Government Center. The Pentley Holmes Band will bring its soul-driven sounds to downtown Allentown as it performs leading up to a countdown and a fireworks display at midnight.
Start the party at the Downtown Allentown Market. Allentown's new food hall will have food available until 9 p.m., with specialty cocktails, and there will be music by DJ Cap Cee to close out the year.
Downtown restaurants, including Fegley's Allentown Brew Works, Hop Daddy's Brewing Company, Vault 634, and Chickie's & Pete's, will have various events going on for patrons who want to celebrate and then go outside at midnight to usher in the start of 2019 with fireworks.
For information, go to downtownallentown.com.
***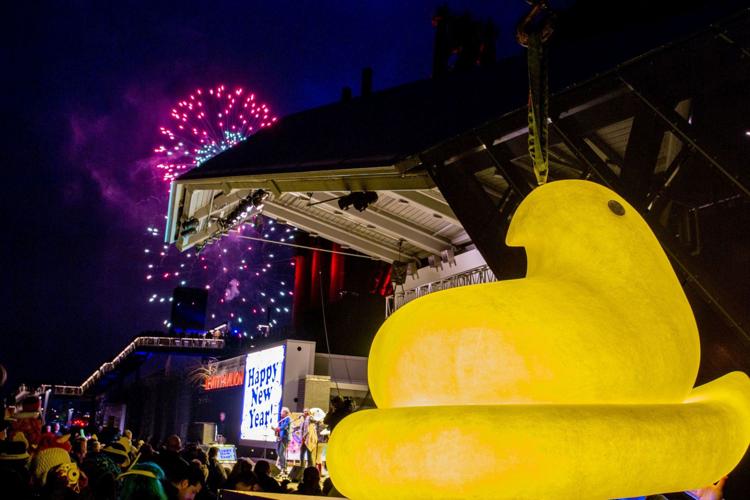 PeepsFest celebrates its 10th anniversary as a family New Year's Eve destination in south Bethlehem.
The two-day festival on Dec. 30 and Dec. 31 at SteelStacks, 101 Founders Way, Bethlehem, is where families can welcome in the new year with family-friendly entertainment, including live music, magicians, clowns, a family disco lounge and lots of other activities with organizations, including National Museum of Industrial History, Delaware & Lehigh National Heritage Corridor, Easton State Theatre, Imagi Nation, Pinebrook Family Answers, Da Vinci Science Center and Wildlands Conservancy.
Vote for entries in the diorama competition or watch a Peeps cooking demo at PBS39 or paint with the wheels of a wheelchair through Wheels of Friendship presented by Mikayla's Voice.
Run a 5K or one-mile fun run at 1 p.m. on Dec. 31 with the 10th annual PeepsFest 5K. The route travels through both the north and south sides of Bethlehem, starting and ending at SteelStacks.
PeepsFest hours are 10 a.m. to 5:30 p.m. both days.
On New Year's Eve, the event culminates with the one-of-kind Peeps chick drop, followed by fireworks. At 5:15 p.m., cheer on the dropping of a 400-pound, 4-foot, 9-inch tall lit Peep.
Join kids musicians Lolly Hopwood and Friends at Levitt Pavilion at 4:30 p.m. both days to mark the rising and fall of the giant Peep.
A full schedule is at steelstacks.org/festivals/peepsfest.
Beatles Music for New Year's Eve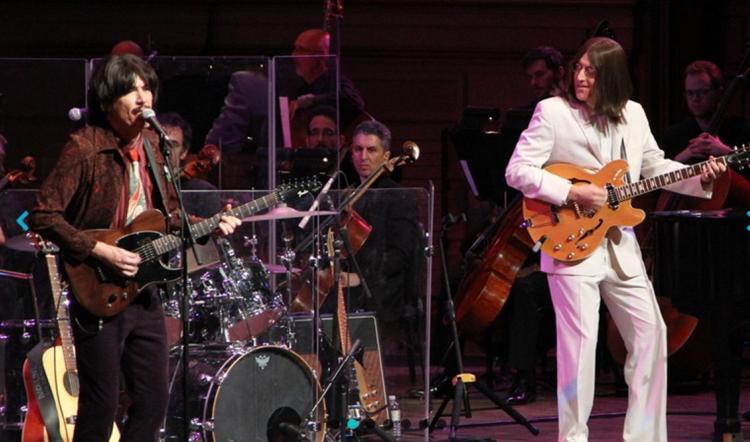 Ring in the new year with a tribute to The Beatles, accompanied by the Reading Symphony Orchestra, at Santander Performing Arts Center on Dec. 31.
The RSO presents a program of favorites by the Beatles, featuring performers who look and sound just like The Fab Four in "Classical Mystery Tour."
The show is more than just a rock concert. The full show presents some two dozen Beatles tunes sung, played, and performed exactly as they were written. Hear "Penny Lane" with a live trumpet section; experience the beauty of "Yesterday" with an acoustic guitar and string quartet; enjoy the rock/classical blend on the hard edged "I Am the Walrus." From early Beatles music on through the solo years, "Classical Mystery Tour" presents the Beatles as they would have sounded live with a symphony orchestra.
The performers are Jim Owen on rhythm guitar, piano, and vocals; Tony Kishman on bass guitar, piano, and vocals; Tom Teeley on lead guitar and vocals; and Chris Camilleri on drums and vocals. Martin Herman, who transcribed the musical scores note for note from Beatles recordings, conducts many of the Classical Mystery Tour concerts.
The show is at 7:30 p.m. at the Santander Performing Arts Center, 136 North Sixth Street, Reading. Tickets are $20 to $80.
For information, call 610-373-7557 or go to readingsymphony.org.
Family New Year's Eve celebrations
In Easton, Crayola Experience is hosting the "Jazzberry Jammin' New Year's Event" on Dec. 31.
The day-long event at 30 Centre Square in Easton includes seasonal crafts, meet-and-greet with favorite ice queen characters, mid-day "Glow into the New Year" countdowns with confetti canons and glow accessories at 2 and 4 p.m. and character appearances by Crayola's Tip throughout the event.
The first 300 guest will get a free seven-day trial to any Greater Lehigh Valley YMCA.
Experience more than 20 art and technology exhibits, learn how crayons are made and try new art techniques and appear on your own canvas.
Tickets are $21.99 per person at the door or $18.99 online. For information, go to crayolaexperience.com.
***
In Allentown, celebrate at the Liberty Bell Museum with "New Year's Eve Day - Ring in the New Year with Pip The Mouse." Grab your party hats, noisemakers, and streamers to celebrate the new year on Dec. 31 at the Liberty Bell Museum at 622 West Hamilton Street in Allentown. Catch the last showings of "Pip: The Mouse Before Christmas," the historic puppet show that was a fixture at Hess's for many years. Countdown to the new year at noon and see Pip ring the bell a replica of the Liberty Bell. There will be the final showing of the season of the puppet show at 12:30 p.m. Juice and cookies will be provided. Don't miss the museum's holiday exhibit, "Trees, Trains, and Traditions." The doors open at 11:30 a.m. Admission is $2 for adults and $1 for children age 5-17.
For information go to libertybellmuseum.org.
***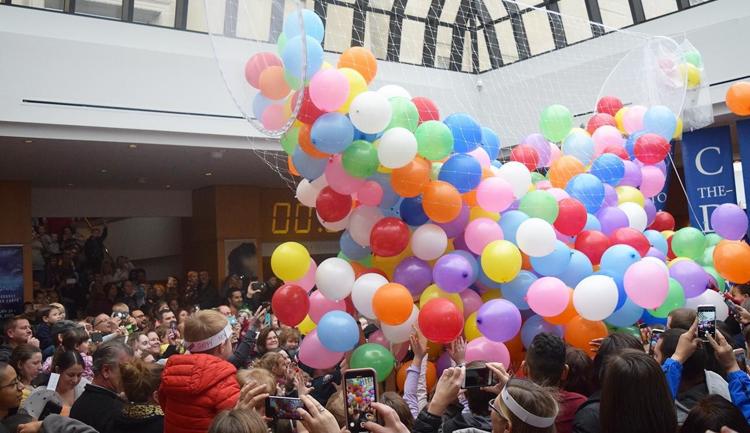 In Berks County, ring in the new year a little earlier, with "Noon Year's Eve" on Dec. 31 at the Reading Public Museum. The museum will open its doors at 10 a.m. for guests to visit the galleries and do some special crafts around the museum.
At noon, there will be a countdown and a balloon drop to wish everyone a happy new year. For those with sensory needs, there will be quieter crafts and activities in the Neag Planetarium.
Exhibits include Arthur's World, the national touring exhibition based on the PBS Children's television series; Picturing Pennsylvania Barns, prints, watercolors, photographs, and paintings of 19th-century barns in rural southeastern Pennsylvania; The Art of the Naminghas: Dan, Arlo, and Michael, two generations of artists from the American Southwest and Floating Beauty: Women in the Art of Ukiyo-e, woodblock prints of women from the Edo Period Japan (1615–1858).
The museum will close at 4 p.m.
Reading Public Museum is at 500 Museum Road, Reading. Admission is $10 for adults and $6 for children age 4 and up and seniors.
For information, call 610-371-5850 or go to readingpublicmuseum.org.