More holiday theater opens this weekend. From a unique interactive version of "A Christmas Carol" to a decidedly grown-up take on "How The Grinch Stole Christmas," there's something for everyone to get in the holiday spirit.
'A Christmas Carol On The Avenue' in West Reading
Part moving theater and art walking tour, this "A Christmas Carol" features a 1950s Pennsylvania Dutch twist. Since its debut in 2014, the interactive version has played to standing room only audiences of all ages.
"A Christmas Carol On The Avenue" begins and ends in the courtyard of Curious on the Avenue at 605 Penn Avenue in West Reading.
Arriving guests are first treated to a wine tasting, provided by the award-winning Starving Artist Winery, along with complimentary cheese and crackers and soft drinks for non-drinkers.
Afterwards, the audience meets old Ebenezer Scrooge, who is about to go on his rounds on the streets of Olde West Reading Towne. Scrooge plays the surly emcee as he gives audience members a mini-tour of historic West Reading.
Scrooge tells the story as he and the audience walk along, making stops at West Reading businesses to meet other characters and further the story. At each business, guests are treated to complimentary snacks or non-alcoholic refreshments. When Scrooge has a change of heart and realizes what a blessing each day of life is, everyone heads back to Curious on the Avenue, where they celebrate with Christmas carols.
"A Christmas Carol on the Avenue" was developed by L J Fecho, artistic director of Genesius Theatre in Reading. The cast's seven actors play multiple roles, and some audience members may be called upon to portray various characters. This year's production features Vicki Nunis as Ebenezer Scrooge.
The rest of the cast includes Diane Smith, Dara Himes, Ellie Loose, Mamie Covell, Daniel Graf, Apollo Loose, and James Haggerty. The characters in the show include: Scrooge; young Scrooge; young Ebenezer; Bob Cratchit; Mrs. Cratchit; Jacob Harley; the ghosts of past, present and future; Scrooge's nephew, Harry, and a host of others, all played by the seven actors.
"A Christmas Carol on the Avenue" is performed at 5:30 and 7 p.m. on Dec. 13-14 and 20-21.
Tickets are $29.50 for adults and $19.50 for children, age 4-12. The price includes wine tasting, cheese and crackers, the performance, chocolate coins and special treats, gifts, and discount coupons for participating West Reading businesses.
For tickets and more information, go to fechoproductions.com.
'Who's Holiday!' at Civic's Theatre514 in Allentown
If you ever wondered what happened to little Cindy Lou Who from Dr. Seuss' "How The Grinch Stole Christmas," "Who's Holiday!" has an answer.
In the "for mature audiences only" one-woman show, Cindy Lou is all grown up and struggling with the after effects of being thrust into the spotlight at too young an age.
Matthew Lombardo's "Who's Holiday!" is having its premiere Friday at Civic Theatre. It's a hysterical romp in which Cindy Lou is now in her mid-40s and living in her late uncle's run-down trailer on the side of Mount Crumpit, on the outskirts of Whoville.
In this raunchy sequel, Cindy Lou is no longer welcome in Whoville due to her "sensational past," so she decides to throw a Christmas Eve party for her now-estranged friends in the hopes of rekindling a glimmer of her triumphant Christmas past. Over the course of the evening, while Cindy preps for her party, she recalls that Christmas Eve she first met the Grinch, as she explains to the audience exactly how and why she ended up in that trailer, all the while having more than just a few drinks.
As her night unravels, follow the inebriated Cindy Lou through tales that get "twisted, and soon learn how she got blacklisted."
Will Morris directs and Cheryl Mortiz plays the hapless Cindy Lou in this wildly funny and heartfelt satirical comedy recommended for ages 14 and up.
Free parking for the shows is available along Liberty and Allen streets, near 19th Street, and at the Wells Fargo Bank parking lot at 19th and Liberty, after business hours.
Performances are 8 p.m. Dec. 13-14, 19-21 and 3 p.m. Dec. 15 and 22 in Theatre514, 514 North 19th Street, Allentown.
Tickets are $29 for adults, $27 for students and seniors and $26 for adults, and $24 for students and seniors Thursdays only.
For information, call 610-432-8943, or go to civictheatre.com.
'A Christmas Story' at Steel River Playhouse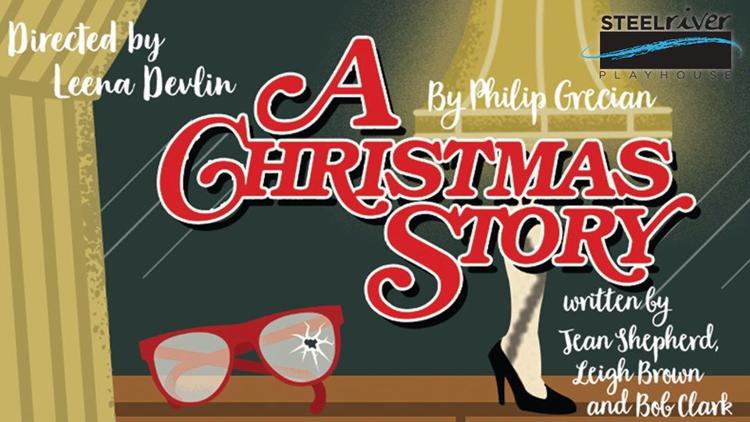 The stage version of the classic holiday film based on the stories of Jean Shepherd comes to Pottsown, when Steel River Playhouse opens "A Christmas Story" on Dec. 13.
Beware of frozen flagpoles and other rogue pitfalls of childhood, as you take a stroll down memory lane with nine-year-old Ralphie Parker.
All he wants for Christmas is the legendary "official Red Ryder 200-Shot Carbine Action Range Model Air Rifle with a compass and this thing which tells time built right in the stock."
The problem is that every adult in his life, beginning with his mother, is afraid he'll shoot his eye out with it. Ralphie's attempts to persuade Santa and his parents that he should get the Red Ryder gun form the basis for this heartwarming and nostalgic look at growing up in a small town in America in 1938.
The 1983 film "A Christmas Story" has become a holiday classic and is based upon Shepherd's book, "In God we Trust, All Others Pay Cash."
Narrating the show as the adult Ralph, the character based on author and radio personality Jean Shepherd, is Porter Eidam. Playing Ralphie, the kid on the legendary quest for the best Christmas present ever, is Will Pederson.
Playing "The Old Man," Ralphie's irascible father, is Steve Reazor, and his long-suffering mother is played by Andrea Frassoni. Ralphie's little sister, Randi, is played by Natalie Dougherty. The show is directed by Leena Devlin.
The rest of the cast includes Kathleen Verbo, Kailey Reinboth, Quintin Frey, Brynn Washbourne, Eva Burkholder, Tom Pederson, Sylina Morello, Jaelyn Aguilar, Mason Keith, Zane Eckman, Kaylynn Kircher, Anna Grace Howell, Couper Baello, Chase Anoia, Sebastian Antonio, Gianna Diauto, Linda Eidam, Emma Filopovic, AJ King, Oriana Kramer, Lisa Puy, Ryan Simme and David Zarley
Performances are 8 p.m. Dec. 13, 19-20; 2 and 8 p.m. Dec. 14 and 21 and 2 p.m. Dec. 15 and 22.
Steel River Playhouse is at 245 East High St., Pottstown. Tickets are $29 for adults; $24 for seniors and $17 for students.
For information, call 610-970-1199 or go to steelriver-playhouse.org.
'A Child's Christmas in Wales' in Bethlehem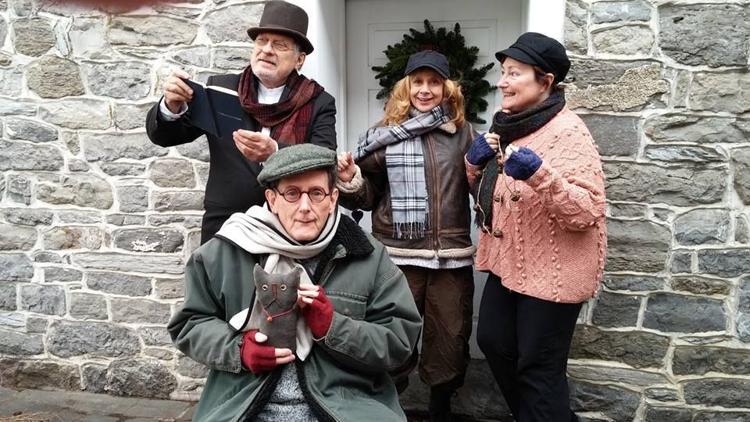 Selkie Theatre will present a concert reading of Dylan Thomas's magical holiday tale, "A Child's Christmas in Wales" at 3 p.m.Dec. 15 at at McCarthy's Red Stag Pub in historic Bethlehem.
The performance, directed by George B. Miller, follows one of poet Dylan Thomas's best known works, recorded almost by chance.
"A Child's Christmas in Wales" has become a beloved holiday classic. Set in the wintry Welsh countryside of the poet's youth, it vividly evokes the sights, smells, and sounds of a long-ago Christmas.
This intimate holiday performance takes place in the beautiful Great Room upstairs at McCarthy's Red Stag Pub. Celtic-inspired food and drinks will be available from the Red Stag menu.
Miller is joined onstage by actors Pat Kelly, Kate Scuffle, and Marcy Hake Repp. Musicians Rick Weaver and Fred Gilmartin, of the band Piper's Request, add to the magic with their beautiful takes on classic carols and Celtic tunes.
There will be an additional performance and wassail reception at 2 p.m. Dec. 28 in the Cohen Room of the Bethlehem Public Library. After the reading, join the artists around the Christmas tree for carols and a festive wassail and dessert reception.
Seating is limited for both dates. Tickets are $15 and reservations by emailing blueselkies@aol.com or calling 484-241-9591, are required.
Performances are 3 p.m. Dec. 15, at McCarthy's Red Stag Pub, 534 Main Street, Bethlehem; and 2 p.m. Dec. 28, at Bethlehem Public Library, 11 West Church Street, Bethlehem.
Fleetwood has 'The Best Christmas Pageant Ever'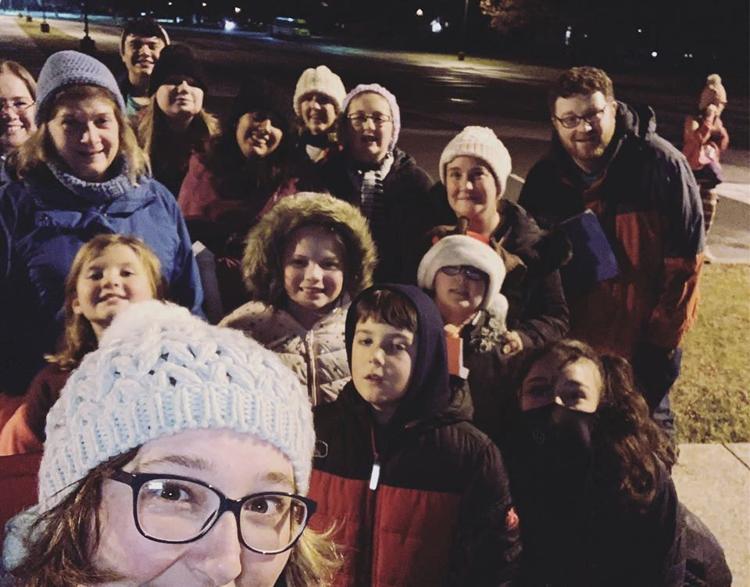 In 1971, Barbara Robinson wrote the much-loved book, "The Best Christmas Pageant Ever," which unleashes the Herdmans, six delinquent children, on a small church congregation.
Friday and Saturday, Fleetwood Community Theatre presents the hilarious play at Willow Creek Elementary School, featuring a cast of 37 performers age 2 to 62, including children and many of their parents.
This hilarious Christmas classic portrays a church struggling to put on a Christmas pageant, having to cast the most inventively, awful kids in history. There is plenty of mayhem - and laughs - when the Herdmans collide with the Nativity story head on.
The kids show up at church because they hear there will be snacks, and before they know it, they are cast in all the lead roles in the pageant.
The story is told from the point of view of Beth Bradley, played by Mia Sanders, whose mother Grace Bradley, played by Emily Jones, is roped into helping direct the annual Christmas pageant.
Sianna Ream plays Beth's father, Bob Bradley, and Torrin Ream plays her brother, Charlie.
Playing the unruly Hermans are MJ Phillips as Ralph; Paola Loaiza as Imogene; Kylie Schroeder as Leah; Paige Rothermel as Claude; SaraAnn Harbonic as Ollie and Ava as Gladys.
There will be a special appearance by Santa a half an hour before each show.
Performances are 7 p.m. Dec. 13 and 2 p.m. Dec. 14 at Willow Creek Elementary School, 605 Crisscross Road, Fleetwood. Tickets are $12 for adults and $8 for children age 10 and under.
For information, call 610-793-0918 or go to fleetwoodcommunitytheatre.com.
New Hope twist on 'Scrooge'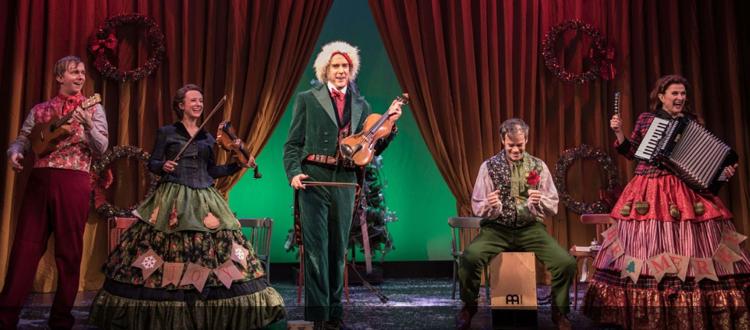 Charles Dickens' beloved "A Christmas Carol" takes on a decidedly New Hope twist when Bucks County Playhouse brings back its original comedy, "Ebenezer Scrooge's Big Playhouse Christmas Show," for the third year.
Five actors, lots of music, laughter and one of the most heartwarming holiday stories ever told come together for this Christmas show that is perfect for the entire family. Terrorizing the good citizens of Bucks County, Ebenezer Scrooge rediscovers the spirit of Christmas in this riotous mashup set in New Hope. All the traditional elements of Dickens' "A Christmas Carol" are intact, including the iconic ghosts of Christmases Past, Present and Future, comically re-imagined in this holiday farce.
The five actors play nearly three dozen roles, as well as instruments.
Alexander Fraser, Playhouse producing director, said they asked Gordon Greenberg (Irving Berlin's "Holiday Inn") and Steve Rosen ("The Other Josh Cohen") to write a new play for the playhouse for the holidays in 2017 and it became the most successful holiday production in the playhouse's history.
"We were so delighted by the success of this show last season that we had to bring it back again," Fraser said. "We hoped that audiences would embrace it and make it part of their holiday tradition."
This year's version of the show is again directed by Greenberg and features some new twists and an extended musical finale.
The cast stars Broadway veteran Matthew Greer as Ebenezer Scrooge. Greer has been seen on Broadway in "Seminar," "Cabaret," "The Judas Kiss," and both 2000 and 2015 revivals of "The Real Thing." Other cast members are Jenelle Chu, Maggie Hollinbeck, Ian Lowe and James Ludwig.
The show runs 90 minutes with no intermission.
The playhouse is again offering the opportunity for local theater-lovers to join the cast on stage as "scene-stealers" at an additional cost. Designed as an educational opportunity, the "scene-stealers" will attend a rehearsal and be featured in the musical finale. "Scene-stealers" are available for the Dec. 14 and 15 matinees.
Performances are 2 and 7:30 p.m. Thursday, 8 p.m. Friday, 2 and 8 p.m. Saturday and 2 p.m. Sunday, 2 p.m. Wednesdays, through Dec. 28.
Bucks County Playhouse is at 70 South Main Street, New Hope. Tickets are $55 to $70.
For information, call 215-862-2121 or go to buckscountyplayhouse.org.
Nutcracker Ballet in Bethlehem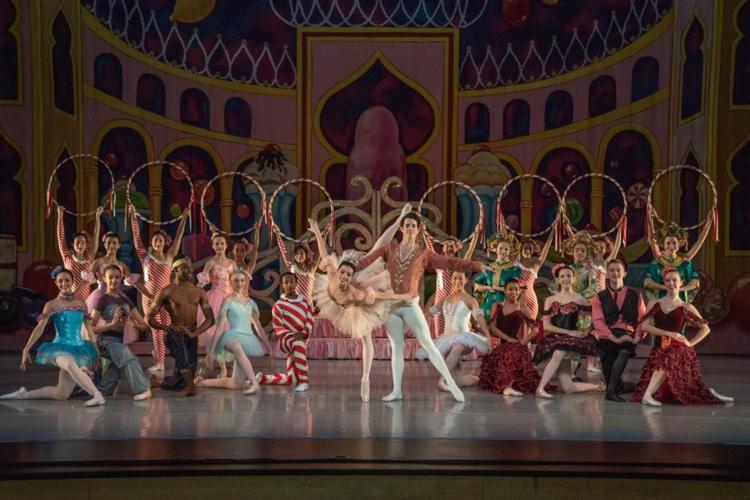 The longest-running "Nutcracker" in the Lehigh Valley returns for its 51st year, as Pennsylvania Youth Ballet fills the Zoellner Arts Center stage with more than 100 artists including guest soloists from the American Ballet Theatre as the Sugar Plum Fairy and her cavalier.
Devon Teuscher, who is dancing the Sugar Plum Fairy, is a principal dancer with ABT. A Pennsylvania native, Teuscher joined ABT Studio Company in 2006, dancing leading roles in "Les Sylphides," "Swan Lake," "Sleeping Beauty," and various works by Jessica Lang. She joined ABT as an apprentice in 2007 and became a soloist in 2014 and a principal dancer in 2017.
Alexandre Hammoudi, who dances her cavalier, has won numerous international competitions, including the Trophee Arabesque and the Biarritz Dance Competition. He joined ABT Studio Company in 2002, and joined the main company as an apprentice in 2003. He became a soloist in 2012.
Also returning to dance the role of Harlequin and Candy Cane is Tevin Johnson, who appeared in the 50th anniversary production of PYB's "Nutcracker" last year.
Stephaen Hood, who will dance the Snow King and Arabian lead, just completed his first season with the Ballet Theatre of Maryland as a soloist, where he was featured in the leading male roles in "Sleepy Hollow" and "Beauty and the Beast."
The production also features live music, with the Southside Sinfonietta, a 48-piece orchestra, playing Tchaikovsky's full orchestral version of the ballet, under the direction of Eugene Albulescu of Lehigh University, as well as more 80 area students singing for Waltz of the Snowflakes and providing holiday music in the Zoellner lobby before each performance.
Performing as Clara are students Isabella Massa, a seventh-grader at Our Lady of Perpetual Help, and Catharine D'Agostini, a sixth-grader at Regina Academy of St. John the Baptist.
Belvidere High School senior Emelia Belet wil dance the Snow Queen and Parkland High School junior Olivia Lovell will dance Dew Drop.
Performances of Pennsylvania Youth Ballet "Nutcracker" are at 1 and 4:30 p.m. Dec. 14 and 2 p.m. Dec. 15, at Zoellner Arts Center, 420 East Packer Avenue, Bethlehem.
Tickets are $35 to $50 for adults and $27 to $45 for children and seniors. For information, call 610-758-2787, or go to zoellnerartscenter.org.
Reading Civic Theatre to stage 'Legally Blonde the Musical'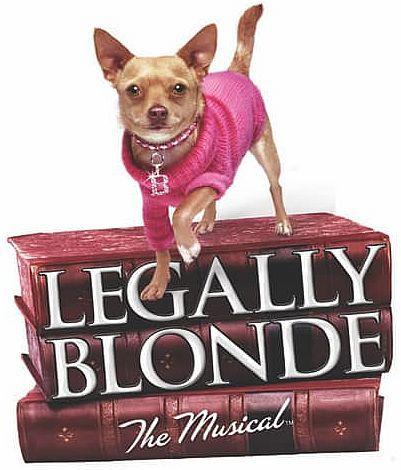 A fabulously fun award-winning musical based on the hit movie, "Legally Blonde The Musical," follows the transformation of Elle Woods as she tackles stereotypes and scandal in pursuit of her dreams.
Reading Civic Theatre will present "Legally Blonde the Musical" this weekend at Miller Center for the Arts at Reading Area Community College.
The 2007 musical with music and lyrics by Laurence O'Keefe and Nell Benjamin and book by Heather Hach is based on the novel "Legally Blonde" by Amanda Brown and the 2001 film of the same name, starring Reese Witherspoon. It tells the story of a sorority girl who enrolls at Harvard Law School to win back her ex-boyfriend, Warner. She discovers how her knowledge of the law can help others, and successfully defends exercise queen Brooke Wyndham in a murder trial. Throughout the show, no one has faith in Elle Woods, but she manages to surprise them when she defies expectations while staying true to herself.
Performances are 7:30 p.m. Dec. 13-14 and 2 p.m. Dec. 15 at Miller Center for the Arts, 4 North Second Street, Reading.
Tickets are $30 for adults; $25 for seniors and $25 for students through 12th grade.
For information go to millercenter.racc.edu.