It's the first week of December, and that means holiday theater is here with shows for every taste, from classic Christmas fare to crazy comedy to tuneful musicals.
Civic Theatre of Allentown has done "A Christmas Carol" for 30 years, but this year, it is shaking it up a bit with a gender-bending twist.
It's 1944 New York and Carole Scrooge is the tight-fisted and cold-hearted head of a cosmetic company. After her partner, Janet Marley, dies on Christmas Eve, Carole Srooge is visited by three spirits who convince her of the error of her ways.
"Christmas Carole 1944," which opens Dec. 6 at Civic's 19th Street Theatre, was first presented in 1999.
William Sanders, who directs, and Civic board member Sharon Glassman wrote the adaptation, and Glassman played the female incarnation of Scrooge. Despite the gender swap, the script remains true to not only much of Dickens' text, but also to its enduring lessons.
JoAnn Wilchek Basist, who has been a part of every Civic "Christmas Carol," both on- and off-stage since the 1980s, plays Carole Scrooge.
In the story, during World War II, entrepreneurial magnate Carole Scrooge reigns over a cosmetic empire in New York, where she lives in a lavish penthouse. Many of the main characters also have had their gender switched. Scrooge's business partner, Marley, has become Janet, and even Tiny Tim has become Little Debbie.
As is typical with Civic's "Christmas Carol" tradition, the cast of more than 100 includes dozens of children.
Performances are 7:30 p.m. Dec. 6-7, 12-13, 19-21; 2 p.m. Dec. 8 and 15; 2 and 7:30 p.m. Dec. 14 and 21 at 19th Street Theatre, 527 North 19th Street, Allentown.
Tickets are $29 for adults and $27 for students and seniors. On Thursdays, tickets are $26 for adults and $24 for students and seniors. For information, call 610-432-8943 or go to civictheatre.com.
***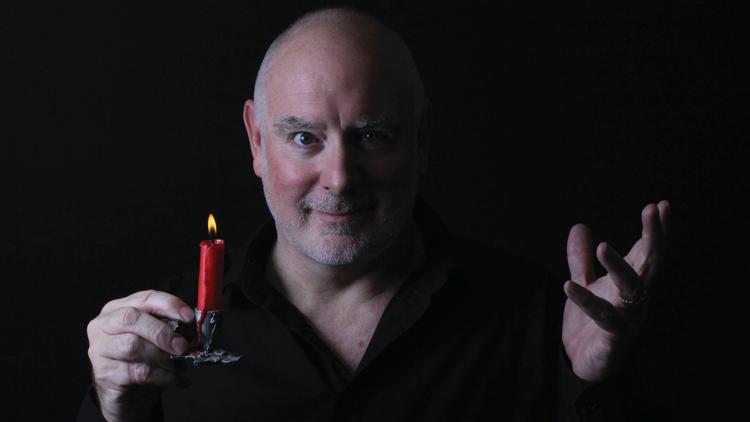 A more traditional "A Christmas Carol" comes to Lehigh Valley Charter High School for the Arts.
The Bethlehem school will host Oliver Award-winning British actor Guy Masterson in his solo performance of Charles Dickens' "A Christmas Carol" on Dec. 7 in the school's theater.
Masterson is a London actor, director, producer, and writer who created his solo production of the classic Christmas tale of redemption in 2017, which went on to receive rave reviews both on tour and at the Edinburgh Festival in Scotland. Masterson's brilliant use of Dickens' exact words from the famous 1843 novella is intriguing, potent and entertaining. Adapted and directed by Nick Hennegan, his friend and colleague, and backed by an original score by Robb Williams, Masterson brings the entire story to life in an enchanting, multi-character performance that will linger long in the memory.
Masterson has made a name for himself with his solo productions and won an Olivier Award for his production of "Morecambe" in 2010. He is also the most successful and award-winning independent theater producer at the Edinburgh Fringe Festival where he has presented over 125 shows in 26 consecutive seasons.
Performance is at 7 p.m. Dec. 7 at The Lehigh Valley Charter High School for the Arts, 321 East Third Street, Bethlehem.
Tickets are $25. For information, call 610-868-2971 or go to CharterArts.org.
***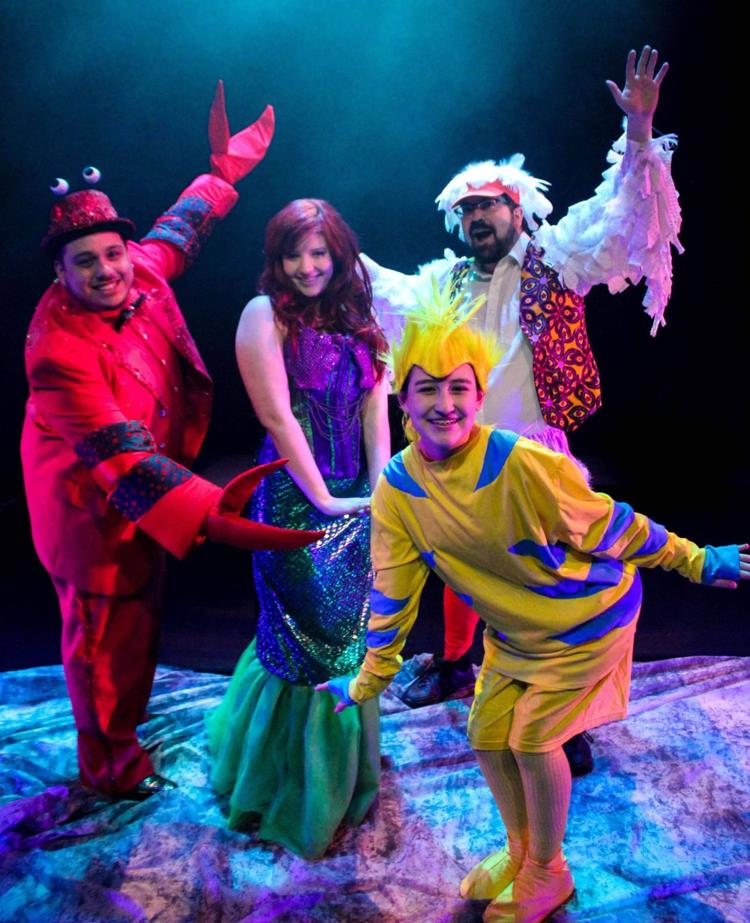 Go "under the sea" when Genesius Theatre in Reading presents Disney's "The Little Mermaid," opening Friday.
Adapted from a classic tale by Hans Christian Andersen, "The Little Mermaid" soars with music by eight-time Academy Award-winner Alan Menkin and lyrics by Howard Ashman and Glen Slater as it follows the journey of mermaid Ariel, King Triton's youngest daughter, and her search for legs and love with human Prince Eric.
Director Chris Sperat said audiences will enjoy all the songs and characters they know and love from the original Oscar-winning film, celebrating its 30th anniversary, but that it will also be enhanced by the addition of brand-new Tony-nominated numbers. A stand-out moment comes in the form of Emily Snyder's performance of "Part of Your World." She is joined by Albert Garcia, who plays Sebastian the crab. Rounding out the cast will be 13-year-old Antietam Junior/Senior High School student Ellen Rochlin in the role of Flounder.
There will be a separately ticketed pre-show party with the production's main characters (Ariel, Prince Eric, Sebastian, Scuttle, Flounder and Ursula) on matinee dates for $15 per person. Party participants will be able to enjoy a craft activity, play games, have a snack and get their photo taken with characters. All ages are invited, but the party is geared to children ages 3-10 years. On Dec. 7 and 14, parties will be from 1-1:30 p.m., and on Dec. 8 and 15, the parties will be from 2-2:30 p.m.
There will be a sensory-friendly show at 10 a.m. on Dec. 15. The family-friendly performance is designed and intended for those who are on the autism spectrum or who have other sensory issues.
The musical director is Kevin Cooper, and Jennifer Parker Scott is choreographer.
Performances are 7:30 p.m. Dec. 6; 2 and 7:30 p.m. Dec. 7 and 14; 3 p.m. Dec. 8 and 10 a.m. and 3 p.m. Dec. 15.
Tickets are $17.50 to $33. For information, go to genesiusdifference.org.
***
A story that has enthralled audiences for generations comes to Pennsylvania Playhouse for the holiday.
"She Loves Me," a musical inspired by a 1937 Hungarian play and which also inspired the 1998 Tom Hanks-Meg Ryan romance comedy "You've Got Mail," opens Dec. 6 at the theater in Bethlehem.
An intimate and touching show, featuring music by Jerry Bock and Sheldon Harnick (Fiddler on the Roof) and book by Joe Masteroff (Cabaret), "She Loves Me" was nominated for five Tony Awards in 1963. The 1993 Broadway revival won the Drama Desk Award for outstanding revival of a musical and the 1994 Critics Circle Award for best musical. It was later revived in 2016 and received eight Tony Award nominations and nine Drama Desk Awards, again garnering the Drama Desk for outstanding revival of a musical.
Considered by many to be the most charming musical ever written, "She Loves Me" is a warm, romantic comedy with an endearing innocence and a touch of old world elegance.
Set in a 1930s European perfumery, Maraczek's shop clerks, Amalia (Elizabeth Marsh-Gilkeson) and Georg (Brian Houp), more often than not don't see eye to eye. After both respond to a "lonely hearts advertisement" in the newspaper, they eagerly await the love letters that they exchange, but the identity of their admirers remains unknown. As Amalia and Georg try to discover the identity of their true loves, there are many twists and turns along the way.
In addition to Marsh-Gilkeson and Houp, the cast includes Ted Williams as Sipos, Beth Sucro as Illona, Mike Corcoran as Kodaly, Josh Mitchell as Arpad, Paul Bonicci as Mr. Maraczek, and Jaedon Muhl as the Head Waiter of the Café Imperiale. A small but strong ensemble cast will play a range of characters of all ages.
Performances are 7:30 p.m. Dec. 6-7, 13-14, 20-21 and 3 p.m. Dec. 8, 15 and 22 at Pennsylvania Playhouse, 390 Illicks Mill Road in Bethlehem.
Tickets are $25 for adults and $22 for students and seniors Fridays and Sundays. For information, call 610-865-6665 or go to paplayhouse.org.
***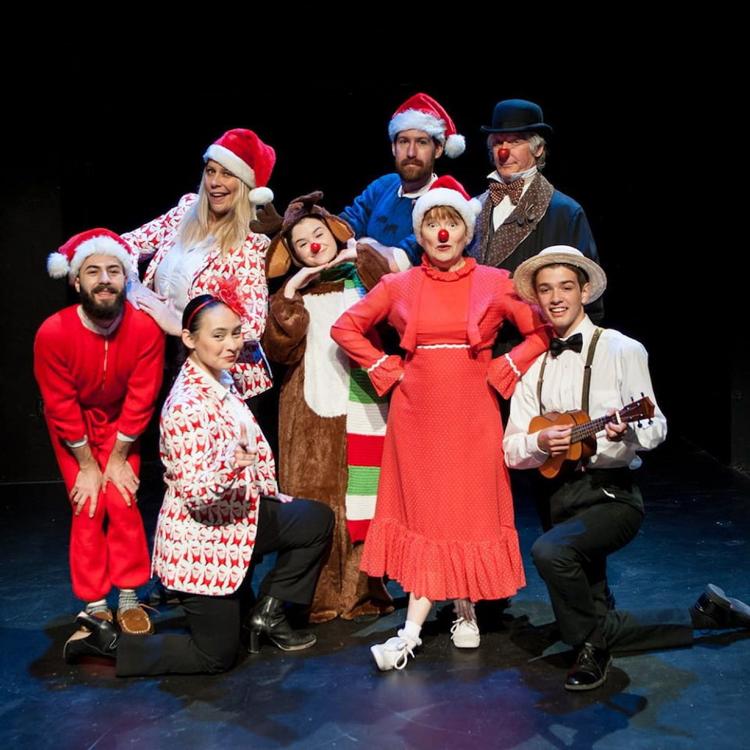 Beloved characters and sketches return when Touchstone Theatre presents the 20th year of their popular Christmas City Follies series, the theater's annual holiday-themed vaudeville show, filled with jolly mischief, merry melodies, and holiday cheer.
"Christmas City Follies XX," which runs Dec. 5-22 at the company's southside Bethlehem black box theater, is back with an evening of original sketches, characters, songs, and more, all taking on the annual holiday in both serious and hilarious ways. Sketches range from the sublime to the ridiculous, with topics that have included family stories, dancing hippos, snow camels, holiday yoga, and kazoo-playing Christmas trees.
Although the show features recurring characters, Follies is different every year. Rehearsals for the show began in late October, with the cast creating original songs, re-imagining the wise men's journey to Bethlehem, an HR-mandated therapy session at Santa's workshop, and the return of Bill George's Old Guy, Mary Wright's Little Red, and the beloved Shopping Cart Ballet.
On display in the Touchstone Gallery during performances of "Christmas City Follies XX" is an exhibit by local photographer Ron Yoshida, entitled "Rocks." Originally featured as a gallery display for "Festival UnBound," it features unique portraits of local arts and culture personalities, those that Yoshida considers to be the artistic bedrock of the community.
On Thursdays, Touchstone offers a pay-what-you-will ticket option at the door, as available.
Performances are 8 p.m. Thursdays through Saturdays, 2 p.m. Sunday Dec. 5-22 at Touchstone Theatre, 321 East Fourth Street, Bethlehem.
Tickets are $25 for adults and $15 for students and seniors. For information, call 610-867-1689 or go to touchstone.org.
***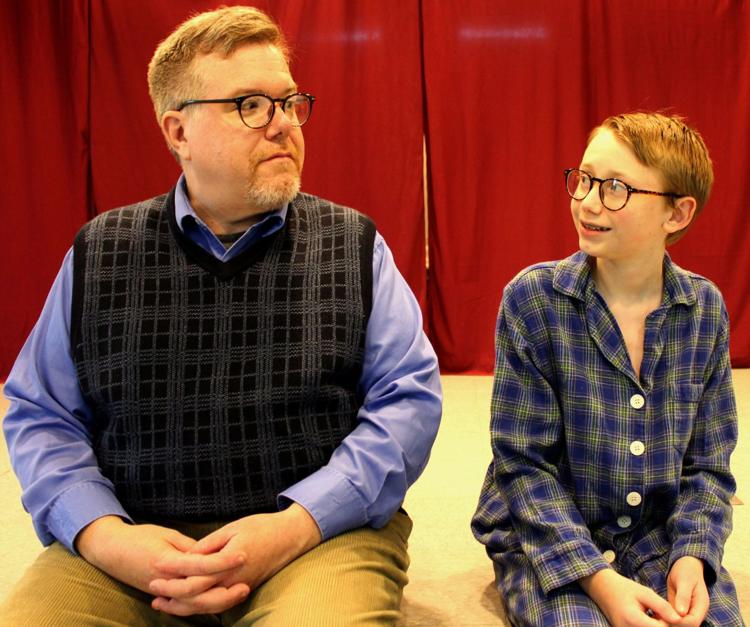 The stage version of the classic holiday film based on the stories of Jean Shepherd comes to Emmaus, Lehigh County on Dec. 5, when Star of the Day Productions opens "A Christmas Story."
Christmas is coming in Hohman, Indiana, and all nine-year-old Ralphie wants for Christmas is the legendary "official Red Ryder 200-Shot Carbine Action Range Model Air Rifle with a compass and this thing which tells time built right in the stock."
The problem is that every adult in his life, beginning with his mother, is afraid he'll shoot his eye out with it. Ralphie's attempts to persuade Santa and his parents that he should get the Red Ryder gun form the basis for this heartwarming and nostalgic look at growing up in a small-town in America in 1938.
The 1983 film "A Christmas Story" has become a holiday classic and is based upon Shepherd's book, "In God we Trust, All Others Pay Cash."
Narrating the show as the adult Ralph, the character based on author and radio personality Jean Shepherd, is Lehigh Valley playwright and actor Brian McDermott. Playing Ralphie, the kid on the legendary quest for the best Christmas present ever, is Quakertown, Bucks County's Tanner Sheridan.
Playing "the old man," Ralphie's irascible father, is Jerry Brucker, and his long-suffering mother is played by Rachel Williams. Ralphie's little brother, Randy, is played by William Oravetz.
Performances are 7:30 p.m. Dec. 5-6; 2 and 7:30 p.m. Dec. 7 and 2 p.m. Dec. 8 at St. John's United Church of Christ, 139 North Fourth Street, Emmaus.
Tickets are $20. For information, call 484-809-9228 or go to StaroftheDay.org.
***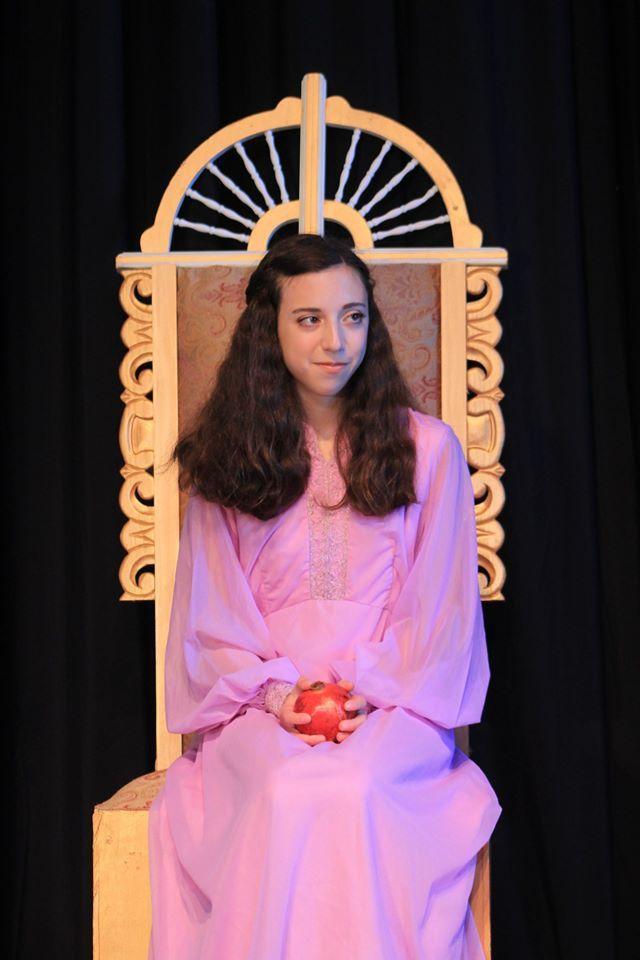 Players of the Stage, a local Christian youth and community theater, will present a benefit show to raise funds for the Allentown Rescue Mission.
POTS will present Leonard Wibberley's comedy "The Mouse that Roared," adapted by Christopher Sergel, Dec. 5-7 and 12-14 in Lehigh County.
In the story, a pretty 22-year-old girl is Duchess Gloriana, sovereign of a tiny country in the Alps, founded centuries ago by a roving band of English bowmen. Gloriana's solution to the near bankruptcy of her tiny domain is to declare war on the United States after her study of recent history suggests that the surest way to wealth is to lose a war with the United States, since the U.S. then pours aid, relief and rehabilitation on the defeated country.
Tully Bascomb, in charge of the bowmen, is to launch an attack so they can surrender and reap the rewards but Tully upsets all calculations when he and his bowmen do something unexpected.
Players of the Stage puts on free-will shows and donates all proceeds to charity. In the past 12 seasons, the group has raised more than $141,000 for the mission, and this year, it wants to top $150,000.
Tickets are free, but reservations are required by emailing potstickets@gmail.com. During the performance, donations will be taken, 100% of which will go to support the Allentown Rescue Mission.
Performances are 7 p.m. Dec. 5-6, 12-13; 2 and 7 p.m. Dec. 7 and 14, at 330 Schantz Road in Lower Macungie Township. Tickets are free. For information, go to playersofthestage.org.
Bach Choir to present 'Messiah,' 'Magnificat'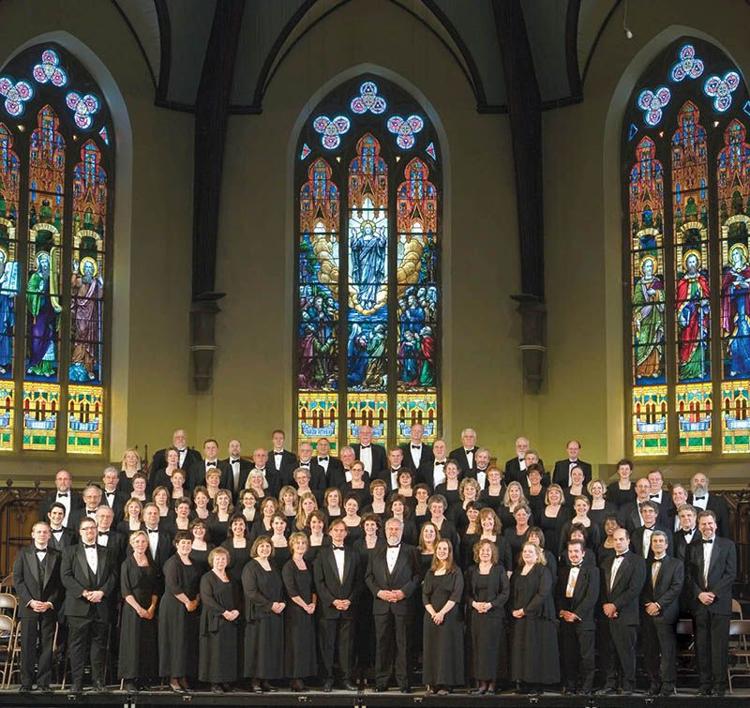 For the first time in The Bach Choir of Bethlehem's history, the renowned singers are performing Handel's "Messiah."
The first part of the monumental choral masterpiece will be performed, along with Bach's "Magnificat," at the Bach Choir's Christmas concerts Dec. 7 and 8 in Allentown and Bethlehem.
The three-part oratorio about the life of Christ is a beloved holiday favorite with familiar movements, including "Comfort Ye, My People" and "For Unto Us a Child Is Born."
"Messiah" begins in Part I with prophecies by Isaiah and others, and moves to the annunciation to the shepherds. In Part II, Handel concentrates on the Passion and ends with the "Hallelujah" chorus. In Part III, he covers the resurrection of the dead and Christ's glorification in heaven.
George Frideric Handel composed what would become one of the most famous oratorios in history in 1741, using text from the King James Bible, and from the Coverdale Psalter, the version of the Psalms included with the Book of Common Prayer.
Soloists are soprano Agnes Zsigovics; countertenor Daniel Taylor; tenor Isaiah Bell and bass-baritone David Newman.
Director Greg Funfgeld said he felt Part I would pair well with Bach's "Magnificat," which was first heard in Leipzig in 1723. He said the work was first heard in Bethlehem in 1903 and has been a part of the musical life of Bethlehem for 115 years.
The Bach Choir's Christmas concerts traditionally end with the choir inviting the audience to join in singing carols, including Handel's "While Shepherds Watch their Flocks by Night;" "Joy to the World;" and "Silent Night" in both English and German.
The choir will perform Part II of "Messiah" at its spring concert March 29, 2020, and Part III at its spring concert in 2021.
Concerts are at 8 p.m. Dec. 7 at First Presbyterian Church, 3231 West Tilghman Street, Allentown; and 4 p.m. Dec. 8, at First Presbyterian Church, 2344 Center Street, Bethlehem.
Tickets are $38 for adults and $9 for students. For information, call 610-866-4382 ext 115 or go to bach.org.
Central Moravian musicians to perform 'musical extravaganza'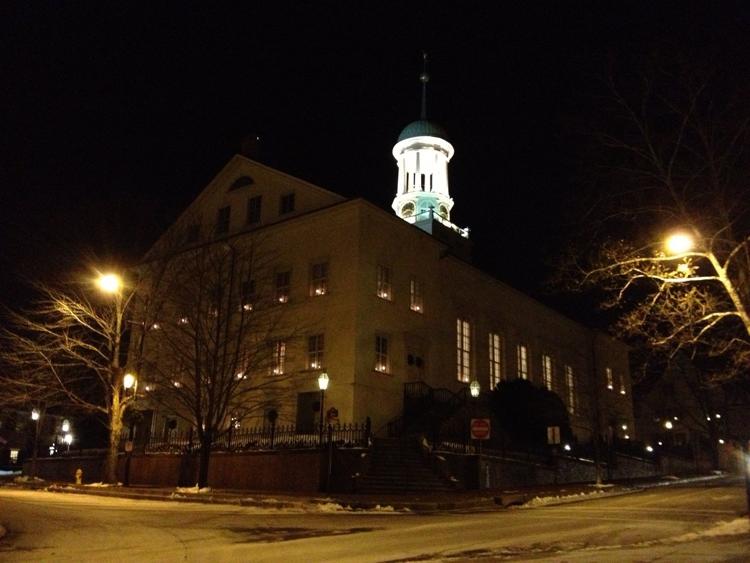 Musicians from Central Moravian Church in Bethlehem will present "A Musical Christmas Extravaganza" at 1:30 p.m. on Dec. 7 in the church sanctuary at 73 West Church Street, Bethlehem.
Featuring secular and sacred music of the season, as well as traditional Moravian Christmas music, the concert will include the Mainstreet Brass, ensemble in residence at the church, the Central Moravian Church Choir, and organ selections performed by Rebecca Lepore, director of music and organist at Central Moravian Church.
Each guest will leave with a piece of Moravian sugar cake and a red-trimmed beeswax candle, two staples of the Moravian Christmas tradition. Central Moravian Church, founded in 1742, is Bethlehem's first congregation and the oldest Moravian Church in North America. Early American Moravians had close connection to their European roots and sought and performed contemporary music being composed in Europe. Haydn's "The Creation" was performed for the first time in the United States in the sanctuary of Central Moravian Church in 1811, and the first complete performance of Bach's Mass in B Minor was presented at Central in 1900, thus giving Central Moravian Church status as a National Landmark of Music.
Tickets are $15 and all proceeds will benefit the ministries of Central Moravian Church. For information, call 610-866-5661.
'Christmas on the Farm' in Maxatawny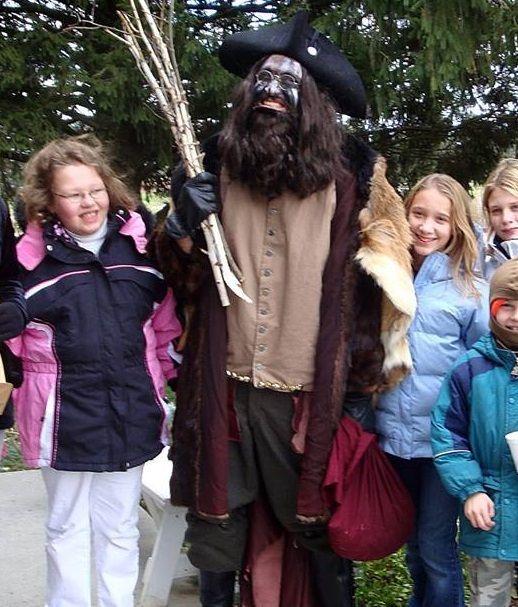 Look for a visit from the Belsnickel as you experience a Pennsylvania Dutch Christmas at "Christmas on the Farm" on Dec. 7 from 10 a.m. to 4 p.m. at Pennsylvania German Cultural Heritage Center in Maxatawny Township, Berks County.
A visit from the Belsnickel was just as common as a visit from St. Nick about 125 years ago in Pennsylvania German regions of Berks County and the Lehigh Valley.
The Belsnickel's job was to remind little ones that they still had a little time left to behave before the benevolent St. Nicholas would arrive on Christmas Eve.
The Belsnickel would show up wearing furs, holding a hickory switch in one hand and a sack laden with candy and nuts in the other. One by one, he called the children in the house forward and asked them to recite a poem, a Bible verse or math equations. He'd warn them to behave. Then he'd toss the goodies on the floor.
The free event also features seasonal demonstrations, craftspeople and artisans, food, Christmas carols and more.
Pennsylvania German Cultural Heritage Center is at 22 Luckenbill Road in Maxatawny Township. For information, call 610-683-1589.