The winner of a new national biennial art prize is one of 10 artists featured in a new exhibit that opens Saturday at the the Reading Public Museum.
"Rising Voices: The Bennett Prize for Women Figurative Realist Painters" will be at the museum from Feb. 22 to May 24.
Aneka Ingold, a painter whose work explores women's experiences across time, culture and history is the inaugural winner of the Bennett Prize for Women Figurative Realist Painters. The $50,000 stipend/grant-in-aid award is given biennially to a woman painter whose principal focus is figurative painting. The Bennett Prize seeks to encourage the pursuit of figurative realism by women painters and provides support over two years to a painter whose work demonstrates excellence in the genre.
Ingold of Tampa, Florida, creates artwork that consists of ambiguous narratives combining flat color and pattern with realism. She specializes in mixed media techniques, combining drawing and painting processes.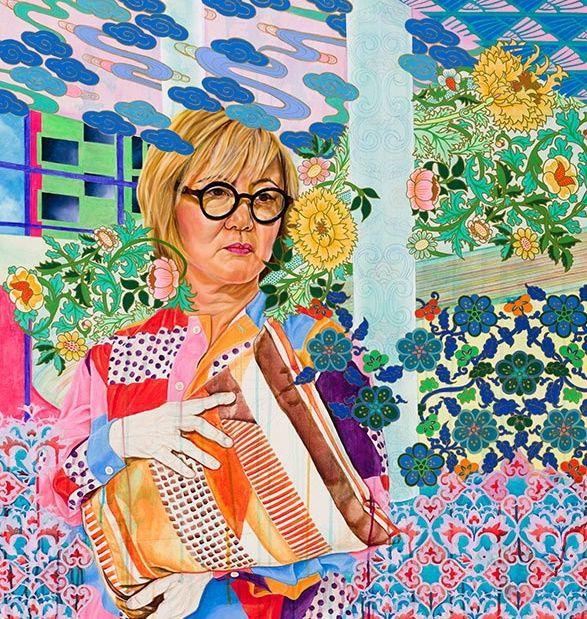 "Rising Voices" features more than 25 works by the Ingold and the nine other finalists, presenting a vibrant array of subjects and themes. The finalists were chosen from a field of 647 entrants from across the United States. Their paintings were selected for technical excellence, emotive and conceptually expressive qualities, and for the ability of their artists to tell stories that address the timeless and contemporary issues facing not only women, but society as a whole. Other figurative artists featured in the exhibition include Dorielle Caimi, Jennifer R.A. Campbell, Kira Nam Greene, Mary Henderson, Stephanie Jackson, Rebecca Léviellé, Jenny Morgan, Daniela Kovacic Muzio, and Carrie Pearce.
The museum is open 11 a.m.-5 p.m. daily and is located at 500 Museum Road in Reading.
Admission is $10 for adults, $6 for students and seniors, and free for ages 3 and under.
For information, call 610-371-5850 go to readingpublicmuseum.org.
Symphony orchestra 'Goes Green'
Every year, the Allentown Symphony Orchestra has been holding a youth and family concert, and this year is the 50th anniversary of Earth Day, so orchestra music director and conductor Diane Wittry decided to combine the two and "go green" at the concert at Miller Symphony Hall on Sunday.
Wittry chose pieces that celebrate nature in music, including selections from Beethoven's "Pastoral," Vivaldi's "The Four Seasons," and Glazuno's "The Seasons."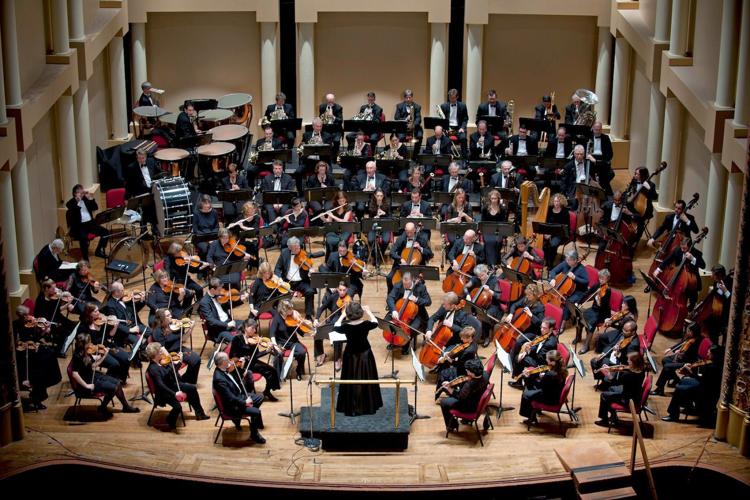 Other pieces include the famous "Forest Murmurs" Richard Wagner's Ring sequence from Act II of "Siegfried;" "On the Trail," the best known of five movements from the "Grand Canyon Suite" by Ferde Grofé; "The Pines of the Appian Way" from Ottorino Respighi's "The Pines of Rome;" "Scene by the Brook" from Beethoven's "Symphony No. 6" and "Call of the Cicadas" from "Living, Breathing Earth" by Meira Warshauer.
Wildlands Conservancy of Emmaus, Lehigh County, is partnering on the concert and will be providing both narrators for the concert, as well as images and maps that will be shown during the concert.
ASO family concerts always offer pre-concert activities for children and Wildlands Conservancy is bringing in its furred and feathered wildlife ambassadors to meet the audience members. Wildlands also will have interactive climate-education activities that will explore the impact of the elements and introduce ideas to reduce your carbon footprint.
The pre-concert activities are 12:30 to 1:30 p.m. in the Rodale Room on the third floor of Miller Symphony Hall.
The concert is 2 p.m. on Saturday at Allentown Symphony Hall, Miller Symphony Hall, 23 North Sixth Street, Allentown.
Tickets are $30. Tickets for students up to age 21 are free by calling the box office at 610-432-6715. For information, go to millersymphonyhall.org.
Apollo's Fire at Kutztown Presents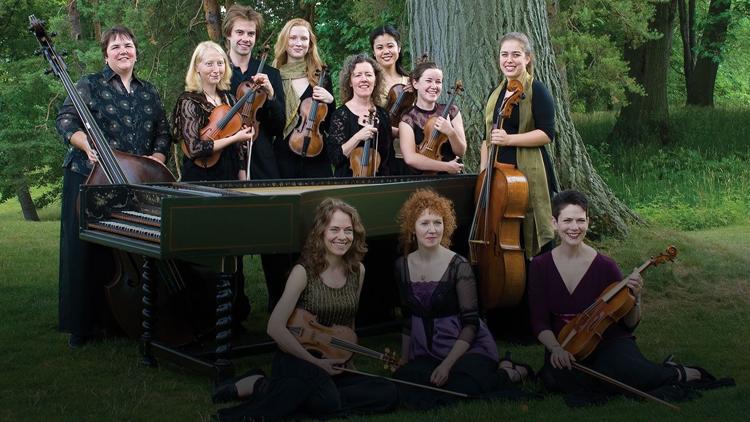 Grammy Award-winning orchestra Apollo's Fire has performed sold-out concerts at Carnegie Hall, the BBC Proms, the Royal Theatre of Madrid, the Tanglewood Festival, the Metropolitan Museum of Art and now comes to Kutztown University on Tuesday.
Apollo's Fire is dedicated to reviving the true spirit of baroque performances, not only with period instruments, but with the emotional impact the music was meant to convey.
Named for the classical god of music, healing and the sun, the period-instrument orchestra was founded by award-winning harpsichordist and conductor Jeannette Sorrell, and is dedicated to the baroque ideal that music should evoke the various Affekts or passions in the listeners. Apollo's Fire is a collection of creative artists who share Sorrell's passion for drama and rhetoric.
Apollo's Fire has released 26 commercial CDs and won a Grammy Award in 2019 for the album "Songs of Orpheus" with tenor Karim Sulayman.
The concert is part of the Kutztown Presents Performing Arts Series.
The performance is 7:30 p.m. on Feb. 25 in Schaeffer Auditorium at Kutztown University, 15200 Kutztown Road, Maxatawny Township.
Tickets are $38 for adults, $34 for seniors and students. For information, call 610-683-4092 or go to kutztown.edu.
'Raisin in the Sun' at Muhlenberg College
The classic play "Raisin in the Sun," which is celebrating the 60th anniversary of its premiere, is headlining Muhlenberg College's 2020 Black History Month celebrations.
Lorraine Hansberry's explosive drama takes an unflinching look at the hopes and struggles of an urban black family in 1950s Chicago.
Emmy Award-nominated guest artist Jeffrey Page is directing the production Feb. 20-23, presented by Muhlenberg College Theatre & Dance Department.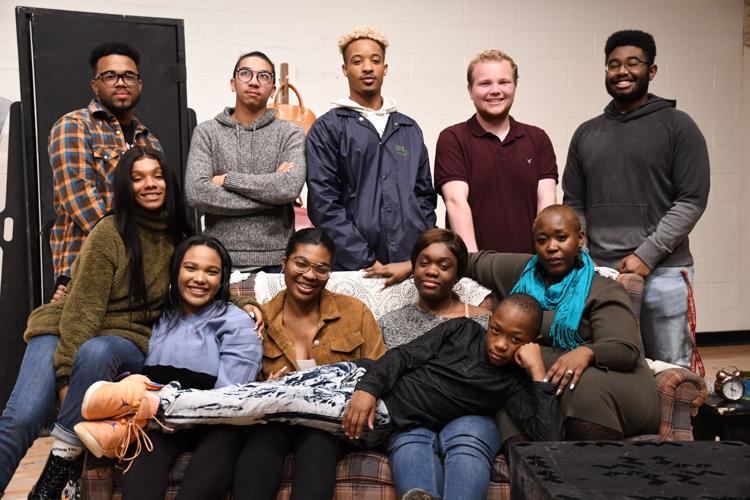 "A Raisin in the Sun" was the first play written by a black woman to be produced on Broadway. It was nominated for four Tony Awards, including best play.
The title of the play comes from the Langston Hughes poem "Harlem," which asks the question, "What happens to a dream deferred? Does it dry up like a raisin in the sun?"
In the story, the members of the Younger family are at a crossroads. Matriarch Lena wants to use her late husband's life insurance to move her family out of their cramped south side apartment. Her son, Walter Lee, would rather use the money to start a business and become his own man. Her daughter, Beneatha, plans to go to medical school, but also yearns for a sense of identity, and wishes her family wasn't so desperate for acceptance.
As their simmering tensions intensify, the powerful forces of 1950s America come knocking at the Youngers' front door.
Hansberry encountered discrimination firsthand while growing up in a white, upper-middle-class neighborhood. The playwright later described her experience as "hellishly hostile," as her white neighbors attempted to push them out of their home. The events served as the basis for the play and led to the landmark 1940 U.S. Supreme Court case Hansberry v. Lee, a stepping stone to the Fair Housing Act of 1968.
Though deeply rooted in the social issues of a particular era, "A Raisin in the Sun" has stood the test of time, according to the cast, who say they had no difficulty recognizing themselves and the challenges of 21st century America in the pages of the play.
Performances are 8 p.m. Feb. 20-22 and 2 p.m. Feb. 23. Baker Theatre, Trexler Pavilion for Theatre & Dance, Muhlenberg College, 2400 West Chew Street. Tickets: $15, $8 students. Info: 484-664-3333, muhlenberg.edu/theatre.
Reading Theater Project's 5-Minute Fringe Festival
Don't miss 14 new works by local playwrights and performing artists when Reading Theater Project presents "5 Minute Fringe Festival: Mirror" Thursday through Sunday.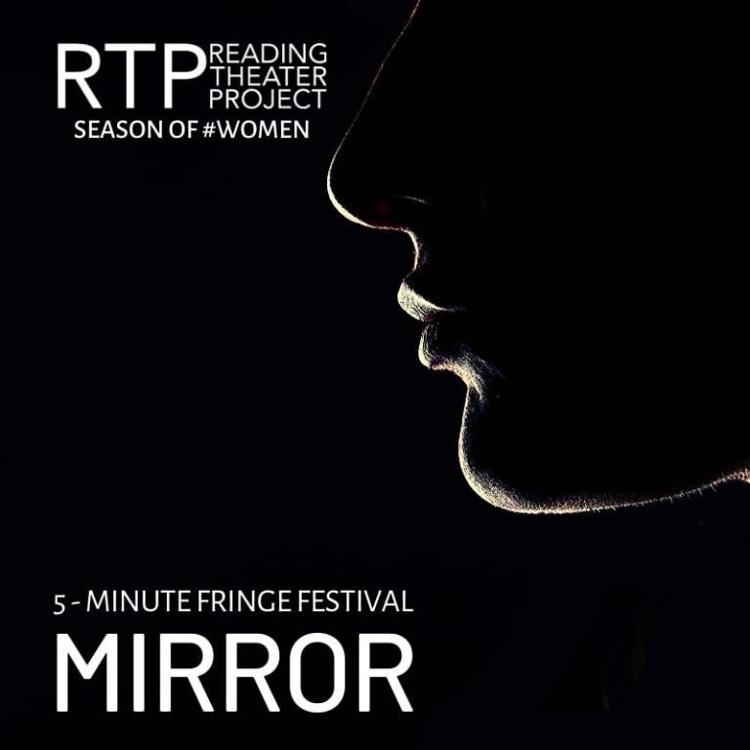 The 5-Minute Fringe gives creative artists from Berks County and beyond a platform to develop new and experimental work on a small scale, and it gives audiences a glimpse into the minds of local performers and writers. Arists are encouraged to pushing theatrical boundaries and take creative risks.
This year's theme is "Mirror" explored through music, words, and movement
The pieces are "Unboxing Match" by Adam Richter; "A Love Finding Its Reflection" by Chris Heslop and Fadi Acra; "Facets Part 2" by Chris Paolini; "This Mortality Jazz: Three poems reflecting a life" by David Nice; "Echo and Narcissus" by Emily Hannon; "Seeing and Believing" by Jane Ney; "Tomboy" by Jayne R. Brown; "Wheels of Light" by Jessica Warchal-King and Emily Coppa; "Herstory and Mirror, Mirror" by Nancy Lamb; "Mirror Dialogue: What Do I See" by Phillip Jeffrey Tietbohl and "Party for Obsolete Words" by Sue Lange.
Also presented will be two original works by the Yocum Institute for the Arts Teen Ensemble, directed by Megan Rose.
Performances are 8 p.m. Feb. 20-22 and 2 p.m. Feb. 23 at the Yocum Institute for the Arts, 3000 Penn Avenue, Spring Township.
Tickets are $15.
For information, call 484-706-9719 or go to readingtheaterproject.com.
Manuel Cinema returns to Williams Centers
The acclaimed company returns to Williams Center for the Arts at 7p.m. Feb. 22, following its successful 2016 Williams Center debut, with "No Blue Memories: The Life of Gwendolyn Brooks," which tells the story of Chicago's poet laureate and the first African American to win the Pulitzer Prize.
In the magical hands of Manual Cinema, the life of this quietly, persistently revolutionary literary figure who inspired generations of writers is depicted as poetically on the stage as Brooks appears on the page.
"The Life of Gwendolyn Brooks" illustrates the story of a remarkable figure in American literary history, her beloved Chicago, and how she navigated identity, craft, and politics. Brooks inspired generations of artists and children and Manual Cinema captures the poet in poetic fashion.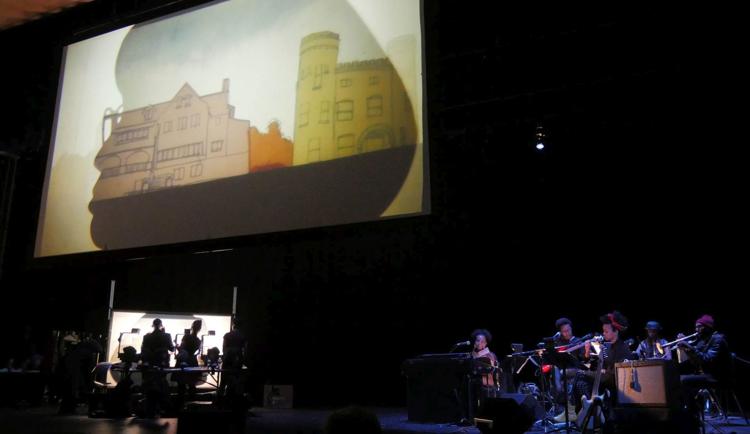 True to its name, Manual Cinema creates large-scale cinematic immersions using unassuming technologies including shadow puppetry, vintage overhead projectors, actors in profile, live feed cameras, multichannel sound design and an onstage music ensemble combine to make movie magic in real time, all within audience view. The company creates large-scale theatrical pieces by hand, using simple technologies, live actors, and an onstage music ensemble
Deceptively simple in concept, Manual Cinema's vision is deeply rooted in the nascent days of cinema when silent films were a limitation of technology, not the imagination.
The performance is suitable for children 8 and older.
"No Blue Memories: The Life of Gwendolyn Brooks" is at 7 p.m. Saturday at Williams Center for the Arts, 317 Hamilton Street, Easton. Tickets are $29 adults and $6 students.
For information, call 610-330-5009 or go to williamscenter.lafayette.edu.
Cedar Crest College presents 'Into the Woods'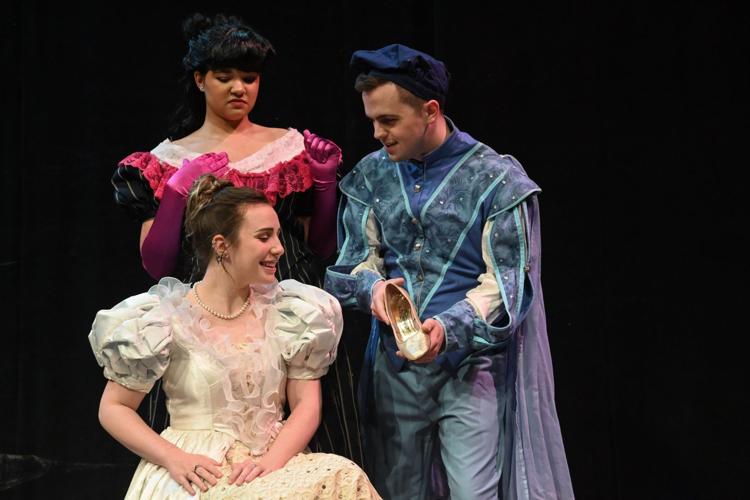 Fairy tales take a dark turn in Stephen Sondheim's "Into the Woods" Feb.20-24 at Cedar Crest College.
"Into the Woods" brings together characters from the original Brothers Grimm fairy tales in a unique and comedic story about wishes, family and the choices we make.
A book by James Lapine and score and lyrics by Sondheim weave together the plots of several fairy tales, including Little Red Riding Hood, Rapunzel, Jack and the Beanstalk, and Cinderella in this darkly comic reenvisioning of classic tales.
In the story the Baker and his Wife wish for a child; Cinderella wishes to attend the King's Festival and Jack wishes his cow would give milk. When the Baker and his Wife learn that a Witch's spell is to blame for their troubles, they set off on a journey to break the curse. All the characters get their wish for a time. But as they soon learn, a wish granted is no guarantee of happiness.
The cast features Cedar Crest College and Lehigh Carbon Community College students performing under the direction of Bill Whitney, the musical direction of Brian Foley and the choreography of Joanellyn Schubert.
Performances are 7 p.m. Feb. 20-22 and 2 p.m. Feb. 24, in Samuels Theatre, Tompkins College Center, 100 College Drive, Allentown.
Tickets are $25 adults, $20 seniors and free for children. For information, call 610-606-4608 or go to cedarcrest.edu/stage.
Noël Coward comedy 'Blithe Spirit' at Lehigh
Lehigh University's Department of Theatre brings the Noël Coward's comedy "Blithe Spirit" to Lehigh University's Diamond Theater Feb. 21-29.
Noël Coward at his comic best with this play set just before war breaks out, in 1937, in a Kent village. English novelist Charles Condomine invites the wacky medium, Madam Arcati, to perform a séance for him and friends in hopes of learning some tricks for a character in his next book. He is skeptical of her powers, of course. But when the séance appears to work, hilarity ensues as Charles is literally haunted by his deceased first wife, Elvira.
The play is directed by Augustine Ripa, and the cast features Lehigh University students Arianna Pinerio as Ruth, Sam Alper as Charles, Leo Danzig as Dr. Bradman, Racel Gingrich as Violet Bradman, McKenna Webb as Madame Arcati, Ivery Marquez as Edith and Aimee Tepidity as Elvira.
Performances are 7:30 p.m. Feb. 21, 22, 26-29 and 2 p.m. Feb. 23, in Diamond Theater, Zoellner Arts Center, Lehigh University, 420 East Packer Avenue, Bethlehem.
Tickets are $12, and pay-what-you-will Feb. 26.
For information, call 610-758-2787, ext. 0 or go to zoellnerartscenter.org.