The Broadway musical that had audiences dancing in the aisles makes its regional premiere in both Berks and Lehigh counties as Reading's Genesius Theatre and Allentown's Munopco Music Theatre both kick off productions this weekend of the hit show "Mamma Mia!"
"Mamma Mia!" brings 22 of the greatest hits from '70s Swedish pop/dance group ABBA to the stage in a funny and heartwarming story about a girl, her mother and three men, one of whom may be her father.
Set on a Greek island paradise and based on the book by Catherine Johnson, "Mamma Mia!" follows Sophie, a young woman who is searching for her birth father on the eve of her wedding to her fiance, Sky. With her wedding rapidly approaching, Sophie sets out on a quest to discover the identity of her father, bringing three men from her mother's past back to the island they last visited 20 years ago.
The show features music and lyrics by Björn Ulvaeus and Benny Andersson of ABBA, and some songs by Stig Anderson.
Songs include the title tune, "Voulez-Vous," "Take a Chance on Me," "Dancing Queen," "Super Trouper," "Knowing Me, Knowing You," "Thank You for the Music," "Money, Money, Money," "The Winner Takes It All," and "SOS."
Deemed a "jukebox musical," the production is free-spirited and fun, and certainly a must-see for fans of the group that inspired the show.
For Genesius Theatre, Christopher Sperat is director and also plays Sam, one of Sophie's possible dads.
Sperat is eager to perform his favorite ABBA number, "Knowing Me, Knowing You," and said audiences can expect, "lots of fantastic singing, romantic liaisons, laughs-a-plenty, perhaps some sequins, scantily-clad beachcombers, professional state-of-the-art lighting and sound, and a full orchestra of some of the best musicians in Berks."
Emily Rhinehart plays Donna, Sophie's mother. She describes the character as "a complete bad ass." She is a self-made woman and has built her life upon "not needing anyone to get by," she said. "It feels great to portray a strong woman."
Donna's two friends, who make up the women's former singing group, "The Dynamos," are Amy Bourey as Tanya and Becka Malanios as Rosie.
The cast also includes Emily Fry as Sophie; Panayiotis Clauser as Sky and John Browning and Sean C. Hafer as Bill and Harry – other potential fathers of Sophie.
Kevin Cooper is music director and Sophie Xiong is choreographer.
Performances are 7:30 p.m. October 11-12 and 16-19; and 3 p.m. October 13 and 20 at Genesius Theatre, 153 North 10th Street, Reading.
Tickets are $17.50 to $33. For information, go to genesiusdifference.org.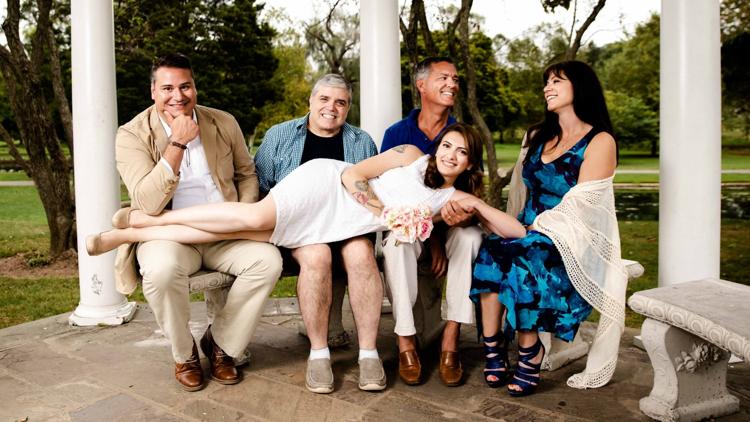 Munopco Music Theatre opens it 2019-2020 season Saturday with "Mamma Mia!"
Alessandra Fanelli stars as Sophie Sheridan, who is preparing for her marriage to Sky while trying to figure out which of three former beaus of her mother could be her father.
Elizabeth Marsh-Gilkeson plays Donna Sheridan and Sue Matol and Trish Seele play her friends, Tanya and Rosie. Playing Sophie's three potential fathers for Munopco's production are Mark Domyan as Sam Carmichael, Robert Calder as Bill Austin, and Matt Redline as Harry Bright.
Other cast members include Josh Mitchell as Sky, Andrew Stewart as Pepper, Jack Miller as Eddie, Milaijah Torres as Ali, Samantha Zosky as Lisa, and Ted Williams as Father Alexandrios.
Rody Gilkeson directs and musical direction is by Julius Sarkozy, with choreography by Jessica Mulligan.
Performances are 8 p.m. October 12 and 18-19; and 2 p.m. October 13 and 20 at Scottish Rite Cathedral, 1533 Hamilton Street, Allentown.
Tickets are $25 for adults; $22 for seniors and $15 for students.
For information, call 610-437-2441, or go to munopco.org/tickets.
Civic presents Lehigh Valley premiere of 'Sunset Boulevard'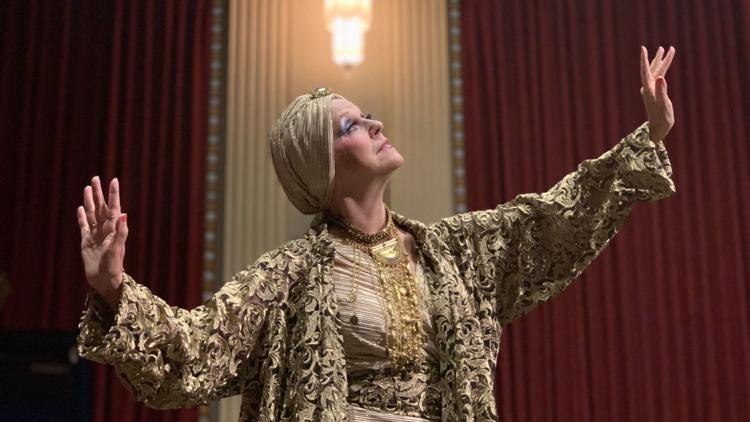 Andrew Lloyd Webber's Tony Award-winning "Sunset Bouelvard" makes its Lehigh Valley premiere Friday at Civic's 19th Street Theatre in Allentown.
Based on the Billy Wilder's Academy Award-winning 1950 film noir classic that starred Gloria Swanson and William Holden, the musical is the winner of seven Tony Awards, including best musical, and features some of Lloyd Webber's loveliest melodies including, "With One Look" and "As If We Never Said Goodbye."
The plot revolves around Norma Desmond, a faded star of the silent screen era, living in the past in her decaying mansion on the fabled Los Angeles street. When young screenwriter Joe Gillis accidentally crosses her path, she sees in him an opportunity to make her return to the big screen.
Civic Theatre veteran performer Pat Birnbaum is returning to the Lehigh Valley to take on the iconic role of Desmond.
Will Morris plays Joe Gillis, the ill-fated screenwriter who becomes entangled in Norma Desmond's fantasy world. Todd Rizzuto plays Max, Norma's faithful chauffeur and servant. Gianna Neal plays the young writer Betty Schaefer and Doug Ace plays her fiancé and Joe's friend Artie. Auteur film director Cecil B DeMille is played by Frank Riscitti.
The rest of the cast includes Nina Ace, Gene Banko, Tracy Ceschin, Robert Coll, Susan Glover, Nate Kuhns, Deena Linn, Jesenia Matthews, Sean McFarland, Kathleen Oswalt, Anthony Rizzuto, Allie Sacher, Andrew Schaffer, John Sechler, and Kristen Stachina.
William Sanders, Civic's artistic director, directs and choreographs the production with Deena Linn as co-choreographer and JoAnn Wilchek Basist as assistant director. A 14 piece orchestra will be led by musical director Nick Conti.
Performances are 7:30 p.m., October 11-12, 17-19, 24-26; and 2 p.m. October 20 and 27, at 19th Street Theatre, 527 North 19th Street, Allentown.
Tickets are $34 for adults; $32 for students, seniors and military. On Thursdays, tickets are $31 for adults and $29 for students and seniors.
For information, call 610-432-8943, or go to civictheatre.com.
Act 1 presents Studs Terkel's 'Working, A Musical'
"Working, A Musical," opening Thursday, showcases the talents of Act 1 DeSales University Theatre's outstanding design/technical theater students who helm the scenic, costume, and lighting aspects of the show.
Based on Studs Terkel's best-selling book, "Working" is a collection of the hopes and dreams of the American worker. With songs by some of Broadway's biggest names: Stephen Schwartz, Lin Manuel-Miranda, Craig Carnelia, and James Taylor, the show paints a vivid portrait of the schoolteachers, waitresses, mill workers, masons, and housewives whose hard work is so often taken for granted.
There are 12 actors, each playing two to three characters. Costume design student Bailey Gavin's designs represent the unity that exists not only among vastly different professions but among the American people as well. Lighting design student Nick Culmone created the production's lighting, using a city skyline and featuring electrifying effects.
The 2 p.m. performance on October 19 will feature open captioning for patrons who are deaf or hard of hearing and audio descriptions for patrons who are blind or visually impaired. Tickets are half price for patrons using these special services on this date. Call box office manager Nicole Moyer, at 610-282-3654, ext. 1 for more information.
There is a "talk-back" with the cast after the October 13 performance.
Performances are 8 p.m. October 10-12, October 16-18; and 2 p.m. October 13 and 19-20 in Schubert Theatre, Labuda Center for the Performing Arts, 2755 Station Avenue, Center Valley.
Tickets are $30 for adults and $28 for students and seniors, Wednesdays and Thursdays; and $31 for adults and $29 for students and seniors on Fridays, Saturdays, and Sundays.
For information, call 610-282-3192, or go to desales.edu/act1.
Songwriting concerts at 'Festival UnBound'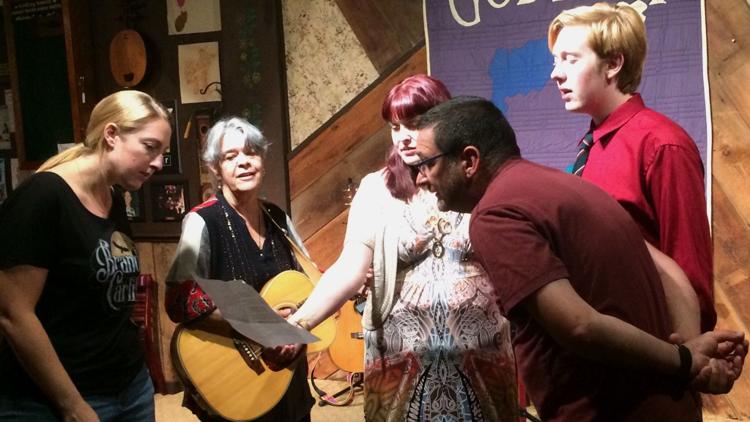 A six-month songwriting workshop led by Bethlehem native and folk singer Anne Hills will culminate with live concerts of original music inspired by the story of the city of Bethlehem October 10 and 11 in Allentown and Bethlehem.
"Poets, Troubadours, and Troublemakers" concert series is just one of more than 20 events through October 13, that are part of Touchstone Theatre's 10-day Festival UnBound, a community convergence throughout the Lehigh Valley. Festival UnBound uses art to spark conversation about how the city has changed in the 20 years since the closing of Bethlehem Steel and to imagine its future together now that it is "unbound" from the Steel.
For "Poets, Troubadours, and Troublemakers," Hills led biweekly songwriting workshops at Godfrey Daniels in Bethlehem that started in January and featured master classes on a broad diversity of styles, from hip-hop to ballads, by visiting artists, including John Gorka, Erin McKeown, Suzzy and Lucy Wainwright Roche, Tish Hinojosa and David Roth. Participants also had workshops with Lehigh Valley artists Alex Radus, Dierdre Van Walters and Jack Murray.
The songwriters - Amanda Penecale, Andrew Dunn, Katherine Rondeau and Rhys Williams - along with Hills and Radus, recorded a CD of their original songs that will be available for sale at the concert venues.
"Since I moved to Bethlehem 32 years ago, I have found love and support from our artistic community," Hills said. "Festival Unbound's 'Poets, Troubadours & Troublemakers' has offered me another great chance to create, collaborate and celebrate this vibrant community."
Concerts will feature a performance by the songwriters and Hills, as well as special appearances by Radus, Van Walters and Murray.
Original songs by Hills and Williams also will be featured in the closing ceremonies of Festival UnBound at 5:30 p.m. October 13 at Payrow Plaza, 10 East Church Street, Bethlehem.
"Poets, Troubadours, and Troublemakers" concerts are 7 p.m. October 10 at Miller Symphony Hall's Lyric Room, 23 North Sixth Street, Allentown, and 8 p.m. October 11 at Godfrey Daniels, 7 East Fourth Street, Bethlehem.
There will be a panel discussion after the October 11 performance.
Tickets for both concerts are $15. There will be a limited number of pay-what-you-will tickets available by calling 867-1689.
For information go to festivalunbound.com.
'Embracing Bethlehem' shares Latino view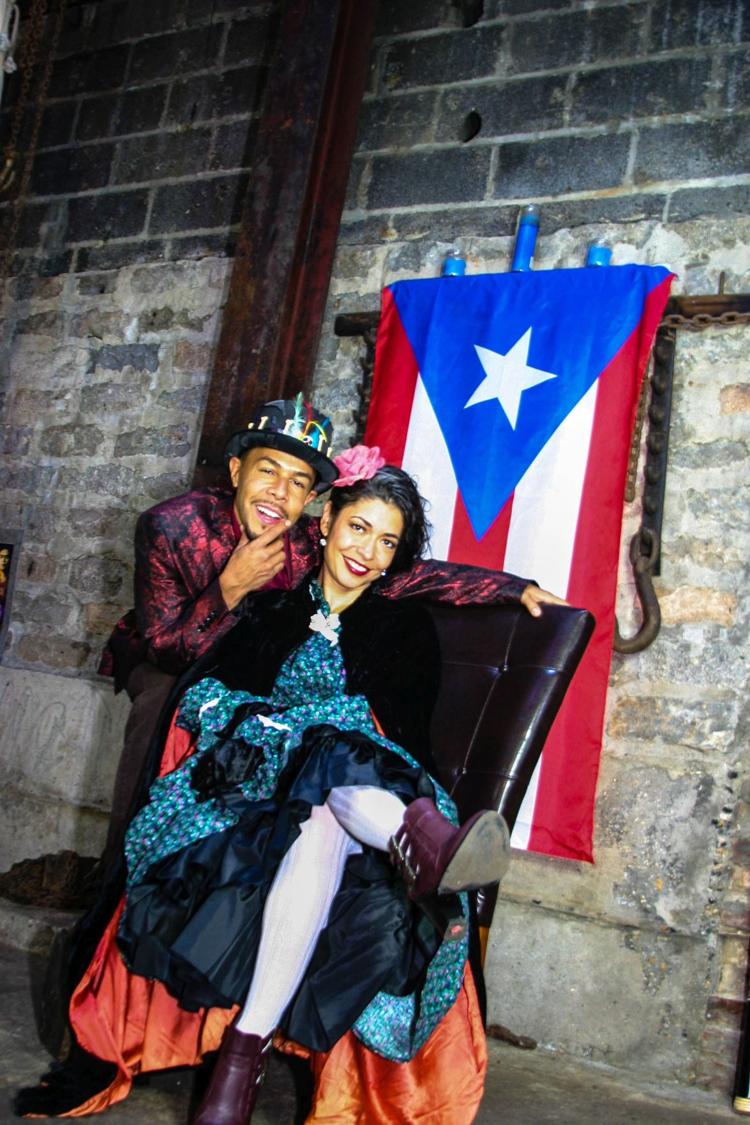 Touchstone Theatre's Festival UnBound brings New York's preeminent Latinx theater collective Pregones Theater/Puerto Rican Theatre Company to the Lehigh Valley, partnering with Bethlehem's Latinx population to create stories, songs and visions for the future.
The result is "Embracing Bethlehem/Abrazos a Belén" on Friday and Saturday at Bethehem's Ice House.
The immersive, multidisciplinary audience experience is under the direction of Pregones artist Omar Perez.
Audiences will be introduced to the new town of Belén, a town where stories of the Bethlehem town of old are shared. The celebration will be lead by Caridad de la Luz, Cedric Leiba Jr., and Desmar Guevara, along with community members and dancers of the Lehigh Valley's own Hispanic American League of Artists.
The festival upstairs at the historic Ice House, will present traditional cabaret and performances, and then join a modern mix of dance, spoken word and music, concluding with a gathering of audience and artists for food, more music and conversation. Audience members are invited to bring their instruments and noisemakers to join in and celebrate the creation of Belen.
"Embracing Bethlehem/Abrazos a Belén" is at 8 p.m. October 11 and 6:30 p.m. October 12, at the Ice House, 56 River Street, Bethlehem.
Tickets are pay-what-you-will, with a suggested donation of $15 for adults and $10 for students and seniors.
For information, call 610-867-1689, or go to festivalunbound.com.
Arts and music at Boyertown's Pickfest
Boyertown's Pickfest Music/Art & Agriculture Crawl features musical entertainment, art displays, food and drink and family-friendly activities throughout the weekend at several locations within a three-block area in the center of Boyertown and the outlying Frecon Orchards and Wilcox Farms.
This free festival, taking place October 11-13, is a celebration of American roots at its best and builds community awareness for all that Boyertown has to offer, from the Berks County borough's rich heritage and agricultural significance to its thriving artistic community and nationally recognized historic rail line.
The party kicks off at 5 p.m. Friday at The Studio Stage at Dancing Tree Creations, with music by Vuja De. Boyertown Relay-for-Life team will be raising funds by selling food, including a pig roast, and non-alcoholic beverages during the opening event. Other beverages will be offered from Boyertown's Frecon Farm Orchards and A'Dello Vineyard and Winery from Perkiomenville.
Other performers include Boyertown High School's show choir, Manatawny Creek Ramblers, Barren Wells, Chuck Darwin & the Knuckle Draggers and Grateful Ted and Friends on three stages Saturday. Sunday enjoy Ray Adkins Gospel, The Tin Roof Drifters and Whiskeyhickon Boys on the Rail Yard Stage.
Studio B Fine Art Gallery, 39A East Philadelphia Avenue, will host a pop-up exhibit, with an opening from 5-7 p.m. on Friday, featuring the artwork of Kutztown University students Delaney Hensor, Geoffrey Demarro, Morgan Musser, McKayla Michener, and Ariel Walter entitled: "Peer Perspectives."
Pickfest hours are 5 to 9 p.m. Friday; noon to 7 p.m. Saturday and noon to 5 p.m. Sunday. For information, go to boyertownspickfest.com.
Central Moravian Church to host Johnston memorial concert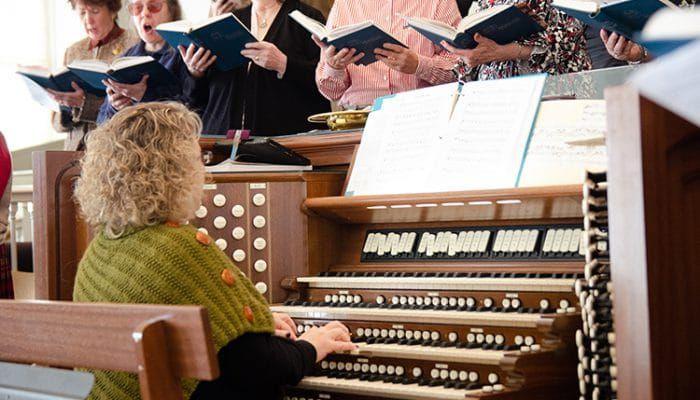 Central Moravian Church in Bethlehem will present the Estelle Borhek Johnston Memorial Festival Concert on Friday in a program featuring Beethoven's "Choral Fantasy in C minor, Op. 80," and Dan Forrest's "Requiem for the Living."
Conducted by Donald Spieth, the concert will bring together the 60-voice Johnston Festival Choir of Central Moravian Church, Festival Orchestra, and Becky Lepore, piano soloist on Beethoven's Choral Fantasy and minister of music of Central Moravian Church.
The concert will open with the Choral Fantasy, which provides a foretaste of the "Ode to Joy" finale of Beethoven's Ninth Symphony. It was intended to be the grand finale for a benefit concert in December 1808.
Following the Beethoven Choral Fantasy, the festival choir will sing the famous hymn "Joyful, Joyful, We Adore Thee" as the concert transitions to a more solemn and confessional tone, preparing for the powerful "Requiem for the Living."
Forrest's Requiem is especially interesting in that it incorporates the traditional liturgical text for the Requiem, a mass for the dead, but also includes scriptures from both the Old Testament and the New Testament.
The Estelle Borhek Johnston Memorial Concert was established in memory of Estelle Borhek Johnston (1867-1952) by her daughter, the late Mrs. Elizabeth Johnston Jost, and her son, Archibald B. Johnston. Through an endowment provided by the Johnston family, the concert is free to the public.
The concert is 7:30 p.m. October 11 in Central Moravian Church, 73 West Church Street, Bethlehem.
For information, call 610-866-5661.