There is nothing like the blues to brighten up a gray November day, and Berks Arts' fifth Reading Blues Fest has the perfect prescription with its four-day event.
The festival will open Thursday with a community kickoff concert at the Reading Liederkranz in Lower Alsace Township, and through Sunday, it will feature top-notch performances by some of the most exciting and accomplished blues artists in the country.
Thursday's concert will start out with the Busker Incognito Trio hosting the Crossroads Blues Jam, ushering in a performance by Scranton-based blues guitarist Clarence Spady & The Electric City Band, featuring The Berks Horns.
Friday will begin with a lunch at Jimmie Kramer's Peanut Bar on Penn Street in center city with The Bluesmasters — bassist Bennie Sims, keyboardist Cliff Starkey and saxophonist/vocalist Erich Cawalla.
The concert at 8 p.m. in the DoubleTree Hotel's grand ballroom will feature "Rock, Stomp & Swamp" with singer/guitarist Tab Benoit, from Baton Rouge, La., who has been compared to Albert King, Albert Collins and Jimi Hendrix. The New Orleans-based Dirty Dozen Brass Band and cutting-edge Mississippi bluesman Lightnin Malcolm will join him.
At 10 a.m. on Saturday, veteran blues guitarist Benny Turner (Freddie King's younger brother) and the "Piano Prince of New Orleans," pianist/singer Davell Crawford, will give a free concert in the DoubleTree's amphitheater.
At 1 p.m. in the grand ballroom, Texas-born singer/songwriter Sugaray Rayford — the Blues Music Awards' soul blues artist of the year in 2019 and 2020 — will perform with his band. Also on the bill is saxophonist/singer/songwriter Vanessa Collier, who recently won a BMA for contemporary blues female artist of the year.
The 8 p.m. concert will highlight upside-down, left-handed guitarist and singer/songwriter Eric Gales, winner of two BMAs for blues rock artist of the year in 2019 and 2020, who will bring his Memphis style to Reading, along with Montreal-based singer/songwriter Dawn Tyler Watson, who recently won Canada's Maple Blues awards for songwriter of the year and best album/producer. She also won the International Blues Challenge in Memphis in 2017.
At 10:30 a.m. on Sunday, patrons can enjoy a blues brunch, followed by a concert at noon by Gulf Coast Records artists The Blood Brothers: Mike Zito and Albert Castiglia. Zito, a five-time BMA winner, is a contemporary blues guitarist/vocalist; he is teaming up with guitarist vocalist Castiglia, who won the 2020 BMA for album of the year for his "Masterpiece." This grand finale to the festival will feature each band performing separately and then joining forces to raise the rafters.
Other events at the DoubleTree and the Peanut Bar will include performances by vocalist Bev Conklin and guitarist Joe Mac, both part of BC Blue, a four-piece band which will also perform; blue-eyed soul phenom Dave Keller and his trio; Dave Keyes; and the Dave Mell Blues Band.
For tickets, call 610-898-1930 or go to the Reading Blues Fest website.
'Food Chain' premiere at NCC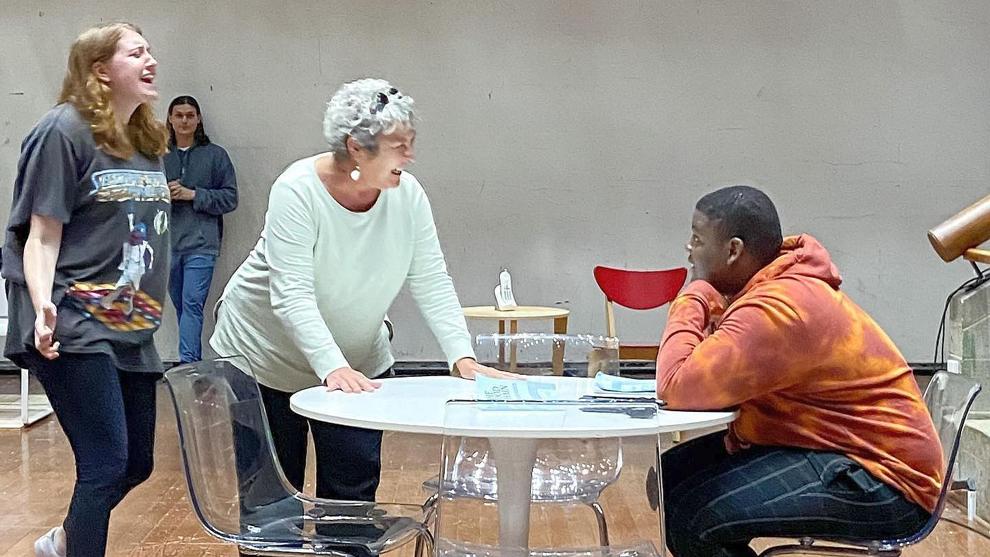 The dark comedy "The Food Chain," in its Lehigh Valley premiere, will be presented through Monday in the Bethlehem Township, Northampton County, college's Norman R. Roberts Lab Theatre.
Even almost 20 years after its acclaimed first off-Broadway run in 1995 at the Wooly Mammoth Theater in Washington, D.C., "The Food Chain's" sharp commentary on self-image, acceptance, and the desperation that follows from a lack of both rings true with present-day audiences.
Playwright Nicky Silver's philosophy of mixing his message with a heavy dose of absurd character-based humor makes for a heavy-hitting comedy that sheds light on the darker side of our insecurities and coping mechanisms.
In Silver's toxic, fractured tale of sex, loneliness and the importance of being thin, the pursuit of love is an even more convoluted process than usual.
The cast includes Amelia Illingworth as Amanda, Danny Rowe as Serge, Kareem Johnson as Otto, Aidan King as Ford and Trish Kane Steele as Bea. The first four actors are NCC students or alumni while Steele has appeared in several NCC shows.
Directed by Bill Mutimer, the show will be presented at 7:30 p.m. on Thursday, Friday, Saturday, and Monday, at at 2 p.m. on Sunday.
Tickets cost $5. Seating is general admission. Those with a valid NCC ID can attend at no charge with a donation of a non-perishable food item for NCC's HOPE Food Pantry for students.
For tickets, go to the theater's website or call 484-484-3412.
'Curtains' at 1st Street Players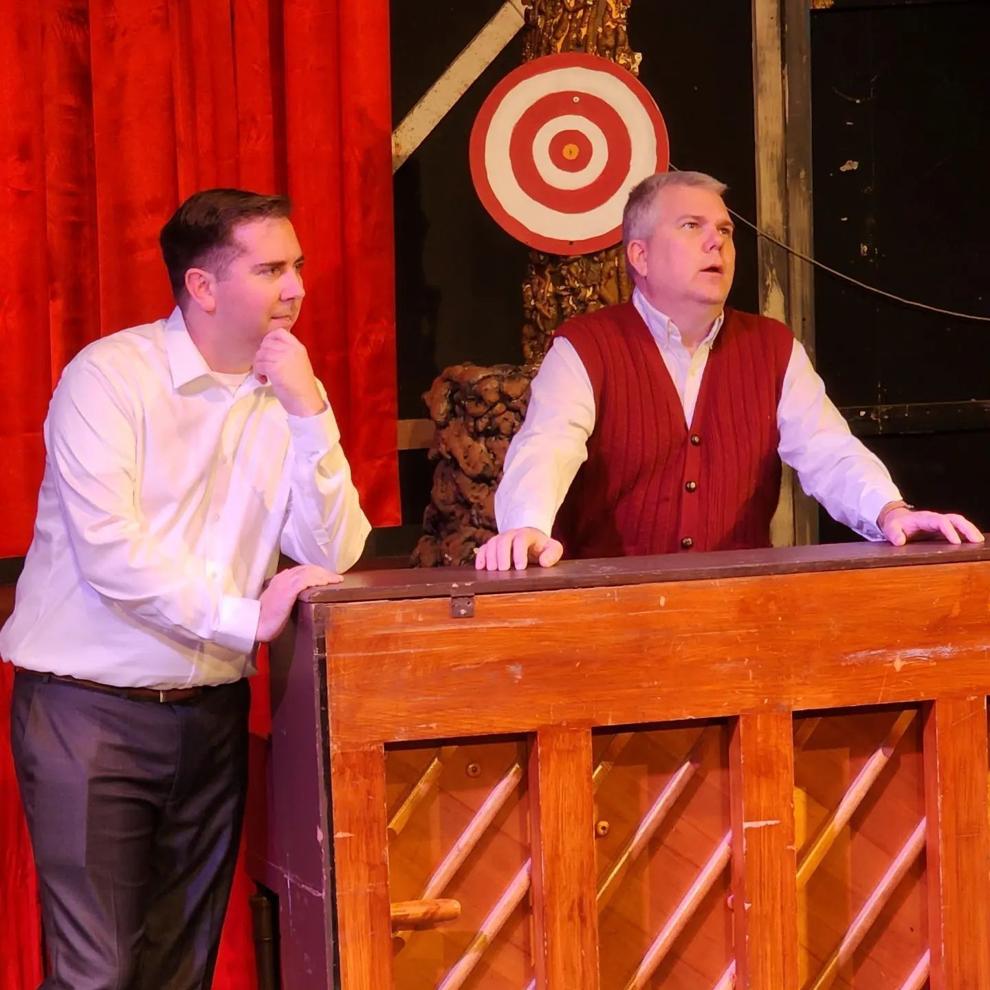 1st Street Players of Birdsboro will present its first main-season musical, "Curtains," Nov. 18-27.
It's the brassy, bright, and promising year of 1959. Boston's Colonial Theatre is host to the opening night performance of a new musical. When the leading lady mysteriously dies on stage, the entire cast and crew are suspects. Enter a local detective, who just happens to be a musical theater fan. Packed with glorious tunes and a witty, charming script filled with delightful characters, the Broadway production earned eight nominations at the 2007 Tony Awards, including for best musical.
The songs for "Curtains" were written by John Kander and Fred Ebb, the same team that wrote the music for "Cabaret" and "Chicago."
Director is Alicia Brisbois.
The cast features Sean Lynch as Lt. Frank Cioffi; Lauren Moyer as Niki Harris; Grace Patton as Georgia Hendricks; Rob Tilley as Aaron Fox; Kathryn Tilley as Carmen Bernstein; Joe Foering as Sidney Bernstein; Nathan Patton as Christopher Belling; Rachel Lewiski as Bambi Bernet; Travis R. Murray as Daryl Grady; Liz Fry as Jenny Harmon; Jeff Sherman as Oscar Shapiro; Connor Redmond as Bobby Pepper; Nina Kelley as Jessica Cranshaw; Mary Britton as Sasha Ijinsky; Sarah Geiger as Roberta Wooster; Bee Brenner as Haru Freemont; and Amanda Spotts as Mona Page.
Tickets cost $25 for adults and $10 for students.
Performances will be at 8 p.m. Nov. 18-19 and Nov. 25-26; and at 2 p.m. Nov. 20 and 27.
Baking show parody in Nazareth
A musical parody based on the BBC hit show "The Great British Baking Show" will have a staged reading at 7 p.m. on Saturday at Nazareth Center for the Arts, 30 E. Belvidere St., Nazareth, Northampton County.
"Britain's Best Bakers" was written by local playwrights Robert Adams and Lori Sivick, founders of the Dark Horse Theatre Company.
The music is written by Adams, Sivick and Joe Yenser.
The musical has guffaws and gaffes and will be sure to leave audiences laughing.
Tickets are by donation. Seating is limited.
Pa. Sinfonia Orchestra devilish concert
From the middle ages to modern times, composers of both popular and classical music genres have featured Satan in their music. Jay-Z, the Rolling Stones, Charlie Daniels as well as Gounod, Scarlatti and Stravinsky, among others, are some of the creatives who have given Lucifer a starring role in their compositions. At 7;30 p.m. on Saturday, the Pennsylvania Sinfonia Orchestra will present "The Devil Made Me Do It" at First Presbyterian Church, 3231 W. Tilghman St., Allentown.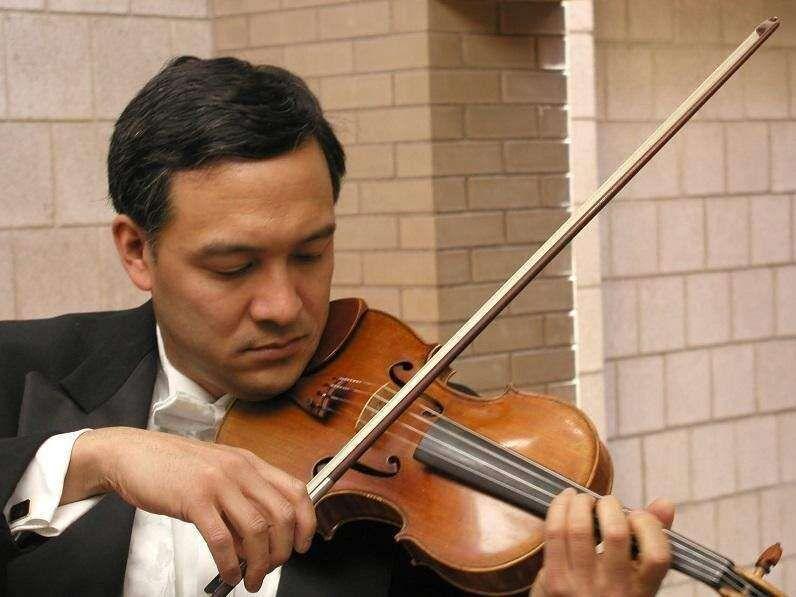 The concert will feature ​Paul Chou, violinist and music director on the little-known Boccherini Symphony "La Casa Del Diavolo," and the fiendishly difficult and popular Devil's Trill Sonata by Tartini. The program closes with the refreshing sounds of Schubert Symphony #5.
Tickets cost $30 to $40 for adults and $25 to $35 for seniors.
For information, go to the orchestra's website or call 610-434-7811.
TAKE3 in Allentown
From Beethoven to The Beach Boys, this classical-pop piano trio defies definition. TAKE3 will perform at the Miller Symphony Hall in Allentown at 7:30 p.m. on Saturday for a cabaret-style concert in the Rodale room.
TAKE3's approach is fresh, and its energy infectious in a fully produced evening of music, sound, and light show.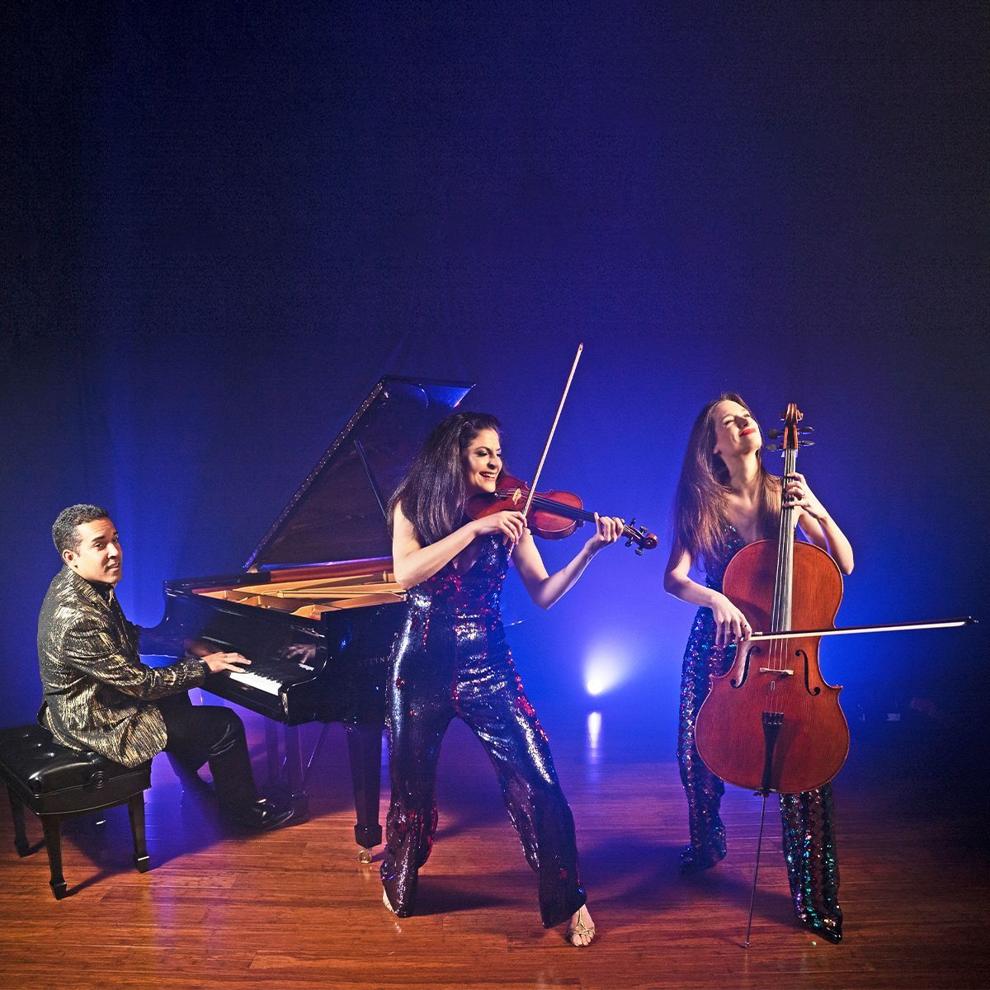 With a flair for the wild and unexpected, the genre-defying trio brings the refinement of a rigorous classical music background and infuses it with rock-star charisma. Known for their infectious and down to earth onstage personalities, this threesome leave their indelible mark on captivated crowds around the country, performing their arrangements of top pop hits, Americana, and classical favorites. Although only together for a short time, the trio already have an impressive season lined up, visiting PACs and performing with orchestra in most of the 50 states. No strangers to the stage as individuals, they have made an impact on the music scene as soloists, touring the world with Yanni and recording tracks for film and television, and as soloists in front of a symphony orchestra. TAKE3 makes it its mission to impart love, passion and joy in music making to all who hear it, using its artistic ability as a conduit for storytelling.
The performance will take place in the Rodale Room on the third floor of Miller Symphony Hall. A full bar will be available for drink and snack purchases.
Tickets cost $40.
For information, go to Miller Symphony Hall's website or call 610-432-6715.
Veterans tribute
The Allentown Band will present "Americans We," a salute to veterans and a holiday concert, at 3 p.m. on Sunday at Miller Symphony Hall, 23 N. Sixth St., Allentown.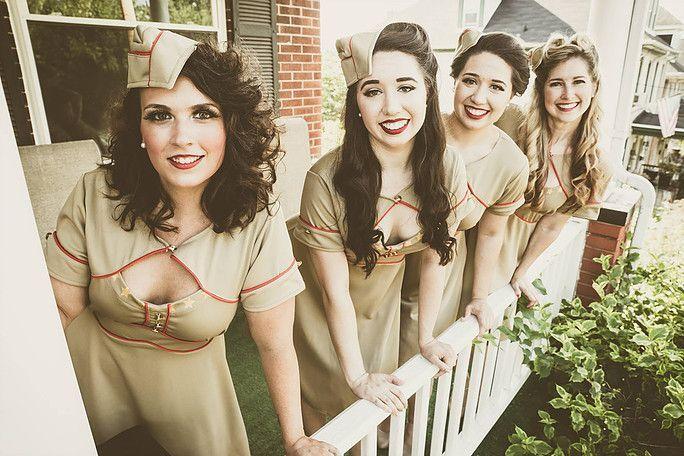 The concert will honor all veterans, with special recognition to those who served in World War II, the Korean conflict, and Vietnam. Joining the band this year with patriotic and holiday favorites will be soloist Chet Brown and the popular Swing Time Dolls. The band will be conducted by Ronald Demkee.
Tickets cost $10 to $16. Veterans will be admitted for free.
For information, call 610-432-6715 or go to the Allentown Band's website.
'Million Dollar Quartet Christmas'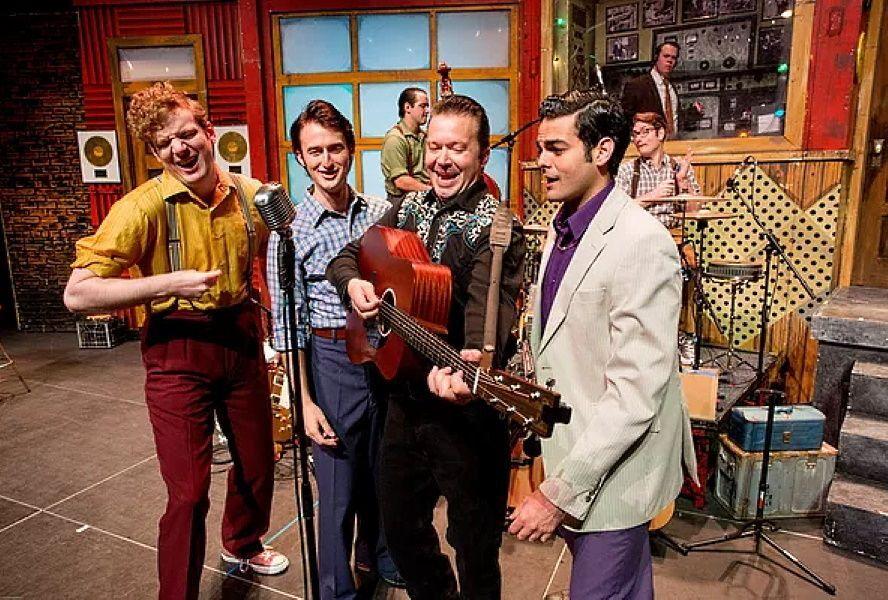 Audiences are invited to relive one of the most magical nights in rock and roll history — but this time with a decidedly festive twist — when Bucks County Playhouse presents the musical "Million Dollar Quartet Christmas" Nov. 18 through Jan. 1.
With a book by Colin Escott and directed by Hunter Foster, who starred in the original production of "Million Dollar Quartet" on Broadway, this new Christmas version is inspired by the imagined story of four music icons who gather for an all-night jam session.
On Dec. 4, 1956, an unlikely quartet of Elvis Presley, Johnny Cash, Jerry Lee Lewis and Carl Perkins — all young artists in their 20s on the verge of superstardom — accidentally converged on Sun Records in Memphis. "Million Dollar Quartet Christmas" imagines an all-night jam session, now reset as a celebration of the most wonderful time of the year! The gang takes the audience on a musical journey through stories of Christmas past, present, and future. The show is jam-packed with some of the best rock'n'roll holiday hits of all time, including "Rockin' Around the Christmas Tree," "Blue Christmas," and "Jingle Bell Rock." The show will be performed live onstage by a cast of actors who play their own instruments.
"After breaking playhouse box office records with our production of 'Million Dollar Quartet' in 2018, we are bringing the boys back for a new holiday version of this musical that's perfect for the whole family," said Alexander Fraser, the producing director. "No one knows this show better than Hunter Foster, the original 'Sam Phillips' on Broadway. Having directed nearly a dozen shows for us, we're happy to have him back in the director's chair, and we can't wait to see what he's got in store with for this new holiday edition."
The playhouse cast features Joe Boover as Elvis Presley, Tyler Michael Breeding as Johnny Cash, Jason Cohen as Jerry Lee Lewis and Sam Sherwood as Carl Perkins. They are joined by Margaret Dudasik as Dyanne, Bart Shatto as Sam Phillips, James David Larson as Brother Jay Perkins and Tucker Cruz Marshall as Fluke. Guiliana Augello, Brian Michael Henry and Sam C. Jones round out the cast.
Performances will be at 7:30 p.m. on Tuesdays, at 2 p.m. on Wednesdays and Sundays, at 2 and 7:30 p.m. on Thursdays, at 8 p.m. Fridays, and at 2 and 8 p.m. on Saturdays. Special holiday performances will be performed at 7:30 p.m. on Nov. 23, at 3 p.m. on Nov. 25, at 7:30 p.m. on Dec. 21, and at 2 p.m. on Dec. 23. There are no performances on Thanksgiving or Christmas days.
Tickets start at $70.
For information, call 215-862-2121 or go to the theater's website.