Things continue to open up as more and more theaters return to the stage with live theater. This weekend, numerous theater groups across Berks, Lehigh and Northampton counties will present productions that range from classic drama to musical theater to original fare.
Reading Civic Theatre said it is thrilled to be back on stage for its production of "Godspell."
The Stephen Schwartz musical will be presented live at 8 p.m. on Friday and Saturday and at 2 p.m. on Sunday at Alsace Lutheran Church, 2201 Kutztown Road in Muhlenberg Township.
The musical is structured as a series of parables, primarily based on the Gospel of Matthew and includes songs like "Day by Day," "Light of the World," and "All Good Gifts."
A journey through Bible stories told in fun, comedic, and heart warming ways incorporates both modern and vintage styles to create a unique show.
The cast includes Michael Hall as Jesus; Pete Clauser as John the Baptist/Judas; Pete Bourey as Telly; Brandon Geiger as Nick; Jonathan Erkert as George; Angela DeAngelo-Erkert as Morgan; Kaitlyn Reber as Celisse; Paige Anderson as Lindsay; Emily Fredericks as Uzo; Annie Francis as Anna Maria and Laura Stewart.
Tickets are $25 for adults and $20 for 18 and under. CDC guidelines will be followed, and everyone must wear a mask.
Touchstone's 'Fresh Voices' feature original works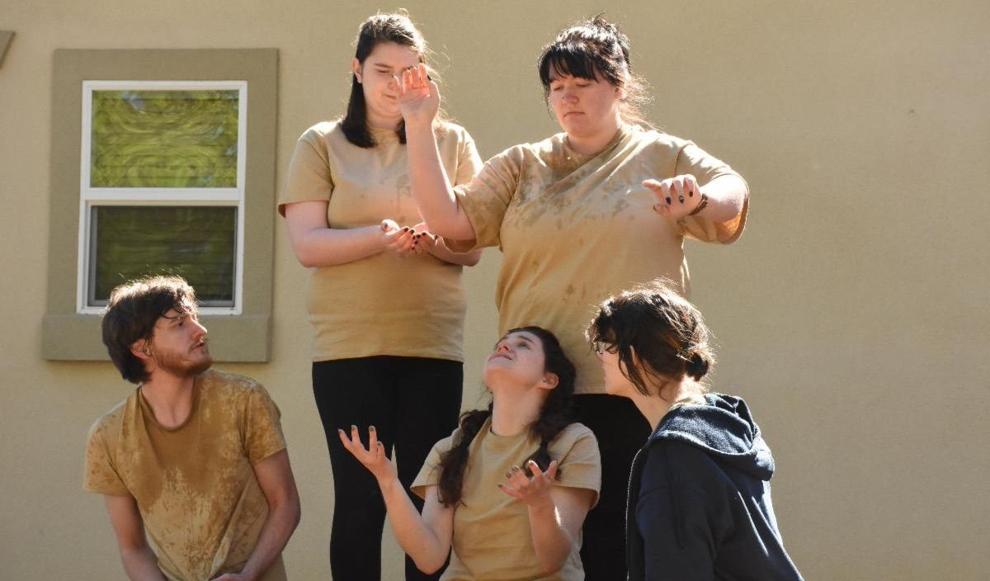 Touchstone Theatre's "Fresh Voices Festival" returns with in-person performances of original devised works on Friday and Saturday at various sites in Bethlehem.
"Fresh Voices" has been a staple of Touchstone's apprentice program, which has fostered more than 70 theater artists over the last 20 years. This season marks the second year of Touchstone's partnership with Moravian College in Bethlehem, converting the longstanding apprenticeship into an MFA-granting program.
"Fresh Voices" gives apprentices an opportunity to explore and create their own solo and ensemble-based original theater. This year's showcase features five short solo pieces (15 minutes each) and one longer group piece (30 minutes), broken up into three different tickets to accommodate the performances' different venues and the need for COVID safety.
The first ticket option takes place indoors at the Touchstone Graduate Hub with "The Conversation Parlor" by Matt Prideaux - a one-on-one interactive performance exploring the lack of intimacy that we've all faced over the past year. Performances are in 30-minute time slots between noon and 3 p.m.
The second ticket option performs in Touchstone's black box theater and features "Salvage" by Abbie Jean Litman and "Baby Teeth" by Kat Anderegg. "Salvage" is a storytelling piece that explores the beauty that lies in brokenness and the journey of reconstructing the fragments of oneself. "Baby Teeth" takes the audience into a mysterious world of reflection, memory, and the folklore we create around ourselves in order to maintain our desired identity. Performances are at 6 and 7 p.m.
The third ticket features three performances outside on Touchstone's new Barrio Stage. "Hello, My Name Is Eloise" by Jessica Boothe is a storybook come to life about the struggles of moving to a new city. Eloise, the cat, learns about her fears and the world around her. "Speak In Starts" by Sara Group is a fast-paced autobiographical romp through various Shakespeare plays and characters that have left a serious impression. "After Everything" by the entire class of 2022 is a story of a group of people exiled and bound together by a silencing mark, who discover new landscapes and a possible savior. Largely a movement-based piece, it examines the consequences that come with getting what you want, and how to find moments of joy when things seem hopeless. Performances start at 8 p.m.
Audience members are encouraged to plan a day around the performances. Pick one ticket or all three of them, based on comfort level with being indoors. Note that all performers are fully vaccinated.
In case of rain, outdoor shows will take place on Sunday. Tickets are a suggested donation of $10.
Crowded Kitchen to present original comedy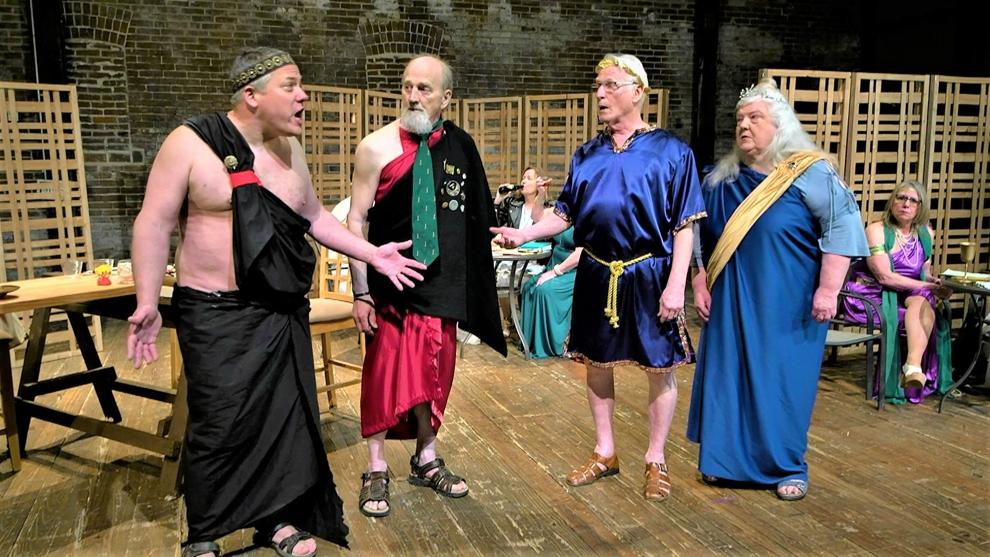 Crowded Kitchen Players' new comedy, "Corner Booth," will be presented in person at the IceHouse, 56 River Street in Bethlehem.
The show, about a group of crooked politicians, contractors, judges, and lawyers who meet for a weekly happy hour, is written and directed by Ara Barlieb, and will run at 8 p.m. on June 4, 5, 11, and 12; and at 2 p.m. on June 6 and 13.
The show takes place in a small pub on the outskirts of a midsize city in the commonwealth, where every Friday, the region's corrupt power brokers gather to drink and determine the lives and fates of the citizens who put them in power.
Ellie Snyder (Trish Cipoletti) is the fiscally conservative county executive who settles into the corner booth at the bar to meet with political party boss, Molly Kessler (Pamlea Wallace).
Molly is accompanied by her daughter. Heather (Dawn Daignault), who has been in and out of rehab and has only avoided jail because of her mother's influence.
They are joined by District Attorney Carl Armstead (David Oswald), Public Defender Marsha Stevens (Melissa Dorflinger), common pleas judges Susan Marino (Sharon Ferry) and Ed Thompson (Bruce Brown) and Tony Simonetti (Scott VanNortwick), a developer of juvenile detention facilities.
Molly wants Ellie to run for higher office, and Ellie has her eyes on the governor's seat.
Things start to get out of hand when a group of angry parents whose children have been arrested for small crimes and sentenced without due process, show up to confront the judges. Tempers erupt and charges are leveled as fights break out and the night begins to spiral drunkenly toward chaos.
Trying desperately to keep things under control is the hapless pub owner Todd (Brian Wendt).
Playing angry parents are Carla Hadley, Susan Burnett, Brian Mullaney and Chris Donahue. Donald M. Swan Jr. and Billy Erlacher play police officers who arrive to break up the fight.
The language of the script is coarse, and the subject matter is mature and often gritty.
The play also features original music written and performed by Ron Palos, Greg Tocci, Sy Kipp and Tom Epstein.
Crowded Kitchen Players will follow the CDC guidelines for masking and distancing that apply at the time of performance. Seating is general admission. Tickets are $15 and available online or at the door.
Easton's Sigal Museum reopens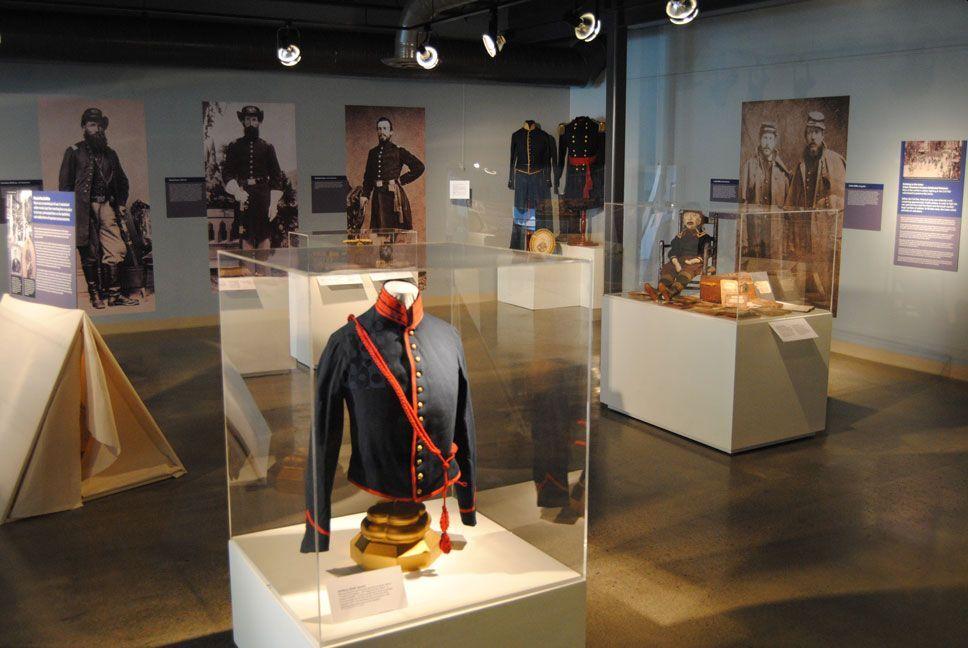 Sigal Museum in Easton reopened to the public on Thursday. The museum, located at 342 Northampton Street, features its multi-award-winning exhibition, Destination: Northampton County and galleries displaying hundreds of years of Northampton County art, culture, architecture, and more. The museum store also will be open.
Sigal Museum will also continue to offer virtual programs and family-friendly activities. Visit the museum's website for upcoming virtual programs and to browse online collections, view past programs, and explore history from the comfort of home.
Visitors are encouraged to purchase a timed ticket in advance to help ensure social distancing within the galleries.
Hours are 10 a.m. to 4 p.m. Thursdays through Sundays.
Admission is $7 for adults; $6 for students; $5 for seniors, active military and children age 3 to 12; and free children under three. There is free admission on Sundays.
For information, call 610-253-1222.
Moravian Historical Society to hold arts festival
The Moravian Historical Society in Nazareth, Northampton County, will hold its 43rd annual Arts & Crafts Festival on Saturday.
The free, family-friendly event features more than 100 local artisans representing a wide variety of handmade items and is held on the lawn of the historic 1740-1743 Whitefield House at 214 East Center Street in Nazareth.
The festival also features live music, children's activities, a variety of food, free parking, and walking tours of historic Nazareth. Hours are 9 a.m. to 3 p.m.
Entertainment by The Who Knows band will be from noon to 2 p.m.
Banana Factory to host First Friday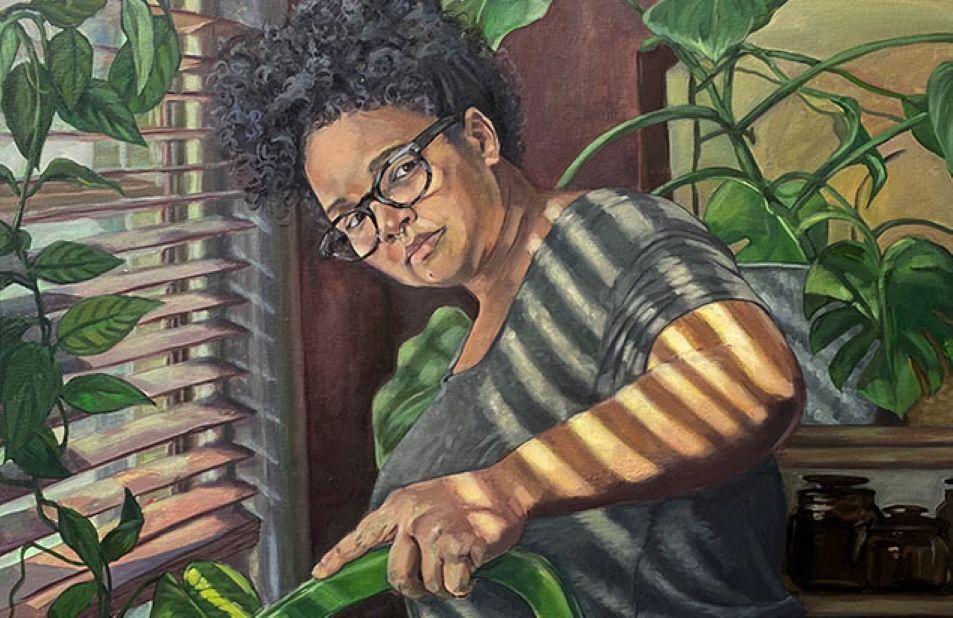 The Banana Factory in Bethlehem invites guests to its first in-person First Friday in more than a year.
Starting at 6 p.m., the venue at 25 West Third Street, will have its galleries and artist studios open to visitors with special events, tours, music and glassblowing demos.
The exhibitions include "Compendium: Playlist" in the Crayola Gallery, which asks artists to consider the rich history behind the connection of the visual arts and music.
Mixed media fiber artist Mallory Zondag's "What Will Become of Us" will be in the Banko Galley, and Zondag will give an artist talk.
Lauren Beauchner's work also will be on display in her show "Reflector."
There will be glassblowing in the ArtsQuest Glass Studio with Dennis Gardner and the ArtsQuest glass studio team.
On the third floor, Becky Shoemaker will demonstrate glass fusing in the Mosaics/Fusing classroom; and printmaker Keith Garubba will offer a make-and-take paper marbling experience in studio 343.
There will be live music from Smooth Retsina Glow in the Crayola Gallery.
Throughout the south side, there will be live music, backyard games, and an ice cream and slushie stroll.
The SouthSide Arts District is celebrating Pride month, and the spotlighted nonprofit is Bradbury-Sullivan LGBT Community Center.
International star Andrew Polec performs at Bucks County Playhouse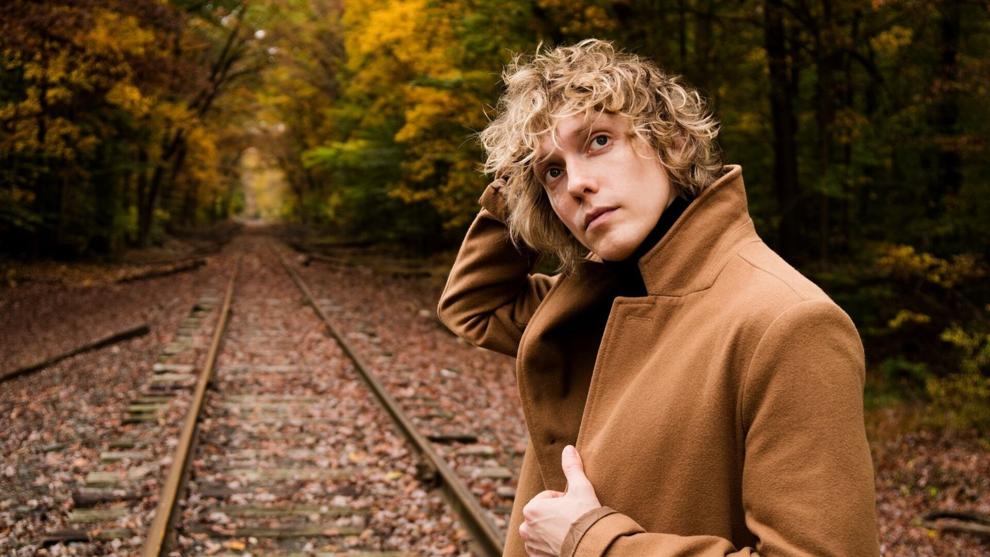 Andrew Polec, Doylestown native and star of the international tour of "Bat Out of Hell," brings his new concert, "Legacy of Love," to the Bucks County Playhouse's Broadway Spotlight Concert Series. The music will include musical theater and rock n' roll with a homage to the recently deceased rock legend Jim Steinman. He will perform with the Michael Bond Quartet. Performances will be at 8 p.m. on Saturday and at 2 p.m. on Sunday.
Polec earned rave reviews and won The Joe Allen Best West End Debut award, decided by public vote, at the Stage Debut Awards for his performance as "Strat" in "Bat Out of Hell: The Musical" at the Manchester Opera House and The London Coliseum. He reprised the role on the West End in London and Toronto before leading the cast at the New York City Center. A graduate of the Brown/Trinity Rep MFA program, Polec appeared off-Broadway in "The Fantasticks" at the Jerry Orbach Theater and has performed at the Hudson Valley Shakespeare Festival, Providence Fringe Festival, and with the Trinity Repertory Company. His television credits include "Katy Keene" and "Prodigal Son."
Bucks County Playhouse is at 70 South Main Street in New Hope.
Tickets to "Legacy of Love" are $40.