One of the beloved traditions of the holidays is seeing a production of the "Nutcracker" ballet. In Berks County and the Lehigh Valley, we are fortunate to have several performed every year. This year, however, is a little different, with arts venues closed because of COVID-19 concerns, so ballet companies are getting creative and recording video of their productions so they can present them virtually.
Pennsylvania Youth Ballet/Ballet Guild of the Lehigh Valley will stream its annual "The Nutcracker at Zoellner" performance at 2 p.m. on Saturday.
This is the 52nd production of the classic ballet and it is the longest running "Nutcracker" in the Lehigh Valley. The production features more than 60 professional, pre-professional and student performers.
Guest artists this year are Oksana Maslova as Sugar Plum Fairy and Sterling Baca as her Cavalier. Both are principal dancers with Pennsylvania Ballet of Philadelphia.
Garritt McCabe, a Ballet Guild alumni, will dance the Snow King; and Tevin Johnson will dance the Candy Cane lead/Harlequin and Lloyd Boyd the Arabian lead.
Ava Baraket, a seventh grader at St. Elizabeth Regional School, is Clara; and seniors Olivia Lovell of Parkland High School and Alexia Dice of Lehigh Valley Charter Arts dance Snow Queen and Dew Drop, respectively.
Out of an abundance of caution, the performance will not include the Southside Sinfonietta, under the direction of Eugene Albulescu of Lehigh University, which will return next year.
Included is a question-and-answer segment with questions from students to dancers and a "behind-the-scenes" segment showing the magic of putting the production together.
Tickets for the virtual stream are $20 and are available on Lehigh University's website or by calling 610-758-2787, ext. 0. After the premiere, the stream will be available to view until Jan. 1.
***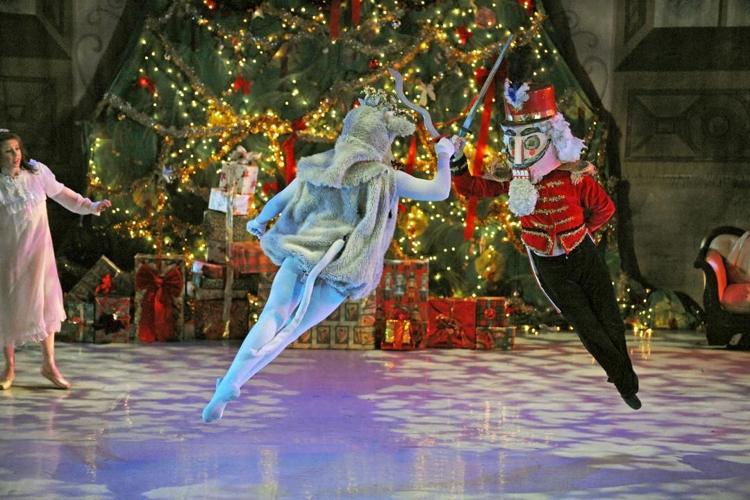 In lieu of a live performance, Repertory Dance Theatre will have its production of "The Nutcracker" from 2018, which was recorded at Miller Symphony Hall in Allentown, broadcast on Service Electric Cable television at 7 p.m. on Sunday and at 3 p.m. on Dec. 27.
The ballet features music by Allentown Symphony Orchestra, under the direction of Ronald Demkee.
Guest artists include Elena Miettinen and Sean Stewart of American Ballet Theatre as Sugar Plum Fairy and her Cavalier.
Daniel Mayo of Ballet X, Philadelphia's premier, contemporary ballet company, is the Nutcracker Prince, and Nicole Kujas, now a senior at Emmaus High School, performs the role of Clara.
Cainan Weber, a RDT alumnus who now dances professionally with the New York City Ballet, dances the Trepak.
The Lehigh Valley Charter High School for the Arts' choir, conducted by David Macbeth, sing during Dance of the Snowflakes.
***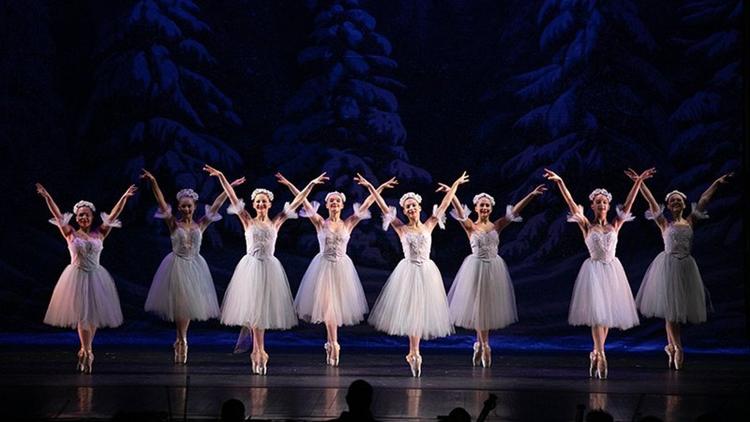 Experience the magic of "The Nutcracker" through Berks Ballet Theatre's re-imagined, modern take on the holiday classic, presented online at 7 p.m. on Saturday.
BBT knew that it would be unable to perform in person with the Reading Pops Orchestra at the Scottish Rite Cathedral in West Reading, but it couldn't let the year pass without a performance. Kelly Barber, Berks Ballet Theatre's artistic director and Nathan Bland, ballet master/resident choreographer, choreographed a condensed version of "The Nutcracker" with narration that will take you on a virtual journey from Clara's solo after she receives the coveted nutcracker doll from Drosselmeyer through to the Waltz of the Snowflakes. Also included is the magical Land of the Sweets, featuring all of the divertissements.
The production will feature Berks Ballet Theatre's company dancers cast in the lead and corps de ballet roles, along with conservatory students in the roles of the Angels and Bland as Drosselmeyer.
Tickets are $25 and available on the Berks Ballet Theatre's website or by calling 610-373-7577.
***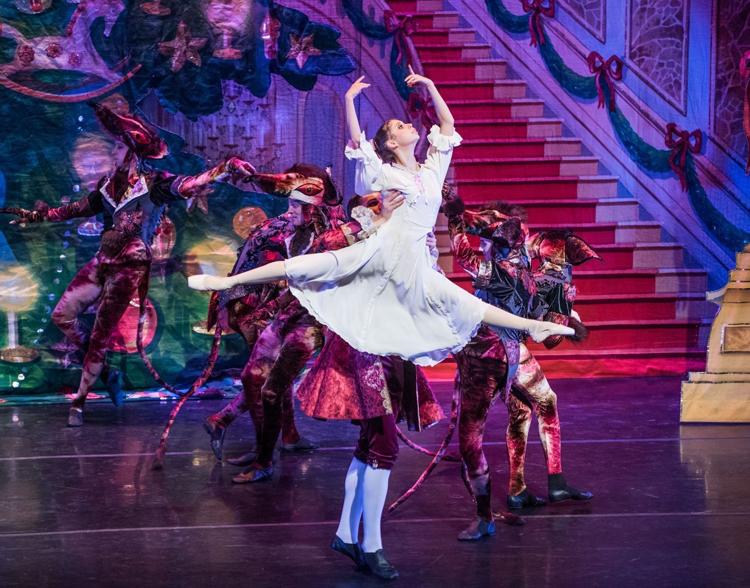 Moscow Ballet's "Great Russian Nutcracker" will be streamed at 8 p.m. on Saturday to benefit the State Theatre Center for the Arts in Easton.
The production is highlighted by award-winning dancers, hand-painted sets from Russia and life-size puppets.
Exclusive to Moscow Ballet's production is the "Dove of Peace." The two-person dove puppet with a 20-foot wingspan leads heroine Masha and the Nutcracker Prince into the Land of Peace and Harmony. The production is known for its dedication to world peace and the ballet's Act II is named the "Land of Peace and Harmony."
The production features many Russian cultural icons, including life-size matryoshka/nesting dolls, a ride through the magical Snow Forest in a Troika Sleigh, and appearances by Russian fairy tale characters Father Christmas and his granddaughter, the Snow Maiden.
Special to this production is a trip backstage for a look at how the magic is made. Hear first-hand from world-class artists, designers, and the creators of this cherished production.
Tickets for the stream are $50, with a $65 ticket including a streamed meet-and-greet at 1 p.m. on Saturday. $25 from each ticket will go to the State Theatre's "Your Seat is Waiting" fundraising campaign.
The performance will be available on-demand through Jan. 1.
'Christmas City Follies' goes virtual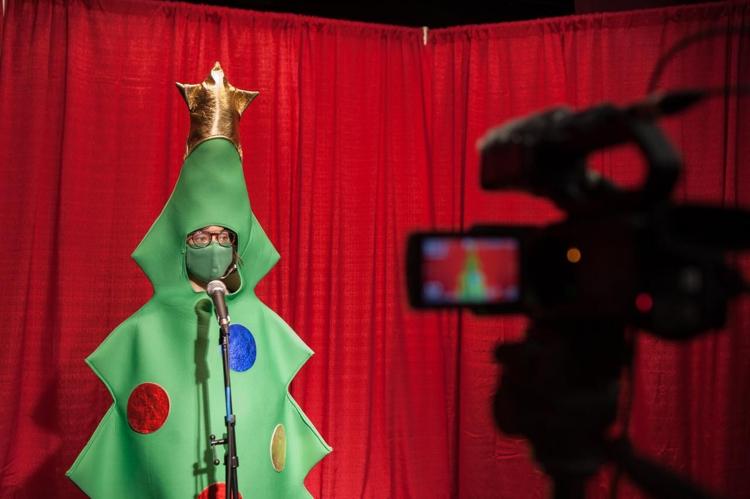 For 21 years, Touchstone Theatre has presented its slightly off-kilter view of the holidays with its annual "Christmas City Follies." With concerns about COVID-19, however, the troupe couldn't present the show in person, so, for the first time, Touchstone's "Christmas City Follies XXI" will be presented online, premiering at 7 p.m. on Sunday and available for viewing through Jan. 2.
The theater will hold a watch party for the premiere, which will be available on YouTube.
Returning are many of the show's beloved characters, including Mary Wright's Little Red and Bill George's Old Guy. The show, which is made up of original sketches, characters, songs, and more, also will bring back favorite skits like the Shopping Cart Ballet and the Better Not Shout Network.
The show traditionally ranges from the sublime to the ridiculous, with subject matter that has included family stories, dancing hippos, snow camels, holiday yoga, and kazoo-playing Christmas trees.
Video of the show has been recorded as scenes on Touchstone's property and around Bethlehem, using iconic Christmas City sites as its backdrop.
Despite the new format, it still will be a lot of what audiences have always loved about Follies, including wacky characters, original music, and heartfelt reflections on the holiday season.
Tickets are $12 for individuals and $35 for households. Touchstone typically also offers a pay-what-you-will at the door ticket and instead will be offering a reduced $5 ticket for those who would benefit from a discounted admission.
For tickets, call 610-867-1689 or go to Touchstone's website.
Berks choirs join together for virtual concert
Berks Sinfonietta and Vox Philia join with Wilson High School's treble choir and choirs from Shillington and Lancaster to celebrate the Christmas season in "What Sweeter Music," a virtual concert streamed live on Facebook and YouTube at 4 p.m. on Sunday.
Sixteen singers from Vox Philia gathered in early November (spaced out and wearing special singer masks) to record several unaccompanied carols, including David Willcocks' setting of "Tomorrow Shall Be My Dancing Day" and "Away in the Manger." Both arrangements were written for Christmas Eve services held at King's College, Cambridge where Willcocks directed from 1957 to 1974. The choir also performs "E'en So Lord Jesus" by American composer Paul Manz and Josquin's Renaissance masterpiece, "Ave Maria."
Vox Philia and Berks Sinfonietta come together to perform Holst's "Christmas Day," and the opening two movements of Vivaldi's famous "Gloria." Wilson High School's treble choir takes over to perform the work's third movement; originally a soprano and alto duet.
For John Rutter's "What Sweeter Music," and Kim André Arnesen's "Gradle Hymn," Vox Philia collaborated with the senior choirs of Immanuel UCC in Shillington and Grace Lutheran in Reading.
Viewing is free, however, Vox Philia asks for donations equaling its normal ticket costs of $15 for adults and $5 for children. Each December, the choir donates its ticket revenue to charity, and this year, it will give all revenue to Family Promise of Berks County.
Between the Lines hosts online 'holiday extravaganza'
Allentown's Between The Lines Studio Theatre will stream an online "holiday extravaganza" at 7:30 p.m. on Friday.
The event will feature music, stories, and maybe even some dancing.
The show will feature performances by Kate Pistone, Will Morris, Kirsten Almeida, Tesia Nicoli and Jason Roth. There also will be a special appearance by Blue Organza Dharling and Urethra Vas D'Ferens from the theater's recent "Donating Dolls," which was a virtual drag show benefiting Martha P. Johnson Institute.
The company said it has been pleased with the response to the digital shows, which have reached audiences from Massachusetts to California.
Video of the show is being recorded at the theater's building, 725 North 15th Street, Allentown.
Tickets are $10 and available at online.
Allentown Symphony presents virtual Jim Brickman holiday concert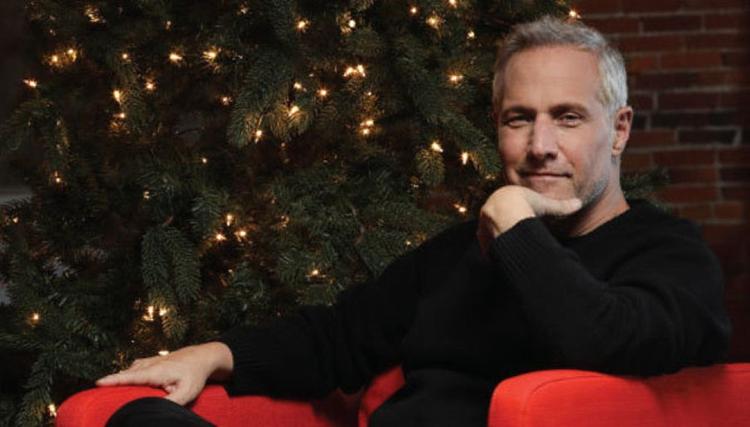 Grammy Award-nominated songwriter and piano sensation Jim Brickman will return online at 7 p.m. on Saturday with the "Comfort & Joy at Home 2020" virtual tour to benefit Allentown Symphony Association.
Brickman will bring his live concert experience online by blending yuletide memories and holiday carols with his own hit songs, such as, "The Gift," "Sending You A Little Christmas," "Angel Eyes" and "If You Believe." He will warm the hearts of all as sweet sounds of faith and love make spirits bright, bringing family and friends together for anything but a silent night.
Tickets are available at several price levels, from $40 to $125, some of which include interactive Zoom rooms, meet-and-greets, and Christmas gifts delivered to your door.
To buy tickets, go to to Jim Brickman's website.
Friday Night Live at the B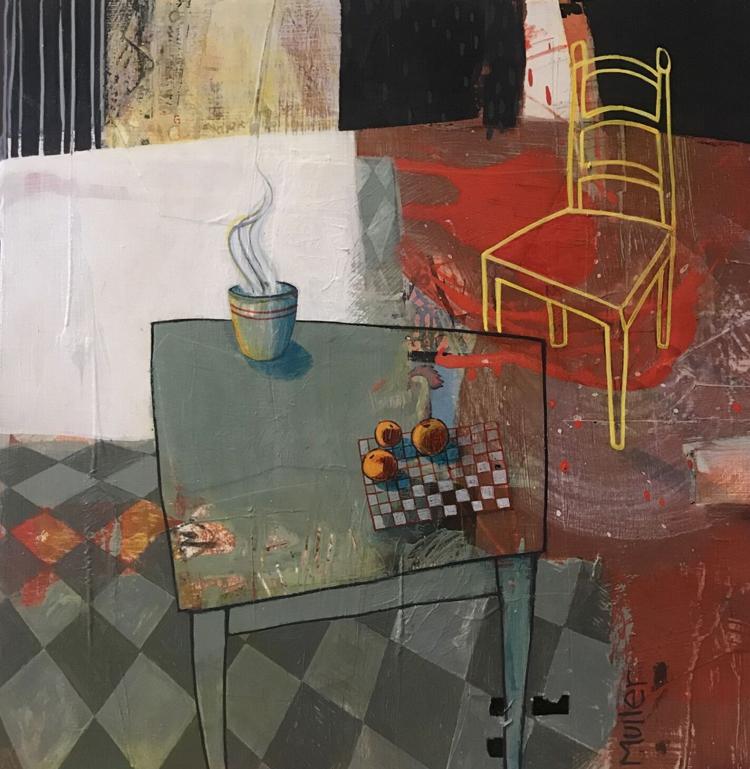 Studio B Art Gallery in Boyertown hosts a virtual Friday Night Live at the B! from 6 to 7 p.m. on Friday, featuring "Let's Talk About Art: Pretty Monsters" by artist Lisa Muller. Muller, a professor at Albright College in Reading, will offer insights and perspectives about the history of women in the arts.
The event, recorded by Amy Muzopappa of Muzo Media Productions, will be archived and available for viewing on Studio B Art Gallery's Facebook page and accompanies the studio's exhibit featuring 12 local women artists titled "Still Roaring 2020," which runs through Dec. 27.
Muller said she finds her artistic mission both daunting and thrilling as an attempt to make some order out of chaos. 
"If progress is made," she said, "sometimes that's enough."
Pines Dinner Theatre goes virtual
Pines Dinner Theatre of Allentown had been offering socially distanced in-person dinner theater, but shows have been suspended due to Pennsylvania Gov. Tom Wolf's order.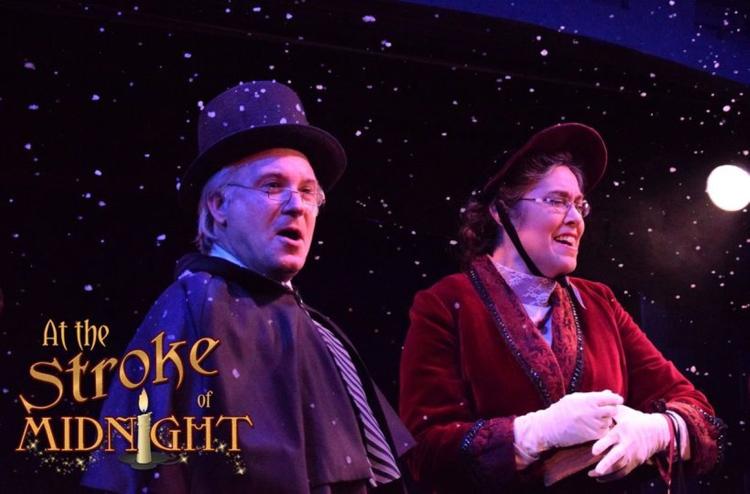 Instead, the theater is continuing its production of "At the Stroke of Midnight" online through Sunday.
The cost is $50 for dinner and streaming show for four people; and $15 for just the streaming show with no dinner.
Dinner can be picked up between 11:30 a.m. and 1 p.m., with the show at 2 p.m. Dec. 17 and 20; and dinner pickup from 5:30 to 7 p.m., with show at 8 p.m. Dec. 18 and 19.
Bucks streams 'Merry Little Christmas Concert'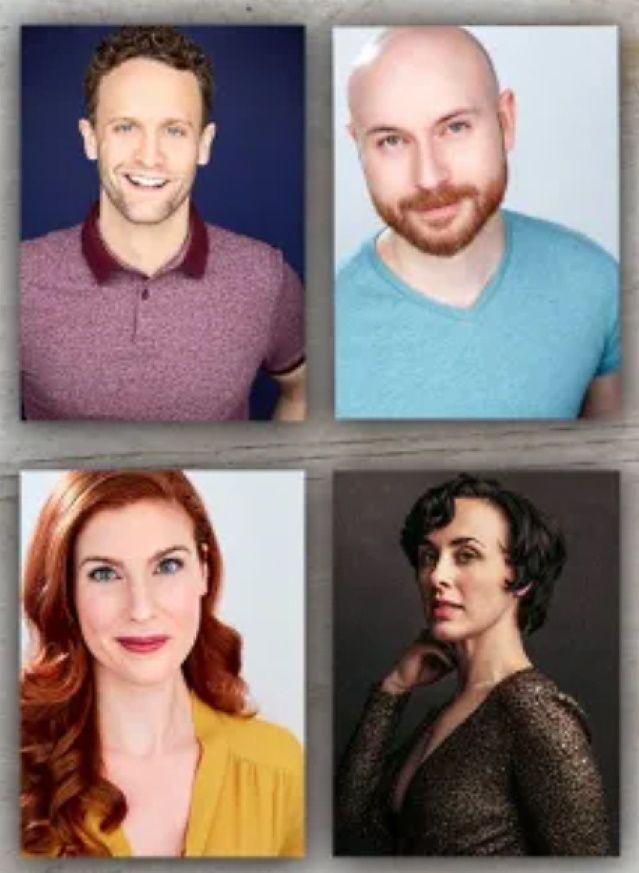 Bucks County Playhouse celebrates the holiday season with a family-friendly Christmas show that is a nostalgic journey to celebrations of Christmas past. "The Playhouse Merry Little Christmas Concert" will debut at 8 p.m. on Friday and will be available for streaming through Jan. 1.
"The Playhouse Merry Little Christmas Concert" is an hour-long concert featuring a cast of four, singing and dancing accompanied by a live on-stage band. Songs include "Have Yourself a Merry Little Christmas," "I'll Be Home for Christmas," "Let It Snow," and "The Best Things Happen While You're Dancing," featuring some tap dancing for good measure. Recorded live on stage at the playhouse in New Hope, Bucks County, the concert will stream on the cultural arts platform Stellar.
The cast stars Broadway's Danny Gardner ("Dames at Sea"), Emily Larger (national tour of "Elf The Musical"), Ryan Halsaver (Bucks County Playhouse's "Once" and "Buddy: The Buddy Holly Story") and Mary McNulty (national tour of "Camelot").
The concert is staged by Lorin Latarro (Broadway's "Waitress" and Bucks County Playhouse's "Buddy: The Buddy Holly Story"), with musical direction by Drew Wutke.
Executive Producer Robyn Goodman, Producing Director Alexander Fraser and Producer Josh Fiedler announced details on the show, which was created in the style of the floor shows that were presented in the film "Holiday Inn."
Tickets are $20 and are available on Stellar's website.