ReadingFilmFEST is moving ahead with its sixth annual independent film festival and, in these unprecedented times, has chosen to offer two ways to view - a hybrid approach that allows participants to screen films in person at FirstEnergy Stadium or virtually in their own home.
The festival, which runs Oct. 9-11, will include films from independent filmmakers from around the world, including student films, shorts, documentaries and feature films, with a focus on female and minority filmmakers. The festival is exploring the power of film in addressing social inequality through the selection of films and a special panel discussion.
For those attending in person, be sure to take lawn chairs and blankets to sit on the field for the best viewing. Attendees also may sit in the stands. Mask-wearing and social distancing are required. Attendance will be limited to 250 people, as per the state mandates. Order tickets online prior to arrival to ensure that you are allowed entry.
Friday's in-person schedule is an opening night welcome party at 5:30 p.m.; female filmmaker shorts at 7 p.m., and feature "Ten Minutes to Midnight" at 9 p.m.
Saturday's schedule is features "Day One" at 11 a.m.; "Whisper" at 1 p.m.; "Life in Synchro" at 3 p.m.; "Soundtracks to Sixteen" at 6:30 p.m., and "Erotic Fire of the Unattainable" at 8:30 p.m., and shorts at 4:30 p.m.
Sunday's schedule is "Mr. Emancipation" at 10:30 a.m.; "Elder Voices: Stories for These Times" at noon; "Let Them Eat Dirt: The Hunt for Our Kids' Missing Microbes" at 1:30 p.m., and "Janka" at 3 p.m.
Most tickets are $10.
There also will be panel discussions and filmmaker Q&As available both online and in-person.
"Harnessing the Power of Film in Addressing Racial and Gender Inequality" will feature filmmakers presenting virtually and whose work has educated, enlightened and given a voice to issues of gender and racial differences. The discussion will focus on the ways in which films, both documentary and fiction, can bring new awareness to viewers on the experiences of others, bridging social, racial and political divides.
Panelists will include Maria Del Rey, Grammy Award-nominated music and media producer of LatinX content for children; Carolyn McDonald, award-winning Los Angeles-based producer/writer/director of documentaries and narrative films; Preston Chase, Canadian filmmaker/educator; Luisa Nova, Brazilian filmmaker; Tracy Schott, moderator, ReadingFilmFEST; and Kelly Devine, moderator and impact campaign consultant on national distribution for major documentaries.
Available for online streaming beginning Thursday are dozens of international student films; narrative features; documentaries; shorts and films made in Reading.
Holidays come early to Bethlehem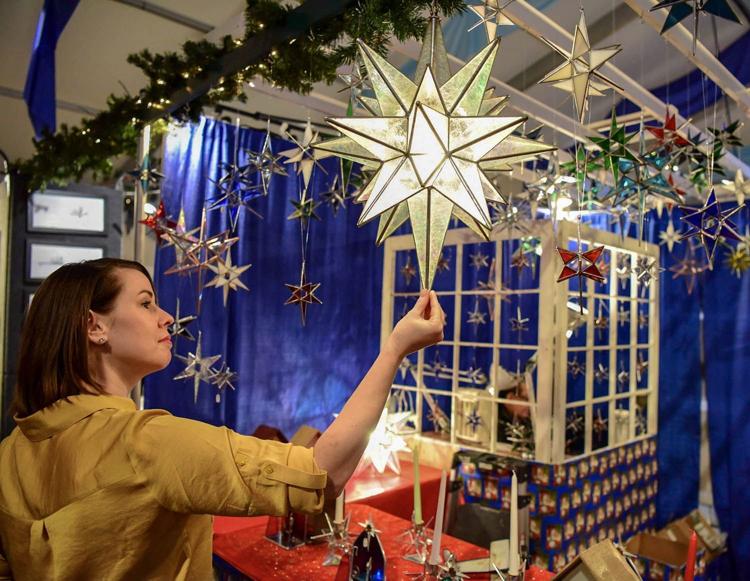 Christkindlmarkt, ArtsQuest's holiday market in Bethlehem, has begun its eight-week run with a brand-new look on the campus of SteelStacks.
The market, offering holiday-themed gifts and seasonal treats from nearly 80 artisans, returns for its 28th year in an all-outdoor format.
For 2020, the event has undergone a major transformation. Gone are the four large tents on SteelStacks' PNC Plaza, and in their place is a spacious, new layout highlighted by artisans and artists' huts spread across the SteelStacks campus, coupled with the unique holiday décor and lighting of Rileighs Outdoor Décor.
The market will offer a one-of-a-kind shopping experience that focuses on handmade gifts crafted by local and regional artisans, as well as holiday décor and collectibles offered by some of the region's top Christmas vendors.
Germany's Käthe Wohlfahrt, one of Christkindlmarkt's main attractions, will be on hand for all eight weeks, marking its 21st straight year at the event. Renowned for its exquisite, handmade nutcrackers, incense smokers, pyramids, schwibbogens, and wood, glass and pewter ornaments, the company offers more than 2,000 products, making it a popular destination for patrons.
Joining Christkindlmarkt are local favorites, such as Domaci, Donegal Square & McCarthy's Red Stag Pub and Eight Oaks Farm Distillery. While some vendors will be in attendance all eight weeks, others will change, offering patrons a different experience every weekend.
St. Nicholas will arrive Nov. 7 and will be on hand for special story times and socially-distanced photos on Saturdays, while Sundays will feature new virtual "Cooking with St. Nicholas" events for families via Zoom.
Food will be available from area food trucks at the event's entrance, and inside from the Christkindlmarkt Food Court. Those who purchase food will also be able to eat in the event's Biergarten, offering a diverse array of beers, including the newly rereleased Yuengling Hershey's Chocolate Porter, as well as hot toddies and other beverages.
Tickets will be sold for designated admission times starting every half hour to reduce lines. Mask-wearing and social distancing are required.
SteelStacks is located at 645 East First Street, Bethlehem.
Tickets are $9 Thursdays and $10 Fridays and Sundays.
Hours are 10 a.m. to 6 p.m. Thursdays and Sundays; and 10 a.m. to 8 p.m. Fridays and Saturdays through Nov. 29. The market will be closed for Thanksgiving on Nov. 26.
Playhouse holds 3rd live outdoor cabaret
Join Pennsylvania Playhouse in Bethlehem for its third live outdoor cabaret at 6:30 p.m. on Saturday and Sunday in the playhouse parking lot at 390 Illick's Mill Road.
The playhouse's "Scaredy Cab" will feature performers from the community singing songs to get everyone in the Halloween spirit.
Directed by Taylor Elyse Van Kooten and with technical direction by Brett Oliveira, the Halloween-themed cabaret features performances by Jim Vivian, Angelina Dries, Jess Weber, Matt Redline, Kim Mertz, Jerzie Ramos, Matt Kamont, Danya Kinsman, Cody Jackson, Allie Lynn, Audrey Lasicki, Mason McGowan, Brittany Pressmann, Gabe Craig, Shawn Ramey, Abby Garrigan, Christina Concilio and Ally Borgstrom.
Wear your favorite Halloween costume and compete in a costume contest.
There will be concessions for sale and a raffle at the event. Bathrooms will be available inside the playhouse.
There is a suggested donation of $10 payable in cash upon check-in.
Face masks are required for the duration of the event, and attendance is limited to 70 people. Take your own lawn chair or blanket.
Touchstone's 'Festival UnBound' continues with 'Tales of Hope and Resistance'
Touchstone Theatre of Bethlehem continues its live, socially-distanced "Festival UnBound 2020" with a collection of stories from around the world, presented in music and shadow puppetry.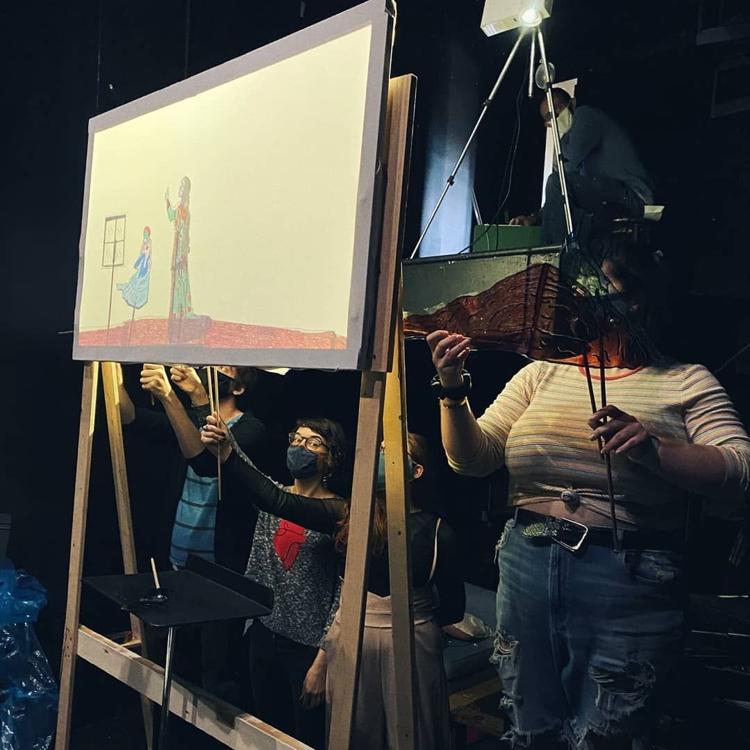 "Tales of Hope and Resistance," directed by Touchstone artistic director Jp Jordan, will be presented at 8 p.m. Friday in Touchstone's parking lot at 321 East Fourth Street in Bethlehem.
From around the world, myths and fairy tales have always taught us how to triumph in the face of overwhelming odds. Touchstone, in collaboration with Mock Turtle Marionette Theater, presents retellings of traditional stories from the diverse cultural backgrounds of the Lehigh Valley, centering on themes of overcoming evil and adversity.
The evening opens with Irish balladeer Seamus Kennedy, a longtime familiar face at Celtic Classic, regaling the audience with songs and tales of Ireland's storied past. If the show is rained out, local Godfrey Daniels icon Dave Fry will entertain audiences with songs of revolution in case the date has to be changed for inclement weather. The second half of the evening features shadow puppet renditions of traditional stories from Greece, Kenya, Japan, Brazil, and more. Original music backing the stories is created by Jordan and local musician Neil Grover.
Tickets are available for socially-distanced tables. The cost is $40 for a four-person table and $30 for a two-person table.
Molly's Irish Grille and Sports Pub will have hot food and drink available for cash purchase.
Crowded Kitchen Players presents 'Dogcatcher' in episodes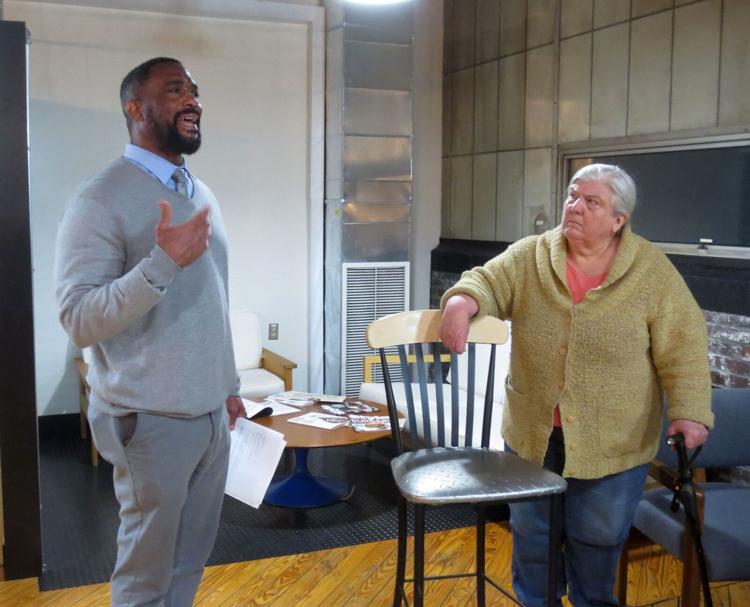 An original play dealing with the serious and timely topics of racism and politics will be streamed in four episodes Thursday evenings, beginning Oct. 9, as part of the "Live from IceHouse Tonight" series.
Crowded Kitchen Players will present "Dogcatcher" at 8 p.m. Oct. 8, 15, 22 and 29 on both the Live from IceHouse Tonight's Facebook page and YouTube channel.
Director and playwright Ara Barlieb said "Dogcatcher" is about a black man running for mayor in a mostly white rural Pennsylvania town, and was purposely timed to conclude right before the national election on Nov. 3.
The play follows a month in the life of Xavier Books, a popular, successful black high school football coach, who decides he would like to run for mayor in his small western Pennsylvania town of Breezywood, and finds himself caught in an ever tightening web of accusations, threats, and lies.
The play features William Alexander, who has appeared in Crowded Kitchen's "The Fall of Heaven," and the acclaimed "The Softening of Her Eyes," as Xavier.
The 18-person cast also includes Felecia White, Florence Taylor, David Oswald, Trish Cipoletti, Pamela Wallace, Dan Ferry, Sharon Ferry, Carla Thew, Jerry Brucker, Donald M. Swan, Jr., Bruce Brown, Sarah Thomas, Dawn Daignault, Judy Evans, Nancy Welsh, Tom Epstein, Alexandra Racines, and Melissa Andrews.
Barlieb said each scene in the play is prefaced by brief sound-bites from Klu Klux Klan leaders who he and Pamela Wallace filmed at a national rally in Snyder County, Pennsylvania, for a 1990 documentary on bigotry.
The episodes are free, but donations to Crowded Kitchen Players or The IceHouse Tonight will be accepted.
Episodes will be archived on YouTube and Facebook pages after the premiere.
DeSales University Act 1 to present virtual Shakespeare
DeSales University Act 1's first-ever virtual season continues with a streaming production of William Shakespeare's "As You Like It" Saturday and Sunday.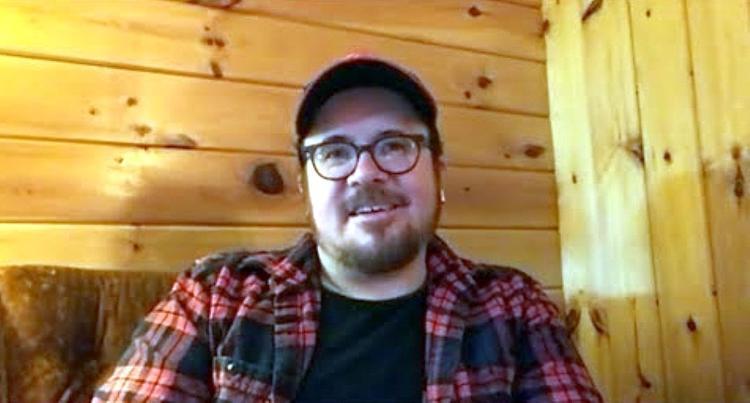 The play marks the return of 1999 alumnus Matt Pfeiffer to lend his creativity and vision to an inventive prerecorded live production of one of Shakespeare's most beloved plays.
"As You Like It" offers something for everyone: villainy, romance, intrigue, caprice, humor, and all the trappings of love at every level: brother to brother, cousin to cousin, father to daughter, lover to lover. The play's amorous theme is further enhanced by taking place in the idyllic setting of the Forest of Arden in France.
"I feel like this is a huge transition play for Shakespeare," said Pfeiffer, "He's graduating of a sort, from comedies like 'Midsummer' and 'Two Gents.' It's around this time that he also writes 'Much Ado About Nothing' and 'Twelfth Night.' He starts to marry the light and the dark, not nearly as much as he will in those later comedies, but you can feel it in the play. It's a wonderful combination."
He noted most of the characters are trying to find their place in the world and, "maybe because we live in such chaotic times ourselves, the idea of running away to the woods, simplifying life, and getting back to the earth, feels so appealing."
Alex Bechtel, who serves as the composer and musical director, was most recently the composer for Act 1's production of "Peter and the Starcatcher."
The performing arts TV/film faculty and students, through their work with the production company, Digital Feast, have made the streaming of the production possible.
The cost is $10 per viewer. Closed captions are available. The link and password for the play will be active for 24 hours on the date of your choice.
Order viewing passes online.
Bach at Noon continues virtually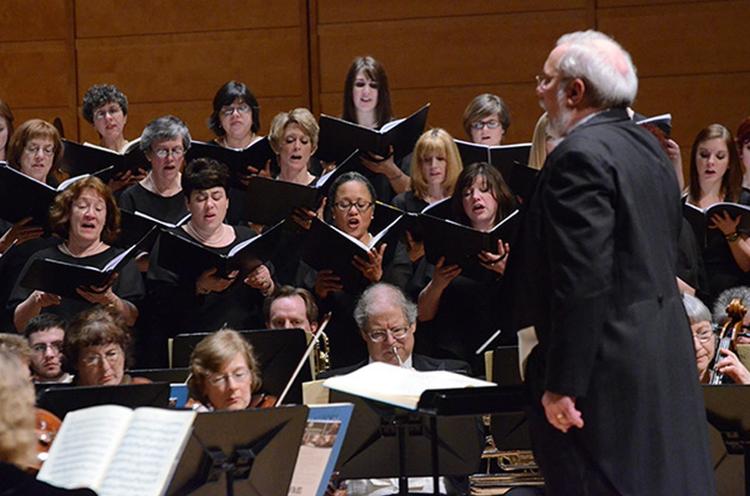 The Bach Choir of Bethlehem is continuing its fall Bach at Noon concerts virtually on its YouTube channel and Facebook page.
The free concert series, held on the second Tuesday of the month, includes seven performances throughout the year at Central Moravian Church in Bethlehem and three summer concerts at St. John's Lutheran Church in downtown Allentown. Greg Funfgeld, The Bach Choir's artistic director and conductor, introduces each program with an informal talk. Since its inception, Bach at Noon has attracted audiences of more than 8,000 a year.
The fall concerts are recorded live at Central Moravian Church in Bethlehem, with a small ensemble of musicians, all adhering to social distancing. Because of the restrictions on crowds , there is no audience. The concerts feature choral and instrumental works by Bach and other composers, introduced by Funfgeld. The performances also include discussions with the soloists about the music.
The taped performances are streamed at noon on the second Tuesdays, when the concerts would have been presented live.
The next Bach at Noon watch party is at noon next Tuesday, Oct. 13.
The program includes Bach's "Sonata in C Major, BWV 1033," arias from Bach's "Cantata 7" and "The Christmas Oratorio" and Ralph Vaughan Williams' "Merciless Beauty for Tenor and String Trio," a setting of poetry by Geoffrey Chaucer.
Soloists are Lawrence Jones, tenor; Susan Charlton, flute; Elizabeth Field, violin; Rebecca Brown, violin; Loretta O'Sullivan, cello and Stephen Groat, bass.
Also, the choir has announced Bach at Noon broadcasts have returned to WWFM The Classical Network.
The award-winning classical music station is listener supported, and has offered a number of The Bach Choir concerts in previous seasons. At the beginning of the pandemic, the Bach Choir's programming on WWFM was interrupted , but its concert broadcasts have been added back to the broadcast and air at 1 p.m. the second Monday of the month.
Upcoming dates include the June 9 Bach at Noon airing at 1 p.m. Oct. 12.
Great Art on Screen at Williams Center for the Arts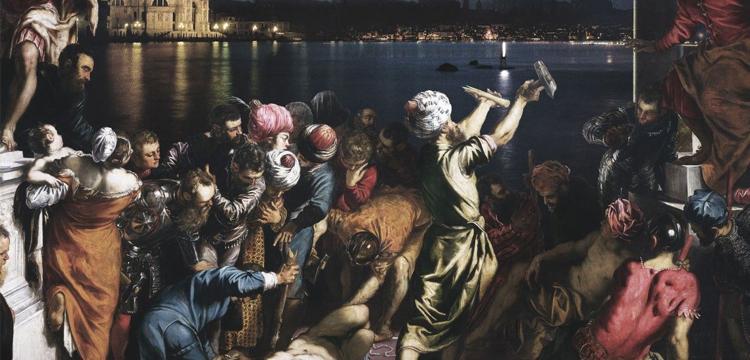 The Williams Center for the Arts on the Lafayette College campus in Easton is hosting its 38th year on its own virtual platform, while remaining committed to fulfilling its mission of presenting the world's most accomplished artists in chamber music, jazz, world stage, dance, theater, and family events.
"Just as concert halls and theaters around the world have suspended live performance at this time, the Williams Center joins the worldwide campaign to help stop the spread of coronavirus by reducing public gatherings," said Hollis Ashby. "The present circumstances, nevertheless, give us opportunities to experience the arts in new ways, and we've seized those opportunities with enthusiasm. With the benefit of modern technology, we've been hard at work to deliver a season of unique cultural events that everyone can enjoy from the safety of their own home."
Great Art on Screen is a series of event documentaries that take an in-depth look at groundbreaking art masters of their time. With expert scholars and notable narrators, audiences journey throughout the world to experience a global revolution of art, history, and biography.
In celebration of the 500th anniversary of the artist's birth, "Tintoretto: A Rebel in Venice" streaming at 7 p.m. Oct. 11, immerses audiences in the life of the last great artist of the Italian Renaissance, and is narrated by Helena Bonham Carter.
Tickets are $15 for livestream access, and are available online or by calling 610-330-5009. Patrons receive a link to the event 24 hours before virtual curtain time, and a reminder one hour before.