The Christmas season continues with Epiphany, or Three Kings Day, on Jan. 6, and at ArtsQuest in Bethlehem on Sunday, a free community event commemorates the Wise Men bringing gifts to the baby Jesus.
A tradition in much of the region's Latin American community, El Dia de los Reyes – Three Kings Day – has been adapted to follow CDC safety guidelines. The ninth annual Three Kings Day will will be celebrated from 1 to 3 p.m. on Jan. 3 in PNC Parking Lot, 711 East First Street, Bethlehem.
El Dia de los Reyes is a cherished cultural and religious tradition in many Latin American countries.
For many Christians, especially in Central and South America, the holiday season continues through the 12th day of Christmas, when the three Magi – Gaspar, Melchior and Balthazar – followed a star across the desert for 12 days to ancient Bethlehem to present baby Jesus with gifts of gold, frankincense and myrrh.
The Three Kings themselves will still hand out presents to children ages 12 and under via a drive-through experience that parents and guardians must register for in advance by calling the ArtsQuest box office at 610-332-1300.
Gaspar, Melchior and Balthazar will still be in attendance to both hand out gifts and impart the story of the Three Kings (in English and Español) to ensure that the time-honored tradition will never be forgotten.
The Three Kings Celebration is a cultural program of ArtsQuest's Latino Community Advisory Committee, which is comprised of leaders from the Lehigh Valley's Latino community. Supporters of the Three Kings Celebration include PPL Corporation, Carlos & Carol Anne Lopez, West Side Hammer, and MEGA Radio. The Three Kings' gowns and costumes are created and lent to the event by Pamela Ptak, the Riegelsville-based designer who appeared on Season 7 of the hit TV show Project Runway.
Allentown church's Twelfth Night Celebration goes virtual
For nearly 40 years, Christ Lutheran Church's Twelfth Night Festival has been held around Epiphany in January.
The 90-minute festival usually transforms the Allentown church into a medieval castle, complete with a musical pageant of ladies and lords, kings, jesters, beefeaters, servants, hunters and saints, as well as a spectacular boar's head, stuffed peacock and trumpeter swan. At the center of it all is the baby Jesus, illuminated from beneath, lying in a crude manger. The 2,000 tickets always go quickly.
Unfortunately this year, like many events, the festival had to be canceled due to the pandemic. The church, however, is joining with First Presbyterian Church in Allentown to post new Twelfth Night musical videos daily through Jan. 6 on the church's YouTube channel. The videos will culminate with a virtual performance of "God So Loved The World" on Jan. 6.
The festival's roots come from the religious celebration of Epiphany on Jan. 6, the 12th day after Christmas, when the three kings paid homage to the baby Jesus.
The pageant was started by the late Eleanor D. Kramp, the wife of the church's former pastor, who saw a Twelfth Night pageant at a suburban Philadelphia church and decided to bring it to Allentown. The performance is dedicated to her memory. The festival typically includes hundreds of volunteer cast members from the congregation and the community, including Allen High School dancers and the City of Bethlehem Bagpipe Band.
Tour public art in Berks
Expanding on a popular 2013 project designed to provide a Greater Reading public art tour, Berks Arts, Greater Reading Chamber Alliance, and BCTV are joining forces to highlight and celebrate art installations across the community.
People can take a self-guided walking or driving tour as well as a virtual tour using the interactive map at Greater RDG Public Art map.
Public art has been found to provide a positive impact on communities by supporting economic growth and sustainability, attachment and cultural identity, artists as contributors, social cohesion and cultural understanding, and public health and belonging.
"Berks Arts seeks to provide opportunities for our community to become inspired and engaged in the arts," said Meggan Kerber, executive director of Berks Arts. "The arts are a great tool for communication, sharing stories and building community. This initiative provides an opportunity for local residents and visitors to travel throughout the city of Reading and Berks County, either virtually or in person, to explore the varying forms of sculpture, murals, outdoor galleries and architecture featured."
The project offers a mapping tool that identifies public art locations, including murals, temporary public exhibits, statues, and features images for identifying each piece. Citizens are invited to visit and view the creations in person or online as guided by the curated information. Tag pictures of public art by using #PublicArtRDG on social media platforms.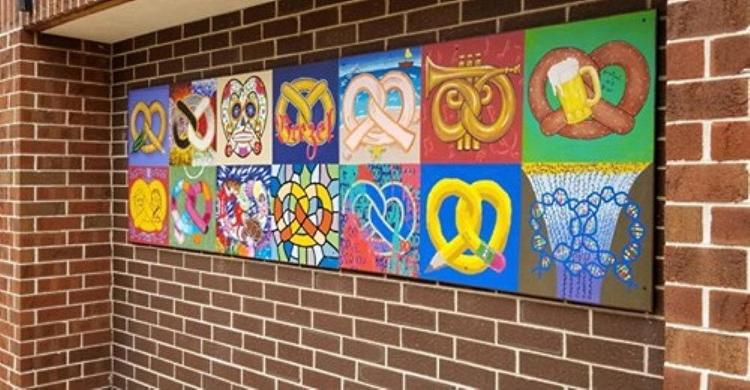 New installations included in the expanded mapping project include the Fast Lane Art project, which displays student artwork in street-front window space throughout downtown Reading, and also the 'Hope Healing and Unity' pieces that now adorn the Reading Parking Authority's garages and BARTA's bus shelters in center city.
West Reading also has a public art tour with its West Reading Mural Walk.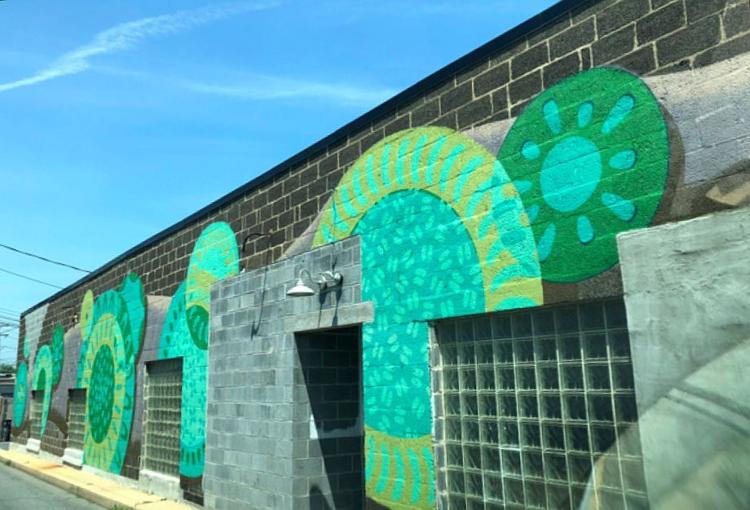 Founded a decade ago by Dean Rohrbach, the walk started as a mural corridor on Kline Street between Second and Third avenues. The cluster of six artworks in a one-block stretch brought together residents and artists. It expanded to Cherry Street, which grew into a collection of more than 30 artworks in three blocks. The public art collection was named Dean's Way in memory of the founder.
Now, West Reading has 45 murals throughout the borough.
Download the mural map and mural walking guide on the West Reading Community Revitalization Foundation's website.
Easton gallery continues Holiday Mixer exhibit
Gallery On Fourth of Easton is continuing its Holiday Mixer art exhibition through Jan. 30.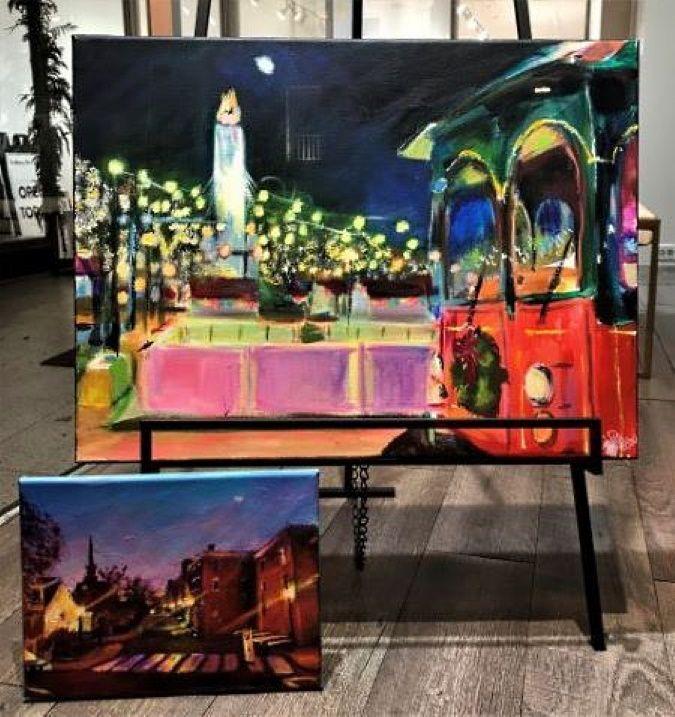 The in-person exhibit features a vibrant and eclectic group exhibition of paintings, photography, mixed media collage and fiber art. Featured artists include Kailey Atkinson, Deborah Bolanowski, Sean Carney, Carithanne Cushman, Al Kratzer, Kevin Lynn, Am Schmidt and Terry L. Wolfson.
The gallery is open noon to 7 p.m. Wednesday and Thursday, noon to 8 p.m. Friday and Saturday and noon to 6 p.m. Sunday.
The gallery is located at 401 Northampton Street, Easton.