HARRISBURG, Pa. - Governor Tom Wolf and Secretary of Health Dr. Rachel Levine revised their "Stay at Home" orders to include Beaver, Centre and Washington counties, bringing the state total to 22 counties under a stay-at-home order.
The order now includes these 22 counties: Allegheny, Beaver, Berks, Bucks, Butler, Centre, Chester, Delaware, Erie, Lackawanna, Lancaster, Lehigh, Luzerne, Monroe, Montgomery, Northampton, Philadelphia, Pike, Washington, Wayne, Westmoreland and York counties.
The order will officially go into effect at 8 p.m. Saturday and continue until April 30, according to Pennsylvania Gov. Tom Wolf.
"We know which counties those increases are in, and as those numbers increase to a significant level and we have evidence of community spread, we discuss that with the governor and his administration," said Dr. Rachel Levine, the state's health secretary.
According to state health officials, people in those counties may leave their residence only to perform any of the following allowable individual activities and essential travel:
Tasks essential to maintain health and safety, or the health and safety of their family or household members (including pets), such as obtaining medicine or medical supplies, visiting a health care professional, or obtaining supplies they need to work from home
Getting necessary services or supplies for themselves, for their family or household members, or as part of volunteer efforts, or to deliver those services or supplies to others to maintain the safety, sanitation, and essential operation of residences
Engaging in outdoor activity, such as walking, hiking or running, if they maintain social distancing
To perform work providing essential products and services at a life-sustaining business
To care for a family member or pet in another household
Any travel related to the provision of or access to the above-mentioned individual activities or life-sustaining business activities
Travel to care for elderly, minors, dependents, persons with disabilities, or other vulnerable persons
Travel to or from educational institutions for purposes of receiving materials for distance learning, for receiving meals, and any other related services
Travel to return to a place of residence from an outside jurisdiction
Travel required by law enforcement or court order
Travel required for non-residents to return to their place of residence outside the commonwealth
Anyone performing life-sustaining travel does not need paperwork to prove the reason for travel.
The following operations are exempt:
Life-sustaining business activities
Health care or medical services providers
Access to life-sustaining services for low-income residents, including food banks
Access to child care services for employees of life-sustaining businesses that remain open as follows: child care facilities operating under the Department of Human Services, Office of Child Development and Early Learning waiver process; group and family child care operating in a residence; and part-day school age programs operating under an exemption from the March 19, 2020 business closure Orders
News media
Law enforcement
The federal government
Religious institutions
The number of positive COVID-19 cases in Berks County now stands at 65. Among the patients are an employee of the Fleetwood post office in Richmond Township and an anesthesiologist at Reading Hospital.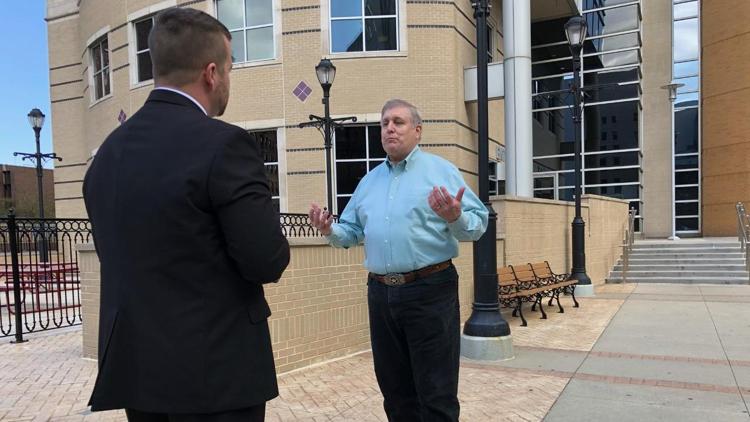 "You had, two days ago, an increase of 20 to 36, and in the last 24 hours, we went from 36 to 65," said Berks County Commissioner Christian Leinbach. "We anticipate it's going to go up even more."
Why the piecemeal approach, when flattening the curve seems like priority number one at the state and federal levels?
"I think the governor is trying to do the same thing the president is, and that's kind of balance the issue of COVID-19 spread, limiting the spread and not gutting the economy," Leinbach explained.
Speaking of gutting the economy, county commissioners are urging the governor to consider keeping open aspects of industry that could suffer in the long term.
"The county commissioners yesterday here in Berks unanimously signed on to a letter to the governor to consider the construction industry and the related trades jobs that go with it," Leinbach said.
Meanwhile, plans are in place to continue to keep Berks County functioning going forward, amid the new orders.
"At the county level, on a short-term basis, April and May, what does county government look like?," Leinbach asked. "At that point, I cant tell you that the mayor and the managing director are doing the same thing, and the city, we are working together on this."
Statewide, the total number of cases rose Friday to 2,218, according to Pennsylvania health officials. Twenty-two people in the commonwealth have died from the virus.
"Our notable increase in cases over the past few days indicates we need everyone to take COVID-19 seriously," Levine said. "The best way to prevent the spread of COVID-19 is to stay home."
More than 21,000 people in Pennsylvania have tested negative for COVID-19.
Any Berks resident with questions about the coronavirus can contact the county's help center by calling 610-320-6150 or by emailing COVID@CountyofBerks.com.
Staff will be on hand to answer phones and respond to emails seven days a week, from 8 a.m. until 7 p.m.
Anyone experiencing a medical emergency should call 911; social service questions or needs should be addressed by calling 211.