LENHARTSVILLE, Pa. – Dawn's Deli in Lenhartsville is still open, but like all other area restaurants, it's open only for takeout.
"[Business is] slowing down because we keep the door locked, don't let anybody in," said Dawn Gilbert, the deli's owner.
That means less business and plenty of extra food, so instead of trying to make a profit, Gilbert decided to give back.
"Free coffee, free desserts, cookies," Gilbert listed, "or whatever they want to take."
Snacks and coffee stacked on a table outside the deli are up for grabs. Gilbert's encouraging truck drivers on nearby Interstate 78 to swing by and pick up something. That is, as long as they sanitize first.
"Everybody is safe, home in their houses, and they are out on the road making sacrifices," Gilbert said.
And she isn't stopping there. She's also offering free meals to anyone in need.
"A lot of the people that usually come in aren't working right now, so they don't have money to come out and eat," Gilbert said. "I can't give them a choice of the menu, but I can give them a meal, homemade."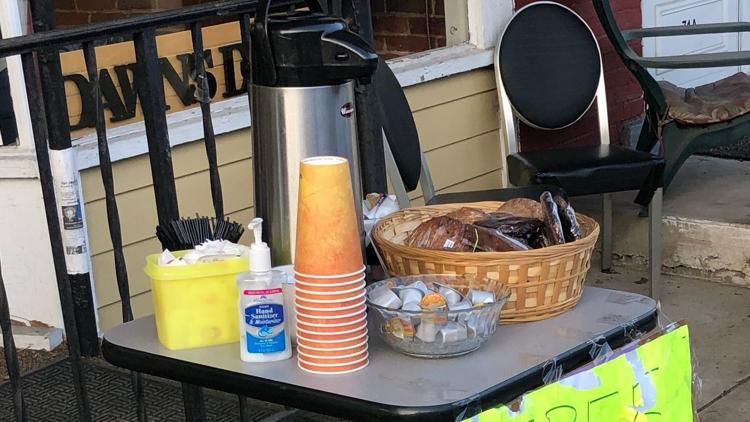 Many people who've picked up the free meals or snacks have insisted on leaving a tip, all of which, Dawn explained, will go straight to charity.
"People put dollars in," Gilbert said. "[We] put it in our wounded warriors [fund]."
Gilbert said, for her, especially during these times, it's not about the money. It's about supporting her community.
"Just try and make it a better situation. I mean, the whole thing is horrible," Gilbert said, "but it is important we stick together right now."