UPPER BERN TWP., Pa. - For the third time in recent years, fire has ravaged a farm in Berks County, this time consuming approximately 67,000 chickens and two large buildings, according to fire investigators.
The latest fire erupted around 2:15 a.m. Thursday at A&L Farms in the 3300 block of Mountain Road in Upper Bern Township, west of Hamburg, sending flames and smoke high into the frigid air.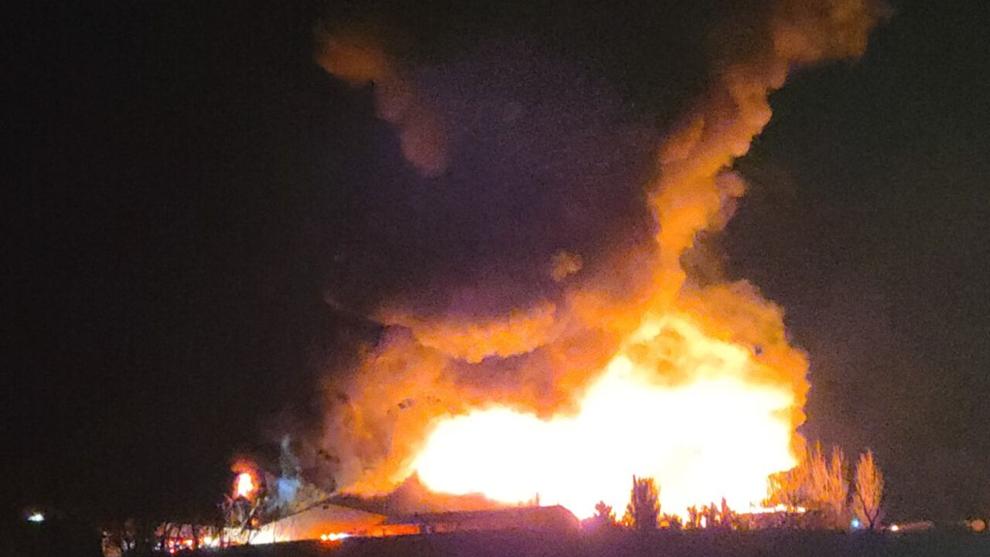 The first firefighters arrived on the scene to find one chicken house, measuring several hundred feet in length, engulfed in flames, with the fire extending through the roof and spreading to a nearly identical building situated only several feet away.
"The first house was fully involved," said First Asst. Chief Steven Kauffman, Shartlesville Community Fire Company.
The crews worked about two hours to extinguish much of the fire, but they were met with some challenges along the way.
"The pond we use was filled with sludge," Kauffman said. "We couldn't get water out of the ponds, so we had to go to a secondary pond. That was full with sludge and halfway emptied, so we had a struggle getting water to the scene." 
The two chicken houses eventually collapsed, with all of the lost chickens having been inside one of them, officials said.
The firefighters were able to prevent the blaze from spreading to surrounding buildings, including an egg house that was partially damaged by the flames and smoke.
Flames tore through chicken houses at a farm in Upper Bern Township, Berks County early Thursday morning, killing nearly 70,000 chickens.
A Pennsylvania State Police fire marshal said the scene is currently too unsafe to conduct a through examination of site, so he expects the investigation to take several days. In the meantime, he is estimating the amount of damage to be about $2 million.  
Unfortunately, the farm is no stranger to fires, as this is the third fire in the last several years.
Flames tore through chicken houses there in 2019, and the owners lost more than 37,000 chickens. In 2015, a fire destroyed an empty barn that was going to be used to house chickens.