READING, Pa. - After hearing several disparaging public comments concerning Berks County's election services office, the county commissioners on Thursday strongly defended the voting process in Berks.
Wyomissing resident Louise Grim questioned why the elections office employees are not prepared to answer questions about mail-in ballots.
"We are less than two months away from the most important election in our lifetime," Grim said. "The new mail-in ballot law was approved over one year ago, yet it appears we are not ready to deal with it."
"I do not believe this to be rocket science," she added. "We need to devote the appropriate resources to make it (mail-in voting) happen in a timely fashion. Any delays in ascertaining the winner of this election may lead to unrest and violence in our communities."
Wyomissing resident Melvia Ahmed wanted to know what the commissioners are doing to alleviate fears that mail-in ballots will be received in a timely fashion.
"It seems to me, public officials should be working to preserve the most valuable right of citizenship," Ahmed said. "Constituents are not being heard and their concerns are not being addressed."
Commissioner Michael S. Rivera said proposed bills in the state Legislature are addressing issues for the general election.
"You may feel the county is not doing enough, but please understand that the county has to follow state guidelines, and there are still a lot of unknowns out there," Rivera said.
Some of those unknowns Rivera referred to involve the printing of ballots, a timeline for mailing ballots, and when the county will be permitted to begin to counting them.
Commissioner Kevin S. Barnhardt said he found Grim's criticism personally offensive.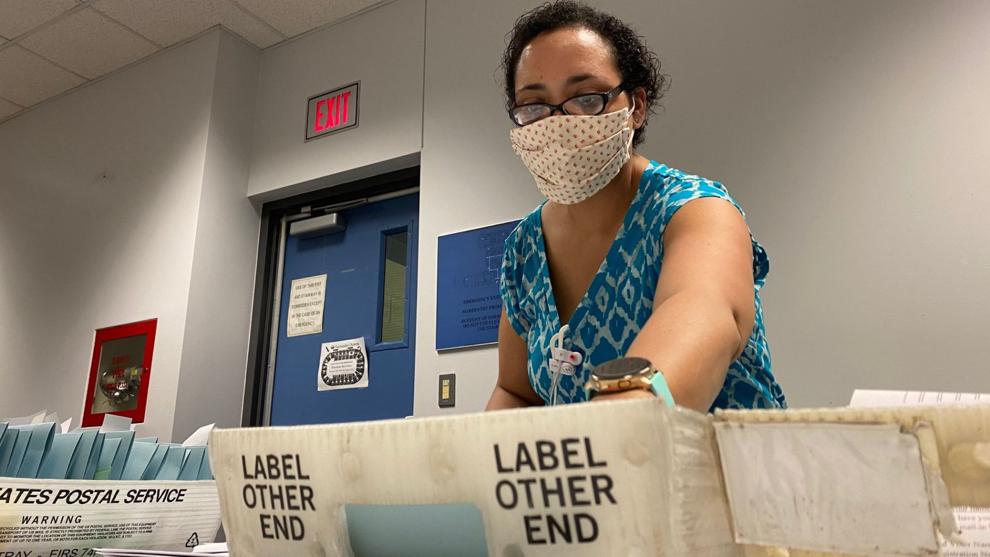 "It is not appropriate to insult our election services workers," Barnhardt said. "I am telling you they bust their tomatoes working for the public. It is not appropriate to make snarky comments."
Barnhardt explained that state officials have been attempting to address voting guidelines all summer.
"The state doesn't run elections. The counties and county employees do," he said. "They (state legislators) should leave their hands off the laws. They don't ask the county commissioners. They think they know everything in their ivory towers in Harrisburg."
Barnhardt said while the county has already received more than 51,000 requests for mail-in ballots, he predicts there will be more than 80,000 by Election Day. Barnhardt said the state needs to address issues, including a deadline for mailing ballots and the timing for counting ballots.
"When you criticize what Berks does in election services, I personally find that offensive," Barnhardt said. "It's very tedious and we have to be very accurate. We're doing this day in and day out and mindful that this election is critical. We are doing everything in our power to make everything right."
Commissioner Christian Y. Leinbach said he agreed with Barnhardt's observations and warned the public about making statements that demean the people who work in the elections department.
"We have had zero communications from the state asking what we need to be changed relative to the elections to make it a more secure and easier process for the voter," Leinbach said.
In another matter, Leinbach noted what he said was some good news about the Eastern Berks Gateway Railroad. He said the rail line has experienced a significant increase in freight traffic.
"This is the same railway of the Colebrookdale Railroad. It just so happens to be the for-profit side that handles freight," Leinbach said. "We began to see an increase in freight even before the pandemic hit."
The comment was made prior to the commissioners voting to support a letter from the county redevelopment authority asking the Pennsylvania Department of Transportation's Bureau of Rail Freight, Ports and Waterways for funding support.
The authority is making applications for grants to support multi-phased improvements on railroad to support increases in capacity.