READING, Pa. — The Berks County commissioners are discussing the creation of a tri-county passenger railroad authority.
The commissioners heard Thursday from David Hunter, director of planning, during a presentation about the Schuylkill River Passenger Rail Authority, or SRPRA. It would be created with Chester and Montgomery counties.
About one year ago, a tri-county passenger rail committee was formed to look at the efforts at restoring passenger rail service between Reading and Philadelphia.
That committee was an outcome of studies from PennDOT and the Berks Alliance, a local group that endorsed the restoration of the service.
Hunter said an authority would consist of a nine-member panel and would include one commissioner from Berks, Chester and Montgomery counties.
Hunter said the committee determined that passenger rail should be restored to the corridor to provide stations in communities with lower incomes.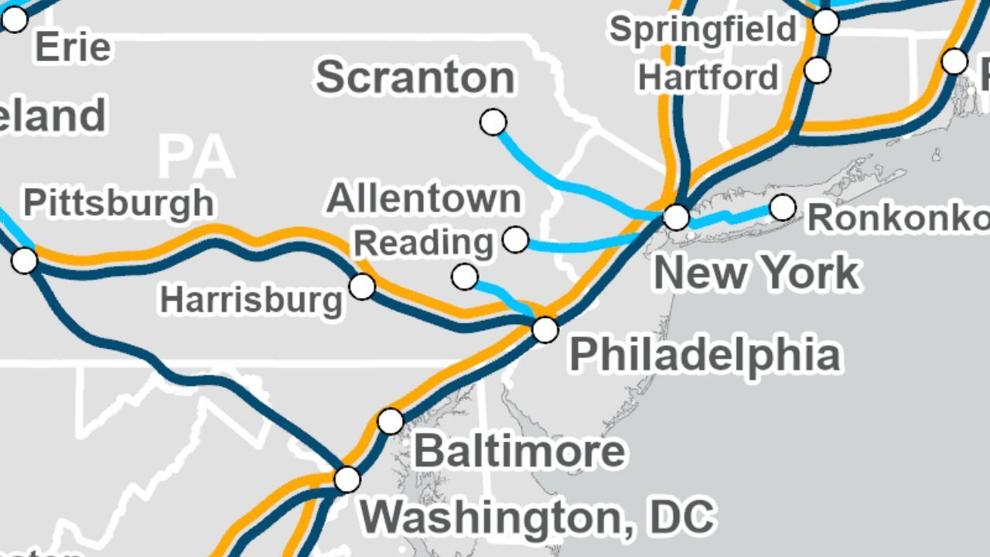 "At a minimum, the service should run from downtown Philadelphia to Reading, and the service could have regular frequency, with potential stops in Norristown, Phoenixville, Pottstown and Reading," Hunter said. "After a year of exploring the most efficient manner to restore passenger rail service to the region, the proposal to form the SRPRA would replace the current tri-county passenger rail committee and be supported with representation and funding from all three member counties."
Hunter explained the authority would have the power to formulate agreements, procure funding, and provide for a direct governmental body that can work with Amtrak, PennDOT, the Federal Railroad Administration, and other necessary partners.
"Amtrak is the proposed provider, and Amtrak has released a nationwide plan showing service from Philadelphia to Reading will benefit from new federal funding," Hunter said. "Amtrak has presence in the region and works regularly with PennDOT."
On the recommendation of the committee, the commissioners voted to advertise their intent to hold a public hearing for the purpose of the consideration of forming an authority on April 21.
Commissioner Christian Leinbach noted that all three counties are announcing Thursday the intent to hold public meetings.
Berks and Montgomery will hold the meetings on April 21, while Chester will hold one on April 27.
"We have been very open about this process," Leinbach said. "We've not rushed it, and we're not rushing it now."
Leinbach explained that while authorities are legally formed for a 50-year period, the proposed authority would be established for a three-year period, with a vote needed to reauthorize it for the additional 47-years.
"This forces each county to take a look and say, is this still the right thing for our county," Leinbach said. "Do the numbers add up? And I think that that's a responsible way to go."
Passenger rail service between Reading and Philadelphia ended in 1981. Since that time, there have been multiple studies conducted with recommendations on how to restore the service.