WASHINGTON - Efforts to develop an alternative to contaminated firefighting foam have prompted action from some lawmakers on Capitol Hill, including two who represent Berks County.
U.S. Reps. Madeleine Dean and Chrissy Houlahan said Monday that they have partnered with some of their colleagues to introduce the bipartisan PFAS Free Foam Research and Development Act.
The legislation would establish a public-private partnership involving the Department of Defense, the National Institute of Standards and Technology, industry stakeholders and manufactures, research institutions, and other federal agencies.
Their goal, according to the lawmakers, is to advance the research and development of a firefighting foam that is free of PFAS chemicals, which have been linked with cancer and other life-threatening conditions through their contamination of drinking water sources.
"Tackling our local – and national – water contamination problem is one of my highest priorities," Dean said. "Finding an alternative to PFAS contaminated firefighting foam is vital – no one should be exposed to these harmful forever chemicals."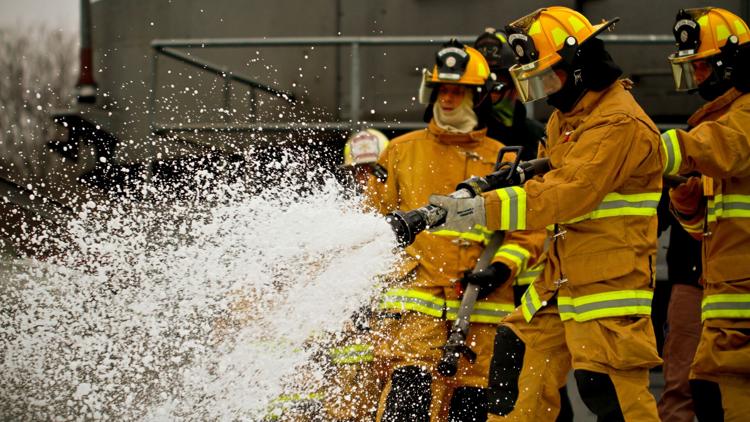 Dean said she worked last year to include a provision in the National Defense Authorization Act to phase out the Pentagon's use of aqueous film forming foam, or AFFF, on military bases. The foam is also used by airport firefighters.
"It is crucial, especially in Pennsylvania, that we research and develop PFAS-free firefighting foam," Houlahan said. "I'm proud to be working with this bipartisan coalition to combat this harmful chemical that is affecting Pennsylvanians across the Commonwealth."
So far, the state has provided more than $20 million in aid to Montgomery County municipalities that are dealing with contamination traced to the Horhsam Air Guard Station and the former Willow Grove Naval Air Station.