READING, Pa. - Baking, freezing, and then baking some more. 'Tis the life of Greek women at St. Constantine and Helen Greek Orthodox Church in Reading.
Volunteers are preparing for the church's 49th annual Greek Festival and Food Bazaar, set for this weekend. Upwards of 10,000 people are expected to attend.
"I love doing it, because I love to keep tradition," said volunteer Filippia Zeppos.
Zeppos emigrated from Sparta, Greece, in the 1970s. Since then, she's been volunteering for the church's bazaar.
"It made me feel like home," Zeppos explained, recalling the first time she picked up a spatula at the church.
Ahead of the big weekend, for months on end, Zeppos, along with dozens of others, spend nearly every morning in the church kitchen. The ladies often exchange a "yasiou" (bless you) before setting to work.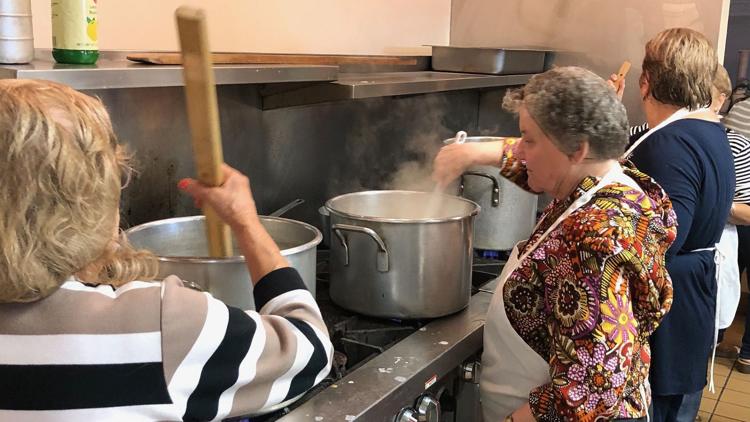 "The older ladies, the matriarchs, really [are] like an encyclopedia. They're like a walking recipe. They come in. They know things," bazaar chairman Chris Dikos explained. "They are a treasure."
Several of the pastries, including hundreds of pieces of baklava, kourumbiethes, and koulourakia, are baked in advance and frozen, while others are made the week of the event.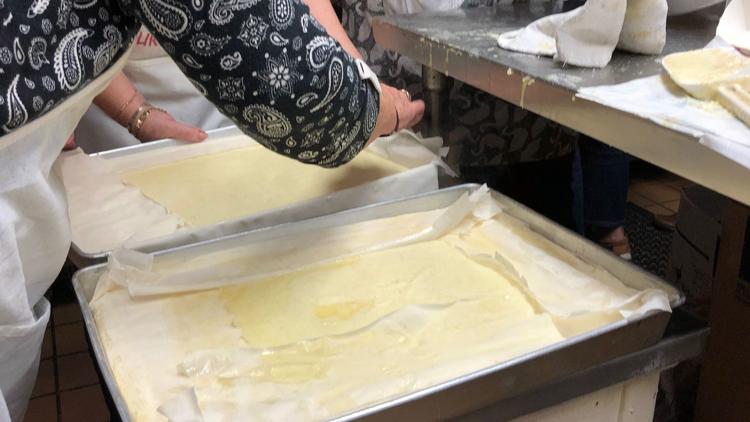 The last pastry to be made ahead of the bazaar is "galaktoboureko." It is a Greek dessert with filo dough layered on the bottom and the top with custard in the middle. Within a couple of hours, volunteers made 40 batches, which, they said, is enough to feed thousands.
"Galaktoboureko is a traditional, very popular dessert," Zeppos said. "It's easier to make it than to say it."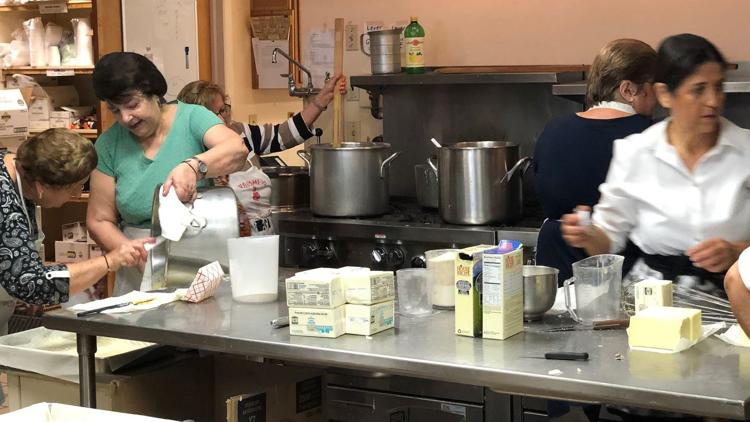 Nearly 1,000 eggs are set aside for the custard portion of the galaktoboureko, along with gallons of milk and dozens of butter sticks.
"It's a neat mixture of the crunchiness of the filo and the sweetness and the custard," Dikos said.
Once everything's mixed, the delicate filio layers are carefully buttered down. Then, it's time to bake.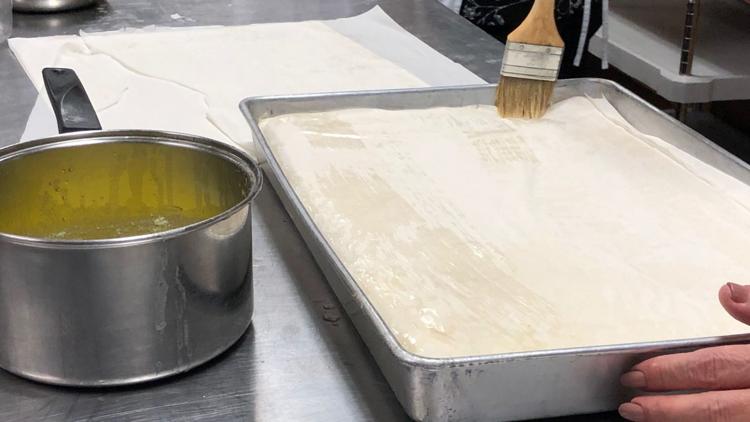 After this weekend is over, in a few months, the ladies will start back up again, serving their church and their faith.
"To help people in need, that is our purpose here, so we love to volunteer, have fun too," Zeppos said.
The bazaar will take place from noon until 8 p.m. Friday through Saturday. It will be open from 12 p.m. to 6 p.m. on Sunday. More information regarding tickets and the menu can be found on the event's Facebook page.