WYOMISSING, Pa. - Seven people were injured in a crash involving an ambulance and four other vehicles in Berks County, according to emergency officials.
The chain-reaction crash happened shortly before 6:30 p.m. Wednesday on Penn Avenue at North Park Road in Wyomissing.
Police said the ambulance was en route to Reading Hospital with a patient when it clipped a car attempting to move out of the way.
"That vehicle struck a second vehicle," said Sgt. John Phillips, Wyomissing Police Department. "The ambulance then hit the rear of a third vehicle, which then hit a fourth vehicle."
The Penn State Health Life Lion ambulance ended up off the road in front of a chiropractor's office, stopping just short of hitting the building.
"In the bushes," said Vince James with V&M Towing Service. "In the sticker bushes, against the building."
Ambulance about to be towed from the scene. @69News pic.twitter.com/lwbpUegehE

— Tom Rader (@TomRaderTV) October 23, 2019
The chaotic aftermath spread from the intersection of Penn Avenue and Park Road, west about half the block.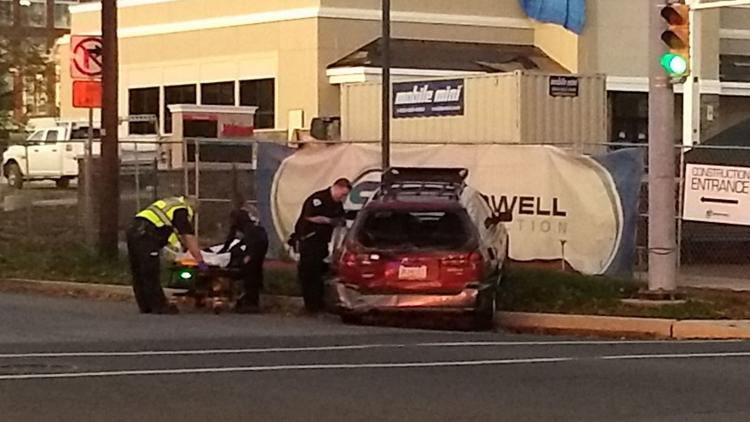 One of the vehicles ended up on the sidewalk in front of the Wawa store currently being built on the corner of Penn Avenue and North Park Road.
#UPDATE According to a representative with Muhlenberg Ambulance, 7 people in total, transported to Reading Hospital. All non life-threatening injuries. Total includes patient and two ambulance employees that were involved in the accident. @69News pic.twitter.com/Msmnxj1u2y

— Tom Rader (@TomRaderTV) October 23, 2019
Police said seven people went to Reading Hospital, including the ambulance patient and its two crew members. All of the victims suffered non-life-threatening injuries, police said.
Anyone with information about the crash is asked to contact police.