WINDSOR TWP., Pa - The Hamburg Reservoir in Windsor Township is a popular access point for the Pinnacle and Pulpit Rock, but Hamburg police said the area is becoming overcrowded. They said one day, 500 vehicles were counted.
"They were accessing from our property," said Chief Anthony Kuklinski, Hamburg Police Department. "Large parking lot here, but this is not a trail head, and that's the key."
Now, new public access hours are posted on a sign, limiting access through April of next year.
"We had concerns of trash. We had concerns of individuals camping," Kuklinski said. "This is the Hamburg watershed. Our water comes out of here, for the borough and for other areas."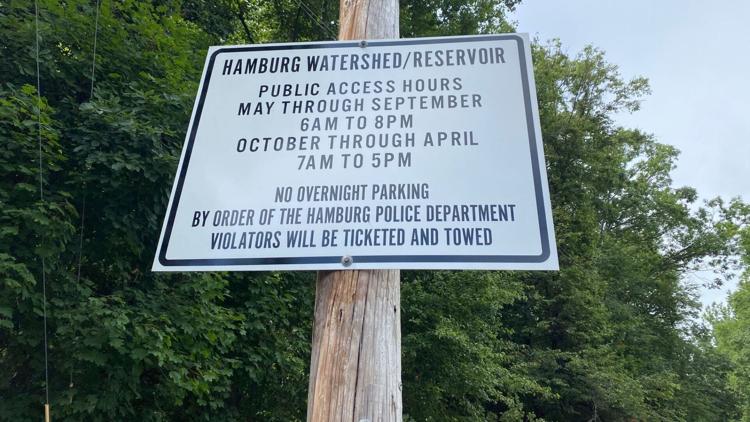 Hamburg police said the Pinnacle and Pulpit Rock can still be accessed through points on the Appalachian Trail, but enforcement will be happening with the recently posted hours, which are May through September from 6 a.m. to 8 p.m., and October through April from 7 a.m. to 5 p.m.
"The times are limited. The times are restricted," Kuklinski explained. "Certainly, if someone is on the hill a little bit beyond the time, because they didn't get back to their car in time, there will be leeway that is granted to folks."
With the new rules and regulations in place, some avid hikers have expressed concern over the limited hours they'll be able to access the area.
"It was a little disappointing some of the times," said Jim Blandford of Hamburg, "but it is private property, and I guess we gotta respect the decisions of the private property."
Hikers are hoping that, depending on how the next few months shape up with the COVID-19 pandemic, there may be some return to normal.
"The times here, I guess we are gonna have to wait and see happens," Blandford said. "Maybe, they'll change them down the road."