READING, Pa. - Election Day 2019 has brought a big change for voters in Berks and 44 of Pennsylvania's other counties.
For the first time in 30 years, Berks County voters are casting their ballots on new voting machines, which feature a touch-screen monitor for them to make their selections. Once they finish, the machines print out a paper ballot that they insert into an electronic vote tabulator.
The new machines come at a cost to the county of nearly $4.5 million. The purchase is the result of a state mandate that requires each county to replace its voting system with one that produces a paper trail.
Among the contested countywide races on this year's ballot are those for commissioner, sheriff, and clerk of courts; in Reading, voters are choosing a new mayor.
The three men who currently serve as commissioners are hoping to keep their jobs in the new year. Democrat Kevin Barnhardt and Republican Christian Leinbach appear on the ballot, along with Democrat Donna Reed and Republican Michael Rivera.
Incumbent Republican Mark Scott, who lost his bid for re-election in May's primary election, has launched a write-in campaign.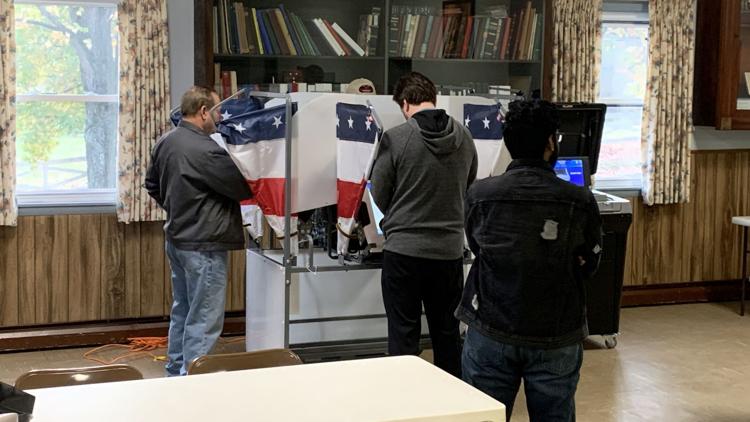 The new machines have simplified the process of writing a person's name on the ballot.
"There is a screen when you click it to that office," Debbie Olivieri, the county's director of elections, told 69 News on Monday. "There's a space there for write-ins. Use the keyboard and type that name in."
In the race for sheriff, Republican Eric Weaknect is seeking a fourth term in office. He faces Democrat Bart Ganster.
Republican Clerk of Courts James Troutman is being challenged by Andrea Jefferson, and Democratic Recorder of Deeds Fred Sheeler is being opposed by Republican Mary Kozak.
In Reading, Democrat Eddie Moran and Republican Louis Perugini are seeking a four-year term as Reading's next mayor. Moran defeated the current mayor, Wally Scott, in the primary.
Polls in Berks County and across Pennsylvania will be open until 8 p.m. Tuesday.
Olivieri said she expects voter turnout in Berks County to be about 25%.