WASHINGTON TWP., Pa. - Not much happens in this part of Berks County, but when something does happen, it's big. Crews are putting a cap on a 19th-century mineshaft that opened up late last year off Old Route 100 in Washington Township.
"Each day it's like, 'Did it get a little bigger?'" said LuAnn Zambanini. "It's just unbelievable."
As the owner of the property, Todd Moyer has been between a rock and a hard place ever since the earth opened up in November. Since then, the mineshaft has grown nearly twice its size.
"People are noticing," Moyer said.
Moyer said crews found the mineshaft was 200 feet deep.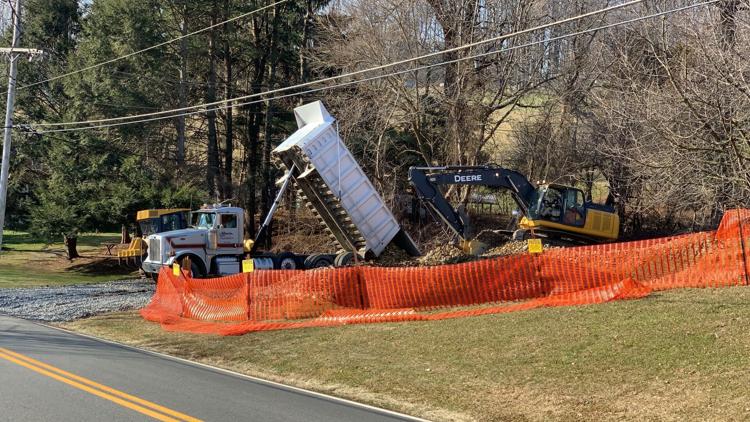 On Tuesday, dump trucks carrying 23 tons of gravel from a quarry just up the road were filling the mineshaft. There's no estimate for how much longer the work will take, but the state and a mine reclamation fund could cover the cost.
"It's working out pretty good, I think," said Moyer. "It's going to take some time, but they're getting it done."
Moyer may not have to worry about a gaping hole in his wallet, just the one in his front yard.
⛏ 🪨 UPDATE on the mineshaft that opened along Old Route 100 in Berks County in November: a company is hard at work trying to fill the shaft, which the property owner tells me was 200 feet deep (yikes) @69News pic.twitter.com/Mej7lBj6FT

— Jim Vasil (@JimVasilWFMZ) January 12, 2021