READING, Pa. - Three Reading police officers were taken to the hospital after their unmarked police car hit an SUV that went through a traffic light, authorities said.
The crash was reported around 9 a.m. Tuesday at South Fourth and Spruce streets.
The police car was traveling south on Fourth Street at a normal rate of speed when it t-boned the SUV, which had gone through the traffic light as it traveled west on Spruce, police said.
"It doesn't seem like there was any gross negligence or intent for those people to run the red light," said Capt. Richard Tornielli, Reading Police Department. "It's just something that happened."
Three criminal investigators were in the police car at the time of the crash. They were taken to the hospital for treatment and later released, according to police.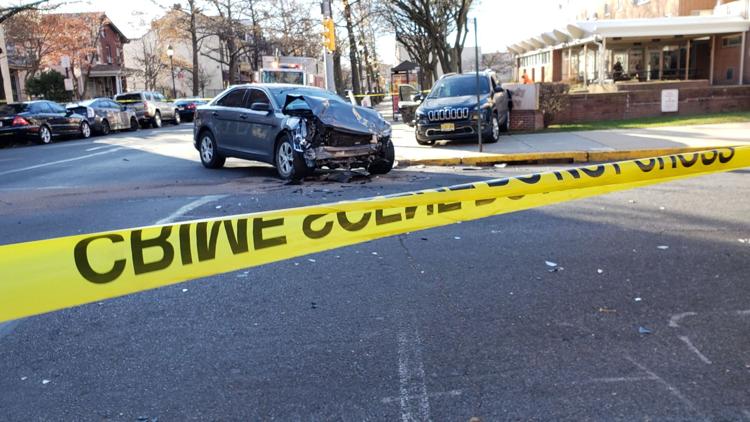 "There was a second car of criminal investigators that was following the first car that witnessed the accident from behind," Tornielli said.
The SUV came to rest on the sidewalk, with its rear end against the sign for the Kennedy Towers apartment high-rise building.
"Fortunately, there was nobody on the corner at the time of the accident," Tornielli said.
The driver and a passenger in the SUV were also taken to the hospital for treatment of non-life-threatening injuries.
"It's my understanding these folks are from out of town," Tornielli said. "They were here for training from work, weren't familiar with the south side of the city, so there may have been some confusion on their part."
Crash @ 4th & Spruce involving criminal investigators from @ReadingPolice1 & civilian Jeep. 5 people transported to hospital... injuries believed to be non life threatening @69News #Berks pic.twitter.com/akxRZ0NHtp

— Caitlin Rearden (@CaitlinRearden) December 3, 2019