READING, Pa. - It was a moment 7 million acts of kindness in the making, as a Reading woman held in her hands the 7 millionth meal donated by a nonprofit that's working in concert with the Salvation Army of Reading.
"They have helped me with self-esteem, knowing that someone is out here at this time that they care, they care for the community," said Miriam Jimenez, who has two kids at home and relies on the Salvation Army to feed them. "Just for me coming home with these groceries and these foods, they feel wanted, they feel loved, they feel helped."
The Salvation Army made it possible during its Wednesday morning food distribution, but the milestone meal comes from Operation BBQ Relief. The nonprofit has fed families in need since the 2011 Joplin, Missouri, tornado disaster.
"It is no mistake that it happened here in Reading," said David Marks of Operation BBQ. "This is a great community and it has a lot of support here, and the Salvation Army is a long-standing partner in this community."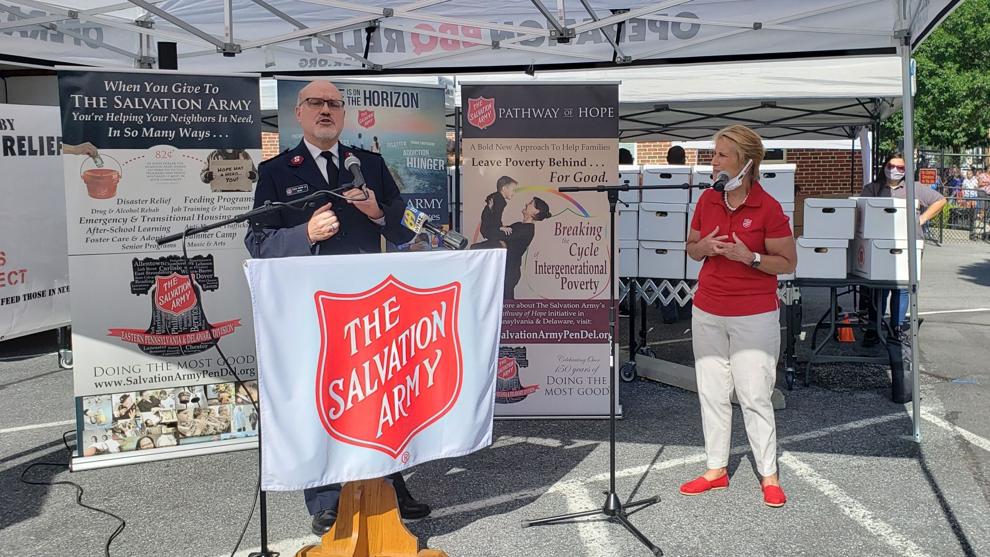 The milestone comes amid a pandemic, where around the world, record numbers of people are more in need than ever before.
"We're getting weary, but we're not getting tired of what we're doing because we're able to help the community," said Darren Mudge, a major in the Reading Salvation Army.
The Salvation Army of Reading has been overwhelmed during the pandemic, at one point serving 1,000 families each week, but Mudge said it's seen no shortage of gratitude.
"We're saying 'God bless you' to folks, and they're saying 'God bless you' right back," said Mudge.
7 Million Meals served since 2011! Operation BBQ Relief served our 7 millionth meal today at The Salvation Army of Reading, PA. OBR volunteer Doug Bomberger presented the meal. Thank you Doug for your big heart and hard work in serving communities in need. pic.twitter.com/LZUIFX58rQ

— Operation BBQ Relief (@OpBBQRelief) June 17, 2020