WERNERSVILLE, Pa. – Students at Conrad Weiser East Elementary School are learning about the sacrifices made by the nation's veterans. The school held its annual Veterans Day tribute event at the school in Wernersville on Monday.
"It's real nice," said Craig Murray, a Vietnam War veteran.
This Veterans Day was extra special for Murray. His grandson Colin, a third-grader at the school, participated in the special event, singing songs, and at the end, running up to greet his grandpa.
When asked if he was proud of his grandfather, Colin replied that he was, "...because he saved lives."
Murray enlisted in the Army in 1970, at the tail end of the Vietnam War. He remembers his time spent in the jungle, seemingly isolated from the rest of the world.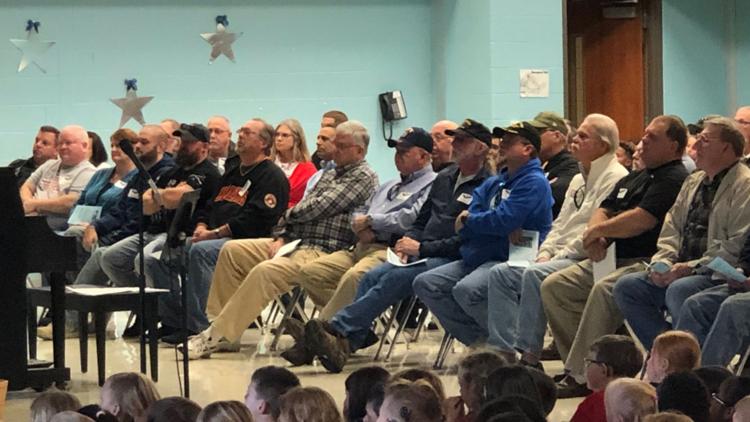 "It's very eye-opening when you go somewhere like this, when you're 18 years old, a lot of time away from family and friends," Murray said.
Another Vietnam War veteran, Rich French, also remembers the strain of war.
"I lost my best friend from boot camp, a couple other guys from around here," French recalled.
His stepson followed his example, serving in the Persian Gulf War. Both are proud to have served their country.
"It's pretty cool," Payne said. "It means a lot to have people in the family that serve."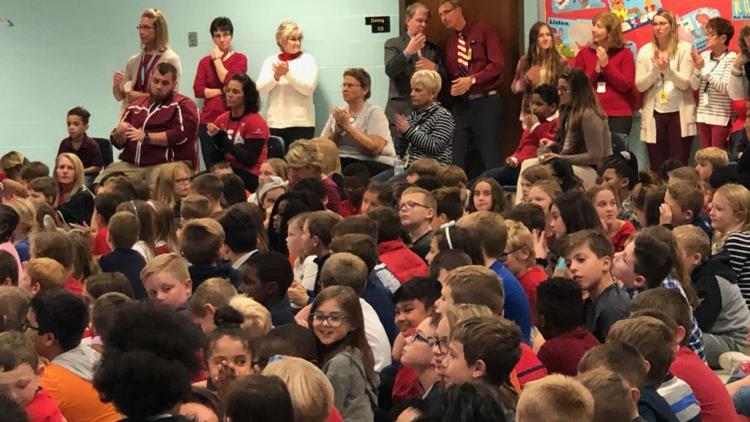 The veterans said their favorite part of the event was receiving flags and handwritten letters from the students.
"'Dear veterans, thank you for protecting us,'" French said, reading his letter.
"'Thank you for all the things you have done,'" Payne read.
"'Thank you for your service. Love, Grayson,'" Murray finished, smiling.
While the memories of war will always be with them, the veterans said the love and appreciation shown by the children overshadows any darkness.
"This is the best Veterans Day I ever had," French said. "I felt very honored."