EASTON, Pa. - Several students and the driver were injured after a school bus carrying 30 middle-schoolers ended up in Bushkill Creek Monday morning.
"The bus was traveling northbound, veered off, went through the guide rail and went through the path into the creek," said Chief Carl Scalzo, of the Easton Police Department.
It happened around 7:30 a.m. in the 500 block of Bushkill Drive.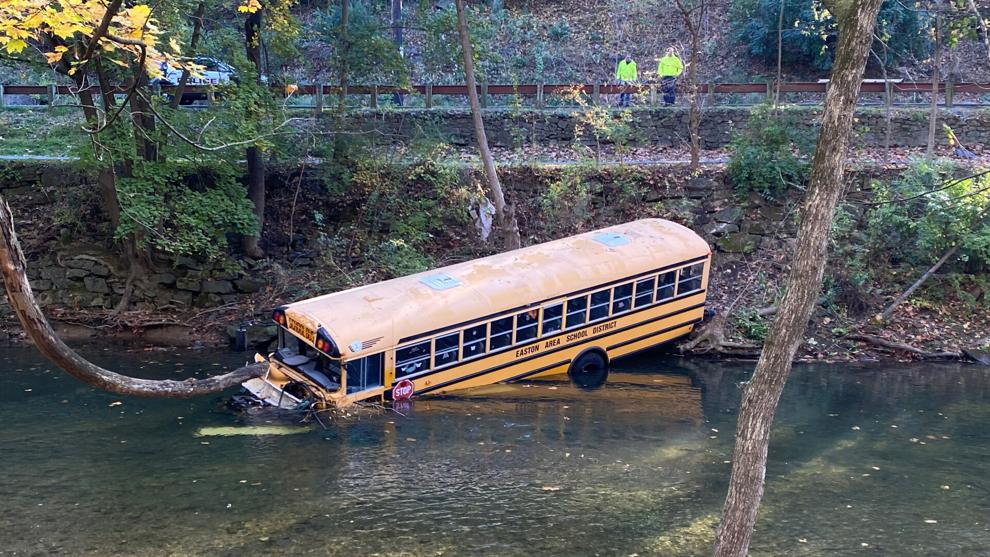 Eight Easton middle school students and the bus driver were taken to the hospital via ambulance, according to a district spokesperson and police.
Their injuries did not appear to be serious, officials said.
In addition to the eight students taken by ambulance, five students' parents drove them to St. Luke's Easton, said Easton Area School District Superintendent David Piperato. No word on the extent of any injuries among those five students.
Easton police and fire responded, as did district administrators and two principals.
"Making sure our students are safe and the welfare and safety is first and foremost. We were down here with parents, making sure proper unification was accomplished," said John Remaley, supervisor of SafeSchools for Easton Area School District.
After all students were accounted for, the police reconstruction team began its investigation.
"It looks like we have some video with exactly what occurred with the vehicle that was traveling behind the bus. We also have physical evidence in the way of yellow marks and skid marks that we utilize when we reconstruct the scene," Scalzo said.
The bus was the only vehicle involved in the wreck, but authorities are not yet sure what caused the crash.
In the meantime, authorities are thankful it wasn't worse.
"They could've hit any one of those trees, if the water was higher, if there was a vehicle traveling in the opposite direction or if there was somebody on the path, this could've been a much different situation," Scalzo said. "So for a bad situation, you look to count the blessings when they're there and there were a lot this instance."