BETHLEHEM, Pa. – Bethlehem's planning commission on Thursday went over three proposals that would add a total of 172 apartments to the city, moving two ahead but not ruling on the Skyline West development that could change the look of the historic downtown.
143 W. Broad St. (Skyline West)
Developer Dennis Benner asked only for comments and guidance on the 50-unit proposal for 143 W. Broad St., set on 2.2 acres between Route 378 and the Monocacy Creek.
"It's a challenging site," said Benner, who is working on the project with his sons Garrett and Brandon, and Musikfest founder Jeffrey Parks. The lot is long, narrow and on a hillside.
The project was delayed for a year to clear up a land issue with the Pennsylvania Department of Transportation, which owned "a little sliver of ground that was needed for this project," Benner said during the commission meeting, which was held partly virtual, partly in-person.
The development team proposes five stories in a 65-foot-high building, which would require several zoning variances for height, length and setbacks from property lines.   
Darrin Heckman of Keystone Consulting Engineers Inc., speaking on behalf of the developer, said less than half of the land would be developed, with the southern end left undisturbed. He also asked that a zoning requirement for commercial use of the first floor be dropped. 
Benner said tenants would be able to walk to historic Main Street and shop there.
"I believe this is a great project," Planning Commission Chairman Robert Melosky said. Commissioner Thomas Barker described the project as a "first-class" proposal early in the commission's three-hour-plus meeting.
The commission briefly discussed whether an apartment complex overlooking Bethlehem's historic Moravian buildings could jeopardize the city's chance of being named a World Heritage site. Other World Heritage sites include the Statue of Liberty, the Grand Canyon and China's Great Wall.
Darlene Heller, director of the city's planning and zoning, said Bethlehem's zoning code does not address issues such as World Heritage status. Among those online during the meeting was Curtis "Hank" Barnette, chairman emeritus of the former Bethlehem Steel Corp., who has helped guide the application for World Heritage status.  
The commission did not make any recommendation to the city's Zoning Hearing Board about Skyline West, and Benner said the planners' comments will be reviewed by his team.  
404 E. Third St.
Lou Pektor of Ashley Development then went over his plan for 80 apartments on a 0.38-acre plot of land at 404 E. Third St.
Pektor said his team is ready to take on Lehigh University, which boasts of an endowment and assets of $1.7 billion, for the student housing market. He proposes a seven-story retail and residential building at what is now a parking lot at the southeast corner of Third and Polk streets. The first two floors would be for retail use and restaurants.
Pektor said it's time to push the South Bethlehem market "to a higher level," focusing on "students who can afford the higher end of the rental market." The plan is for 25 studio apartments, 35 with one bedroom and 25 with two bedrooms.
"It's good for everyone," he said about providing high-end housing for students and bringing more shoppers to Third Street.
Gabriel Solms, project manager for Ashley Development, said the building would also help with the city's plan to keep student housing out of townhouses in some South Bethlehem neighborhoods. The development would also take a property generating a nominal amount of property taxes into a $180,000 windfall for Northampton County, the Bethlehem Area School District and the city.
"This is where we want student housing to be," Melosky said, not in neighborhoods where students and residents come into conflict.
"We're competing with Lehigh," Pektor said. His plan is to go after students who will pay for high-grade apartments.
However, parking is an issue. The building would require 114 spaces, creating a potential problem with the delayed construction of the Bethlehem Parking Authority's Polk Street Garage. Solms said COVID-19 relief money might push that project along.  
Melosky said other developments are also waiting for more parking space, and that it would not be fair to "handcuff" Pektor and others. If the garage is not open by the time the 404 E. Third St. building is ready, possibly in 2022, the commission and Pektor agreed that another solution — perhaps leasing spots elsewhere — could be worked out.  
"We're taking a fair amount of risk," Pektor said of the $16 million to $18 million project. If the parking situation cannot be worked out, his team might reduce its risk by cutting back on the size of the development. 
Commissioner Joy Cohen expressed concern about property setbacks from a plan to shoehorn a seven-story building into a lot of less than a half-acre. Those issues were worked out, and the commission voted to send Pektor's plan to the zoning board with a favorable recommendation. The parking issue will be reviewed again at a future meeting.
250 E. Broad St. 
The commission also moved Peron Development's 250 E. Broad St. proposal to zoning with a favorable recommendation. That project will house the Bethlehem Food Co-Op on its first floor, with 42 housing units on floors two through four.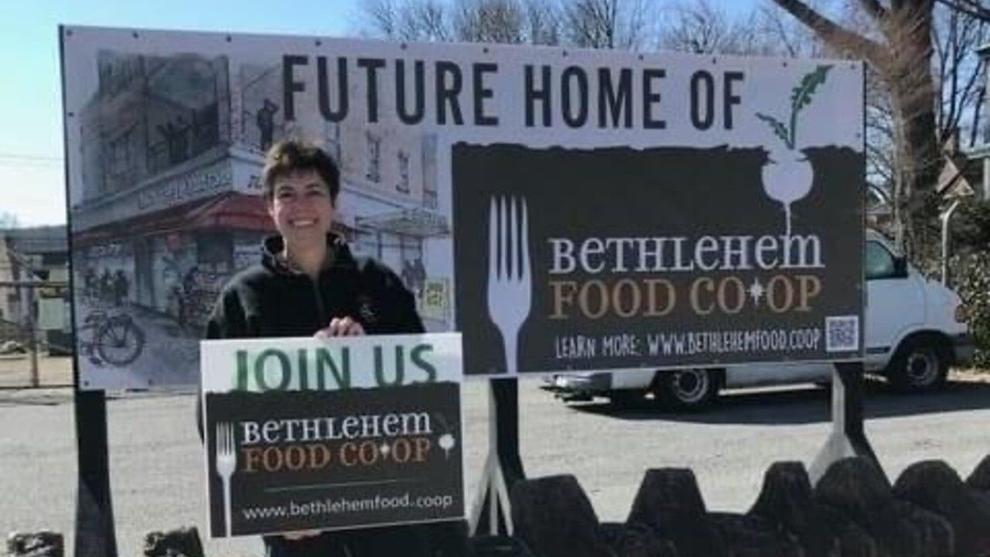 Former Bethlehem mayor John Callahan, now director of development for Peron, said the proposal brings attention to the East Broad Street corridor, which has not drawn the investment seen in other parts of the city.  
Parking again was an issue. Callahan said the Food Co-Op grocery store will have 23 spaces and 55 spaces will be designated for the apartments. That is about 20% less than what the city requires. 
The 1-acre property requires variances, including for property setbacks, project engineer Mark Buchvalt said.  
Melosky said Peron has done excellent work elsewhere in the city, and he moved for the plan to move to the zoning board with a positive recommendation.  
Cohen, Barker, and Commissioners Matthew Malozi and Ed Burgos voted in favor of the plan.  
The meeting ended at 8:35 p.m., after three hours and 35 minutes.