ALLENTOWN, Pa. - Investigators are pressing forward in their search for the cause of a fire that took out an entire row of homes in Allentown.
The 47 people displaced by that fire know one thing for sure - rebuilding their lives is going to be difficult. But several community organizations are banding together to help make that process a little easier.
A pile of charred rubble is all that remains of the row of homes on Fountain Street. Community leaders say this is the largest disaster the area has had since a gas explosion in 2011.
Angela Guzman is one of 47 people who lost nearly everything in the Fountain Street fire Sunday morning.
When Guzman and her family came to look at what was left of their home, they found that only two pictures of her deceased parents and her pet turtles survived the fire. 
"I always talk to them (the turtles) 'Hi Sophie, Hi Otto," Guzman said.
Sophie is fortunate. She is staying with family. Most of her neighbors had to turn to the Red Cross for temporary shelter.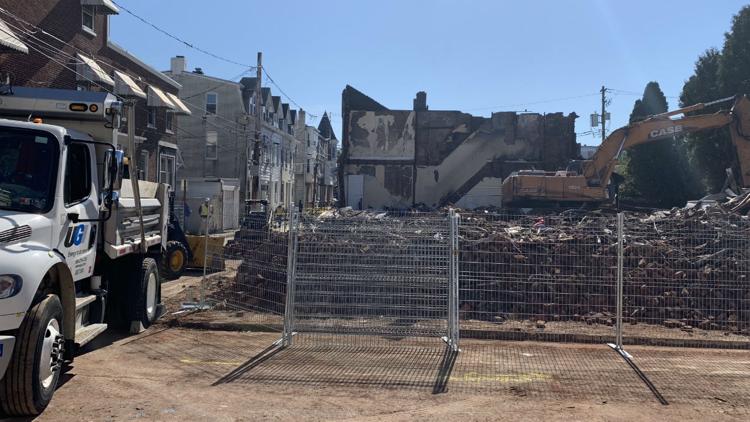 "There were 17 children under the age of 18 and several infants, there were four senior citizens. Most of these families have lost everything and will not be able to return to their homes," said Peter Brown, executive director of the Lehigh Valley-Bucks chapter of the American Red Cross.
Community leaders say getting the 13 low-income families back on their feet will take time and a lot of money.
The Red Cross, the Community Action Committee of the Lehigh Valley and the United Way are now joining forces to facilitate community donations.
Alan Jennings with CACLV says after a gas explosion leveled a block of homes on 13th Street and killed 5 people in 2011, the community donated roughly $190,000 to help displaced residents.
Jennings says he thinks it will take even more to help the Fountain Street families.
Guzman says she is amazed by the reaction of the community thus far, and is relieved to have a few fragments of her family's life before the fire.
Jennings says every penny that is donated to the Fountain Street Fire Fund will be spent on re-housing and re-establishing the families.
He says once the donations come in and are distributed, the public will be provided with a report on how the money helped the families.
100 percent of the money will go to the Fountain street families.
The mailing address for the United Way of the Greater Lehigh Valley is:
United Way of the Greater Lehigh Valley

Attn: Fountain Street Fire Fund

1110 American Parkway NE

Suite F-120

Allentown, PA 18109
For more information on the fund, you can call Priscilla Rosado at 610-807-5731.