ALLENTOWN, Pa. - A robbery victim was justified in shooting and killing a 27-year-old Bethlehem man who committed armed robberies at a strip mall Thursday night, the Lehigh County district attorney's office said.
Darrell Mussa was pronounced dead at St. Luke's Hospital. The county coroner's office determined the cause of death to be multiple gunshot wounds, and the manner of death to be homicide. Homicide is defined as the death of one person at the hands of another.
Allentown and Bethlehem officers swarmed a strip mall in the 1400 block of Pennsylvania Avenue near the Bethlehem city border around 8:30 p.m. Police closed off the street and parking lot with crime scene tape.
Mussa first robbed Pennsylvania Avenue Cold Beer and Beverages at gun point. Immediately afterward he went into Drake's Pizza and committed a second armed robbery, the DA's office said.
A beverage facility employee who was a victim in the first robbery confronted Mussa inside the pizza shop while Mussa was committing the second robbery, the DA's office said.
Mussa turned and pointed a gun at the beverage facility employee, the DA's office said.
The beverage facility employee, who was armed with a lawfully-possessed semi-automatic pistol, shot Mussa when Mussa pointed the gun at him as Mussa was turning and about to flee from Drake's, the DA's office said.
Mussa collapsed in the parking lot, the DA's office said.
District Attorney Jim Martin reviewed the investigation's findings, including in-store video from Drake's. Martin ruled that the homicide of Mussa was justified on the grounds of self-defense.
Orlando Martinez, who worked behind the counter at Drake's Pizza Thursday night, said Mussa came in and pointed a gun at him. Martinez said he put the money on the counter and ran away.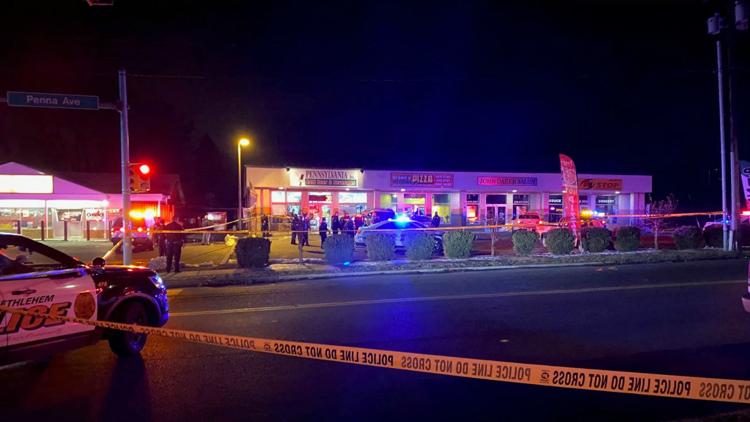 Martinez said a person then shot him in the buttocks. DA Martin said the beverage center employee had fired that shot.
The scene in the 1400 block of Pennsylvania Avenue drew the attention of Allentown, Bethlehem and State Police, and the attention of neighbor Kyle Bartholomew who says he heard five shots.
"I thought definitely gun shots you know. Not fire crackers it was blatant pop, pop," Bartholomew said.
Martinez called 911 once he got away.