EASTON, Pa. – Easton residents should expect a phone call from the city come Monday, but there's no need to panic. Officials announced on Wednesday at the Easton City Council meeting that the call will be part of the city's new 911 system rollout, EastonAlert.
City Information Technology Manager Frank Caruso said EastonAlert is expected to officially be rolled out on Feb. 17, replacing the old Nixle system. He said unlike the old Nixle system that informed residents via phone call or text messaging, the new system has additional features that will enable emergency responders to better help those in need should an emergency arise.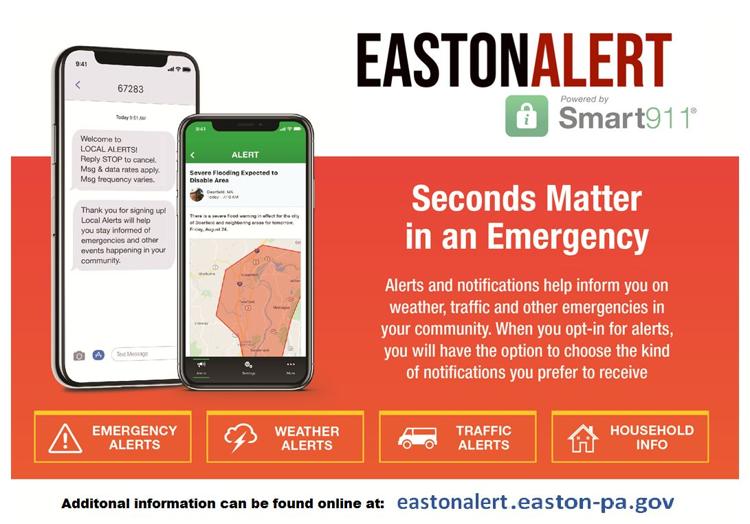 The city council approved the measure via resolution at the meeting.
With EastonAlert, users can now not only receive phone calls or text messages via mobile devices, but they can also create a user profile.
According to Caruso, users can input personal information such as medications, vehicle descriptions, associated phone numbers, medical conditions, and allergies of people living in the household. That information can then be used by emergency responders aiding them in the event of an emergency.
"It's all voluntary, what you put in and what you allow to be public to the emergency responders," Caruso said.
Like the old system, residents will still be able to receive weather, emergency and traffic alerts. But with EastonAlert, users can opt out of certain alerts. Caruso said the city can send out alerts specifically to affected areas versus the entire city.
"You turn it on or off when you want," he said.
The new EastonAlert is also capable of sending out information in 48 languages.
The city has a marketing plan set to roll out about the change.
Residents who want to learn more can visit the city's website where they can download the application or register here.