MOORE TWP., Pa. – Moore Township's Planning Commission accepted Monday the development plan for two warehouses at the site of Southmoore Golf Course. 
Accepting the plan for review is a formality. It does not mean the township approves of placing two warehouses covering more than 800,000 square feet on the green space on the west side of Route 512. However, the land is zoned for industry and the developer, operating as Water's Edge at Wind Gap LLC, has an agreement to buy the land.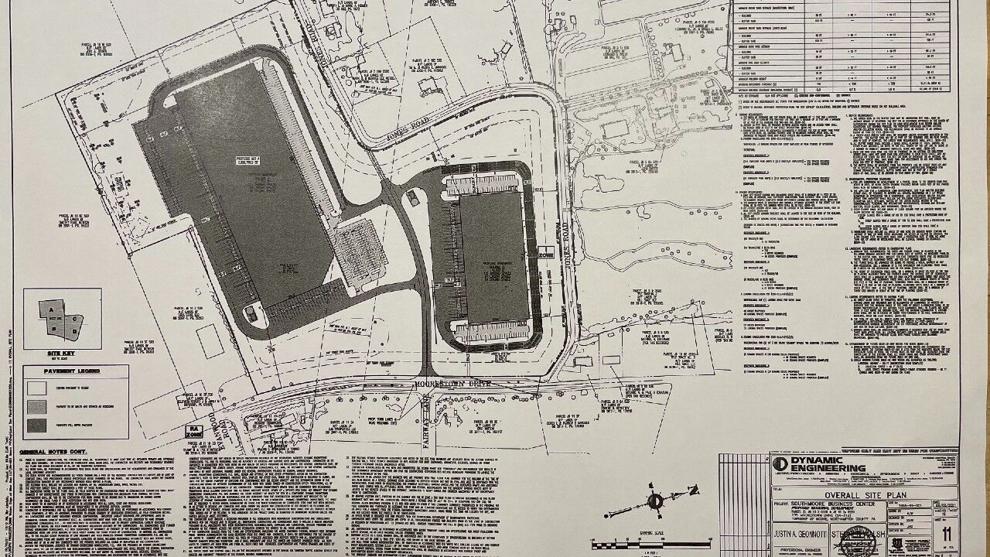 "This is a very, very early stage of the process," Moore Solicitor David Backenstoe told the crowd of about 75 at the Klecknersville Rangers fire hall. The next step is for Township Engineer Kevin Horvath to review the plan in advance of September's planning meeting. 
"We have not had the chance to go through this," Planning Commission Chairman John Becker told the audience as he displayed the thick file from the developer. The plan will be posted on the township website Tuesday. 
Attorney R.J. Brasko, representing Water's Edge, confirmed that the developer is buying the entire course in response to a question from Jones Road resident Anthony Maniscalco. The two warehouses and their hundreds of parking spaces would be bordered by Route 512 and Jones Road. 
The township cannot block the warehouse plan, but it can review the site plan and hold it to Moore's standards. Those standards may be tighter by the time a final vote is due. 
Backenstoe said Monday that the Moore Board of Supervisors will vote Sept. 9 on his amended zoning ordinance. The proposed changes include making warehouses a "conditional use" under zoning, meaning they would be subject to more township scrutiny than a "by-right use." 
The amendment would also expand buffer zones between warehouses and nearby agricultural and residential properties, and require amenities such as lounges and bathrooms for truck drivers.  
The Lehigh Valley Planning Commission, which reviews land uses of "regional significance," has stressed the need for on-site parking for trucks and conveniences for their drivers to keep trucks from parking along roads or in residential areas.