LEHIGH TWP., Pa. - Firefighters and police officers were met with a bizarre scene in Lehigh Township, Northampton County Thursday night.
Just after 9 p.m., officers were called to the 1100 block of Quince Road for reports of a naked, bloody man jumping on someone's car, and a house fire nearby.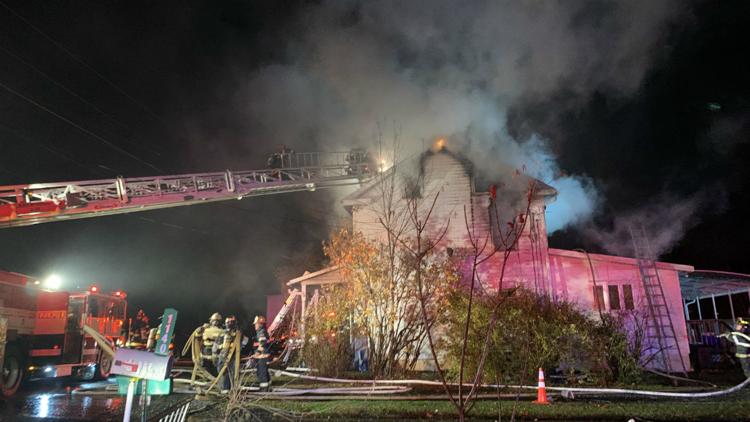 Officers arrived to find a two-family home engulfed in flames, while a man, later identified as Zachary Pammer, was sitting naked inside a car in the middle of the road, said Lehigh Township police.
Both he and the car were covered in blood, police said.
Firefighters got to work fighting the blaze, while officers pieced together what happened with the man.
The driver of the car told police she saw the fire and stopped to help. That's when Pammer, 24, jumped on her car, forced his way inside the car, assaulted the woman and tried to restrain her, police said.
The woman was able to escape and call 911.
Rick Fillman, a neighbor, told 69 News he assisted in restraining the man until police arrived. He said he saw the man on top of the hood of a woman's car, and the woman was screaming. Fillman said Pammer jumped into the passenger seat of the woman's car while she was still sitting there.
"I went over by the door and told her to get out. She got out, he jumped in the driver's seat. I closed the door on him," Fillman said.
"She was screaming, he's trying to get out again. I held him in there. The only thing I had on me was a pocket knife to hold him there and I pushed him and kept him in the car, so he couldn't get back at her."
"I closed the door on him. Just holding him until the police finally got there," Fillman said.
"I just acted. There was no thinking about it," Fillman said.
Officers talked to one of the residents, who said Pammer was her cousin. She said he had showed up unannounced, acting very weird and began going into a rage, police said.
Pammer had kicked in the apartment door, threw things at the woman and physically assaulted her, police said. She was able to escape the house and hide until police arrived.
She said she didn't know how the fire started.
Police removed Pammer from the car and he kicked and spit on officers and EMS, police said.
Meanwhile flames and smoke billowed from the home, leaving it severely damaged.
Pammer is facing a slew of charges, including burglary, robbery of a motor vehicle, trespassing, aggravated assault, unlawful restraint, simple assault, indecent exposure, public intoxication and harassment. He had not yet been arraigned as of 11 a.m. Friday.
The cause of the fire is under investigation and additional charges could be added, police said.
Authorities suspect drugs may have been involved in Pammer's behavior, police said.