EASTON, Pa. – Northampton County Executive Lamont McClure proposed Thursday that $15 million of federal COVID-19 relief funds be given to small businesses.  
McClure said Northampton County's $31 million of American Rescue Plan money is in the bank. Another $31 million is due next year.  
McClure's administration and county council, which makes final decisions on spending, gave $10.7 million total in federal CARES Act relief money last year to 776 small businesses that lost revenue because of the pandemic. The average grant was $13,789.  
"You helped them survive," McClure said at council's meeting. "Now it's time to help them thrive." Customers are returning to small businesses, but slowly, McClure said.  
The $15 million proposed Thursday is $5 million more than McClure discussed in his April "State of the County" address. He said a plan will be sent to council for review. 
He also said $5 million should be given to nonprofit groups, along with $1 million for a county program that promotes tourism; $1 million to help municipalities that may need money to fund police departments or for other uses; $1 million to provide broadband internet access to students, and $1 million for emergency-medical services. 
The remaining $6.9 million would, under his plan, help the county respond to the pandemic and could provide for extra hazardous-duty pay if needed.  
Juneteenth commemoration
Council also voted to recognize June 19 as "Juneteenth National Freedom Day." On June 19, 1865, Union soldiers brought news of President Abraham Lincoln's Emancipation Proclamation to Galveston, Texas.  
The news took a while to reach the most distant part of the Confederate states. Lincoln issued the proclamation to free slaves in rebel states on Jan. 1, 1863.  
Juneteenth will not be a county holiday for county workers but will be commemorated. 
Councilman Kerry Myers, the only African American on the nine-member council, said Thursday's vote marks a step forward. 
"It's out there, and it's being talked about," Myers said. He said he would like to see Juneteenth be declared a holiday in the county. Lehigh County made June 19 a paid holiday for its staff last year, though some Lehigh commissioners were concerned about the cost of paying government workers not to work. 
New titles
Council Solicitor Chris Spadoni broke some news to the legislators: "You may now refer to yourselves as commissioners." 
He said final results show voters approved a referendum in the primary election that allows councilmembers to change their titles to commissioners. Most Pennsylvania county legislators are commissioners, though some who go by that title have legislative and executive authority. Northampton County's councilmembers are legislators only. 
The council decided at an earlier meeting not to change their titles until after the fall election to avoid confusion. 
Despite the big numbers discussed for COVID-19 relief and the potential for a name change, President Lori Vargo Heffner presided over a meeting that lasted only 45 minutes, including a 15-minute break for a private session to discuss potential litigation.  
Retirement recognition
Council also recognized the retirement of Judy Ryan, general manager of dining services for contractor Sodexho at Gracedale Nursing Home. Ryan started at Gracedale in 1990.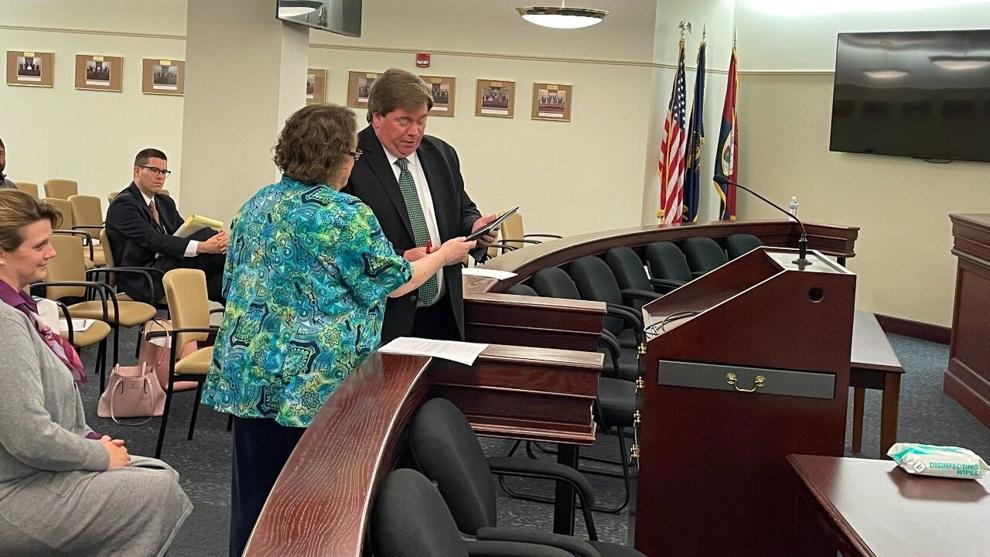 "It was the best decision I ever made," Ryan said of taking the Sodexho job at the county home. "It's so rewarding to commit yourself to people who are institutionalized." 
Ryan said she enjoyed finding ways to present Gracedale residents with unusual dishes. A recent success was General Tso's chicken, with the spices adjusted to suit the mostly older clientele. 
Hazard pay for Gracedale nurses
At a committee meeting earlier Thursday, Gracedale Administrator Jennifer Stewart-King asked council to approve another six months of hazard pay for nurses working certain shifts. She said the county has paid $352,000 in hazard compensation so far this year. 
Vargo Heffner said council will consider that request at a meeting in the future. 
County council's next meeting will be held June 17.