EASTON, Pa. - Human error in formatting the ballot led to issues with Northampton County voting machines on Nov. 5 that caused a recount of all county races, officials announced in a news conference Thursday.
The error was caused by the placement of a special instructional text on the ballot for cross-filed races, according to County Executive Lamont McClure and Adam Carbullido, senior vice president of Product Development with ES&S, the company that manufactured the machines.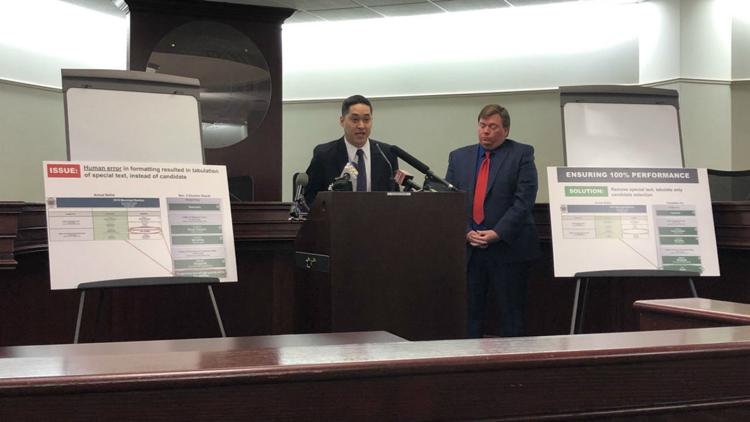 The special texts' placement on the ballot created a misalignment in the database. Certain cross-filed candidates' votes were attributed to the instructional text field instead of the candidates' fields, officials said.
After reports of voters having problems with the touch screens, the analysis showed some machines had been configured improperly at the factory before delivery to the county, officials said. Also, selection boxes near the screen edge were too close for consistent screen performance. The small selection boxes may have caused issues, officials said.
The analysis showed about 30% of voting machines used in the elections may have been improperly configured prior to delivery, officials said.
After polls closed on Nov. 5, it was discovered that some of the races were inaccurately tabulated on the machine tape. Election officials counted the machine-marked ballots through the night and released the unofficial results early Nov. 6.
ES&S began examining the machines on Dec. 5. The company worked with county staff confirming through testing that the incorrect results were due to human error in formatting the ballot.
ES&S began reconfiguring all of the voting machines and will complete the process before the next election, officials said.
"This was an unfortunate human error and we are glad to have it resolved," McClure said. "Moving forward, Northampton County is committed to demanding accountability from ES&S for the performance of these machines, and rebuilding trust with our voters. We are dedicated to making sure our voters feel confident about the process when they're at the polls and secure with results when they are tabulated." 
"I want to make clear this was a human error, and ES&S takes full accountability," said Adam Carbullido. "When we replicated the exact ballot and removed the special instructional text, the results were accurately captured and vote totals were properly attributed to all candidates."