WIND GAP, Pa. – Warehouses planned for land in Plainfield Township and Wind Gap will bring jobs, tax revenue and an environmental cleanup of old industrial land, about 100 area residents were told Wednesday night. 
That did not sway the crowd at Plainfield's planning commission meeting, but the land along Route 512 is zoned for industry, and warehouses are a permitted use. Developer CRG of St. Louis made its case during a 2.5-hour session at the Plainfield Township Volunteer Fire Co. banquet hall.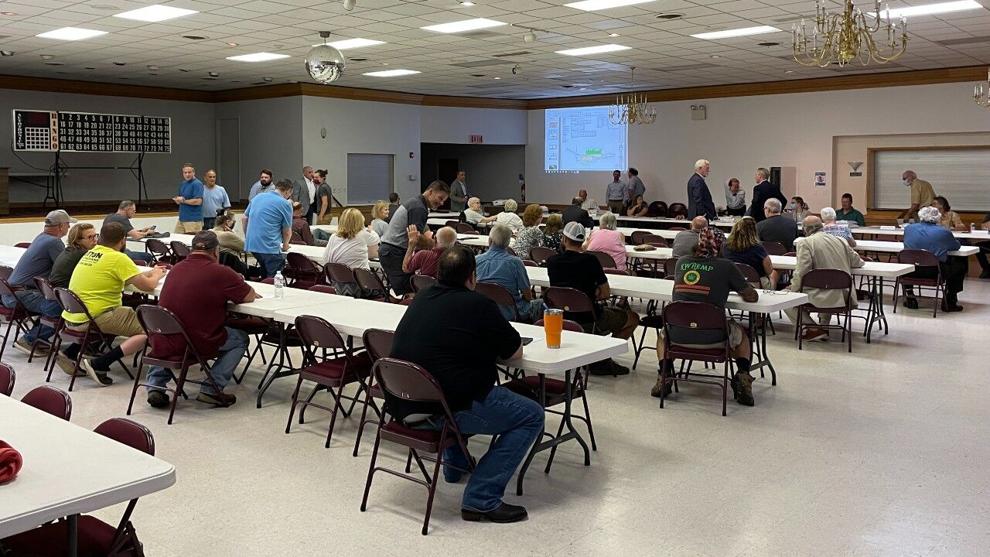 Residents of Plainfield, Wind Gap and Pen Argyl in Northampton County objected to the proposal, citing traffic, noise and water runoff. CRG's lawyer told the audience that e-commerce and consumer demand are to blame. 
"Because all of you want stuff tomorrow rather than picking it up at the store, we need more warehouses," attorney Blake Marles said. "Land that is zoned for industrial purposes can be used for industrial purposes." 
The planning commission did not make any decisions Wednesday, and Chairman Paul Levits said a second meeting will be held. The date of that meeting will be posted on Plainfield's website. 
CRG proposes two buildings at 905 Pennsylvania Ave. (Route 512), one covering 786,000 square feet, the other 308,000 square feet, for almost 1.1 million total. The buildings will not exceed the township's 50-foot height limit. 
Residents were surprised to hear that the larger building will cover about 18 acres, or about 14 football fields (one acre is 43,560 square feet). 
Resident Joe Wilson said he was concerned about traffic in a "sleepy town" and trucks parking in residential areas, which he saw when he was deputy chief of the Upper Macungie Township police department. 
Frank Petkunas, a senior vice president of CRG, said "We over-design for parking" and more spaces would be added if needed. 
Petkunas estimated that when complete, the two warehouses would create 500 to 600 permanent jobs. 
"The net-net of this is going to be good for the township," he said. Tax revenue will go up, and CRG will clean up an old contaminated industrial site. He said the warehouses will be used for consumer goods, not hazardous materials.  
Wind Gap Tax Collector Patricia Sutter said residents are not concerned about the contamination in the ground. 
"If it's been contaminated all this time and we lived with it, I don't see why we can't leave it," she said.  
The warehouses will generate about 1,900 vehicle trips per day, traffic consultant Rob Hoffman said, with about 329 of those by trucks. During peak hours, he said there would be about 200 trips hourly, 20 to 30 by trucks. A roundtrip equals two trips: one vehicle going to a warehouse and leaving later counts as two.  
"Traffic is paramount here," Commissioner Robert Simpson said. He said a traffic study of the Plainfield region, not just the township, is required. Traffic will back up as trucks approach Route 33, and residents said Wind Gap will be more congested than it is now.  
"You're going to have to convince us that this area can handle the kind of traffic you're talking about," Simpson said. 
Residents warned that trucks will not be able to go up steep hills when the weather is bad, blocking the road. Peak hours will coincide with school bus runs, others said. 
When resident Ray Heater asked about whether traffic studies could account for future traffic from an industrial project in Upper Mount Bethel Township, the CRG team said it is not responsible for future traffic from other locations. 
Several residents of Constitution Avenue, near the site, said they are concerned about traffic and the view of warehouses. Petkunas guaranteed that the green space between the avenue and the warehouses will be maintained.  
When another resident sought some assurance about a buffer zone, Marles did not make any promises. 
"There is no obligation when somebody puts up a building to hide it," he said.  
When the issue of global warming was raised, Levits said climate change is an issue that goes beyond the authority of the planning commission.