UPDATE: Dominic V. Ciufo was arraigned Jan. 24 in the Upper Mount Bethel Township and Pen Argyl incidents along with a Jan. 11 retail theft charge. He was sent to Northampton County Prison after failing to post a collective $105,000 bail in the three cases.
U. MT. BETHEL TWP., Pa. | Pennsylvania State Police report that a Slate Belt homeowner held a would-be thief at gunpoint until troopers arrived to arrest the Monroe County man.
Authorities arrested Shane B. Simons, of Saylorsburg, Sunday night outside an Upper Mount Bethel Township home after the 19-year-old and his accused accomplice allegedly tried to steal the homeowner's pickup truck.
State police charged Simons and Dominic V. Ciufo, of Bangor, with theft, conspiracy and related offenses in connection with a series of thefts and attempted break-ins in Upper Mount Bethel Township. District Judge Robert Hawke arraigned Simons early Monday morning, setting bail at $30,000.
Police are still looking for 28-year-old Ciufo.
State police with the Belfast barracks were dispatched to a Persimmon Lane home shortly before 7:30 p.m. Sunday for a report of a vehicle break-in.
Authorities allege Ciufo and Simons drove onto the property in a van, and that Ciufo managed to get into the owner's pickup truck, according to court records. Police said the homeowner caught Ciufo as he and Simons tried to drive away in the van.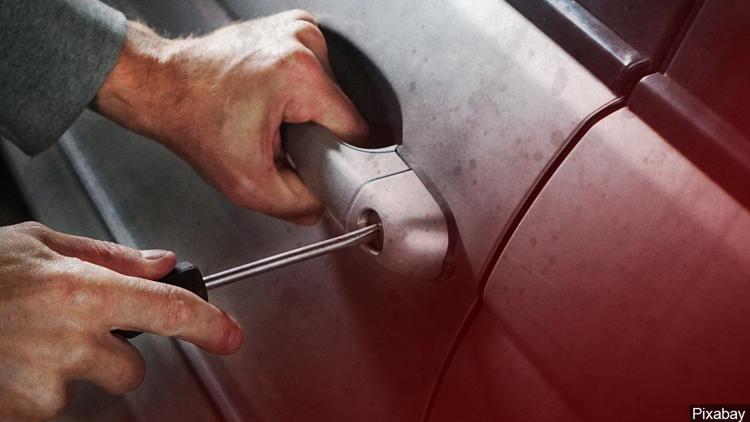 After the van got stuck in the mud, Ciufo allegedly tried to escape by driving through the front yard, hitting the truck, a car and a mobile home in the process, according to records. The homeowner reported that Ciufo tried to run but was stopped at gunpoint.
Simons allegedly hopped in the driver's seat and tried to drive away. Ciufo managed to escape on foot, while the homeowner held Simons until state police arrived.
Several departments including the Slate Regional Belt Police Department K-9 unit tried unsuccessfully to find Ciufo, according to a news release from state police.
State police said they received reports of a pickup truck and plow owner allegedly catching Ciufo in the act along with attempted break-ins of two other vehicles and the theft of golf clubs from a third vehicle. Police said the golf clubs were found in the van.
Each of the incidents were close to each other and happened in Upper Mount Bethel Township, according to police.
Slate Belt Regional Police report that Ciufo is also accused of stealing a car in Pen Argyl on Saturday morning. Blairstown Township police in Warren County, N.J., reported Ciufo eluded police after a high-speed chase. An officer with the department identified Ciufo as the driver, according to court records.
Anyone with information regarding the incidents is asked to contact the Pennsylvania State Police Belfast barracks at 610-759-6106.
Authorities charged Ciufo and Simons with nearly two dozen offenses, including criminal mischief, criminal trespass, conspiracy, attempted theft, theft, receiving stolen property and unauthorized use of a motor vehicle.
Ciufo is also facing single counts of theft, unauthorized use of a motor vehicle and receiving stolen property in connection with the alleged Pen Argyl car theft.
Simons failed to post bail and was sent to Northampton County Prison to await a preliminary hearing scheduled for Jan. 28.