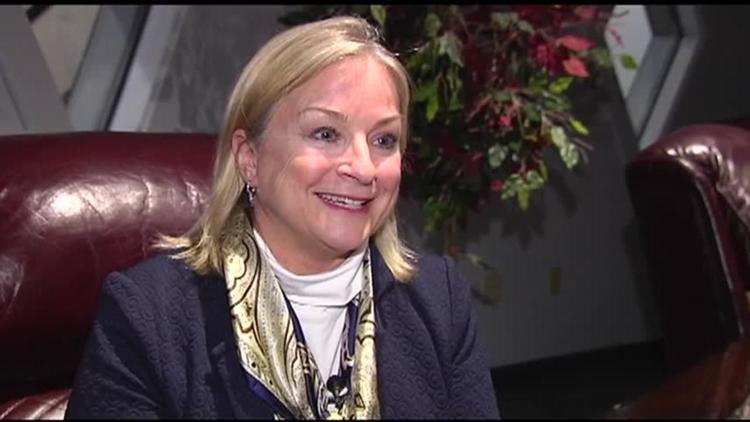 ALLENTOWN, Pa. - U.S. Rep. Susan Wild said Wednesday that she did not run for office to try to get rid of President Donald Trump.
"I didn't come to Congress to pursue an impeachment inquiry," Wild said at a town hall meeting at Muhlenberg College on Wednesday night.
The Lehigh Valley Democrat said the Republican president forced the issue.
"He used his office to attempt to get information about a political opponent," Wild said, referring to a July phone call between Trump and Ukranian President Volodymyr Zelensky, in which Trump asked for help in investigating a political rival, Democrat Joe Biden.
The House of Representatives, which is controlled by Democrats, could not ignore the call, she said, because that would set a precedent for this and future administrations.
Wild also made it clear that she supports an impeachment inquiry, distinguishing that from an impeachment of Trump. The results of the inquiry will guide the next step.
"People want to know what the facts are," she said. "We will see where that leads."
Wild said before several hundred people at a packed auditorium at Muhlenberg that the inquiry should focus on the alleged abuse of office and that she would prefer the probe be brief, not an extended investigation.
Calls to her Washington, D.C., office have been about 85% in favor of the impeachment inquiry and 15% against, Wild said. Not all callers make the distinction between inquiry versus impeachment, she added.
Wild said that even as headlines focus on impeachment, her goal is to make progress on "kitchen table" issues that affect working people, students, senior citizens and retirees: her constituents. She will continue to work with Republicans on those issues.
"I spend a lot of time working across the aisle," she said, on bipartisan issues such as the opioid crisis and on stricter reporting of sexual abuse of children.
"I don't think things are as divided as the media portrays," Wild said.
Wild said the high cost of prescription drugs is the issue she hears about daily.
"It is ridiculous that Medicare can't negotiate drug prices," she said. "Price negotiation is absolutely essential to getting drug prices down."
Wild told a couple student questioners that she has not signed on to the Green New Deal, a broad proposal to address climate change and income inequality. She said the plan is "a wonderful statement of aspirations and goals" but she prefers more concrete approaches that include market-driven solutions.
"Wanting something and accomplishing it are two different things," Wild said, while reiterating her support for the battle against climate change.
Wild took questions from the political left, right and middle. A man wearing an Infowars T-shirt told her he had proof that "China has been at war with us for 25 to 30 years." She responded that while she did not agree with everything he said, she agreed that China has undermined the U.S. economy and abused human rights.
The town hall meeting was scheduled to last just one hour, but Wild extended it to allow all questioners to speak. After the first hour, some in the crowd left, and there were a few shouts from the back-benchers of "Just ask your question" when questions turned into rambling statements. Despite the brief shouting bout, the meeting was civil.
Wild also addressed:
– LGBTQ rights: she is firmly in favor, though she conceded not knowing what a "potty parity bill" would entail.
– Former Secretary of State Hillary Clinton's server: "I'm not going to re-litigate Hillary's emails."
– "We have a terrible problem with income inequality" but Wild believes in capitalism, just not with big tax breaks for the richest 1% and corporations.
– Public schools need more money, she said.
– The U.S. is involved in too many international conflicts, and she added, "I don't believe in foreign policy done by tweet."