A name that's been synonymous with unwrapping smiles at Christmas for more than 70 years is in trouble and needs your help.
The Toys for Tots group in the Lehigh Valley is coming up short this year, and they're hoping for some last-minute magic from their community.
It might not be the North Pole, but at Christmastime, 10 South Commerce Way in Bethlehem might as well be.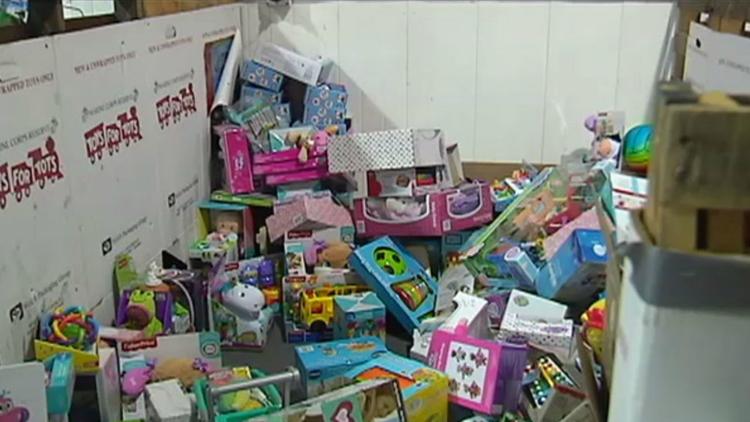 This is where volunteers like Martin Hacker spend their Christmas season, sorting toys for Toys for Tots.
"This is my 35th year," Hacker says with a smile.
Wayne Langsdorf, another Toys for Tots coordinator, says, "The bottom line is the kids - the smiling faces."
But the people who spend their time spreading joy to kids across the Lehigh Valley are worried it might be spread too thin this year.
"We need toys. We desperately need some toys," Hacker says.
For the first time in four years, there's been a drop in donations.
"And it's a pretty drastic drop," Langsdorf says, solemnly.
"Last year we gave out 116,212 toys," Hacker says.
This year, they're about 25,000 short.
"I'm concerned and saddened by the thought of maybe 4 or 5,000 kids not getting the Christmas that they might've gotten last year," Langsdorf tells us.
The volunteers say it could be that Thanksgiving being later this year means less time to shop before Christmas. They also wonder if online shopping has hurt them.
"If you don't see the box and it's not right in front of you, a lot of individuals have it in their heart, but it's not in their mind unless they see it," Langsdorf explains.
So, they're hoping...
"We're hoping that the Valley could step up," Hacker says.
"The best we can hope for is that the community comes through and donates as much as possible," says Toys for Tots coordinator Sgt. Everson Glaser.
This Sunday, at their Bethlehem warehouse, they're holding a special toy drive from noon to 4 p.m., hoping you'll help them fill the sleigh.
"I'd like to see us get an additional 10,000 toys would be an amazing aspect of it," Langsdorf smiles.
Sgt. Glaser adds, "One toy helps us, and a thousand toys helps us."
And they think it can be done.
Because the elves here know, all you have to do to make a little Christmas magic, is believe.
"A little girl that opens up a little Minnie Mouse like this," says Langsdorf, holding up a bright pink packaged toy, "She's gonna light up like a Christmas tree, and we know that we had a toy that we could give, and play our version of Santa for the Lehigh Valley."
You can donate this Sunday from noon to 4 p.m. at the Lehigh Valley Toys for Tots warehouse at 10 S Commerce way, Bethlehem PA or donate online.