EAST STROUDSBURG, Pa. - Pennsylvania State Police said an SUV was stolen Monday near the area where a man wanted for allegedly killing two people in Connecticut was last seen.
The black Hyundai Santa Fe was taken around 9 p.m. Monday, State Trooper Anthony Petroski said in a Twitter post. The SUV has the Pennsylvania license plate KYW-1650.
Police said it is not confirmed that Peter Manfredonia stole the vehicle, but it was taken from near the area where he was last seen on surveillance video. Manfredonia was last seen in East Stroudsburg Sunday.
🚨UPDATE🚨Stolen Vehicle, Black Hyundai Santa Fe bearing Pennsylvania registration KYW-1650. NOT CONFIRMED that Peter Manfredonia stole the vehicle, but it was taken from the area where he was last seen.Anyone with information should call 911 immediately and DO NOT APPROACH! pic.twitter.com/EBqFtRF7XX

— Trooper Petroski (@PSPTroopNPIO) May 26, 2020
The 23-year-old was dropped off by an Uber in front of the Walmart in East Stroudsburg on Sunday, then he walked behind the Walmart and other businesses onto a set of train tracks, police said.
Authorities interviewed the driver and recovered security camera footage, which showed Manfredonia walking on the tracks with a duffel bag full of stolen guns, police said.
Manfredonia, a senior at the University of Connecticut, is accused of assaulting two men, killing one, in Willington, Connecticut on Friday morning.
Police say he then committed a home invasion and held someone captive, then fled with stolen pistols, guns and a vehicle, which he used to drive to Derby, Connecticut.
In Derby, he went to an acquaintance's house and allegedly killed the 23-year-old man, before forcing the man's girlfriend into her car and fleeing the state with her. The woman, 23, was located Sunday with her vehicle at a rest stop in New Jersey, near the Pennsylvania border. She was not hurt, police say.
That's when investigators believe Manfredonia took the Uber to East Stroudsburg.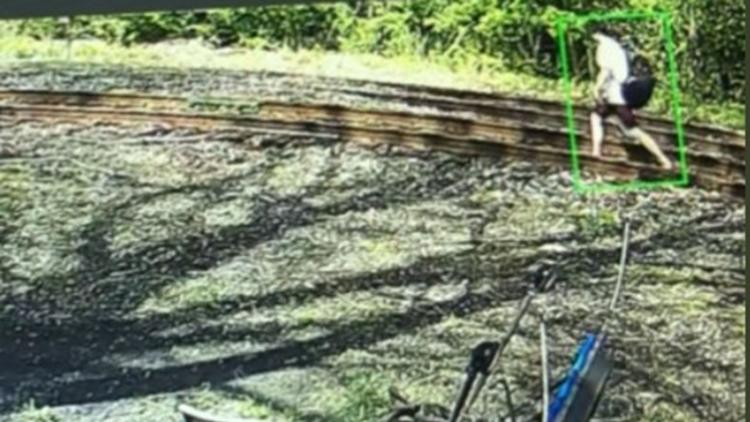 Manfredonia is considered armed and dangerous, and should not be approached. Anyone who has information on his whereabouts or may have been approached or contacted by him should call Pa. Crimestoppers at 1-800-472-8477.