WEST CHESTER, Pa. - Authorities have filed criminal charges against employees of Energy Transfer and a pair of contracted security firms in connection with the Mariner East pipeline project.
Chester County District Attorney Tom Hogan announced Tuesday charges of bribery, conspiracy, and related offenses against Frank Recknagel, security manager for Energy Transfer; Nikolas McKinnon, senior security adviser for TigerSwan LLC; Michael Boffo, site security supervisor for TigerSwan LLC; James Murphy, a former state police trooper and operator of Raven Knights LLC; and Richard Lester, a former state police trooper and registered owner of Raven Knights LLC.
Energy Transfer stands accused of recruiting and hiring armed Pennsylvania constables to act as a private security force for the pipeline, despite state law preventing the elected constables from using their official position or badges for private security jobs.
"This is a pretty simple case," Hogan said. "State constables sold their badges and official authority. Energy Transfer bought those badges and authority, then used them as a weapon to intimidate citizens."
This is the second set of charges filed by Hogan's office related to his investigation of the Mariner East pipeline. Hogan's office initially charged two constables in August with official oppression and other offenses. Hogan said Tuesday that 19 constables received $235,000 for their Mariner East work.
"We believe that these charges do not have any merit and find it troubling that District Attorney Tom Hogan would proceed with charges that we are confident will not stand, creating far-reaching impacts for this employee and his family," the Texas-based Energy Transfer said in a statement Tuesday.
Hogan said his investigation found that the constables, many from outside their jurisdictions, were appearing at pipeline sites as armed security personnel, wearing constable attire and displaying their badges. One constable even confronted a Chester County detective, Hogan said.
Recknagel, the security manager for Energy Transfer, "orchestrated the scheme to misuse the constables" and arranged to "off-shore" the actual hiring and payment in an attempt to hide the activity, Hogan said.
For that, Hogan said Recknagel used two security firms, TigerSwan and Raven Knights, to coordinate the operations of the state constables as security.
Energy Transfer said the constables were hired to support the West Whiteland Police Department in its efforts to maintain peace within the community.
"Local law enforcement never expressed any objection to this security plan when it was discussed and implemented," the company said in its statement. "To now characterize the hiring of Pennsylvania constables as somehow intentionally unlawful is extremely troubling, not only for the individual charged, but also for the community that benefited from the presence of trained security."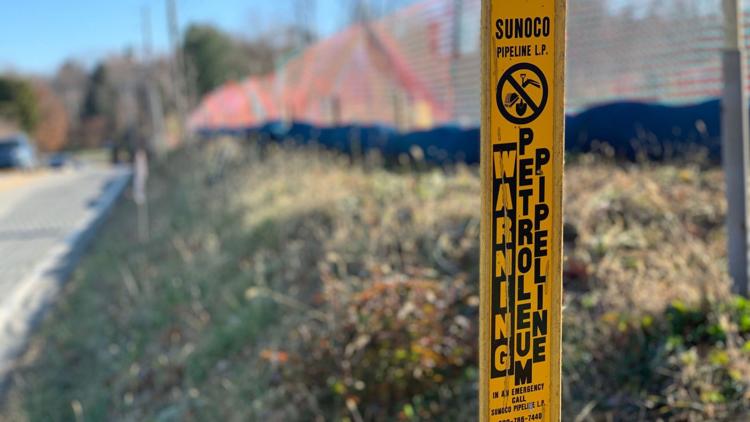 Hogan said his office's investigation as well as others are continuing.
"We are working our way up a chain of corruption, which has both corporate and political ramifications," Hogan said. "Other law enforcement entities also are investigating. It will be interesting to see where the evidence leads."
Last month, The Associated Press reported that the FBI has begun a corruption investigation into how Gov. Tom Wolf's administration came to issue permits for construction of the pipeline.
The state attorney general is also conducting an investigation.
The roughly 300-mile Mariner East 1 was originally built in the 1930s to transport gasoline westward from Marcus Hook. It was renovated and, in 2014, began carrying natural gas liquids eastward, through Berks County, to the refinery from southwestern Pennsylvania's drilling fields.
Construction permit applications were submitted in 2015 for two wider pipelines, the 350-mile-long Mariner East 2 and 2x, designed for the same purpose, but stretching farther, through West Virginia's northern panhandle and into Ohio.
Both were projected to be open in 2017, but Mariner East 2 began operating in late December, and Mariner East 2X could be complete in 2020.